So I continue to play both sides of the trade.  My FXY calls have been working nicely here, and I decided to add a real speculative June UUP $23 calls for a nickle today.  I wasn't ready to sell my FXY but basically I am starting my rotation back out of the yen and into the dollar early. Remember, I entered the dollar and rolled some gains into the yen, so basically I am rotating it back except still holding the yen. The correlation between yen and dollar are not strong or inverted, unlike the dollar and euro which has a -.95 correlation.
As a result I can add and subtract at different times and both plays still provide negative correlation (but a very small one) to the market. This helps me keep my portfolio grounded when I get carried away buying a little too much.
I may exit my TRV put tomorrow if it doesn't turn. I grabbed some SOHU puts today. So if I scratch out of TRV it doesn't disrupt my exposure. If we trade higher, I close out of TRV and keep LNKD and SOHU on. If we close lower, then it is a bonus. My LNKD puts I am holding.
My GLD calls and FCX calls are still working well also. Had GLD not opened and closed above $135 today I would have scratched the trade. Lack of a follow through within several days after an oversold bounce is as dangerous as support giving.It is looking more and more like we retest at least $142.50, possibly even the $150-$155 mark in which case I would love to start getting bearish in the GLD again as I still think it can get to $1200 or lower before we flush out all the bulls.
I am watching oil carefully, I was considering buying USO calls and an energy related name today buy I was waiting for a pullback in USO to 32.50. 90 in the /CL works too. I want to get this out before market closes so ending the post now I will add some comments later.
I want names that aren't highly correlated to the market here as we are stretched, consolidating and near longer term resistance. Additionally, as long as last week's high holds and we don't close above it, I am in no way ready to be too aggressively long overall. I don't necessarily need inversely correlated names all the time, (like the UUP call, FXY call, GLD puts that I have done in the past) but I am trying to find the right balance that keeps me correlated closer to zero for now while still looking at plays that I expect to gain, while still allowing me to profit from a break either way or none at all. LOL, easier said than done.
————-
I got on the AFFY train today as it romped above $1.40 , taking out it's previous high.  I've been mostly following Option Addict when I can on the long side and I passed on AMZN but got GOOG and another play I will keep quiet about… I don't think OA has mentioned to the IBC crowd just yet today.
I was tempted to grab some gold miners, it wasn't until late yesterday that I started to suspect they might for once actually not lag GLD and SLV and perhaps should GLD run, could even lead for awhile. But I already have some miner exposures on some metal plays, and FCX which has some GLD exposure (mostly copper though), and I was just a hair late to the punch this morning and they ran away from me.
A lot of the same GLD miners are showing up on the same screens they were yesterday. But I also have REE,ESI,LEDS and some home builders on my radar tomorrow just as sort of a preliminary list.  I am also thinking about adding FRO down here to piggy back off the FLY. I am content to sit on my hands as well, but I should get a better clue as to what the correct play is here soon. If I still foresee more confusion as to direction, I will start looking at some plays in ETFs for longer term that have low correlation with the SPY. DBA on a monthly chart looks like a good spot to bottom pick with the new lows as the stop. Oil on a monthly chart is still in the process of setting up here, but I would say for sure into 2014 it looks good, if not into the upcoming hurricane season. This also may mean good things for the fertilizers and potash names. Here's a correlation chart of some ETFs to look at for reducing your portfolio's correlation to the S&P's movements.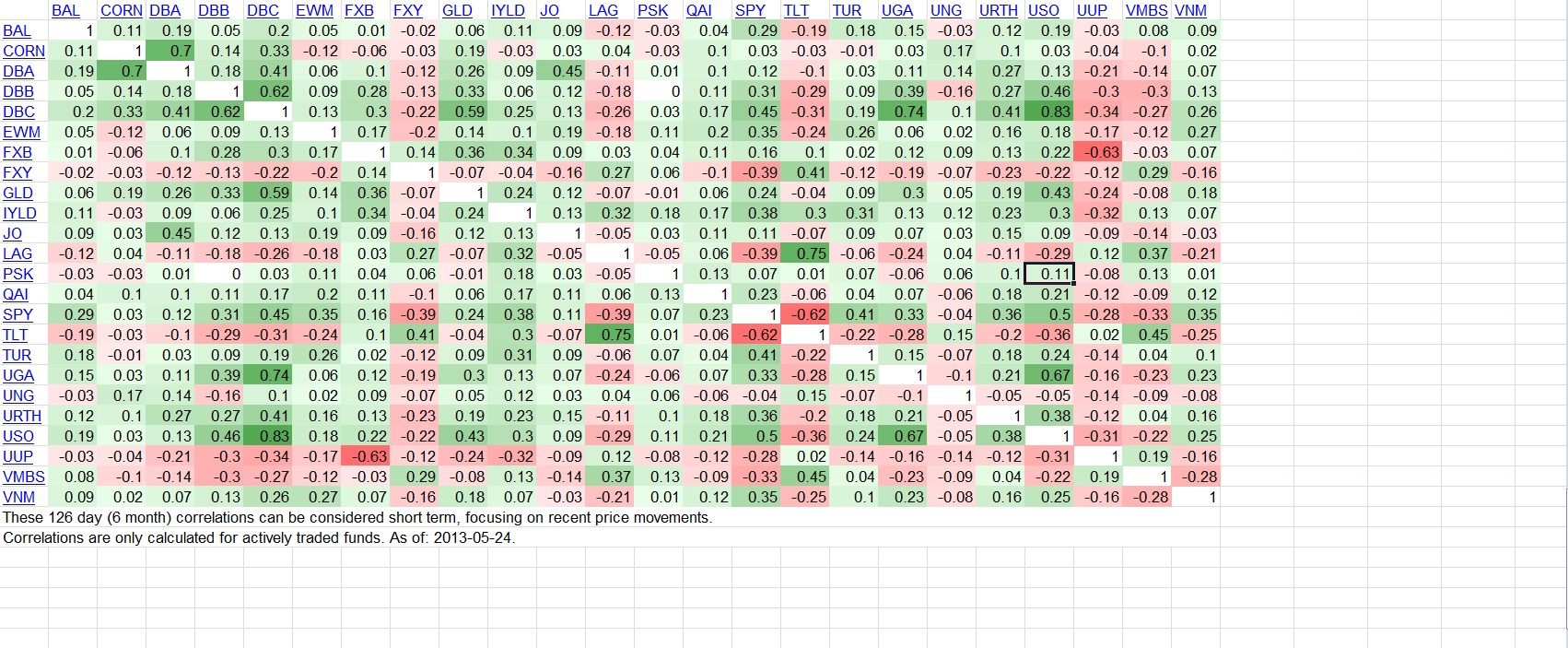 Or perhaps you prefer a list of ALL names and their correlations for the SPY.
I will have more on the value of "reducing correlations" and such later…. For now just understand that timing is still the most relevant factor, but adding low correlation or negative correlation plays can allow you to stay aggressive without having the same degree of directional market risk.
If you enjoy the content at iBankCoin, please follow us on Twitter