Per reader request, here is my method on how to acquire intra-day $NYMO readings.
You might laugh about how simple this is, but here it is. On my charting platform, which I am embarrassed to confess is Prophet, I have added the study "McClellan Oscillator." This tool is calculated much different than the $NYMO on stockcharts, which is a ratio adjusted version that prints values EOD.
However, the Prophet version (MOSC) is calculated throughout the day, and adjusts as the number of advancing issues less the number of declining issues on the NYSE changes throughout the day. While the MOSC moves intra-day, I look for prior reference points that I can use as a reference. Using a 2yr chart, I can see that the current intraday reading aligns with the same reading as of September 22, 2011. 
I take those two points and compare them on stockcharts…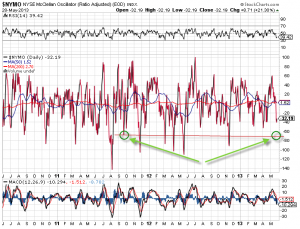 As you can see, according to stockcharts, that EOD value on 9/22 was -70. We are currently sitting at that same value. This might change through the remainder of the trading session, but it pays to know where things are, so you can anticipate what will happen next.
For the record, I give myself +/- 2 points of error when gauging these readings, and it has never failed.
OA
If you enjoy the content at iBankCoin, please follow us on Twitter