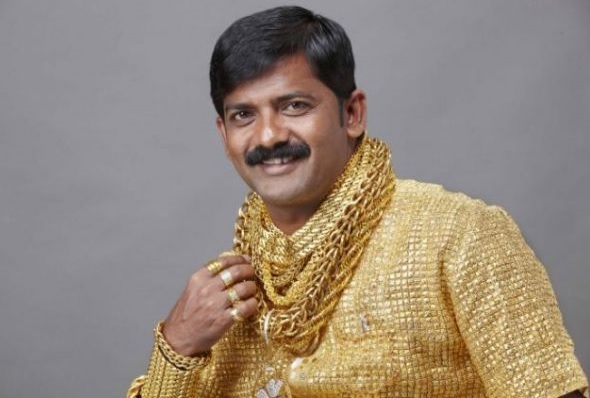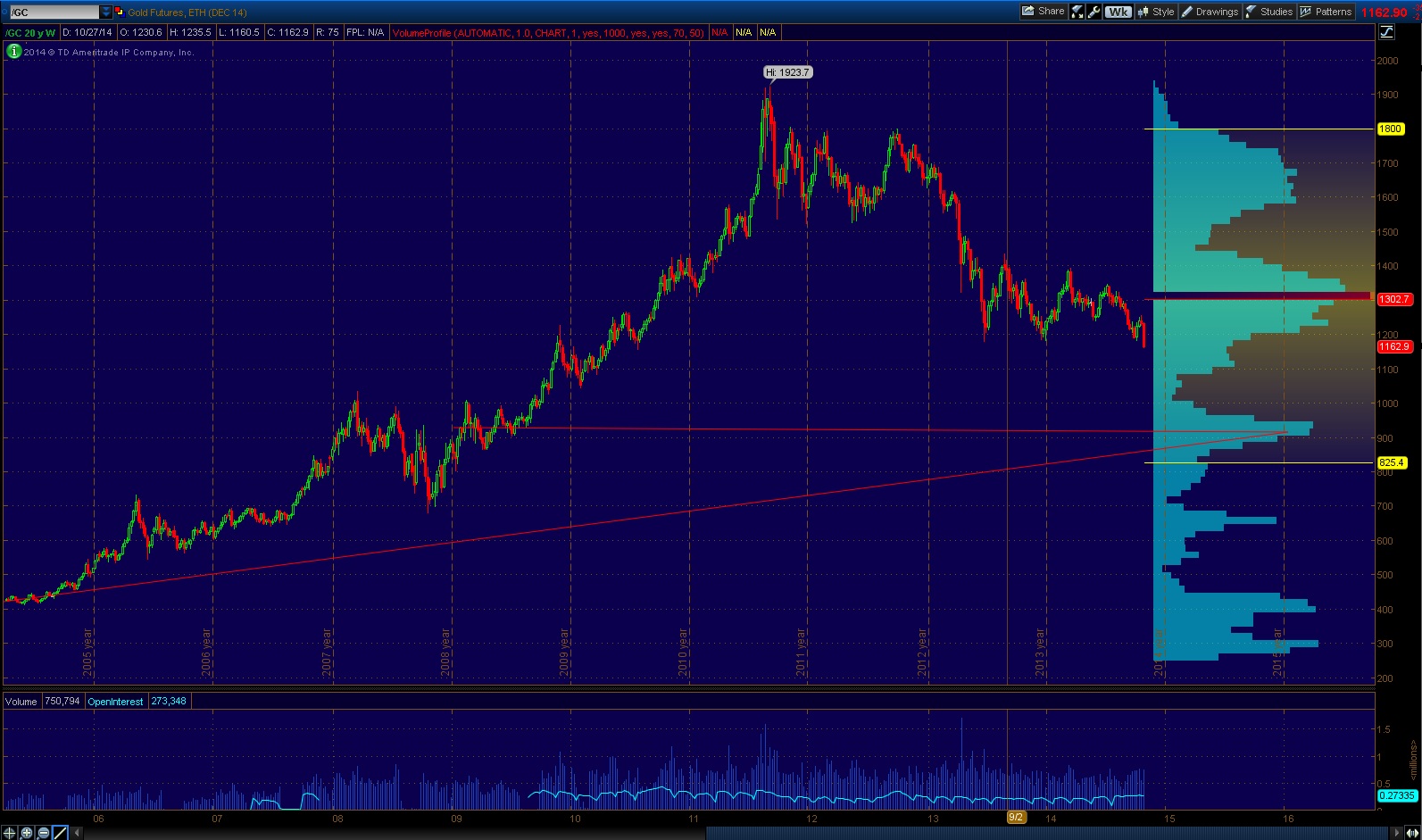 Gold under $1200 is at a tipping point. The weight of all those who own gold at a higher price and want out will begin to weigh on those who want in and the stock price will likely behave like gold in water… sinking. Volume profiles provide context for the collective psychology of any market. People tend to fear loss more than they appreciate or are anxious for gain. When they are under water they are looking to sell and break even or reduce the loss and they are not thinking about gains. For this reason you can anticipate speed and direction with volume profiles.
Once everyone gets in a market in a mania and there is no longer any bid to support higher prices, prices begin to decline. As they decline eventually buyer after buyer ends up under water and soon it is only a matter of time before it is a race for the exits. This by no means is a certainty, just an edge that you can gain. However, allow me to show why the odds are heavily in the gold seller's favor and why the man in the gold suit may be like someone in a goldsuit literally underwater, unable to shed gold soon enough to reduce the weight and swim to the surface.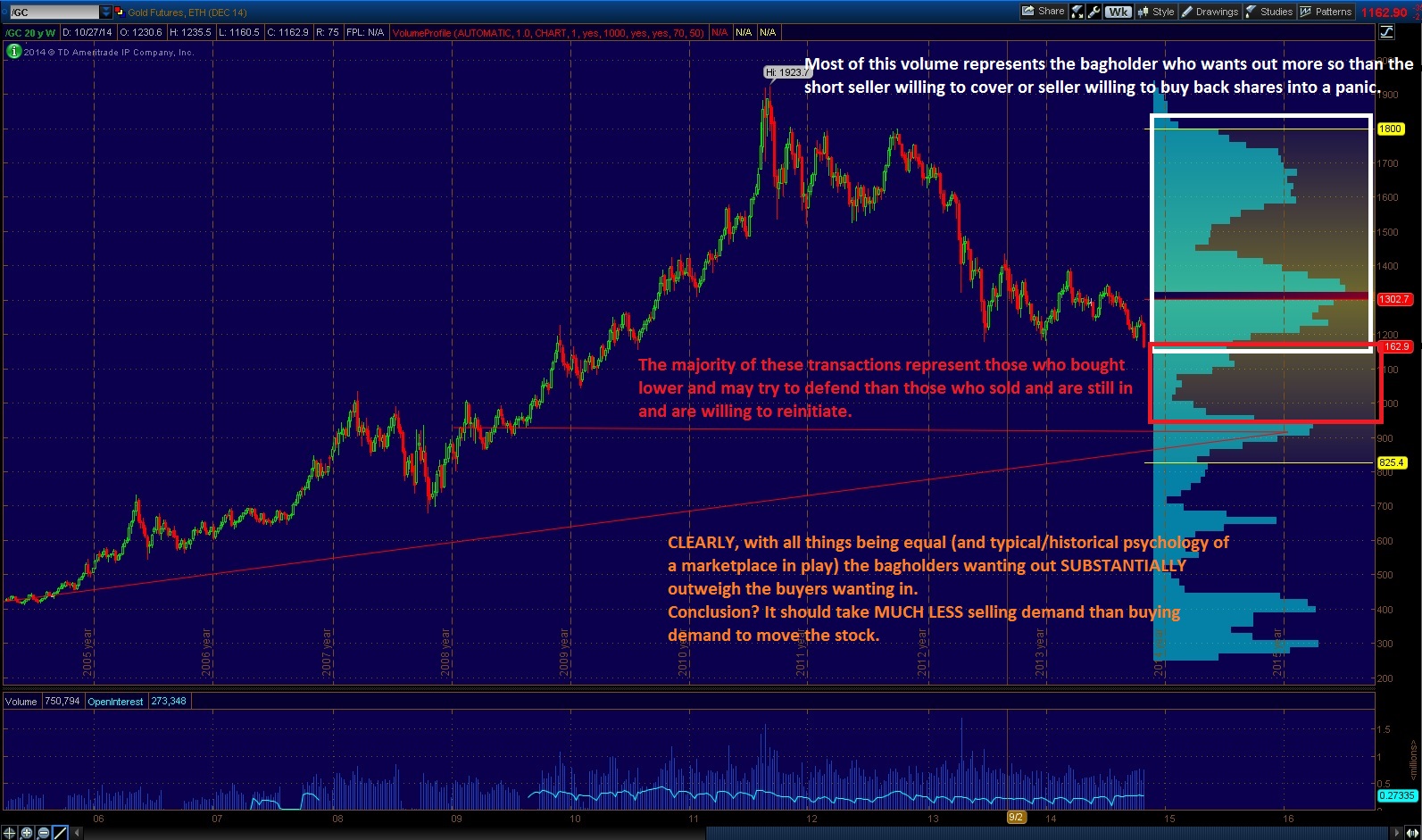 You can see why gold under 1600 led to a sharp decline as there were fewer people likely to step in and buy and a lot of bagholders. Some of those sold to those who bought between 1200-1400 and new players entered the game. Some of those who bought above 1600 are still in the game. But now those who bought between 1200-1400 are now feeling the pain as well and those who bought into the mania top are in deep trouble. It's likely only a matter of time before panic sets in. Failing to panic will only prolong the malaise in this market that lasts years, as after enough time, those in gold will be sick of its underperformance, but it could very well trap new players in the meantime and grind sideways for a very long time. The best thing the gold longs will have going for them is the possibility of a panic to flush out as many gold bugs as possible where new money can enter and the psychology can invert and flip in the bulls favor.
One interesting thing to note is gold is an international asset and the dollar is rising. The other thing the bulls may have going for them is that the dollar is strong. That seems to run contrary to what most gold bugs have been "pitched" but if gold can panic on a strong dollar and form a bottom on a strong dollar, it will have the majority of other currency behind it followed by the dollar. When the dollar is strong other currencies are weak and other countries may seek the dollar AND GOLD as a hedge to their declining currencies. When you price the gold in yen or euro for example, gold is not looking as bearish as the yen has also declined sharply. If gold can flush and panic can take over, volume can spike as the headline prints "gold under $1000!" and every gold bug capitulates you will have a short term constructive volume pocket above at that point and depending on the volume when gold hits around $1000, you may just begin to see the scales begin to tip in the favor of the gold buyer. However, right now it would appear the odds are in favor of the gold bears by around maybe 8 to 1 or more. And if $900 gives way, the weight will be CRUSHING to the gold bugs. Personally I think gold under $1000 is the low because that will attract the attention of a ton of new buyers and cause panic among soccer mom's and dad's. However, if there aren't enough new buyers to SUBSTANTIALLY tip the scales back the other way, you could see a lot of sideways action again and an eventual decline again that is only made WORSE by all the new buyers who eventually find themselves underwater and become sellers.
Of course, buyers could still come in but if they enter they would have to come from somewhere else. The people that are supposed to stay short or stay away could cover and come back in and the buyers that are supposed to panic could double down and buy more. There's tons of money in other markets relative to gold so liquidation of bonds or stocks to buy gold, or another market would have to grow or wealth in India would have to skyrocket as buying gold is part of their culture could save it. But it would need to happen quick and gold would need to quickly reject new lows and retake 1300 before it could start to have the odds in the bulls favor. But anything is possible.
However, being long gold is playing some theory without respect to the odds and payout. HOPE is not an investment strategy, unless you want your strong dollar and crashing gold leaving you with very little remaining CHANGE.