Anyone who is truly a fan of my blog or twitter stream gets bombarded with a lot of talk.  As amusing as it is for me, and let's be honest this whole blog game is for my own betterment, it's not easy to read my posts and swim upstream to find my trades and timestamps.  And I like my readers and I entirely expect you're reading my carnivorous internal dialogue with the intent to bank some coin of your own.
By no means am I suggesting you buy or sell anything with me, but by reviewing actual trades an actual trader makes you may build your own understanding and thought process.
Without further commotion, here are my trades of the week and why:
MONDAY:
New Year's Eve the market fired a cannon pointed square at the faces of shorts.  I had two cute short positions with a cute thesis wrapped behind them: short Macy and Saks.  I had a shit entry on Macy and it wasn't hard for the market to squeeze me out.  I buckled (no BKE) and covered Monday.  This loser was a result of a bad entry and I knew it as soon as I put my position on.  Macy's below $39.50 is still a short in my opinion.
January 2nd came and my long bias had me stoked:
Let's do this, ring the fucking bell RT @RaginCajun: Copper still going

— Raul (@IndexModel) January 2, 2013
WEDNESDAY:
I wasted little time, buying up shares of Zynga and Citigroup before 10am.  Remember early and often on the pumps, that way we can scale on the rip and lower our basis.
Into Tuesday's close, I didn't like the squeezing I was receiving in Saks so I covered.  This stock doesn't appear as directionally biased lower on the charts, but it's still a short worth considering on weakness.  Both Macy's and Saks are part of my thesis on disappointing consumption activity by the upper-middle class.
THURSDAY:
No trades, but Ragin and I were eyeballing tickers starting with the letter Z.  Being at the late end of a rally, we were looking at the Zee stocks because they rally last (I'm kidding).  But I'm not kidding about watching the Zee's: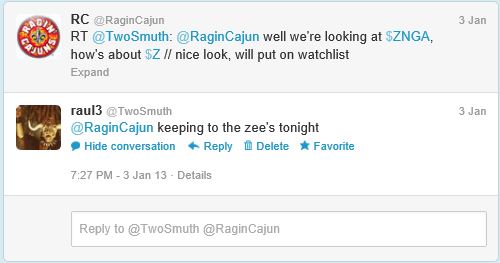 FRIDAY:
I sold my ATML.  I joke and say it's a sacrifice to the rally gods, and in many ways it was.  But also this stock has been a beast.  When it was showing weakness during a strong day I closed out my runner on the name +23% from my December 11th purchase.  I still think the stock want MOAR, much more so I will keep my eye on it over the next few weeks in search of reentry.
Next I scaled 1/3 of my Zynga position.  We hit a logical level of resistance, an area where we should always fire a bullet at the market.  If you're only holding a runner (final 1/3 after scaling) and you're downright bullish you can keep the piece on just be sure to assess your risk.
Finally we saw Zillow make its move, tossing up a big middle finger to the shorts and jerking higher into the bell.  The stock pulled back just enough to let me in during the final minutes of the session.  My phone was running slow as shit while I rode a taxi through tunnels but I managed to buy the $29.40's and ride a rip into the close.  I like being long this name into the gap even though the overall markets are insanely overbought.  It may get worse before it gets better on this trade, but things can get slippery inside gaps.
Those were my moves and the thoughts behind them.  Now I'm off to find a speakeasy, good day.
Comments »