Today was the quintessential example of why I scale out of stocks at logical price levels.  Check out the intraday action in TSL: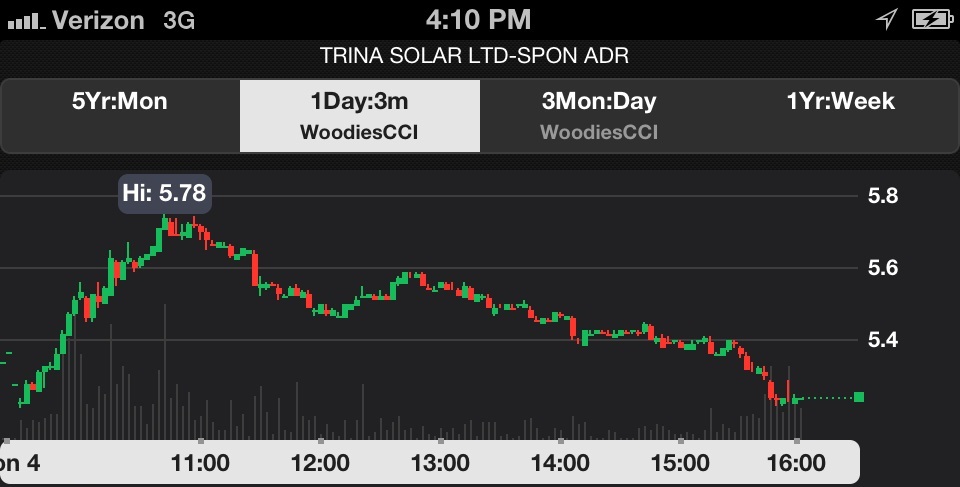 Pull up a daily chart of TSL and put your eyes on $5.75.  That's a logical scale point.  If you want to be a chart chump like me you best learn to spot these levels and trade accordingly.  Now I still hold a 2/3 position but I've already booked over a 10% gain. 
I don't love having a full size position on.  Until I get my first scale I'm looking at a potential for a big loss.  However, I know my probabilities and when to push my edge.  Now that I've booked a gain, I can put a stop in place and allow the market to decide whether I will get some cream or just the necessary bread and butter to be a consistently profitable trader.
Today Trina printed a huge upside shadow suggesting the presence of an aggressive–reactive seller.  It's probably a conservative (hehehe, I kid).  I like to examine how a stock trades after such an escapade as it gives me tons of information.  Was today enough to work off the HUGE overhead supply from last year or will newly initiated buyers start hitting the exit too?
I couldn't care less.  My job here is done.
I have to post the edited version of this song, because the video is essential:
Comments »