Folks I must admit, the city came alive this weekend. A prolonged stint of warm weather put the whole city of Detroit into a pleasant vibe man, people we just everywhere. Now I know you folks who live in real urban centers experience this on a regular basis. But for much of the year, hear in the old rust belt, especially in derelict Detroit, this place resembles a Mad Max hellscape of ancient industrial ruins dotted with roving gangs of bandits.
Which is also kinda cool. It is kind of cool, we make peace accords with corn and punkin and it is a vibe also. However, there were all kinds of women everywhere going the devil knows where to do the devil knows what. Drink coffee and plot their revenge against the patriarchy, if I had to guess.
Me, I was just soaking it all in, every last drop of it. And now I find myself overdue for a research update and all I can muster the courage to present is a truncated report. Once again.
These last three weeks have been dang good for the markets. Volatility has compressed. The tape is behaving methodically. Locals are regaining control. Really makes me want to come out of retirement.
But this is also playoff season for any serious gardener. I have an army of plants at my command, all growing as we speak, readying themselves for battle with the elements. Pepper plants now number well over 500. Around 200 tomato. The asparagus is on year three and finally producing spears. Three years ago I started twenty asparagus plants, now I will never have to buy speddigoots a gain.
Also dealing with some shrubs that neeed moving. Egg-a-plant, cucumbits, various hhherbs and more.
Gotta prep some beds for corns and punkins. Hook the irrigation lines back up. Etc.
But I really ought to trade. These tapes have been honest auctions. Maybe I can do both…
Okay for now,
Raul Santos, April 16th, 2023
PS – Remember to pay your taxes folks.
And now the 424th edition of Strategy Session (albeit truncated)
---
Truncated Stocklabs Strategy Session: 04/17/23 – 04/21/23
I. Executive Summary
Raul's bias score 3.45, medium bull*. Choppy through Wednesday, then watch for earnings out of Tesla (Wednesday, after-market-close) and Taiwan Semiconductors (Thursday, before-market-open) to provide direction into the weekend.

*Rose Colored Sunglasses [RCS] bearish bias triggered.
What is The Market Likely To Do from Here?
Bias Book:
Here are the bias trades and price levels for this week:

Here are last week's bias trade results:

Bias Book Performance [11/17/2014-Present]: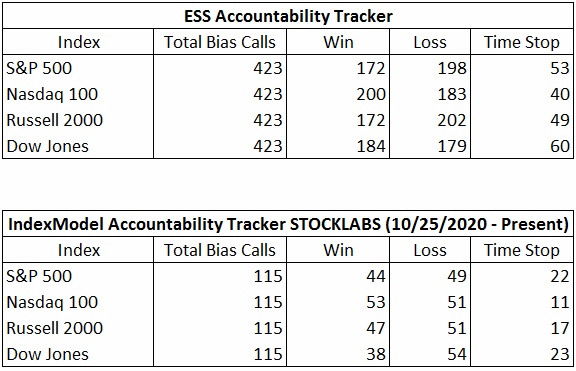 INDEX MODEL
Bias model is signalling Rose Colored Sunglasses bearish.
Here is the current spread: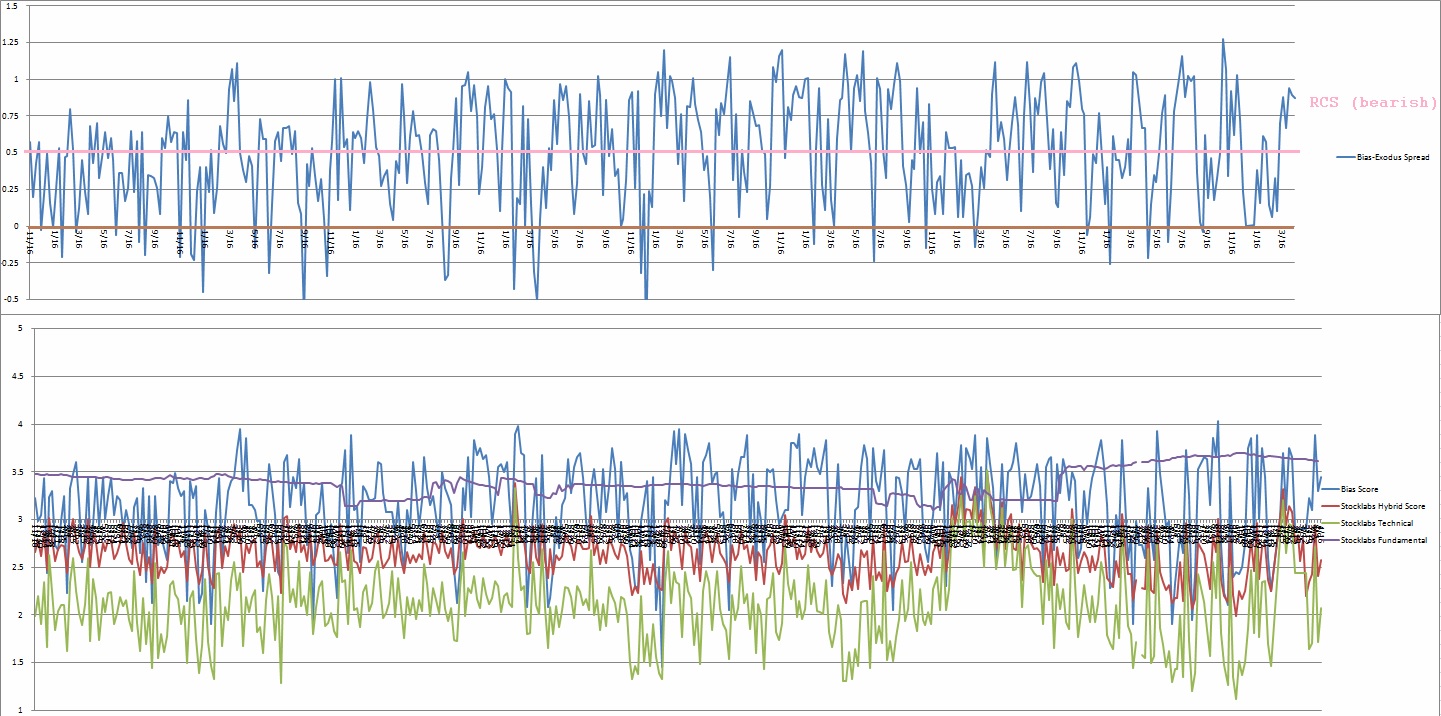 If you enjoy the content at iBankCoin, please follow us on Twitter