One of the (many) factors that has kept me out of the futures pits is the state of my computer. I built this old betty back in the summer of 2007. Sixteen years old in computer years is nearly 150 and it was time to upgrade, but lately I've been prioritizing farm equipment. Jet Fuel Only still runs pretty great, unless you have more than three raw data feed piping into it. There were some tense moments where it would suddenly B.S.O.D. in the middle of a trade, causing a frantic call to the broker to flatten me out. This added more than a few grey hairs to ma beard.
When it comes time to build computers, for some odd reason I have always been able to find someone former military to do the construction. I tell them I want something that can withstand field conditions, portability into a combat zone and lots of power. The new rig is looking like a bit of overkill—boasting a Ryzen 9 5900x processor, 4070 graphics card and 8TB solid state drive.
You may be asking yourself, "Raul, why in the heck do you need so much horsed power for charts?" The truth is lads, I intend to bring my trading rig into virtual reality going forward. I am told all this power is needed to create the fluidity I need for razor-sharp charts. Soon I will be one step closer to my brain being plugged directly into the exchanges, and I think this is an important upgrade if I am to consistently compete with the Ken Griffens and the armed autists.
I envision a future where I am kept in my pod, hustling the electronic futures pits whist being fed bugs and soiling into a dedicated pipe for my pees and poops.
It is a brave new world lads. I am still astonished by the number of folks who haven't gone into VR yet, like what are you waiting for?
Anyhow all the parts should be here by Wednesday and with any luck we'll have this baby running by the weekend. Then I'll need to migrate all my software over to the new rig and begin the grueling task of upgrading all my trading statistics.
I don't know, I don't want to make any promises, but if it seems like there is a way for me to stream the process of gathering information and doing statistical analysis, I may do so.
Trading like I do is hard work. This isn't, buy pepe coin like I said in my Telegram chatroom and make the monies. This is scour thousands of days of data, build studies in excel, then wake up every morning and go back into the coal mine and execute those statistics. It is a grind and I love it and it is the only way I personally can consistently profit from these bastard exchanges.
Fighting for my life.
Raul Santos, April 30th, 2023
And now the 426th edition of [Truncated] Strategy Session.
---
Truncated Stocklabs Strategy Session: 05/01/23 – 05/05/23
I. Executive Summary
Raul's bias score 3.55, medium bull*. Choppy and indecisive markets early in the week. Then watch for third reaction to the Fed interest rate decision Wednesday afternoon to provide direction to the tape heading into the weekend.

*Rose Colored Sunglasses [RCS] bearish bias triggered.
What is The Market Likely To Do from Here?
Bias Book:
Here are the bias trades and price levels for this week:

Here are last week's bias trade results:

Bias Book Performance [11/17/2014-Present]: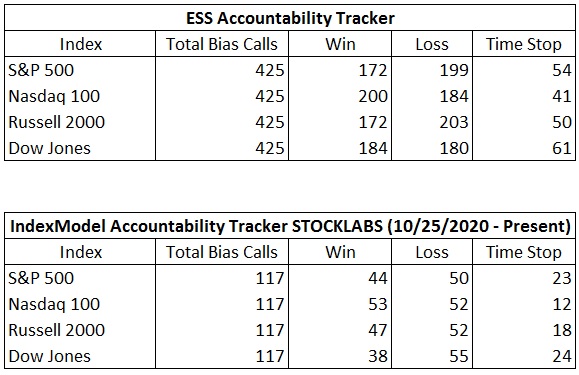 INDEX MODEL
Bias model is signalling Rose Colored Sunglasses bearish.
Here is the current spread: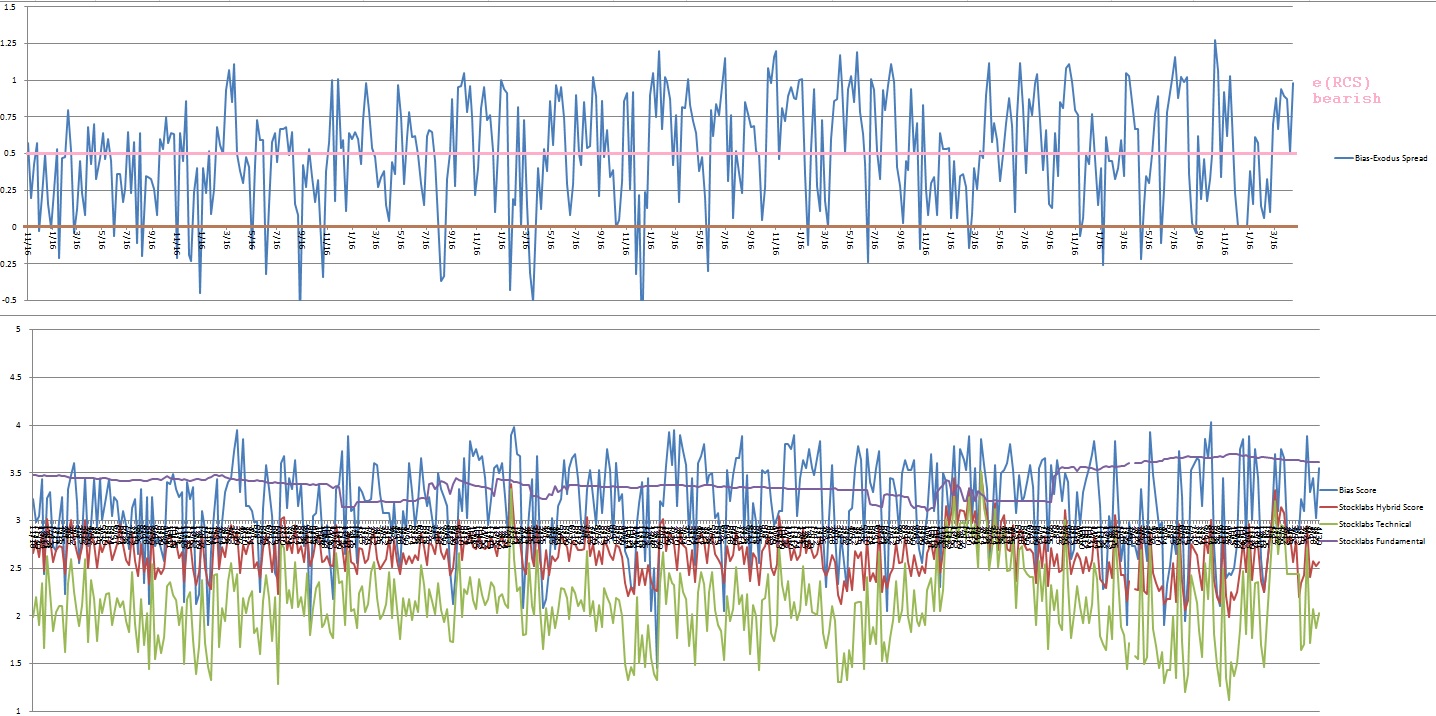 If you enjoy the content at iBankCoin, please follow us on Twitter