You may think everyone sold this afternoon on the Fed comments, but if you were watching the tape closely we began the heavy selling 27 minutes before that pasty face took the podium.  Did he speak from a podium?  I don't actually have cable.
Anyhow, the real reason for selling, the pivotal moment which occurred at 11:47 and eleven seconds (timestamp), a mere 3 minutes before top tick in the daily Nasdaq session, was me buying June calls in the succubus, Angie's List.  Everyone knows the game you play when you dabble in the dark arts of summoning the succubus.  All joking aside, I like the name, if only for a brief short squeeze into the greatest month of the year.
We printed a neutral day in the Nasdaq today and these tend to occur near inflection points.  The play is to grit your teeth and buy the second range extension on the day, which was the new low of the day this afternoon.  However, as is usually the case with market profile probabilities, one cannot simply place a buy order below the low of the day and pray, because the risk is insane.  Instead you need something to lean on.  You can also use the 1,2,3 reversal to keep yourself patient.  Here's the neutral print, followed by the 1,2,3, reversal: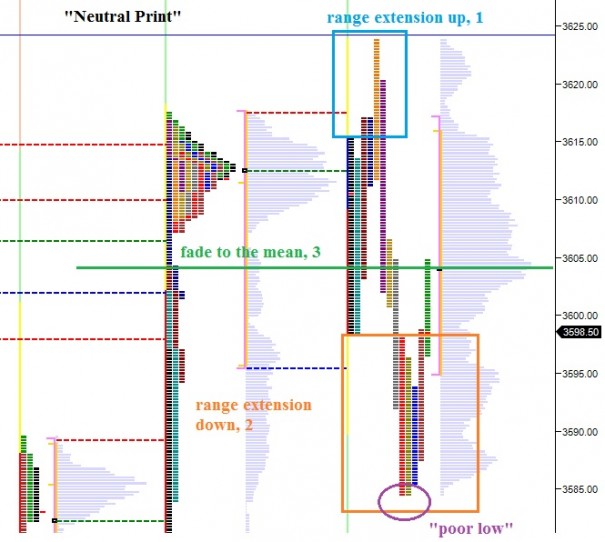 Bottom line: these neutral prints are a big piece of context.  We are trading in the mission critical danger zone, the upper cusp of balance.  Fast attempts to thrust the knife into your gut will be made.  Smaller position sizes are warranted until a clean trend emerges.  A short or two may not be a bad idea.
Stay dry out there folks. See you tomorrow.
Comments »