It's a beautiful June morning where the birds serve as the best alarm clock in town.
My plan going into today is simple, which in essence, is elegant.  I have very little expectation, but I want to see how high we run up the single prints of the LANDSLIDE.
The overnight session has been consolidation with a bullish hue since trade opened Sunday evening.  I came to my desk for the open because I wasn't sure if the market would run the zipper while everyone was enjoying their Bible studies or what.  It started to make its move and continues to as I type.
The primary objective would be retesting 1640 where all hell broke loose Friday afternoon.  We're already halfway there.
I'm not certain where this market is going to open up at because it's moving rather rapid for the early birds, so I'll simple define my levels of interest and trade accordingly.
Notice: I've split the change in conditions out of Friday's profile which gives us additional insight into key price levels.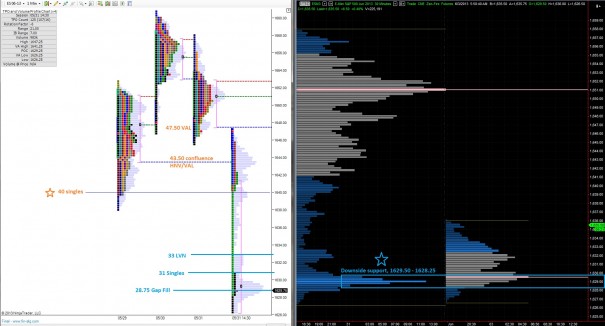 Comments »