How checked out was everyone on Friday?
The weekend had already begun by the time US markets opened.  Americans, fat off economic gains in housing and retirement accounts (lolz), took out their chipped cards and headed out of the office.
A long weekend for the overworked masses. The best of times, right at the advent of summer.  Mating season in full swing, the mind wanders.
While all seems well on the surface, when you peel back one golden layer from this vidalia onion of a market you see rot. BEHOLD, sector performance last week: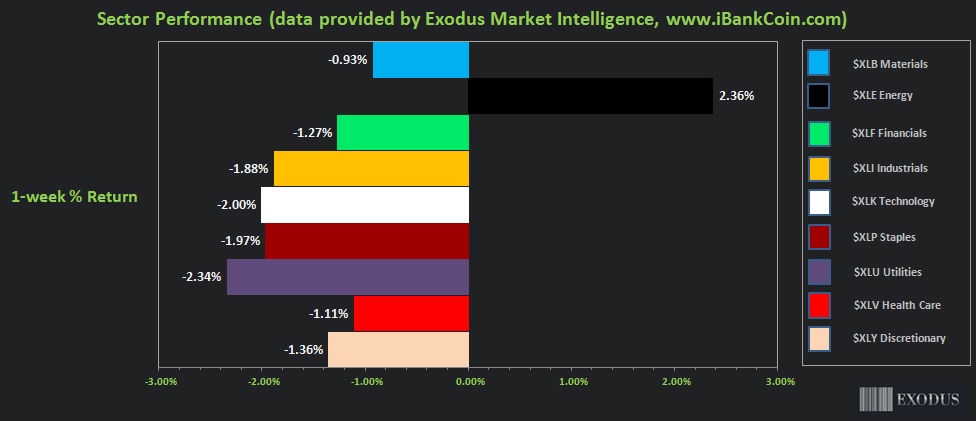 If this data were our only basis for being short, then it may be a bit overzelous.  But there is more.  The infrequent but highly potent Rose Colored Sunglasses signal triggered in the often overlooked Exodus Strategy Session, a report so vital to iBC laboratory security that it is produced every single Sunday by any means necessary.
We will be selling in May.
Right at the end of it, after participating in the bountiful gains it provided.
For summer is upon us and investors are distracted by their summer homes and primal instincts.  The good scientists constantly return to their foundation stone—cold, dead, lifeless logic.  The kind of information that allows for objective decision making.
With any luck, when USA stock markets open Tuesday, they do so in a strong manner.  A gap up.  An early rally.
Or they begin plunging right off the rip.
Either way, and without a moment of doubt, cash will be raised and NASDAQ futures will be shorted at every official opportunity.  We only take official trades, no gun slinging.  This is science.
The results often resemble a Van Gogh painting, and some call our output art.  Which is fine. We know what it is.
Long term accounts, the stocks beautifully chosen by Exodus robots at the end of each quarter, will remain in place.
Everything else is subject to liquidation.
Nobody remembers the Great Recession, the pangs of austerity.  They hardly remember last June's BREXIT vote.  We are collectively flying too close to the sun.  The Fed knows it, our data shows it, and now your good scientists have wrote it.  Do with this information what you see fit.
If I were you, thank goodness I am not, I would create my own quant model to empower my decisions.
Stay sharp out there and remember—the market is not rigged to get you.  It does not care how you are positioned or whatever else is happening in your microcosm.  It it simply a numeric representation of the net interactions of humans around the world.  NATURE.
Exodus Members, the 133rd Edition of Strategy Session is live.  See all the details of the short bias, and what would confirm the idea even more.  ENJOY!
Comments »