NASDAQ futures are heading into Monday gap down after an overnight session featuring normal range on slightly elevated volume.  Price briefly exceeded the Friday high before spending the rest of the session in a slow-grinding lower but sustaining above the Friday midpoint.
At 8:30am we had Personal Consumption Expenditure data which came out inline.  At 10am we have ISM Manufacturing, and at 11:30am there are 3- and 6-month T-Bill auctions.
Last Friday, despite weak guidance from Amazon, the market opened flat and a strong rally took place early on. The market balanced through the lunch hour then went into trend day up mode to close the week out strong.
Heading into today my primary expectation is for buyers to work into the overnight inventory and close the gap up to 4263.75.  From here buyers take out overnight high 4273.  Look for responsive sellers up at 4288.75 and two way trade ensues.
Hypo 2 buyers push up through 4288.75 and sustain trade above it to set up a trend up to 4329.75.
Hypo 3 sellers work down through overnight low 4230.75 but struggle to push below 4225.  Instead responsive buyers step in and work up to 4258 before two way trade ensues.
Hypo 4 sellers accelerate down through overnight low 4230.75 and make a liquidation move down to 4207.25 before two way trade ensues.
Levels: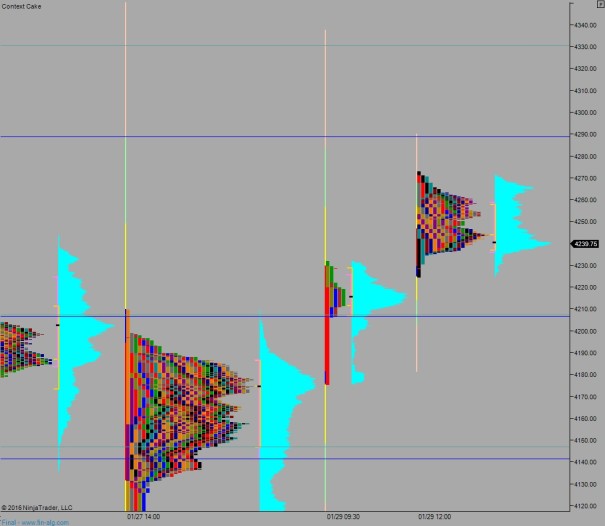 Comments »