Or ride a bike, or whatever it is that felt right besides being at your trading desk.  I took the cue late in the morning when two business calls received voicemails.  I opted for a 35 miler.  During this 'free time' you could avoid any angst which you might experience from a downdraft.
The key was knowing the daily context, and today's context was ripe for a neutral print.  I will say my expectation was for a more vigorous revision higher into the bell.  Instead our VPOC shifted lower right near the close.  The move subsequently introduced a bit of selling into the marketplace during settlement.  However, with this introduction of doubt, I still consider it wise to give the benefit to the intermediate term timeframe until they have lost that privilege.  In short, today might have been the weekly high, the start of a correction while no one is looking.  But let's give it a day or two to play out first.
On the day I did very little.  I bought some risk in ONVO and stalked EXK.
There were some clues we would go neutral, and if I was more actively stalking futures then I would have stuck around to participate.  The first clue was this poor low we printed on top of a gap higher.  Are we becoming so spoiled on the long side that we expect such low quality structure to sustain?  See below: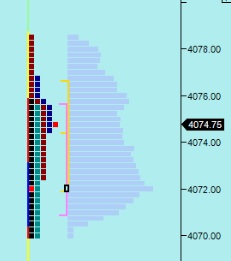 Then there was the anything but normal range of the initial balance.  It was only 5.75 points wide, much more susceptible to a neutral print.  Hindsight, I could have hedged and earned a nice time of day entry.  For some reason, I instead took the signs as a signal to go outside and ride it out while enjoying the weather.  We shall see if that was frivolous come tomorrow, yes yes yes?  The market is the ultimate humbler.