Greetings from deep in the West Indies!
Despite spotty internet access island-wide, the good scientists at iBankCoin laboratories managed to access our super computers nestled deep within the stable confines of the United States, from aboard MotherShip, virtually, and calibrate all systems and model scores ahead of what will be the most challenging week in 2017.  Here are the reasons why this third week of our third month under our new authoritarian regime is likely to be difficult for investors and how iBC labs expects markets to behave.
Friday is our first major option expiration of the year.  Not only will front month stock options expire, but also index futures.  While most active investors rolled forward to the June contracts last Thursday, there is still some activity taking place back on the March contract.  This means it is difficult to compile accurate volume information, and tools like cumulative delta can be skewed by large institutions moving their positions ahead to June.  It is by far the most frustrating week to trade, which is all the more reason to explore the tropics instead of trying to out compete the big boys.
Janet Yellen and her Fed are very likely going to lift their key borrowing rate by 25 basis points on Wednesday.  For whatever reason, markets decided to price this in last week.  88.6% of traders down at the CME now believe the fed will hike during the March meeting, but two and a half weeks ago these same investors were in denial.  Not sure why the sudden change of heart, but we have been expecting a March hike for quite some time.   Regardless, this meeting is likely to stir up an otherwise docile index market, if only for a few hours.
Under the surface of strong broad indices, there has been serious carnage among several industry groups.  Exodus members, take a look at the 1-month performance of all industries, sorted to show the best and worst performances in order.  The beat downs have been far worse and encompassing than the rallies.  This likely means there is lots of worthless paper floating around as we head into option expiration.  This is likely to keep a lid on the market, at least through Friday.  This will allow Wall Street to rake some late/dumb money into their coffers.
The Russell 2000 gave up its attempted breakout.  The primary expectation after testing one side of value is to go test the other, which in this case is lower, and lower has a precarious, pocket-like, slippery look to it.  The Russell could get fast this week if it works down into the pocket, see below: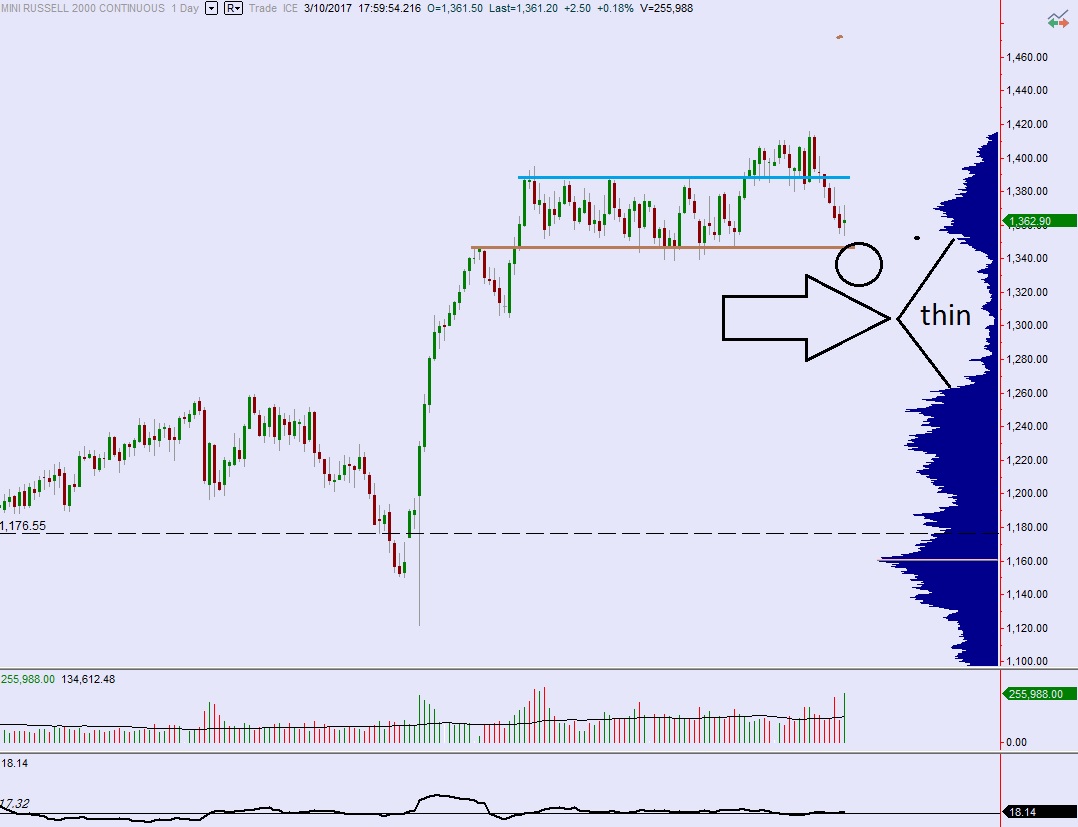 As for the upcoming week, the engineers and scientist at iBankCoin labs are issuing a neutral bias.  We have managed to gain a clear perspective from the island's signal station after a long battle with the red coats.  The horizon is free of enemy ships, though our expectation is for the complications noted above to put a slow and steady bit of selling pressure on the tape until we hear from the Fed.
Matters are further complicated by the American's daylight savings scheme where they arbitrary alter time in a bid to confuse everyone and also save candles.
Next week has all the markings of mayhem and confusion.  And while that may seem troubling, it may just blow past, allowing our impenetrable stock markets to continue shining, untarnished by significant down days because America is finally winning again.
Exodus members, the 122nd Edition of Exodus Strategy Session is live, go check it out!
Comments »