A request has been made to assess the conditions of a certain metal, gold.  The following analysis is of gold and is conducted using the December 2014 Gold futures contract which trades on the COMEX.  I am using the complete trade data, not the regular trading hours, because this instrument tends to make moves outside of regular market hours.
Long term prices are bearish to neutral.  Prices took a sharp move lower starting mid 2012 and accelerating during 2013.  Since then prices have been basing.
Intermediate term is neutral.  After an excess low printed in July of 2013 we began the process of balancing.  The balance is best seen on the following volume profile which dates back to about June 2013.  We can see buyers and sellers reaching a consensus of value on the intermediate term, and we are currently trading near the lower end of where one might expect to see buying: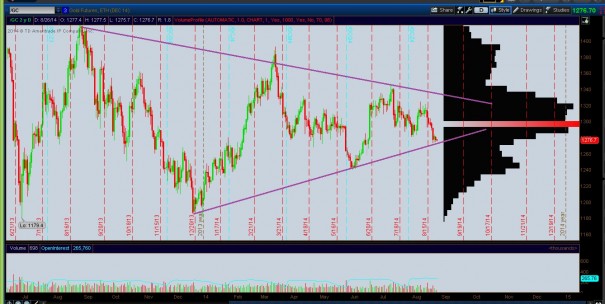 My current bias score is just a shade over neutral but not quite medium bull.  The volume is coming in a bit heavier to the downside over the last week.  However we do have signs of excess lows.  And even though the trend of the last few weeks has been lower, we have been essentially flat over the last 2-(almost)3 days.  If we are indeed coming into balance on the short term, then the micro composite VPOC at 1279 becomes a magnet with an even larger composite magnet existing at right about 1295.
If considering a long, one might be able to obtain a better entry by waiting for another lower low to complete a possible correction cycle.  This is very much a speculative roadmap, but I have highlighted my vision below: