I have a pretty bizarre imagination, but I couldn't make up a day where a Malaysian airplane was rocketed down on the Russian border, Israel launched a land battle in Gaza, and the White House was put on lockdown even under a peyote educed bout of psychosis.  What a day.
I earned some new rules today, trading the /NQ.  Here's the thing, willpower is finite much like land on an island.  If I sit here, and prices are going all the hell over the place, then over time it becomes more and more difficult to restrain the urge to break discipline.  I have the tools to trade well.  I have the environment to trade well.  I have the ability to trade well.  When a person is selected to join the special forces, like the Navy Seals, we know they have the physical ability to complete the challenges they face.  However they are tested, nearly tortured, and the entire time invited to "ring the bell".  This is a test of their mental fortitude, their will power.  Those who can maintain the will power can become Seals.  This is because often times their missions require incredible strength.  Some missions require days of reconnaissance and patience in grueling conditions before making a precision strike or insertion or extraction.
Willpower is a muscle, it can be strengthened.  However, until it is stronger one must take steps to ensure their own safety.  Two rules – 3 losing trades in a row? DONE for the day.  45 ticks to the good or more on the day?  DONE.
This will require shutting the DOM down and/or going away from the trading desk.  It is too enticing otherwise, the action.  If I want to abstain from cookies and every 20 minutes someone brings a hot batch out and puts them on the table, then I will eventually break and mangia some cookies.  I know my own weaknesses.  I will strengthen them, avoided impulse in all aspects of life.  Not just trading.  For now, I will create a physical barrier.
ONE MOAR RULE
I am frustrated with myself because I gave back good gains on the day.  Fade trades after 3pm, no, forget that.  The final hour of trade is like the wild west on a Futurama set.  Here are my daily (over) trades: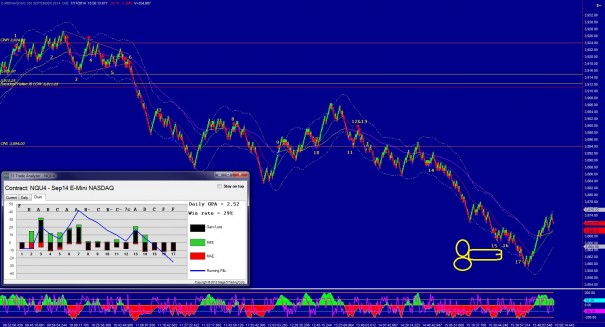 How cool would it have been to sashay onto iBankCoin and show everyone the money I made in the morning and then how I lounged for the remainder of the day, drinking Kool Aid with my homies?  Instead you see my continued struggle to make the turn.
I stopped out about half my book.  I have work to do, my performance swinging stocks this year is atrocious.  I still have some calls in TSLA and GPRN, August variety.  I am going to work on my back and biceps until they burst then re watch my performance tapes on the week.  Oh yeah.
Please don't coddle me, or offer advice.  This was stupid what I did today and I know better and I am feeling a little sensitive about it.  That being said, if you know a good tune for a warm summer day please pass it my way.