You knew it was bound to happen.  You knew CREE cannot spelunk after ever single earnings announcement, right?  To be honest (and we keep it honest in the humble world of Raul) my feet were chilly to the thought yesterday too.  I went into earnings only half sized.  Do you know where I was most certainly not reducing LED exposure?
In LEDS, in RVLT…the "party rock"
I floated some statistics about CREE stock behavior during and after their earning's announcement on the pelican stream.  They were rather interesting, really.  They are free, too, in case you are wondering.  CREE only trades higher 44% of the time after an earnings announcement BUT the session after an earnings announcement closes higher than the open 77% of the time.  Hence, therefore, thus…one does not simply trust CREE through earnings.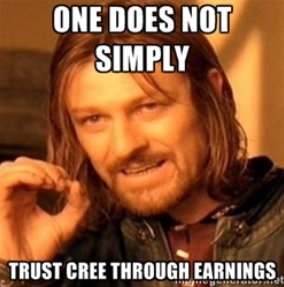 Quite the contrary, you instead hunt an entry the next day.  I bought CREE after it gap filled down and was trading BELOW where it opened today.  The deck was stacked for your boy Raul.  I made it a full size position, market order like a glut, and the rest is history.  They I bought OESX at the low of the day.
Do you see what I did here?  I completely pwned the LED trade, live on the interwebs.  I am not exactly dancing the tapioca over here yet.  My book is 25% concentrated into the LED industry as of the bell.  A concentration some of you may perhaps deem mad.
Let me 'splain something else to you.  SINZO ABE will not be instigating any wars in the Far East.  He took center stage at Davos proclaiming these words.  He instead intends to lead an industrious nation and keep his battles economic in variety.  This is very good news for the LEDs we love because most of their tiny components are assembled the laborious hands of China men and women.
Thus I am pressing the envelope with my LED exposure, and I intend do so until I see the whites of Thomas Edison's eyes—live from the land of the dead.  That last sentence makes no sense whatsoever.  I possess the will of a madman is what I am trying to convey.  Just be aware.
I have lots of other risk, side bets if you will, companies whose goals are all centered upon intelligent humans making more intelligent decisions.   I could go on, but I have already said too much.
Take time to enjoy the traditional lighting around you if this is something you hold dear, for soon it will be only a small piece of your nostalgic pie.
Comments »