NASDAQ futures made a hard move lower Thursday afternoon, after-market-close when earnings from Amazon came out well below analysts' expectations:
Amazon Reports Q3 GAAP EPS $0.52 vs. Est. $0.78 May Not Compare, Rev. $32.7B vs. Est. $32.69B
Gene Munster chimed in on the matter, saying Amazons top-line outlook is, "a little weak," but thinks the operating margin guidance is the main factor weighing on shares.
AMZN shares have traded as low as $775 after hours, prices unseen since mid September.
Meanwhile Alphabet, which is what we are forced to call Google (ticker symbol: GOOG or GOOGL) beat analyst expectations and is trading slightly higher:
Alphabet Reports Q3 EPS $9.06 vs. Est. $8.64, Rev. $22.45B vs. Est. $22.05B
Shares in the search giant are up about 2% after hours but doing little to put a bid in the NASDAQ, which is showing a hard-red knife candle into the close: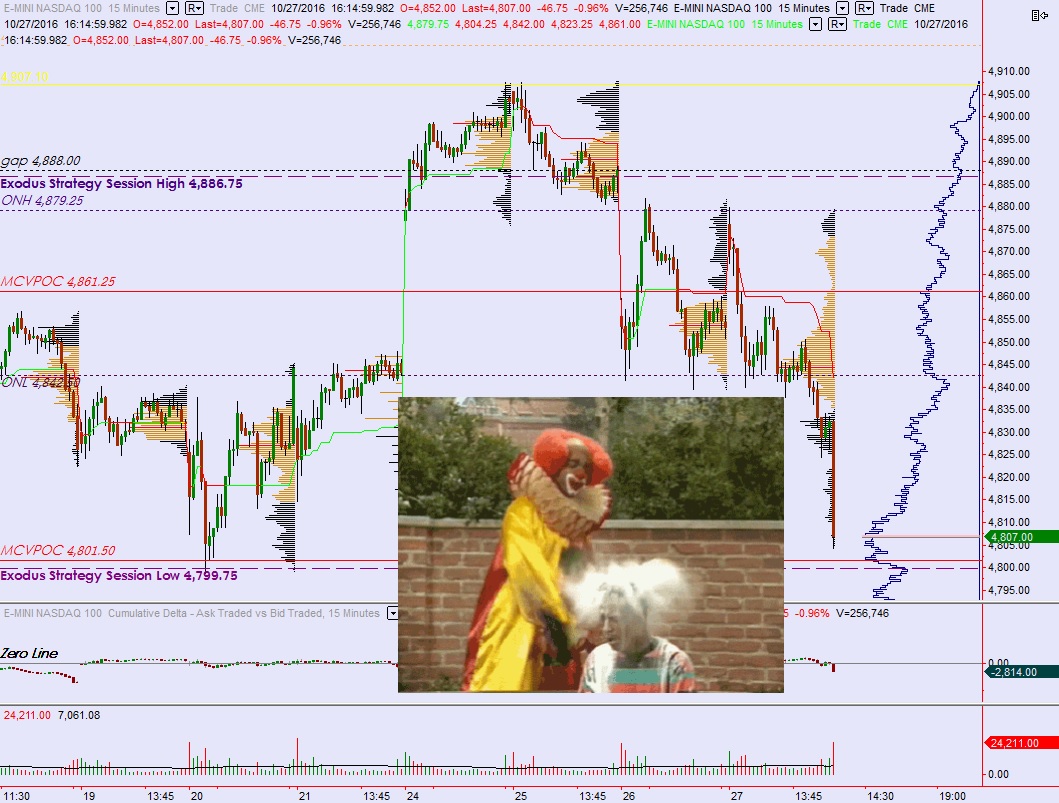 In other, non-important news, Microsoft's LinkedIn, a social network for phonies dressed in their finest ape suits, reported decent earnings after the bell also:
LinkedIn Reports Q3 EPS $1.18 vs. Est. $0.91, Rev. $960M vs. Est. $959.35M
But nobody cares.  Everyone is devastated by the greatest retailer of all time, Amazon, who doesn't care about making money, only eliminating the American retailer, via their deflationary vortex.
Expect the US household to benefit extremely little from the lower operating margins Amazon is putting in place ahead of BLACK FRIDAY and pagan X-mas.  Your wares will be modestly cheaper while seasonal work will be scant and the only people working overtime are FedEx delivery men.
BULLISH?
Comments »