NASDAQ futures worked higher overnight building upon the afternoon strength buyers were able to muster.  The responsive buying ignited soon after price took out the year-to-dates lows on the /NQ contract.  Instead of the new lows bringing more sellers into the marketplace, we saw volume dry up at the levels and then a sharp response from buyers.  The bounce that materialized has the potent look of a durable swing low for the next few trading days.
The long term auction has been disrupted after being controlled by the buyer for over a year.  Today the picture of the NASDAQ composite has changed a bit.  I perceive the long term auction as in balance which dates back to November 11th, or 11/11/13.  I do not choose these dates at random but instead observe the past market activity and how it relates to our newly revealed information.  My largest moving average (99EMA) is starting to turn lower on the daily chart but we do not have clear alignment of the moving averages which would add to a case for seller control.
I have built the intermediate composite volume profile to span from 11/11 to today so we can observe the volume taking place inside the auction.  It is hard to see, but 3515.25 is the volume point of control or the largest tip on the profile.  These are prices that both buyers and sellers consider fair and we conduct large amounts of trade at.  My goal currently is to sell some of my swing long exposure above this level.  Intraday, if I see price building acceptance above this level then I will look to trade a long beyond it.  I have highlighted this level was well as my swing trade targets on the following intermediate term profile: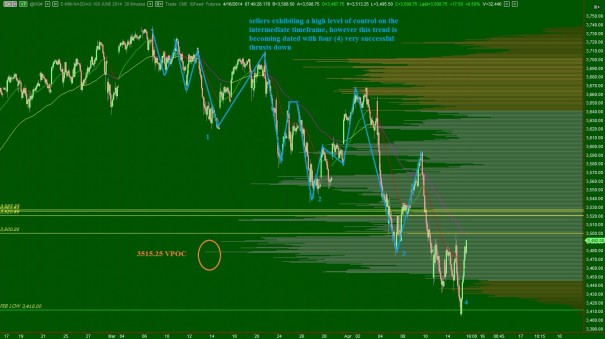 The short term auction shows buyers with a strong response.  They need to build on it and yesterday they accomplished a response with the potential to be build upon with some initiating buying.  However, should they be overwhelmed with supply price could reject back down into three days of overlapping value.  Standing between sellers goals is a very interesting low volume node at 3485.50 which is also in confluence with several value area highs.  This level is my key pivot intraday between long and short bias, until a level more influential materializes.  Buyers show us gaining acceptance into the upper profile which has prices up to around 3545: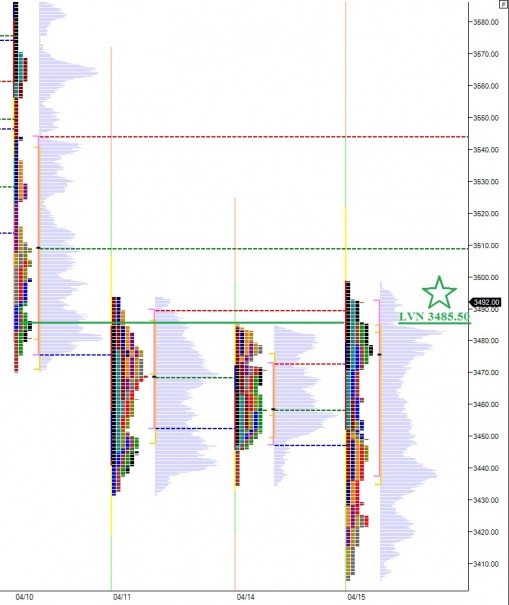 We have jobless claims at 8:30am which could have a material effect on the picture we see coming into the open.  We also have Philadelphia Fed announcement around 10am to be aware of.