The Nasdaq futures were a sell overnight where we saw prices move lower from their closing print.  The overall volume and range were by no means abnormal, the sell flow managed to print about 20 points of range on about 30,000 contracts.  Sellers managed to take out Monday's low print by a few points before finding responsive buying.  Since then we have seen buyers attempting to defend yesterday's low at 4035.75.  Whether or not they sustain trade above this level into cash open is still up for debate.
Chinese "flash" PMI came in slightly better than expected and had little effect on equity future prices.  Eurozone PMI was mixed with manufacturing lower than expected and services a bit higher.  We are set to see our US PMI at 9:45 am today.  We also have Fed speakers Powel and George right around market open and Richmond Fed Manufacturing Index at 10am.
The major headline this morning is the US and allies launching airstrikes on Syria.  Expect headline risk to run high as this information develops.
Below we can observe the mature balance of the intermediate term.  After making a slight new high on Friday, prices came barreling lower through the VPOC at 4066.  This suggests a larger timeframe participant, someone whose timeframe is greater than the intermediate term, was motivated to take action and as a result we saw this directional move lower which disregarded these intermediate term levels.  Their actions abated late in the afternoon and we saw a modest response from the buyers.  My initial impression of the failed move higher is to suspect a failed auction.  The fast move away further supports that idea.  However, the sellers need to make a bit more progress to gain control on this timeframe.  Essentially, they either need to take out the price levels I have highlighted below or print a lower high and a lower low.  See below: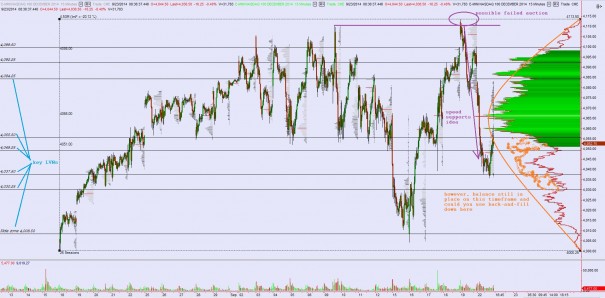 I have highlighted the short term levels I will be watching on the following market profile chart: