Since the cat is out of the bag, our software gave a bullish signal last week.  It's good for at least 5 days.  Tuesday will be day 4.  There is a 94% probability Tuesday's close will be higher than last Tuesday's close aka the trend day heard around the world.  Furthermore, there is an 84% probability of us closing higher than the Tuesday, May 24th close on Wednesday June 8th.
Do you know how much money you can make between now and June 8th? Even if the market just stays flat?
Perhaps you don't.  Maybe you skipped last week's iBankCoin Boot Camp which equipped attendees with the right skills to lay waste to the stocked market in these conditions.
I am still playing things slow.  I am eagerly awaiting 'The Fly's' adjustments to the GARP portfolio so I can re-balance my Motif.  Meanwhile my low risk longs have been participating earnestly with the market while paying dividends.  Let's not even talk about which ones, I cannot risk the robots triangulating on my boat and sending torpedoes into the hull.
Also, in case you were unaware, I time stamp all the algo driven trades I take inside Exodus.  Nothing fancy, just a note to the community: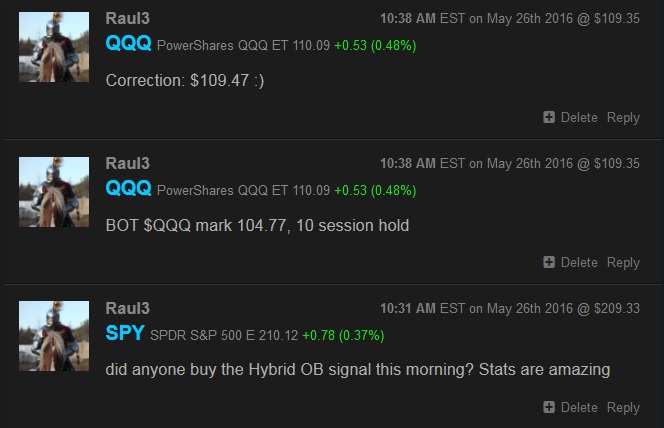 My model, the one I produce every single Sunday 80 weeks running, is also generating bullish readings.  They are unique bullish readings, territories we do not often explore so the data set is limited.  Nevertheless, I adhere to my working model as it has been an excellent guide for me.
Enjoy your Monday holiday, Americans, then come Tuesday be ready to make some moneys before June.
Sell in May?  I think I will see the first week of June, the turn and the river card.
Comments »