Meet the 17-year old transgender wrestler who just went 56-0, laying waste to the entire 110-pound female wrestling class in Texas: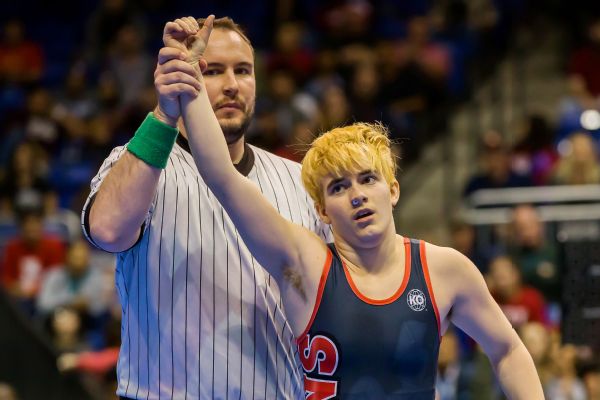 Mack was born a girl, but after several testosterone treatments and some re-identification she is now a boy.  But, down in stubborn Texas, they made him compete against girls because that's what the birth certificate says, which is a classic hayseed argument.
He eviscerated all the girls, naturally.
ESPN has the full scoop:
CYPRESS, Texas — A 17-year-old transgender boy completed an undefeated season Saturday by winning a controversial Texas state girls' wrestling title in an event clouded by criticism from those who believe the testosterone he's taking as he transitions from female to male created an unfair advantage.

The family of Mack Beggs has said he would rather be wrestling boys, but state policy calls for students to wrestle against the gender listed on their birth certificates. So Beggs, a junior from Euless Trinity, beat Chelsea Sanchez 12-2 in the 110-pound weight class to improve to 56-0 and earn the championship.

Beggs fell to his knees for a moment after the win as a mixture of cheers and boos rained down on him. He then hugged his coach and left the mat.
These sex alterations are all very bullish for Under Armour, whose compression clothing helps to eliminate breasts, and can press a stubborn penis into a nice manjina.
It's a brave new world, and RAUL commends and congratulates the efforts and success of Mr. Beggs.
Comments »