Good morning lads, not much time for me today so I shall keep this communique brief — my life often reflects the state of the equity complex, for better or worse, and maybe that is not healthy. I've always viewed the auction taking place on the big indices as a collective consciousness of society, and expanded that into the day-to-day of the average joe and yours truly. The fact is, my generation in particular (the millenial) has, for the most part, their entire fate attached to the stock market. Every pay period, honest working folks contribute dollars to their 401-k plans, defined contributions, in good faith to the system that it will provide security in their 'golden years'. I trust this system and assume that it will continue to trend higher, forever, despite all the noise made by the bernie bros and their cohorts. Sometimes price goes down, quite drastically, but eventually good prevails and we head back into the light.
Right now I see signs we are getting back on track.
It makes no sense to blame politicians or billionares for the woes of ones life. The outcome of your days are determined by your own actions, plain and simple.
Research suggests the equity complex, and perhaps even crypto (the greatest ponzi of all time) both are stabilizing, despite hard working agents of chaos on the right edge of nationalist fury.
I've personally been in a state of chaos, having helped up-end my elders and all their accumulated possessions in the name of long-term success. They are finally settling into the nice single story house we found them, and it is high time they ship out to Florida where their bones are less achy.
I've been setting up my office. I had to redo the walls and ceiling because they were busted to shit. This is menial work that I am plowing through and nearly completing.
It seems every day like I inch closer to getting back on my hustle, extracting NASDAQs.
The call is for stabilization. I like stocks here. Let's see how we come out of this week after Microsoft and Tesla report.
I am off to brunch, and then go see the Van Gogh paintings once more before they ship out.
Au revoir,
Raul Santos, January 22nd, 2023
And now the 417th edition of Strategy session.
---
Stocklabs Strategy Session: 01/23/23 – 01/27/23
I. Executive Summary
Raul's bias score 3.10, neutral. Watch for earnings out of Microsoft and Tesla (Tuesday and Wednesday, after-market-close, respectively) to provide direction to the overall tape.
II. RECAP OF THE ACTION
A little push higher early in the week found excess and sellers stepped in. Halfway through Thursday the auction stabilized and we worked higher into the weekend.
The last week performance of each major index is shown below: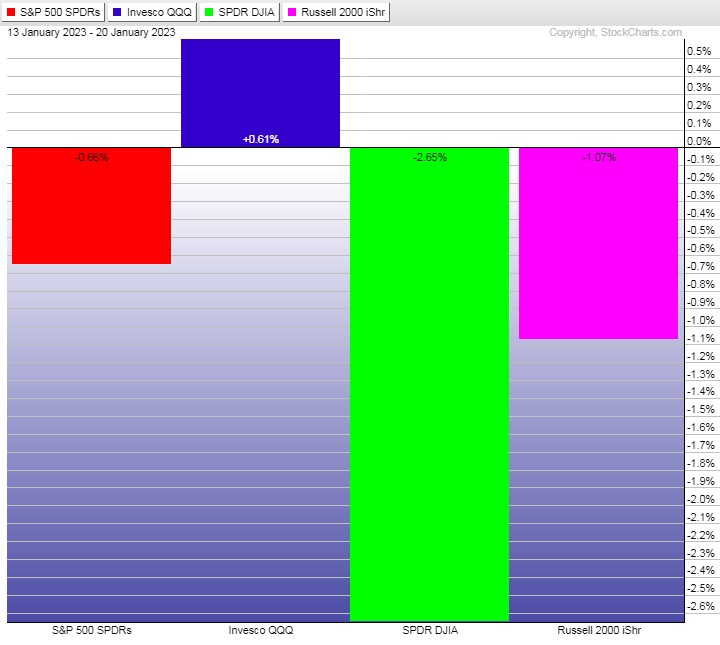 Rotational Report:
Rotations were mostly lower but that green shoot in Tech is what we like to see as bulls.
slightly bullish
For the week, the performance of each sector can be seen below: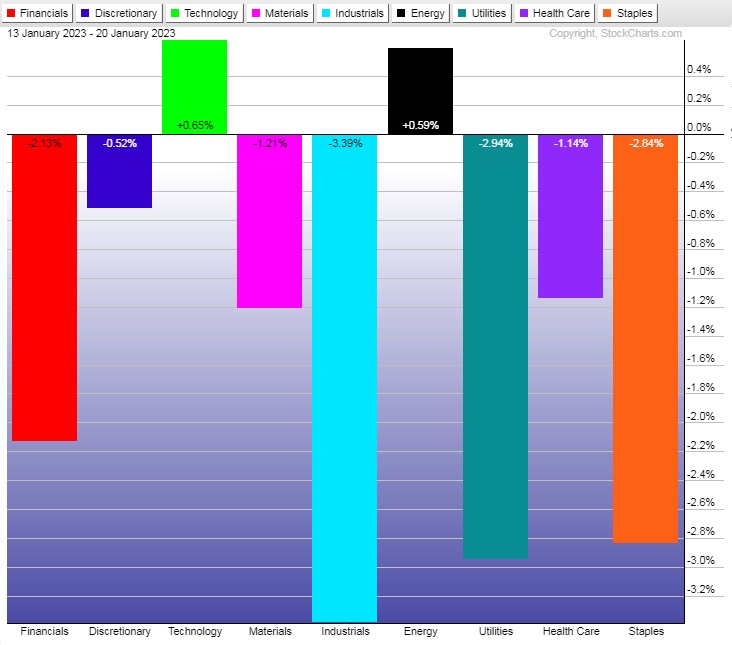 Concentrated Money Flows:
After two weeks of heavy bullish skews the ledger went neutral.
bullish
Here are this week's results: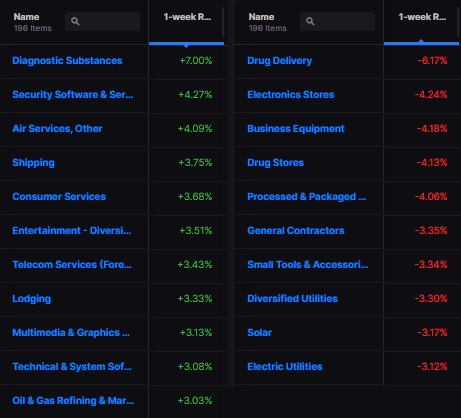 III. Stocklabs ACADEMY
Seasonality verse reality
January's average return is 0.55% according to Stocklabs. So far the S&P is up 3.5% on the month. Major skew away from the historical average suggests conviction amongst bulls, especially if they can carry this return into month-end.
Note: The next two sections are auction theory.
What is The Market Trying To Do?
Week ended searching for sellers.
IV. THE WEEK AHEAD
What is The Market Likely To Do from Here?
Weekly forecast:
Watch for earnings out of Microsoft and Tesla (Tuesday and Wednesday, after-market-close, respectively) to provide direction to the overall tape.
Bias Book:
Here are the bias trades and price levels for this week:

Here are last week's bias trade results:

Bias Book Performance [11/17/2014-Present]: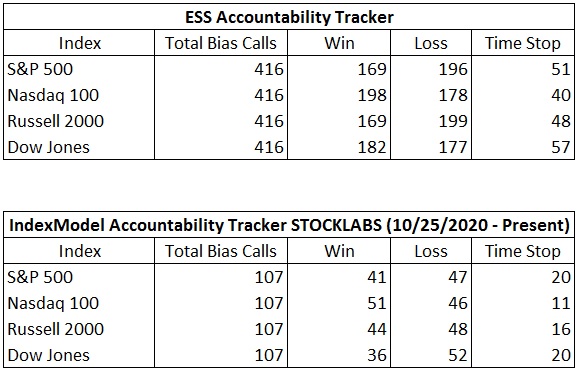 Probing upper end of range, ether makes a move
Readers are encouraged to apply these techniques to all markets. Markets fluctuate between two states—balance and discovery. Discovery is an explosive directional move and can last for months. In theory, the longer the compression leading up to a break in balance, the more order flow energy to push the discovery phase.
Market are most often in balance.
Every week this newsletter uses auction theory to monitor three instruments, the Nasdaq Transportation Index, PHLX Semiconductor Index and ethereum
Transports are pressing into the upper edge of range. Will sellers defend? This could be a potential pivot back to bullishness. For now, primary expectation is for range to hold.
See below:
Semiconductors same story — there is  a potential here for a pivot into bullishness.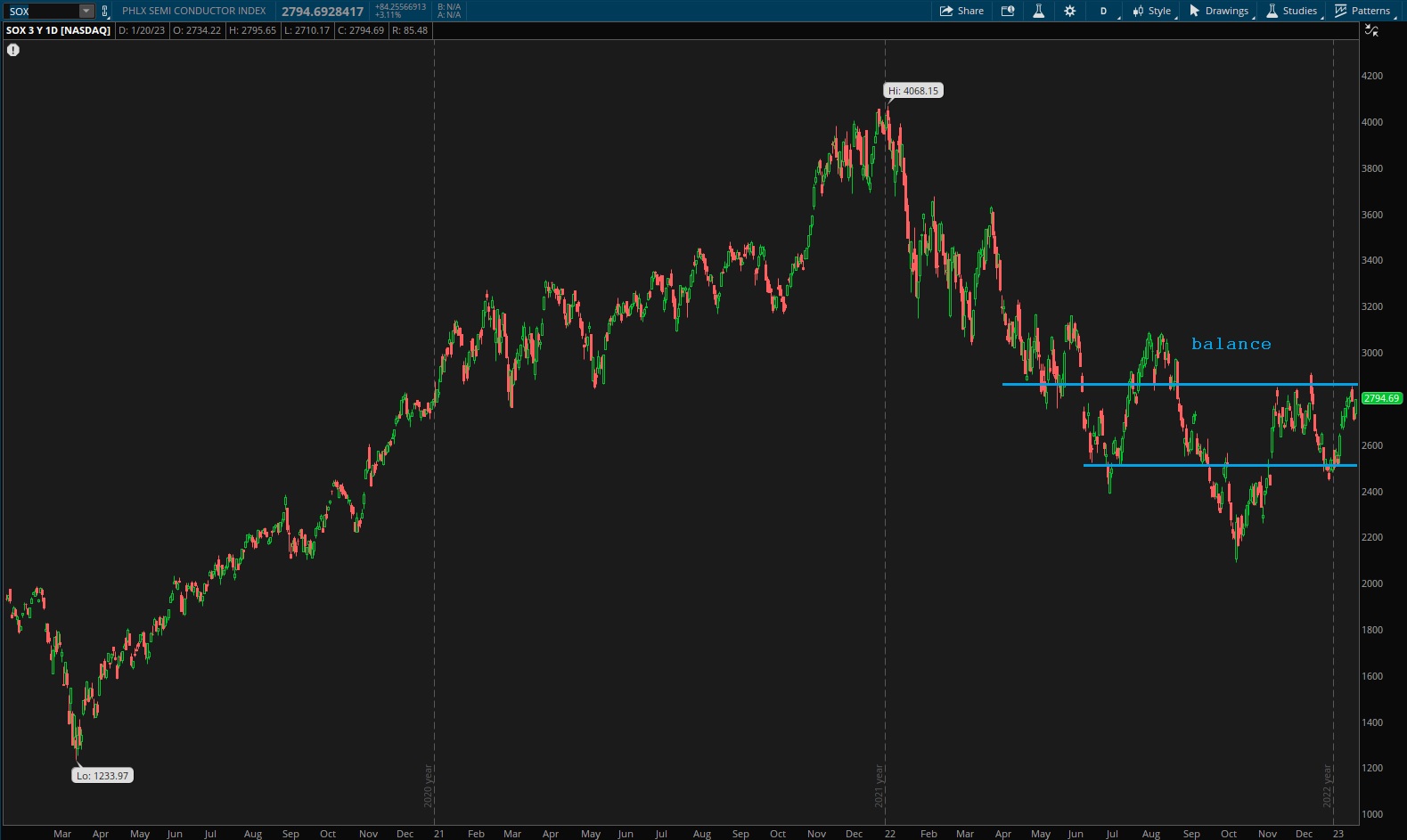 Ether has weak lows. Is this a big base? I am still skeptical.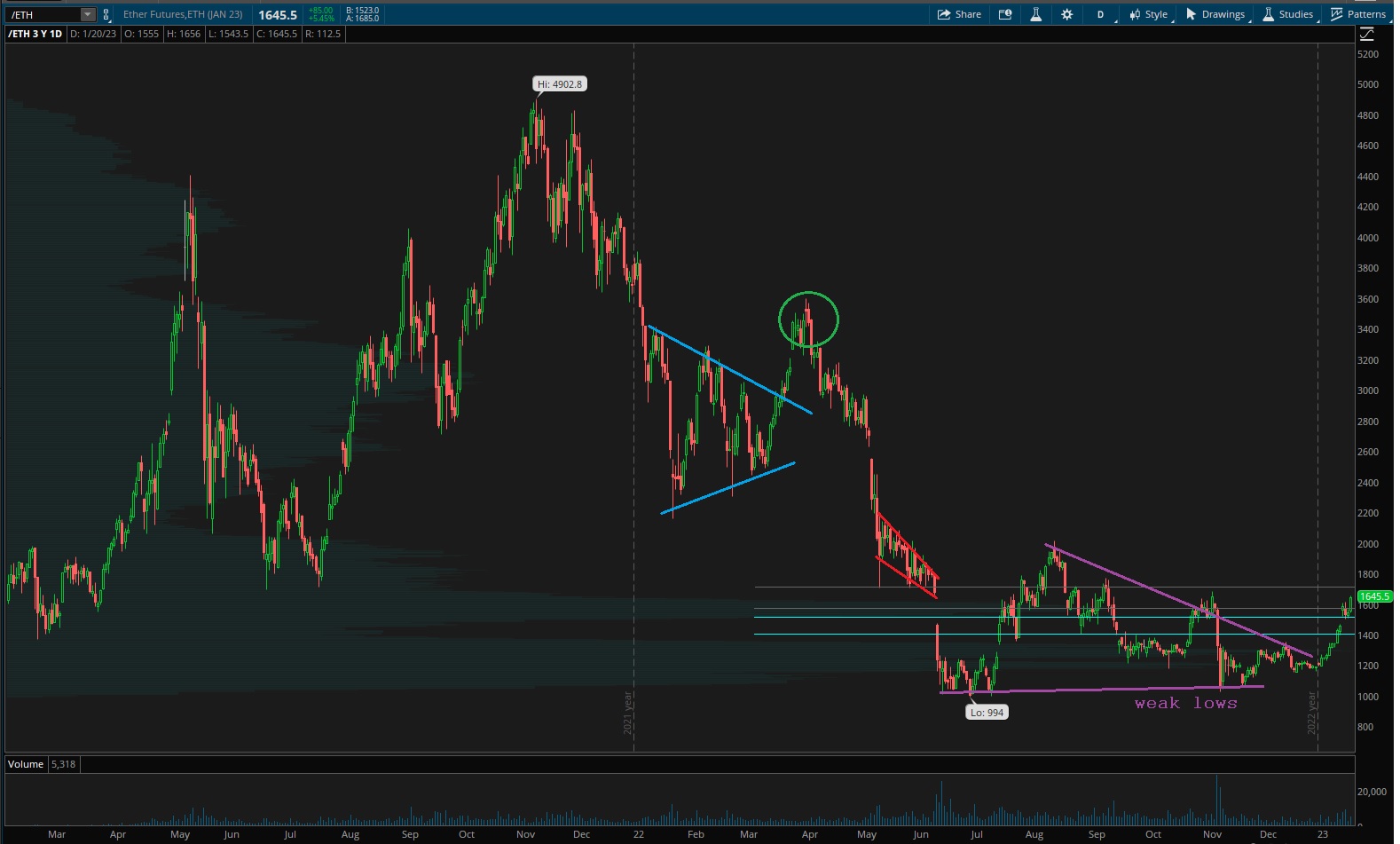 V. INDEX MODEL
Bias model is neutral heading into the final full week of January. Still neutral.
Here is the current spread: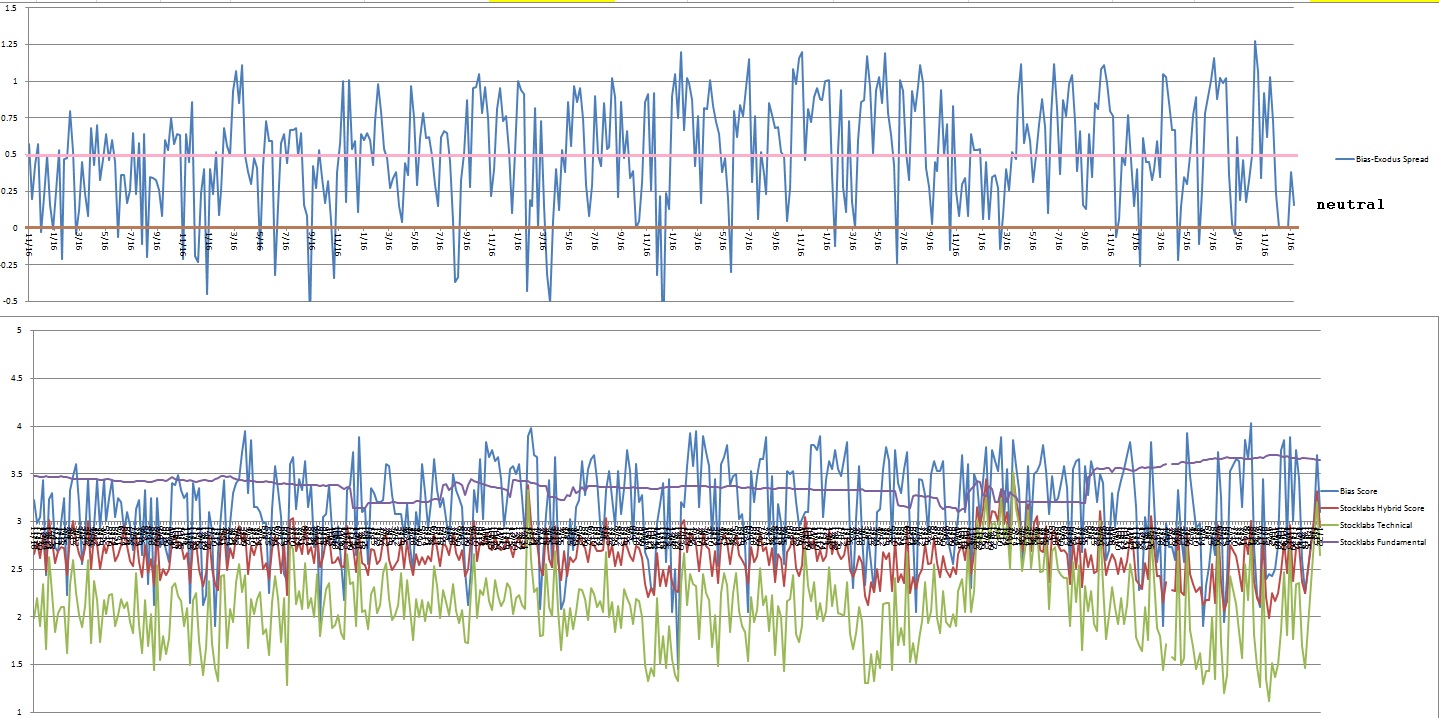 VI. QUOTE OF THE WEEK:
"A wise man can play the part of a clown, but a clown can't play the part of a wise man." – Malcom X
Trade simple, keep them on their toes
If you enjoy the content at iBankCoin, please follow us on Twitter