I've been reflecting a bit in this calming grey winter days — and one thing about this time last year (aside from being about when my portfolios were at their high water mark) is how suddenly everyone wanted to talk to me about investing.
My ego loved it. I started doing presentations and taking all sorts of phone calls and helping people set up vpns and whatnot to circumvent the draconian restrictions placed on american investors.
The people wanted in and I was happy to help.
The thing is, I'd still be happy to help today but nobody is interested. And this is truly when I do my finest work.
I'm a lone wolf. That means doing things before they are popular. It often means eventually, folks start to catch on. Those early folks tend to be good people. Then it slowly degrades into the doofus class, and that's when it's time for me to fly.
Right now, in Detroit, I am early. There is nothing around my vast acrage aside from some old hippy commune, a few drug dealers and some rouge gardeners. It's nice. But they're already moving in on me. Right now. Good people. Young families. Long-time natives to the area buying alongside their people.
But the bros are coming. I can sense it. And there is little I can do aside from accumulate as much land mass as possible to buffer me from their foolishness.
L.A. Fitness opened a brand new space next to the Home Depot about three weeks ago. I've been going since it opened. It is empty and clean. The machines are new. It is nice to be there with all that good air to breathe and all those nice pieces of iron to move around.
This shall be short lived.
Right now I am early to the risk cycle reset. Have had some winners like Walmart. Soon the masses will move on me and I'll have to push out to thinner ice.
This is the life of a lone wolf. And I like it.
Okay. Big week coming up. Models have nothing to say regarding bias. Our fate is in the hands of Ken Griffen.
Raul Santos,
December 11th, 2022
And now the 414th edition of Strategy Session
---
Stocklabs Strategy Session: 12/12/22 – 12/16/22
I. Executive Summary
Raul's bias score 2.60, medium bear. Tricky days ahead. No biases generated from the models. Markets likely to have big reactions to CPI data Tuesday morning and the FOMC announcement Wednesday afternoon. Expecting those events to dictate market direction into the second half of the week.
II. RECAP OF THE ACTION
Selling pressure early on and through Wednesday morning (just like the prior week). Then choppy through Thursday. Hard sell Friday morning on the non-farm payroll data. Most of Friday spent clawing back those NFP losses before a bit more selling pressure into the close.
The last week performance of each major index is shown below: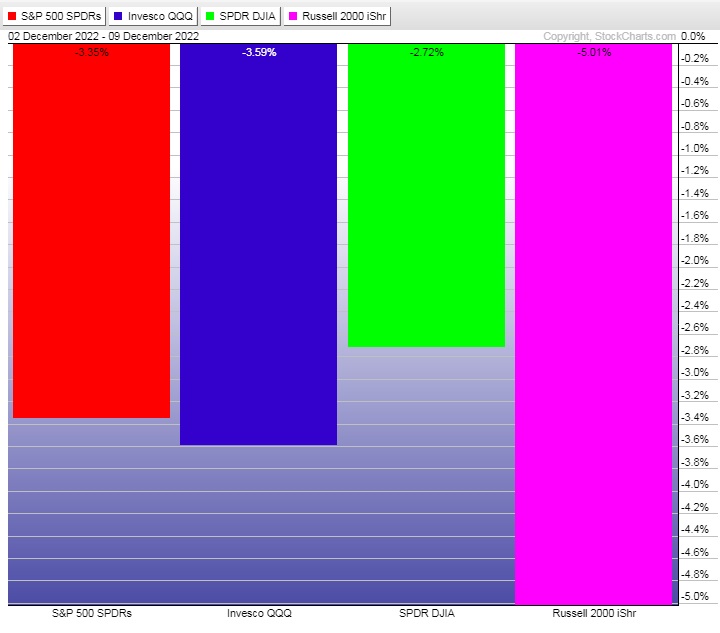 Rotational Report:
Rotations flipped bearish across the board.
bearish
For the week, the performance of each sector can be seen below: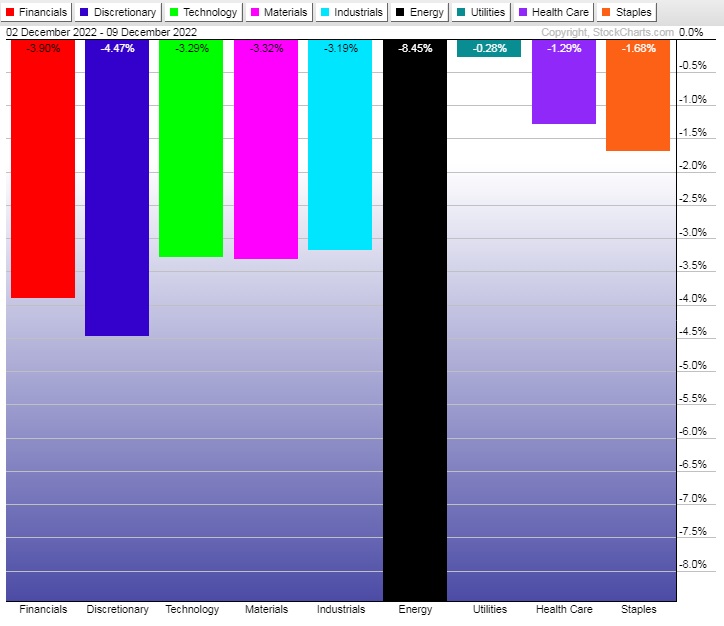 Concentrated Money Flows:
Money flows skewed heavily to the sell side for the first time in five weeks.
bearish
Here are this week's results:

III. Stocklabs ACADEMY
Year end volatility
Never been fond of the thin and volatile markets that often occur near year-end. Yes, big gains can happen in these conditions. There are lots of participants interacting with the tape for various reasons, operating on different timeframes than traders.
Add in a couple high impact economic events, and the risk is extremely high. Just something to keep in mind heading into the week. Reduced position size is one way to stay active through this type of tape.
Note: The next two sections are auction theory.
What is The Market Trying To Do?
Week ended searching for buyers.
IV. THE WEEK AHEAD
What is The Market Likely To Do from Here?
Weekly forecast:
Tricky days ahead. No biases generated from the models. Markets likely to have big reactions to CPI data Tuesday morning and the FOMC announcement Wednesday afternoon. Expecting those events to dictate market direction into the second half of the week.
Bias Book:
Here are the bias trades and price levels for this week:

Here are last week's bias trade results:

Bias Book Performance [11/17/2014-Present]: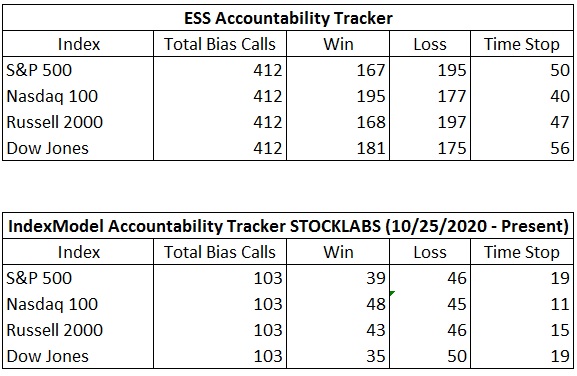 *Still* the same conditions — weak ether, balance elsewhere
Readers are encouraged to apply these techniques to all markets. Markets fluctuate between two states—balance and discovery. Discovery is an explosive directional move and can last for months. In theory, the longer the compression leading up to a break in balance, the more order flow energy to push the discovery phase.
Market are most often in balance.
Every week this newsletter uses auction theory to monitor three instruments, the Nasdaq Transportation Index, PHLX Semiconductor Index and ethereum
Transports are off the upper edge of balance. There's plenty of room for this index to oscillate without breaking balance.
See below: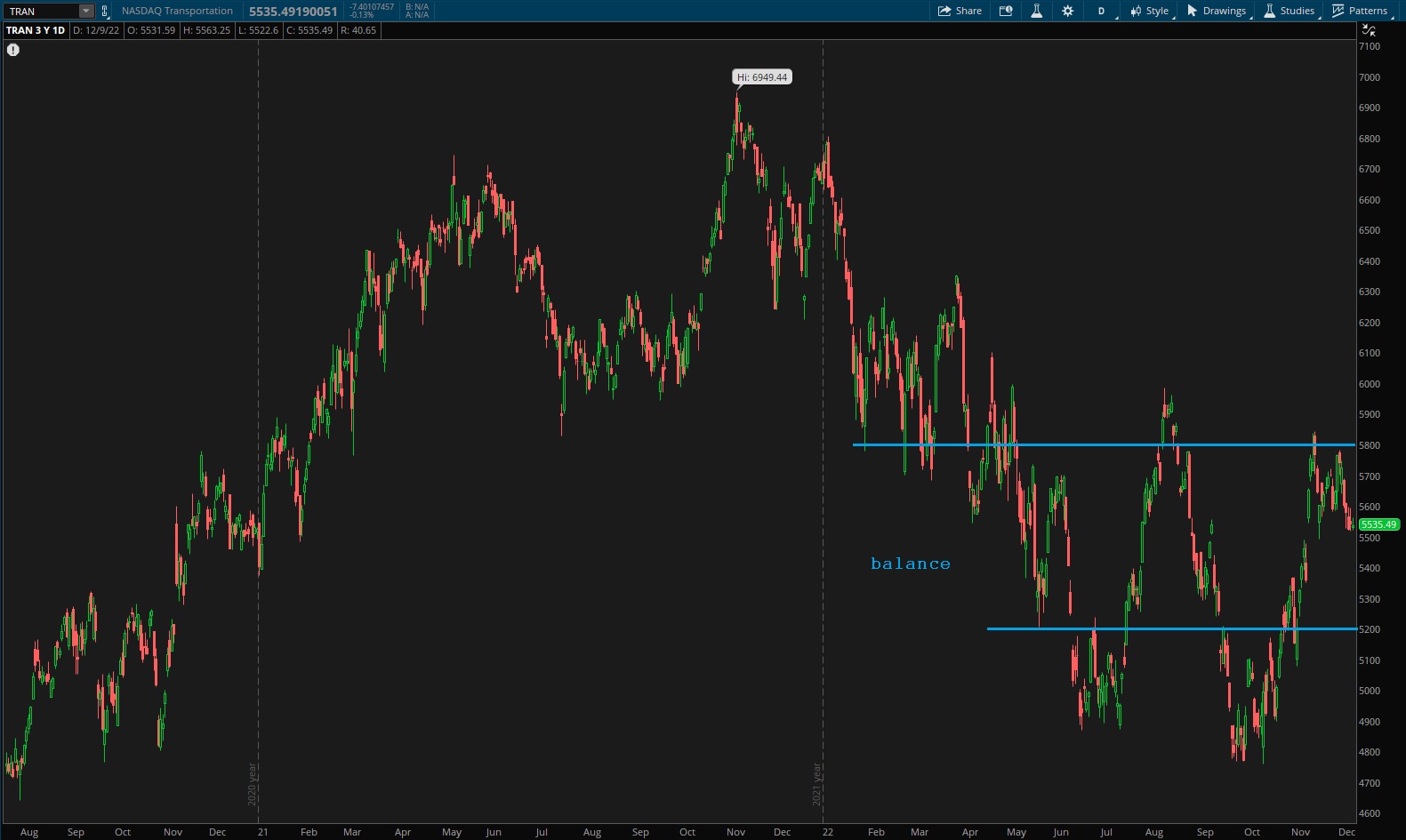 Semiconductors show balance inside of balance. Building energy for the next big directional move.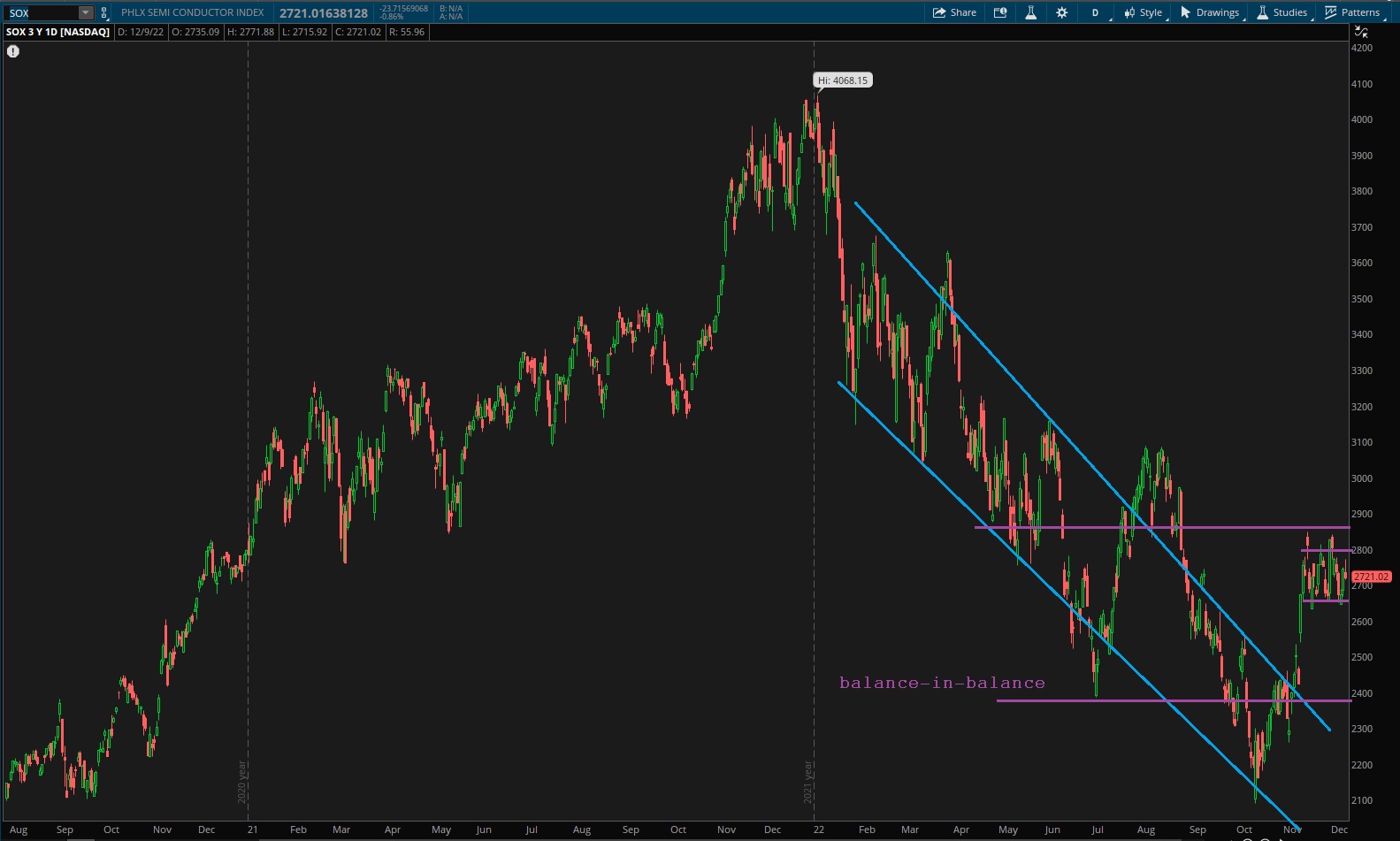 Ether has those weak lows just below. Cannot feel bullish about crypto until there is some resolution to this chart.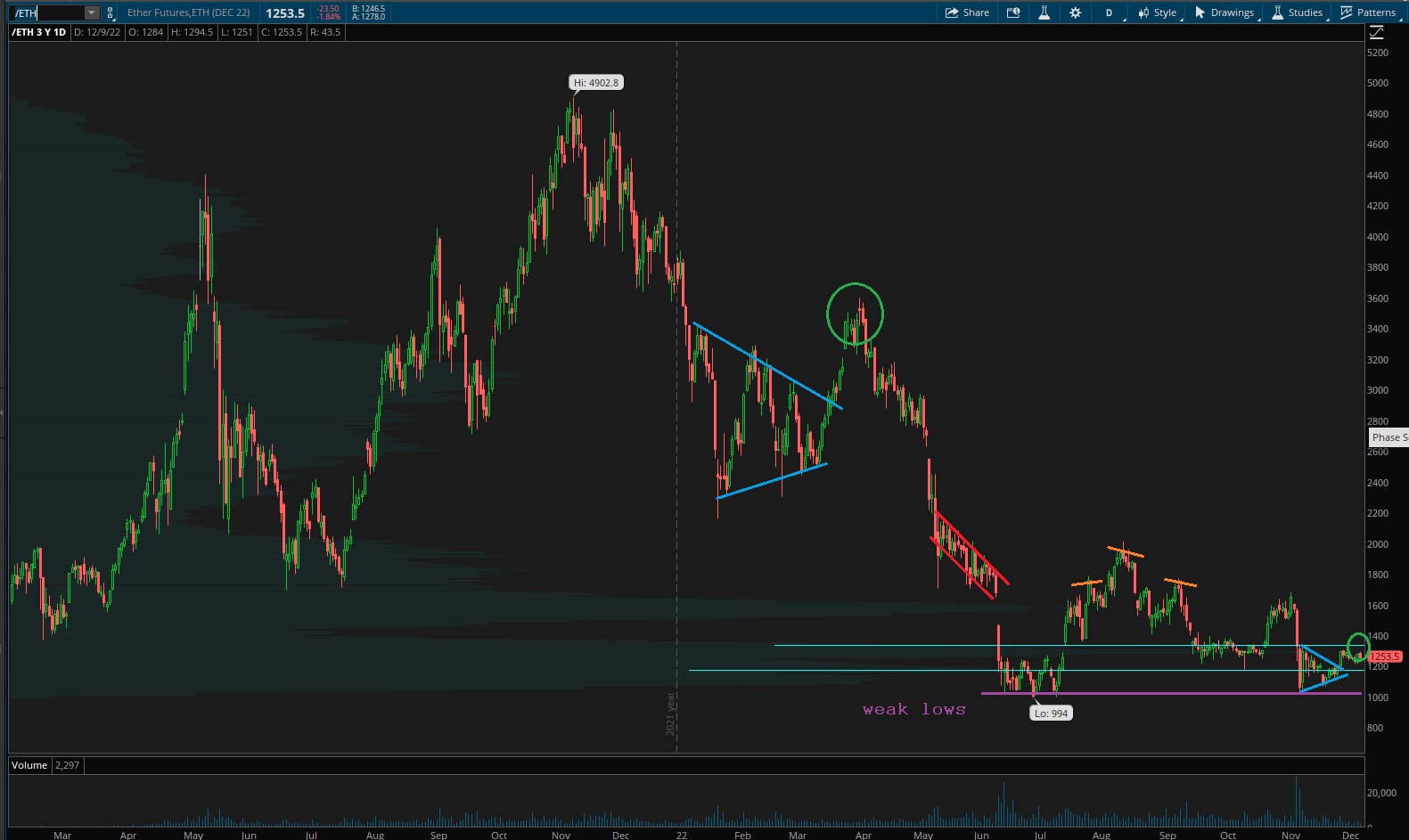 V. INDEX MODEL
Bias model is neutral heading into next week. Neutral no bias after four e[RCS] in recent history.
There were five Bunker Busters in recent history — fourteen weeks ago, twenty-three weeks back, thirty weeks ago, forty-three reports back and forty-five reports back.
Here is the current spread: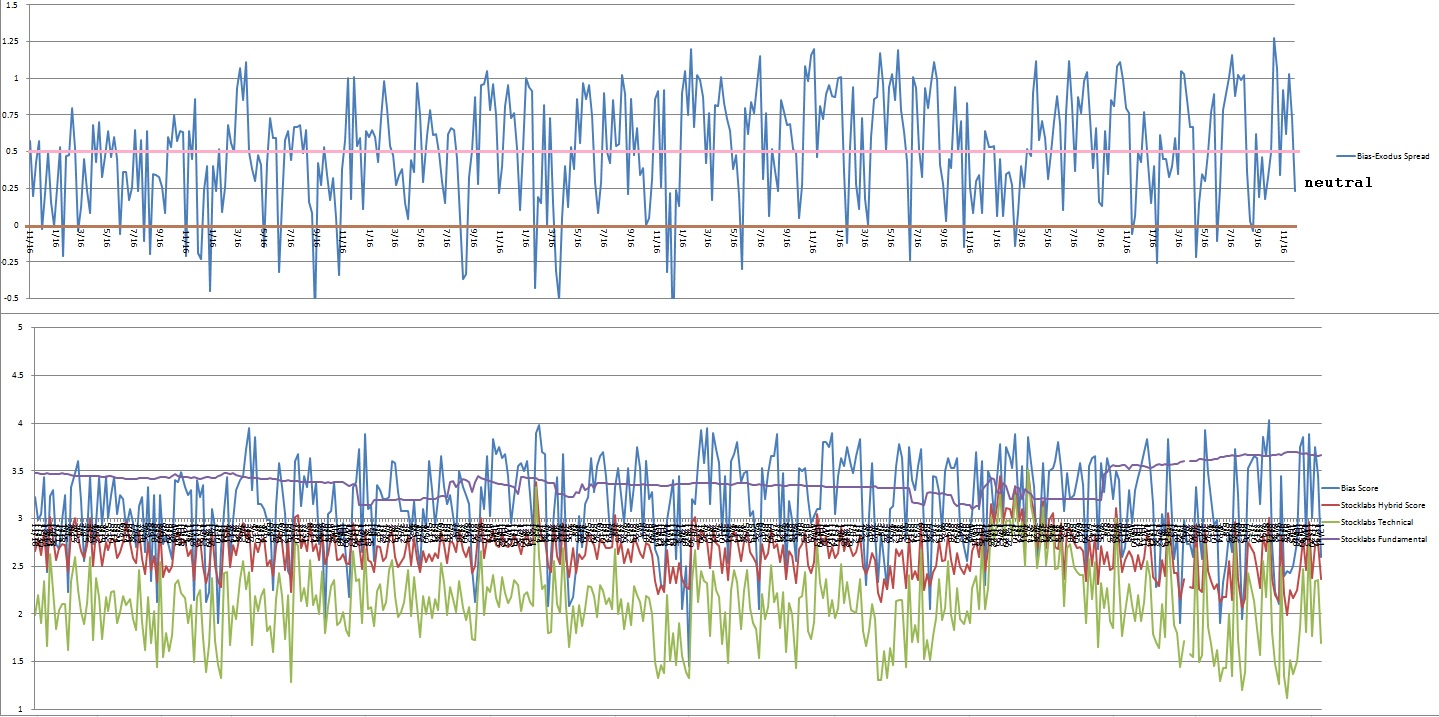 VI. QUOTE OF THE WEEK:
"It's the little details that are vital. Little things make big things happen." – John Wooden
Trade simple, do the work
If you enjoy the content at iBankCoin, please follow us on Twitter