Holidays season is a lot of things for people. I often find myself questioning the meaning of life. Particularly how I intend to answer that question via my actions.
Good afternoon.
I just want to be good to my people and kind to strangers and build cool stuff whilst having some heckin' fun.
If that is my legacy, to be carried forward for another 50 years or so after I perish. That is good enough.
I have no edge going into next week, but I like the overall context. As always, I am expecting a bull run.
Ho ho ho.
Raul Santos, December 4th, 2022
And now the 413th edition of Strategy Session.
---
Stocklabs Strategy Session: 12/05/22 – 12/09/22
I. Executive Summary
Raul's bias score 3.45*, medium bull. Equity markets sort of drift higher during a week light in major economic data. Watch for some volatility Thursday after-the-bell when major retail component Costco reports earnings.
*Rose Colored Sunglasses [RCS] bearish bias triggered, see Section V.
II. RECAP OF THE ACTION
Selling pressure early on and through Wednesday morning. Then a strong rally on the Powell comments. Choppy Thursday. Strong sell on the non-farm payroll data Friday morning. Then participants spent Friday clawing back those early morning losses to close out the week on a positive note.
The last week performance of each major index is shown below: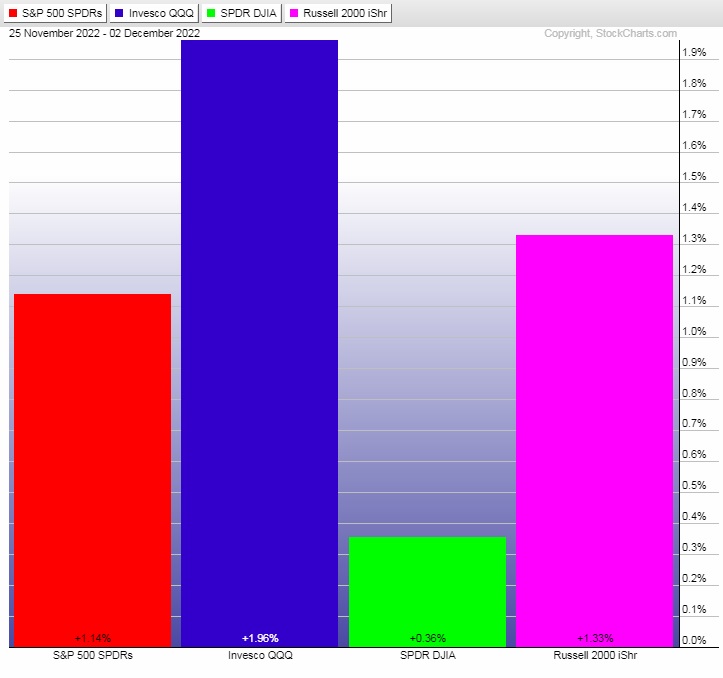 Rotational Report:
Solid rotiations for bulls. Leadership from key sectors. Utilities lagging.
bullish
For the week, the performance of each sector can be seen below: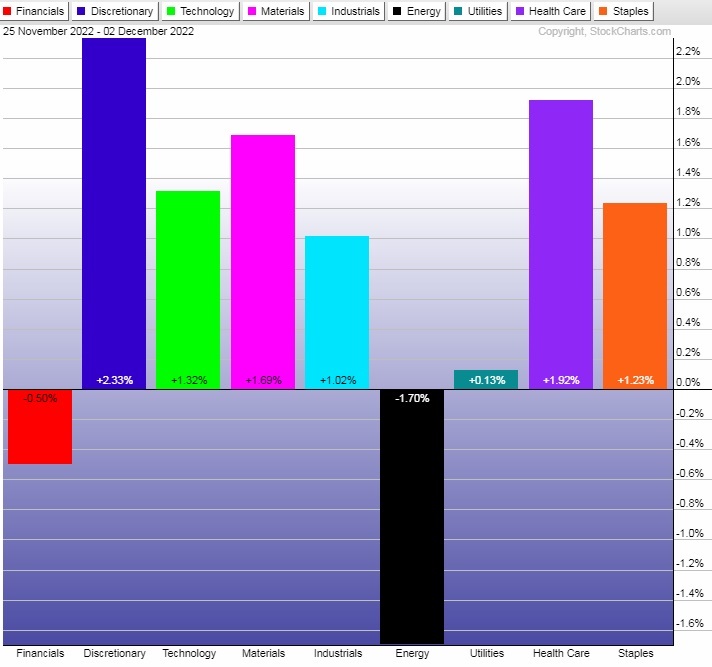 Concentrated Money Flows:
Money flows skewed slightly in favor of buyers for second week after being balanced three weeks ago after breaking balance to the buy side four weeks back.
slightly bullish
Here are this week's results: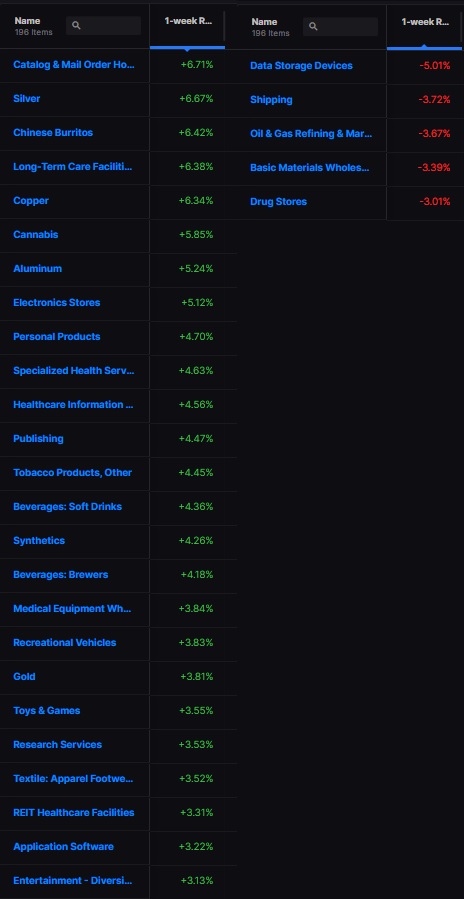 III. Stocklabs ACADEMY
3-month overbought stats — meh
We liked the 10-year stats on the 6-month overbought signal. We used them as evidence to press risk through month end last week.
The six month cycle is complete  and now we're left with a fresh 3-month signal. But when you push that signals historical data out to a 5-year backtest (to gain enough samples to make a relevant analysis) the data is not particularly strong one way or the other.
It slightly favors the bulls, historically.
Pair that with indexmodel flashing the [RCS] bearish signal, and we have a wash.
No bias heading into next week.
All we can rely on is context. Contextually, I am bullish given seasonality. The lack of economic data due out. Light earnings calendar. Tax/estate planning. Vladimir Putin falling down and shitting himself.
Note: The next two sections are auction theory.
What is The Market Trying To Do?
Week ended searching for sellers.
IV. THE WEEK AHEAD
What is The Market Likely To Do from Here?
Weekly forecast:
Equity markets sort of drift higher during a week light in major economic data. Watch for some volatility Thursday after-the-bell when major retail component Costco reports earnings.
Bias Book:
Here are the bias trades and price levels for this week:

Here are last week's bias trade results:

Bias Book Performance [11/17/2014-Present]: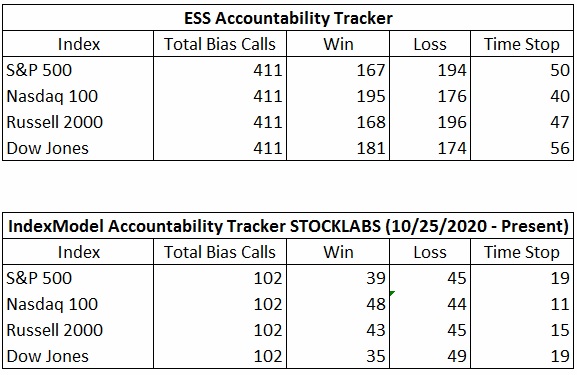 Again, same conditions — weak ether, balance elsewhere
Readers are encouraged to apply these techniques to all markets. Markets fluctuate between two states—balance and discovery. Discovery is an explosive directional move and can last for months. In theory, the longer the compression leading up to a break in balance, the more order flow energy to push the discovery phase.
Market are most often in balance.
Every week this newsletter uses auction theory to monitor three instruments, the Nasdaq Transportation Index, PHLX Semiconductor Index and ethereum
Transports sort of lingering on the upper-end of balance.
See below: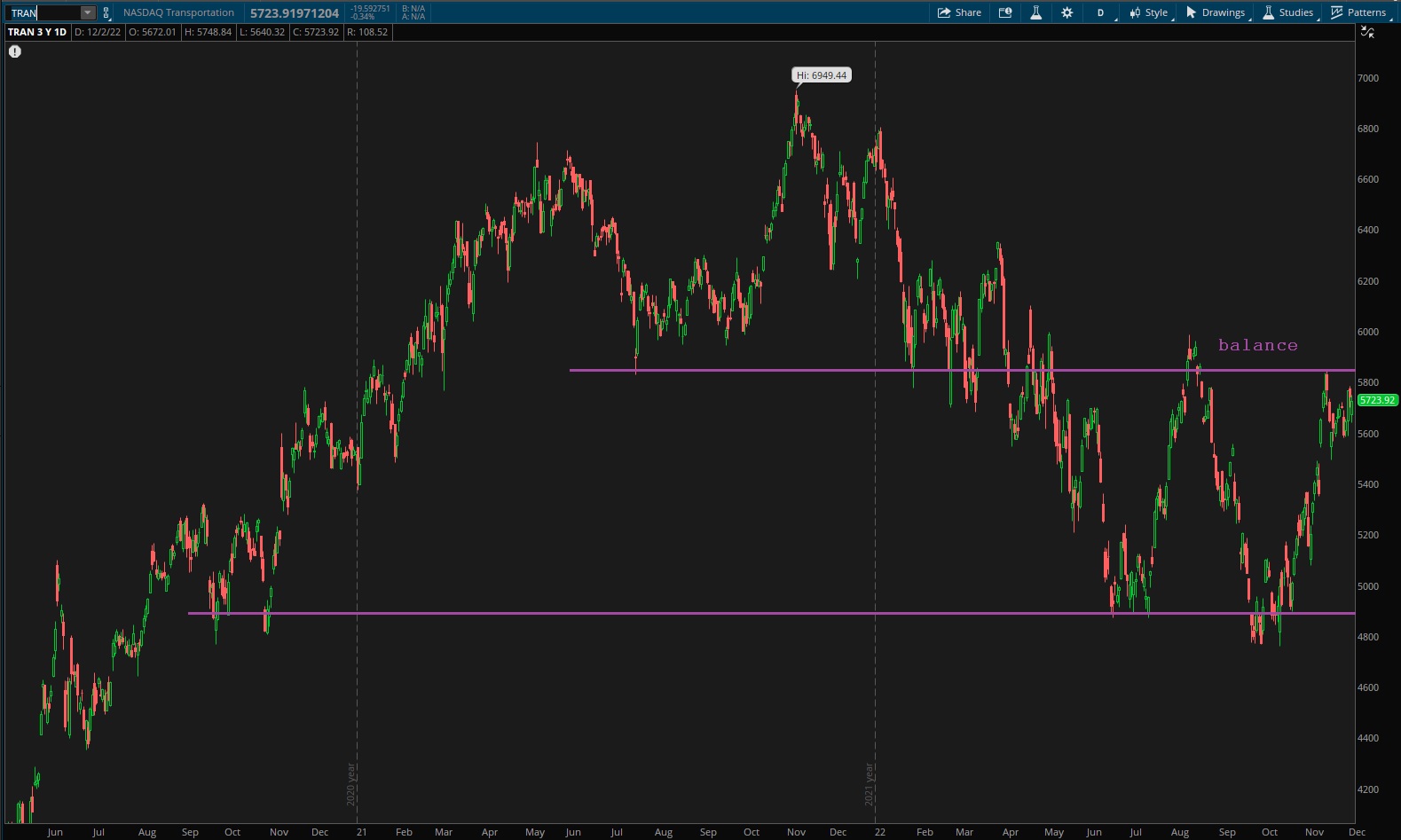 Semiconductors have found resistance at old support levels so far, and appear to be settled into balance. During last week's trading, a new tighter balance inside the larger balance formed. Building energy.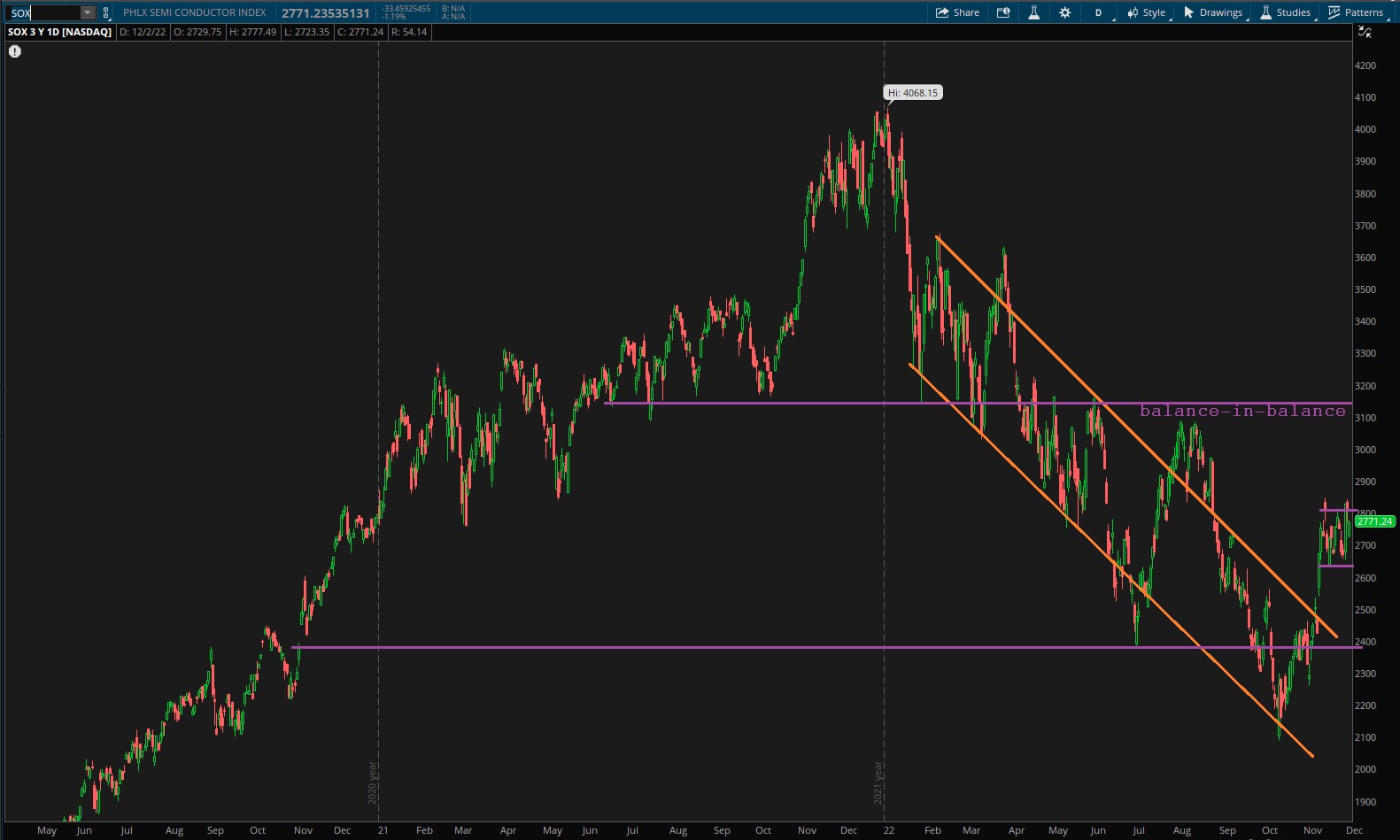 The swing lows on ether are looking increasingly weak. A test below 1k seems more likely with each day we linger down here.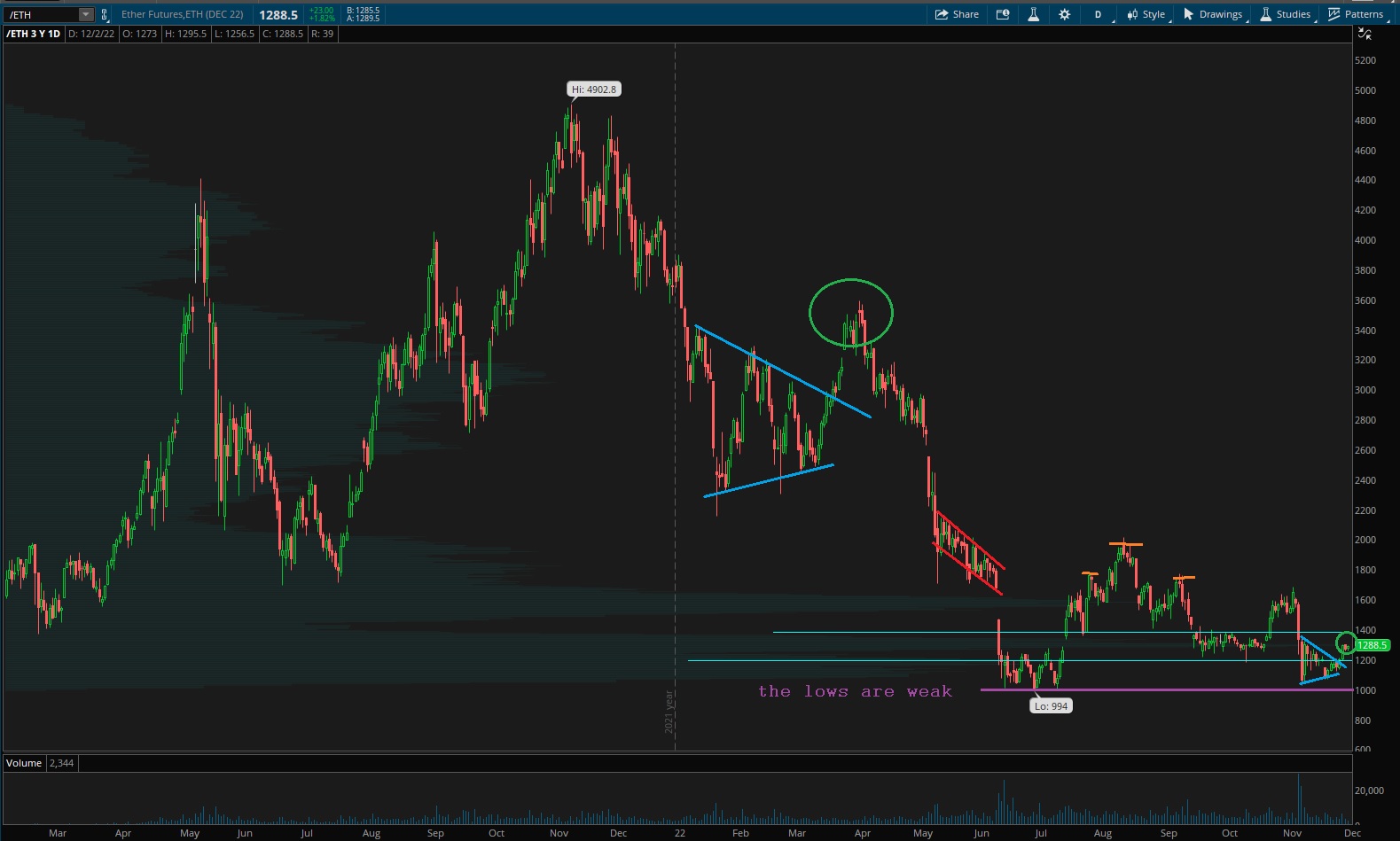 V. INDEX MODEL
Bias model is Rose colored sunglasses bearish after being e(RCS) bullish last week after being RCS bearish three reports back after being e[RCS] bullish four reports back. All this flip-flopping follows two neutral weeks. Before the neutral weeks we had two consecutive weeks of extreme Rose Colored Sunglasses (e[RCS]) bullishness.
The count remains at four e[RCS] in recent history.
There were five Bunker Busters in recent history — thirteen weeks ago, twenty-two weeks back, twenty-nine weeks ago, forty-two reports back and forty-four reports back.
Here is the current spread: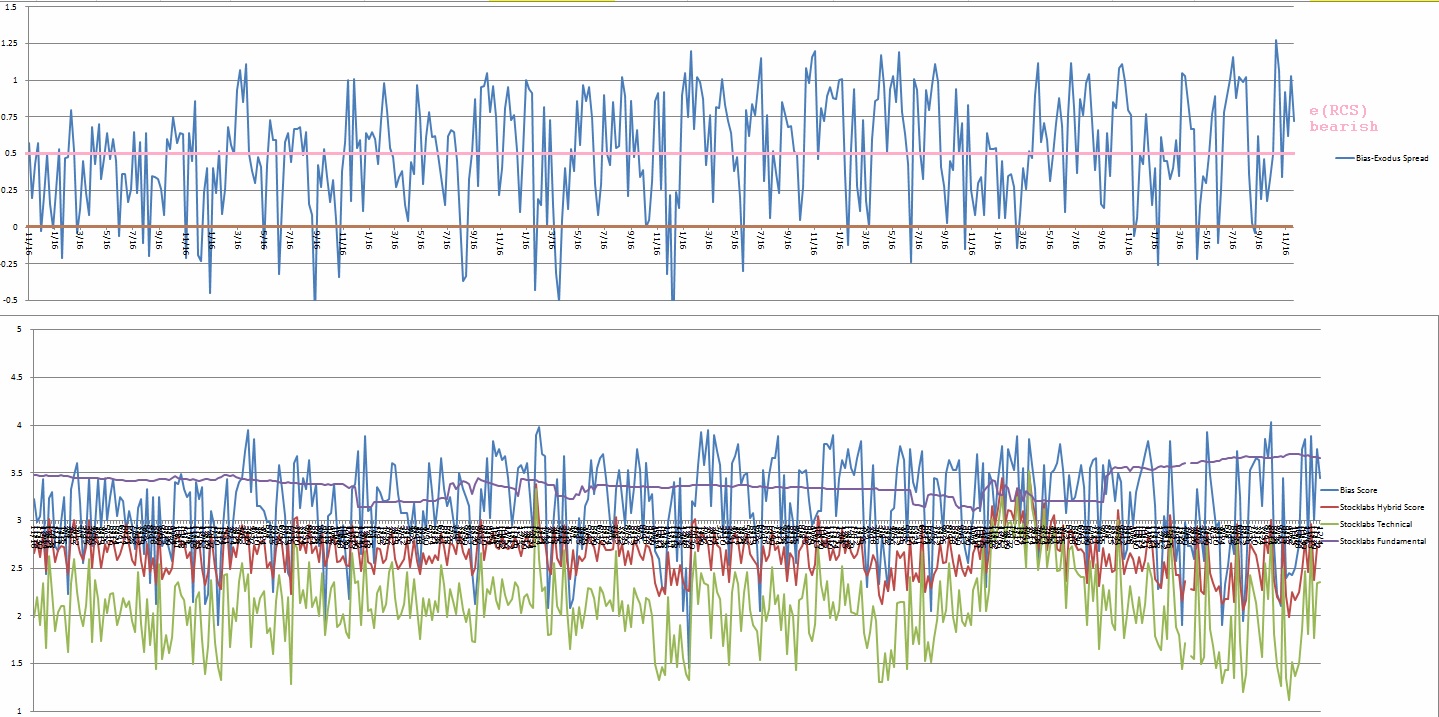 VI. Six month hybrid overbought
On Friday, November 11th Stocklabs went technical and hybrid overbought on the six month algo. This is a bullish cycle that runs through Monday, November 28th . It runs a bit longer due to a trading holiday for Thanksgiving.
Here is the final performance of each major index over the cycle: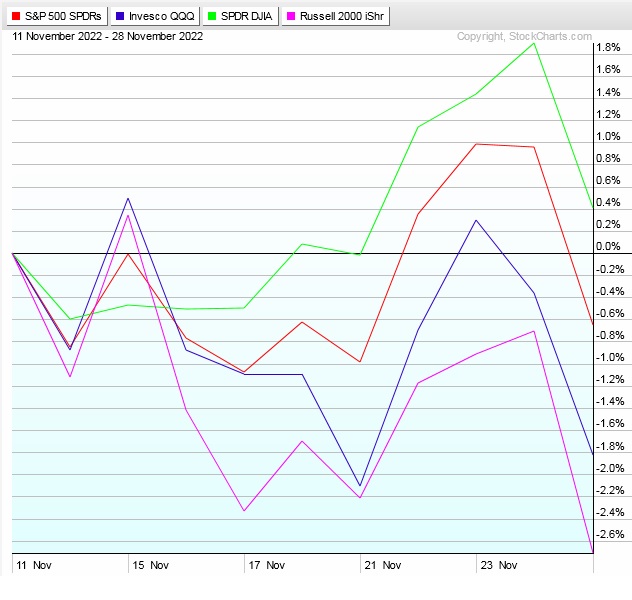 VII. QUOTE OF THE WEEK:
"I never struggled with injury problems, because of my preparation. In particular, my stretching." – Edward Moses
Trade simple, prepare for action first
If you enjoy the content at iBankCoin, please follow us on Twitter