Lads I'll be brief and hopefully that will aide your uptake of this critical message — there come a few moments in each year when conditions set up for making grotesque gains and right now is one of them.
We have those crypto fuckers on the run. Their fever, which infected the masses when they were forced into their homes for two year for no dang good reason by the manufactured hysteria of a pandemic, has been soothed by the opaque hand of the States United Federal Reserve.
In two or three foul wooshes, billions, possibly even a trillion, worth of the most asinine speculative froth was eviscerated from the numbers on the screen that say what everyone's worth. That opened the door for a proper risk cycle reset.
The fourth estate is running out of juice on their ever-rampant campaign to stoke fear and anger in the name of clicks. And recently they've begun celebrating old names from the short seller's realm like Jim Chanos.
Steady.
The genpop is distracted with events, event planning and games. They no longer are paying attention to our dear markets. And they're letting us old crocodiles have our run of the place.
Average True Ranges, which model the daily range (when used on daily charts) have plummeted off their highs in the last few weeks. Dare I say, collective emotions are back in check? Methodical markets are back for working.
Yes, we could clutch our food reserves and stay plugged into the fear machine (cable news) waiting for 'the next shoe to drop' out in the geopolitical arena. China. Russia. Iran. You know, places with shit leadership fighting like idiots to remain in power.
But the truth is they lost control long ago. Somewhere in the mid 1950s, when capitalism really hit its stride here in AMERICA. Now citizens of this planet want their smart phones and internet. They want to switch their genders back and forth and bang each other and take psychedlics and frollic through shopping malls spending fiat american dollars on durable goods from those wonderful italian designers.
You have to admit, it really is great. America won, and will continue to win. And the month of December is when our western culture really shines. Places like Target and Costco fill up with shiny things and people line up to buy them. Three-out-of-four vehicles on the road has a nice blue smile on it — and has a driver who is putting out boxes for amazon.
Families gather around huge tables to eat all kinds of foods. We have real neighbors here, fuckers we've known forever who can be trusted with delicate secrets and help us prepare for battle in the name of extracting money from the system.
These next few weeks are critical. All hands on deck folks, let's take that guac.
Raul Santos, November 27th, 2022
And now the 412th strategy session.
---
Stocklabs Strategy Session: 11/28/22 – 12/02/22
I. Executive Summary
Raul's bias score 3.75*, medium bull. Equity markets press higher into month-end. Watch for some volatility Wednesday afternoon as Powell speaks and again Friday morning after non-farm payrolls.
*extreme Rose Colored Sunglasses [e(RCS)] bullish bias triggered, see Section V.
II. RECAP OF THE ACTION
Choppy through early Tuesday then a rally. Then we marked time through the holiday sessions.
The last week performance of each major index is shown below: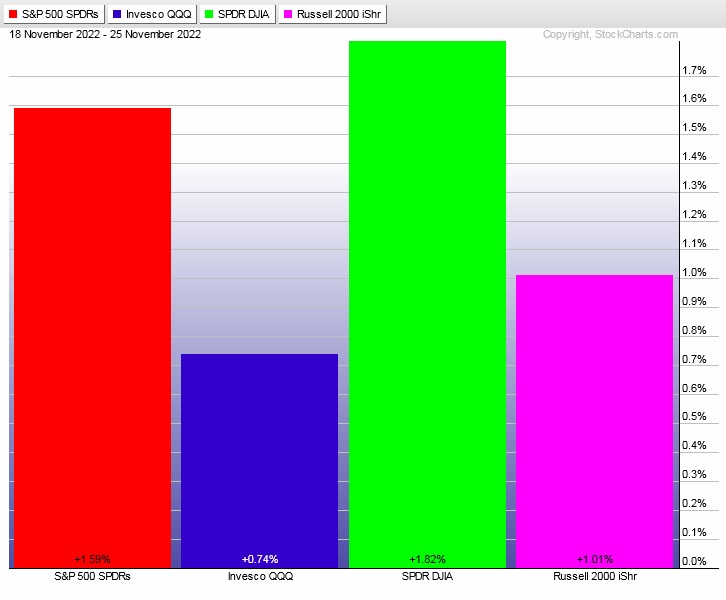 Rotational Report:
Rotations decidedly higher, but leadership from risk averse sectors like utilities and materials gives some caution.
slightly bullish
For the week, the performance of each sector can be seen below: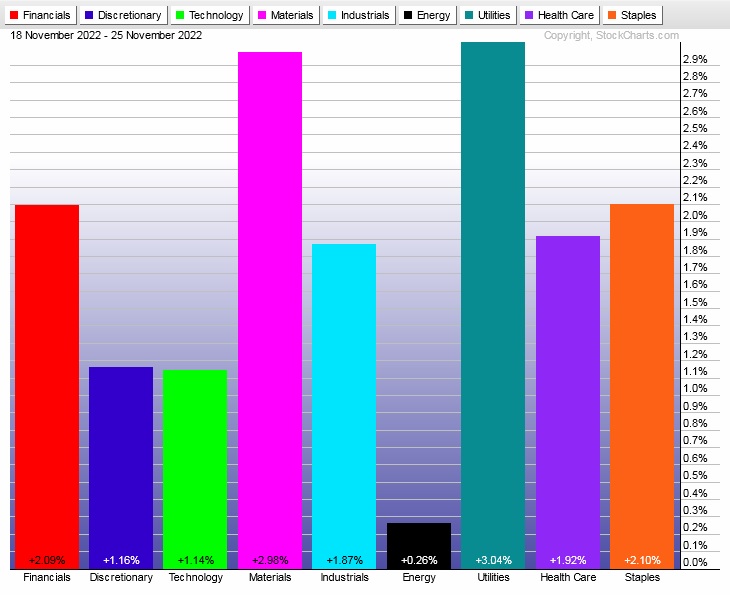 Concentrated Money Flows:
Money flows skewed slightly in favor of buyers after being balanced two weeks ago after breaking balance to the buy side three weeks back.
slightly bullish
Here are this week's results: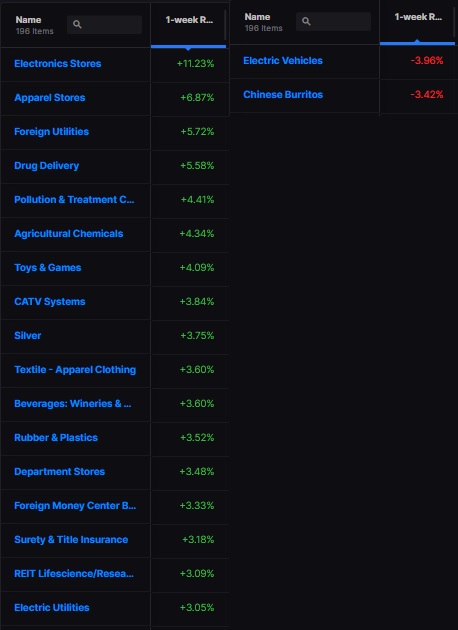 III. Stocklabs ACADEMY
Pressing our edge
We liked the 10-year stats on the 6-month overbought signal. Now they're bolstered by indexmodel, which is bullish into month-end
Therefore we press long risk through month end. Through the Powell talk Wednesday. And brace for the Non-farm payroll data Friday morning.
Note: The next two sections are auction theory.
What is The Market Trying To Do?
Week ended searching for sellers.
IV. THE WEEK AHEAD
What is The Market Likely To Do from Here?
Weekly forecast:
Equity markets press higher into month-end. Watch for some volatility Wednesday afternoon as Powell speaks and again Friday morning after non-farm payrolls.
Bias Book:
Here are the bias trades and price levels for this week:

Here are last week's bias trade results:

Bias Book Performance [11/17/2014-Present]: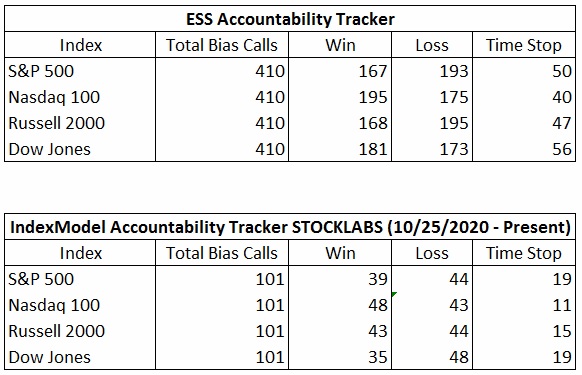 Same conditions — weak ether, balance elsewhere
Readers are encouraged to apply these techniques to all markets. Markets fluctuate between two states—balance and discovery. Discovery is an explosive directional move and can last for months. In theory, the longer the compression leading up to a break in balance, the more order flow energy to push the discovery phase.
Market are most often in balance.
Every week this newsletter uses auction theory to monitor three instruments, the Nasdaq Transportation Index, PHLX Semiconductor Index and ethereum
Transports sort of lingering on the upper-end of balance.
See below: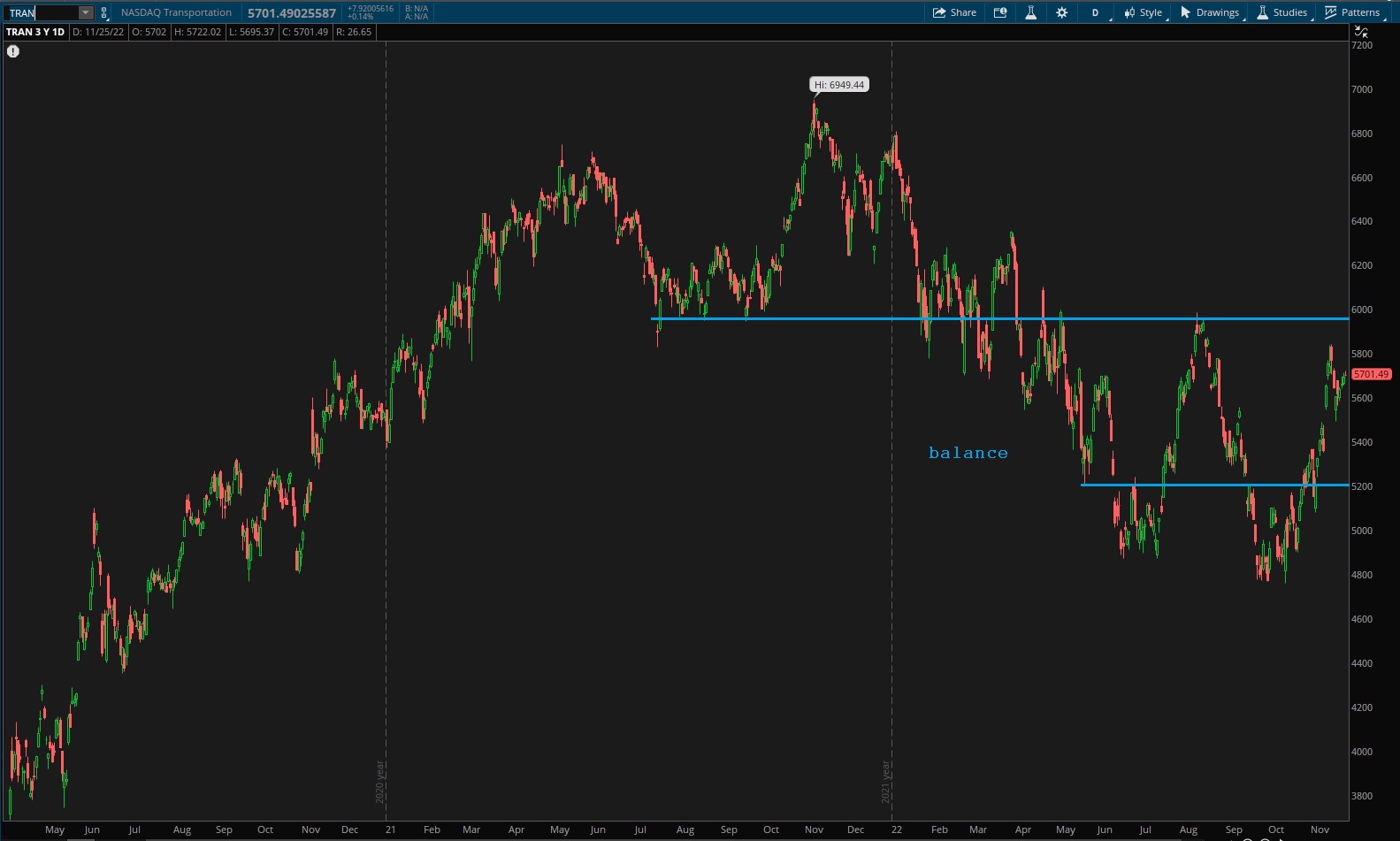 Semiconductors have found resistance at old support levels so far, and appear to be settled into balance.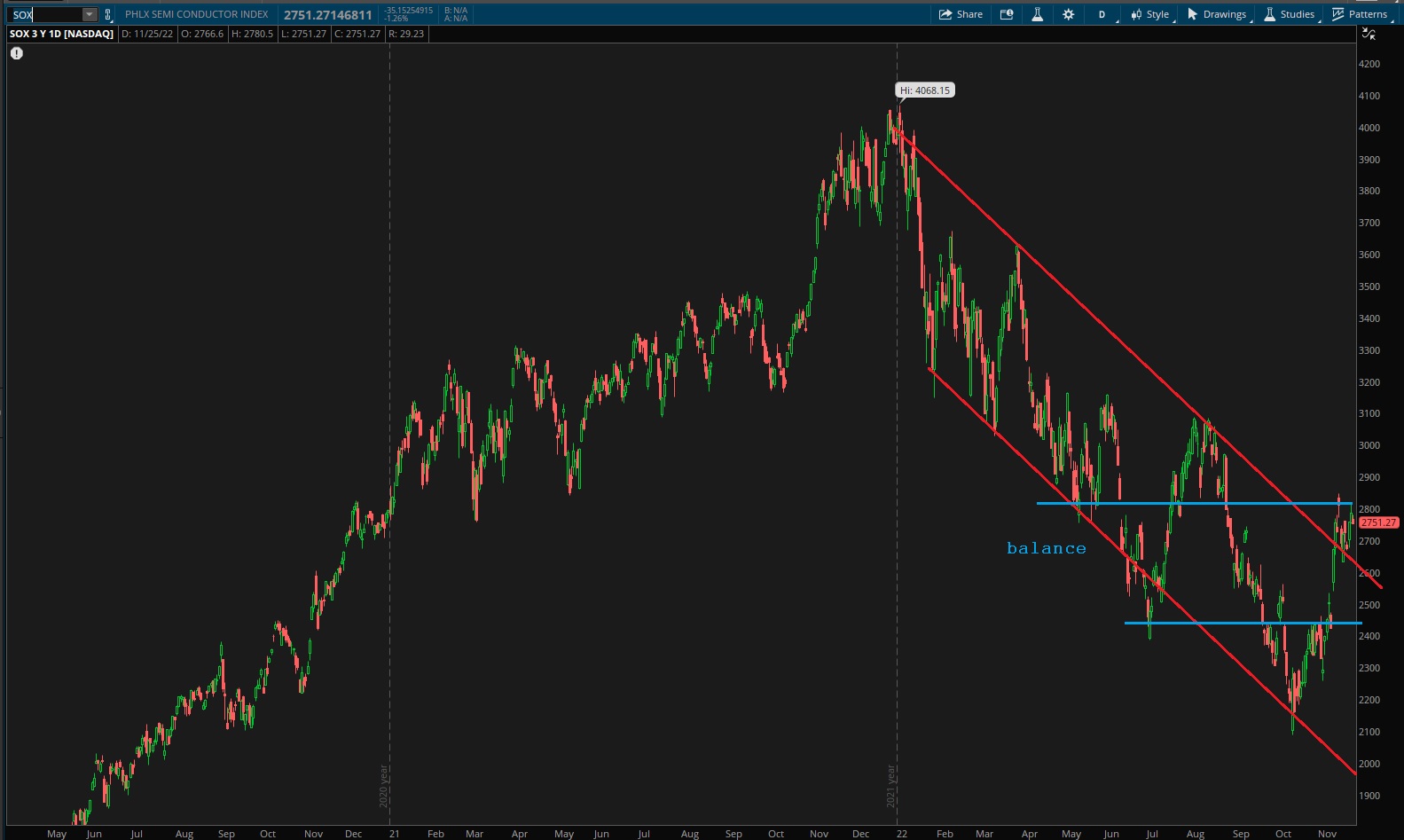 The swing lows on ether are looking increasingly weak. A test below 1k seems more likely with each day we linger down here.
V. INDEX MODEL
Bias model is e(RCS) bullish after being RCS bearish after being e[RCS] bullish three reports back week following two neutral weeks. Before all this we had two consecutive weeks of extreme Rose Colored Sunglasses (e[RCS]) bullishness.
So the count is at four e[RCS] in recent history.
There were five Bunker Busters in recent history — twelve weeks ago, twenty-one weeks back, twenty-eight weeks ago, forty-one reports back and forty-three reports back.
Here is the current spread: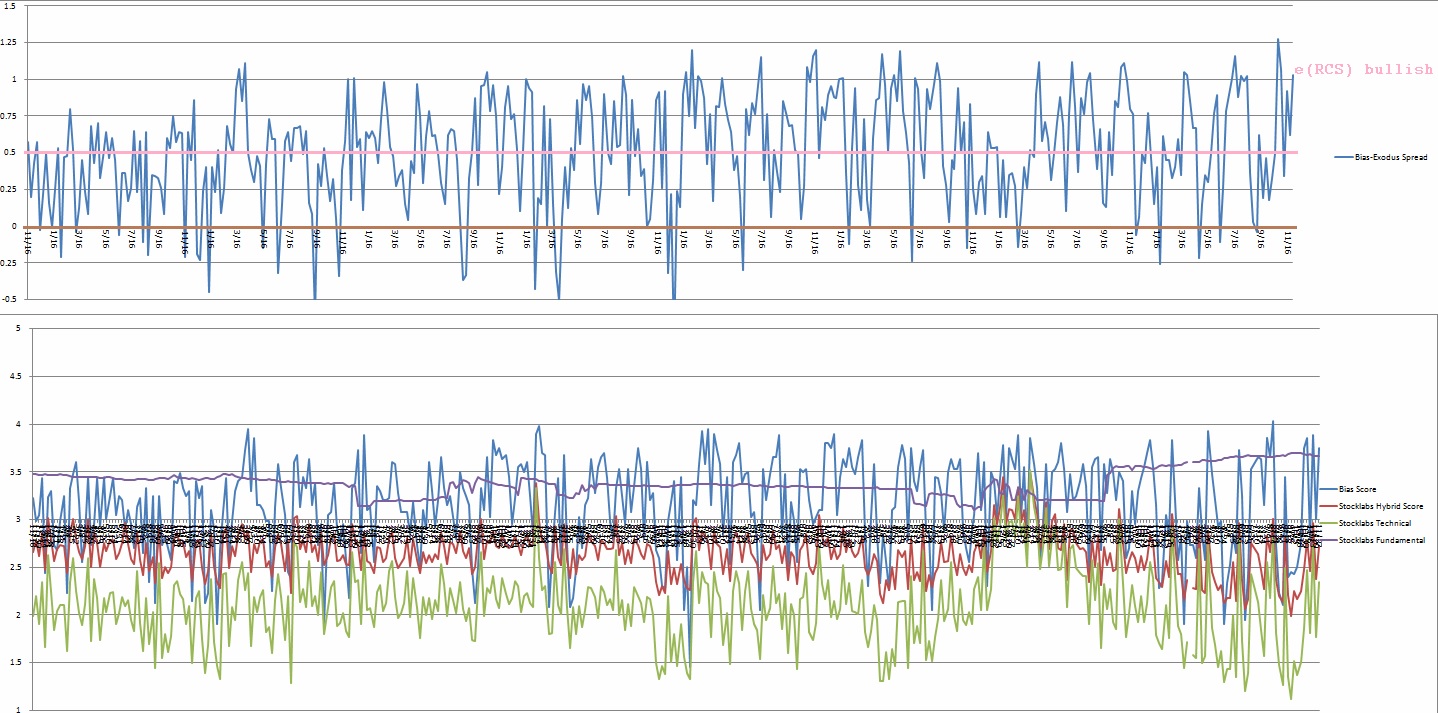 VI. Six month hybrid overbought
On Friday, November 11th Stocklabs went technical and hybrid overbought on the six month algo. This is a bullish cycle that runs through Monday, November 28th . It runs a bit longer due to a trading holiday for Thanksgiving.
Here is the performance of each major index so far: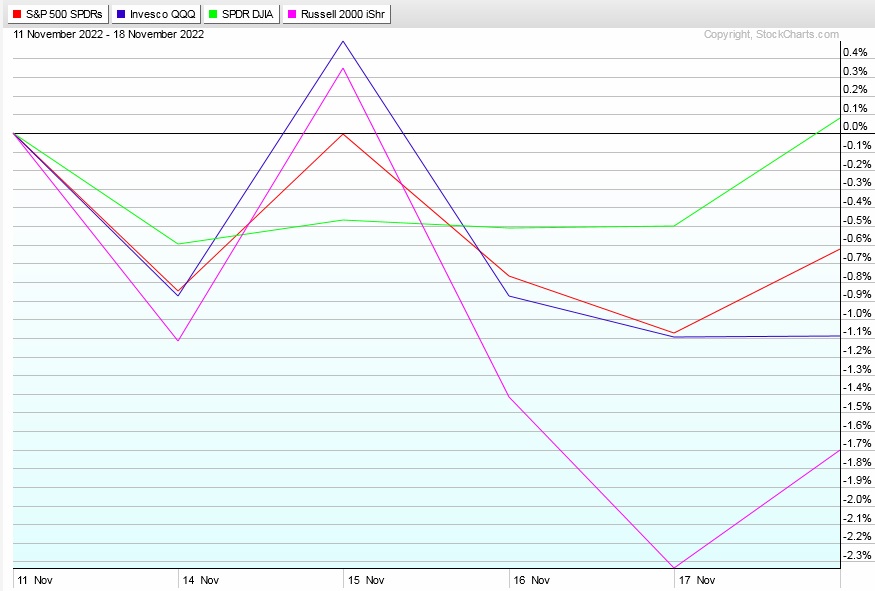 VII. QUOTE OF THE WEEK:
"I recently went to a new doctor and noticed he was located in something called the Professional Building. I felt better right away." – George Carlin
Trade simple, mind your judgement
If you enjoy the content at iBankCoin, please follow us on Twitter