Must be quite brief lads. Had a rager last night here at Mothership and the place is a wreck. There's a festival going on down the street and I must bike over to meet some good chaps and their kin.
IndexModel still wants the pump. I realize last week started with heavy selling and I expected heavy buying but once that CPI hit, and that red candle hit, and then buyers battled back, and then later the NASDAQ set up that beautiful bullish divergance. Well once all that happened things started to pump.
You may not like the state of the nation or the way folks behave, full grown folks behaving like maniacal children, you may not like it okay? But when the data calls for a pamp by golly you put the longs and participate in the pump.
Barring some unforeseen news event, next week's calendar is wide open for bulls to have themselves a little pamp fest.
Big Daddy Elon reports earnings at his AI/Robot/Tech company Tesla Wednesday after the bell and I think His Divine Message could be the taste we need to really get that pamp going.
Okay for now,
Raul Santos, July 17th 2022
And now the 393rd edition of Strategy Session.
---
Stocklabs Strategy Session: 07/18/22 – 07/22/22
I. Executive Summary
Raul's bias score 3.63, medium bull*. Buyers control the tape early in the week. Then look for earnings Wednesday after the bell from major NASDAQ component Tesla to dictate direction into the second half of the week.
*Extreme Rose Colored Sunglasses e[RCS] bullish  bias triggered, see Section V.
II. RECAP OF THE ACTION
Heavy selling early in the week. A huge sell spike Wednesday morning on the CPI data. Buyers spent Wednesday recovering all the ground lost in the Wednesday spike. Then Thursday, all major indices made new lows except that NASDAQ, which was bullish divergent, effectively setting up a strong rally, across the board into Thursday afternoon. Follow through buying Friday and into the weekend.
The last week performance of each major index is shown below: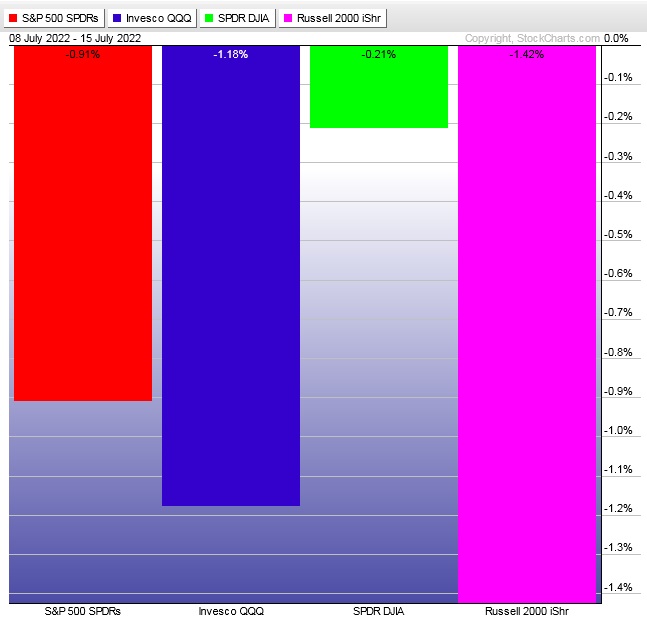 Rotational Report:
Rotations not telling a bullish story, with all except Staples lower on the week. But given the context of last week's reversal, and the slight divergent strength in tech…
neutral
For the week, the performance of each sector can be seen below:
Concentrated Money Flows:
After six or so weeks of aggressive battle between buy and sell flows, the last two weeks have been a bit more mundane. Last week's skew was to the sell side.
neutral
Here are this week's results: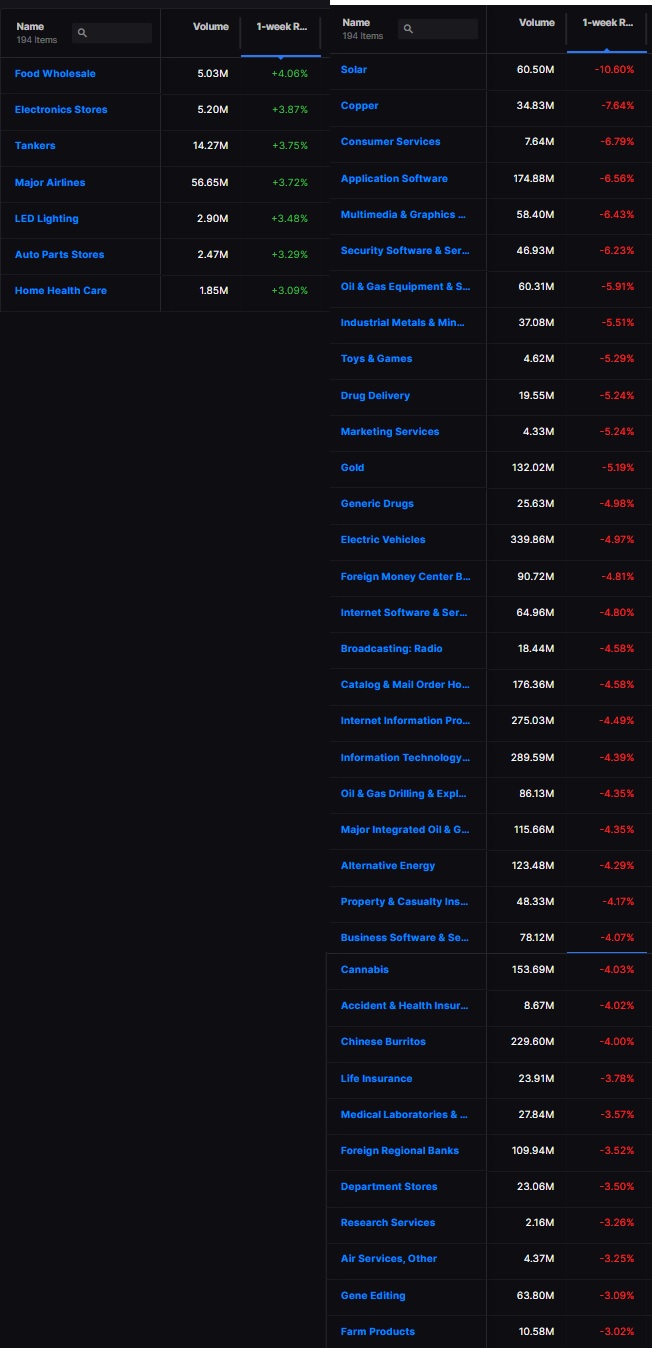 III. Stocklabs ACADEMY
A Bunker Buster finally goes positive
There have been four Bunker Buster signals out of IndexModel since risk assets began correcting late last year. Three Bunker Busters in 2022. For the first time we have a signal (6/12/22) that has a positive return. The most recent dip seems to have stuck.
Or perhaps the next leg lower is just around the corner. We don't know.
However, it is a positive development for bulls to see one of these signals finally nail a tradable low.
Note: The next two sections are auction theory.
What is The Market Trying To Do?
Week ended searching for sellers.
IV. THE WEEK AHEAD
What is The Market Likely To Do from Here?
Weekly forecast:
Buyers control the tape early in the week. Then look for earnings Wednesday after the bell from major NASDAQ component Tesla to dictate direction into the second half of the week.
Bias Book:
Here are the bias trades and price levels for this week:

Here are last week's bias trade results:

Bias Book Performance [11/17/2014-Present]: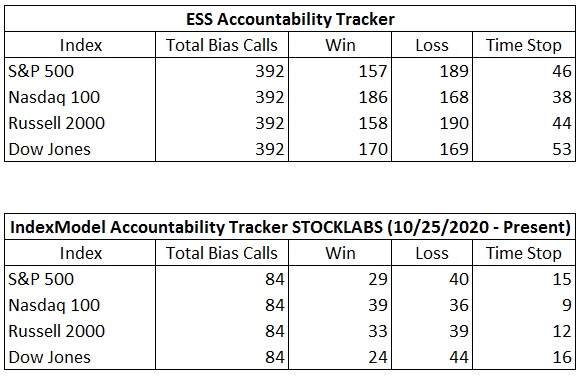 Mini balances under maturing down phases
Readers are encouraged to apply these techniques to all markets. Markets fluctuate between two states—balance and discovery. Discovery is an explosive directional move and can last for months. In theory, the longer the compression leading up to a break in balance, the more order flow energy to push the discovery phase.
Market are most often in balance.
Every week this newsletter uses auction theory to monitor three instruments, the Nasdaq Transportation Index, PHLX Semiconductor Index and ethereum
Transports have what looks like a weak low, and this does not inspire a ton of confidence in the stability of the low-end of the recent balance that has taken shape. But, there is still plenty of room for upside in the current down channel.
See below: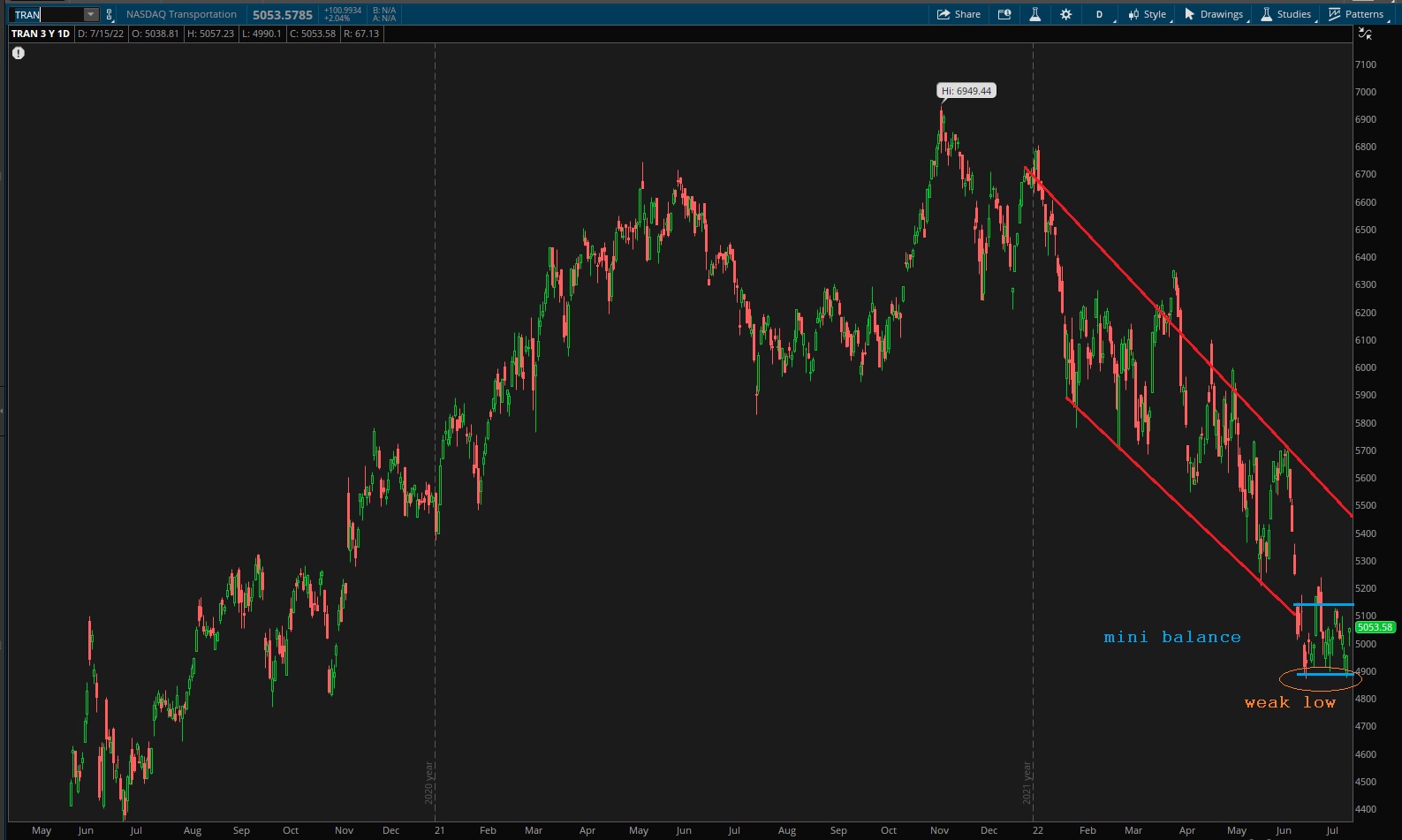 Semiconductors took care of that old gap two weeks ago and now I am beginning to suspect we will probe higher to test seller conviction.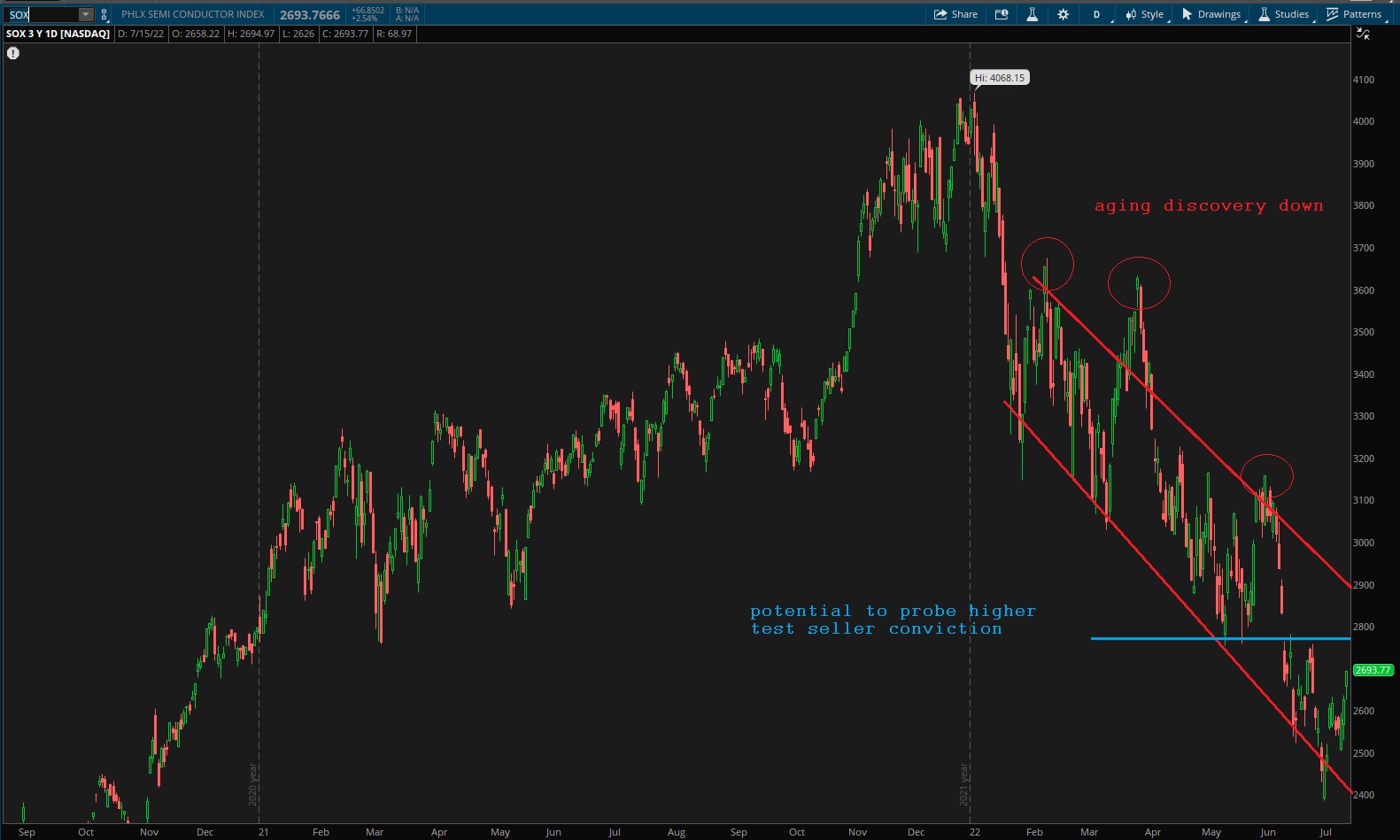 Ether holding balance along the psychological 1,000 mark.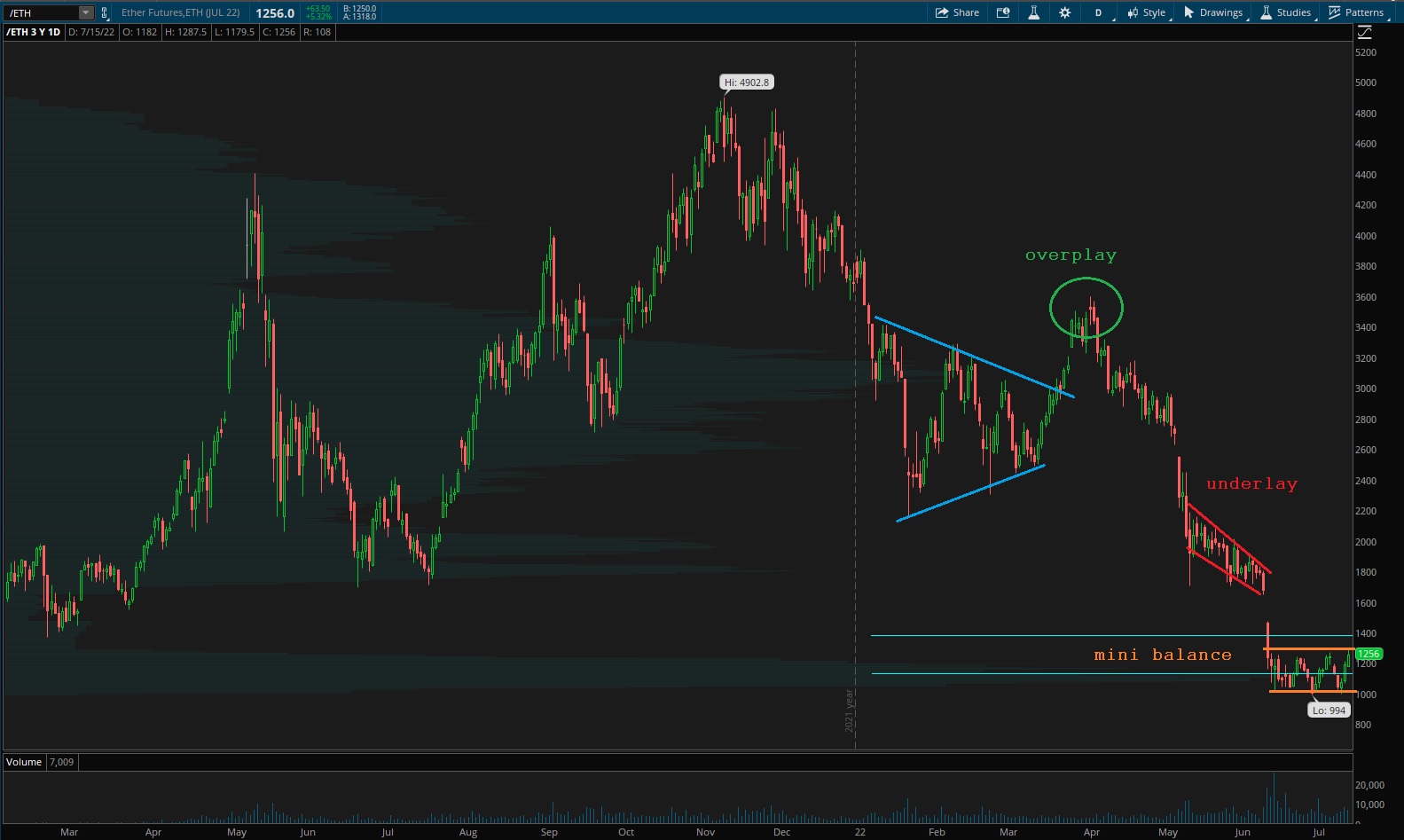 V. INDEX MODEL
Bias model is extreme Rose Colored Sunglasses bullish for a second consecutive week.
There were four Bunker Busters in recent history — four weeks  back, eleven weeks ago, twenty-four reports back and a third thirty-two reports back.
Here is the current spread: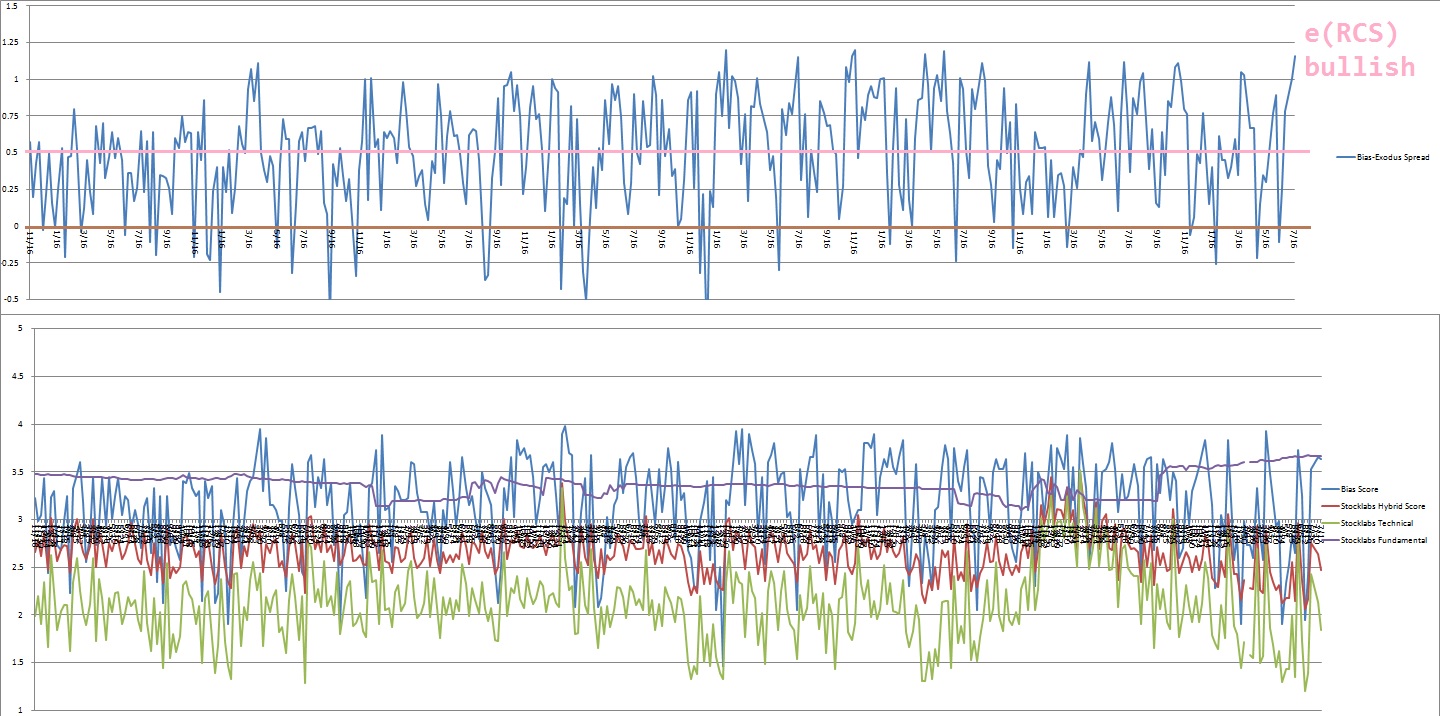 VI. QUOTE OF THE WEEK:
"Knowing is not enough. We must apply.." – Leonardo da Vinci
Trade simple, TRADE
Comments »