Janet Yellen came to the University of Michigan on Monday afternoon to have a nice chat with Susan Collins, the Dean of Public Policy at the school of Public Policy and Economics.  The first half hour was spent giving everyone a lesson on the purpose of the Fed, a rather remedial economics lesson, but a pleasure to hear live from the leader of the free world.
The setting was pleasant, as the two ladies sipped miniature bottles of water whist discussing the Fed's success in navigating the financial crisis, the confidence attained by Fed Stress Tests of major banks, and how transparent and independent the Fed is today.
Then came the questions, heavily vetted.
First question was about what perspective all her jobs gave her.  She mentioned she's gained a knack for digesting 'anecdotal information' which sounded much like the proverbial 'context' that we all work so hard to form around our trading and investing.  This was quite an arousing thought, that Yellen considers what some may consider non-data, less-than-objective information in her decision process.
Question two, should Fed meddle in, and/or coordinate, international policy?  She smacked this question to the ground calling it likely illegal.  Yellen also mentioned she talks like seven times a year with the other central bankers.  They talk shop and how they're thinking about nudging the economy.
Question two also asked if emerging markets were at a disadvantage, being left on their own to form policy.  While this was somewhat talked around, the answer had the feel of, "obviously yes."
Third question, a dumb question, "What is the role of money in inflation?" After rolling her eyes, Fed Yellen entertained the question, but reminded the person that inflation is driven by expected inflation, and the vicious price spiral higher it can create.  She talked all about how they just watch the unemployment rate and said history has proven her right, that money doesn't matter.
Question 4, from twitter, has the effect of QE been under estimated?
Hard to know what the effect was, according to Yellen.  And despte it being hard to know, she is claiming a victory, a favorable impact, not to be exaggerated by any means, but a success no doubt.
Note, none of the 'Top' questions associated with the #FordSchoolYellen hashtag were addressed: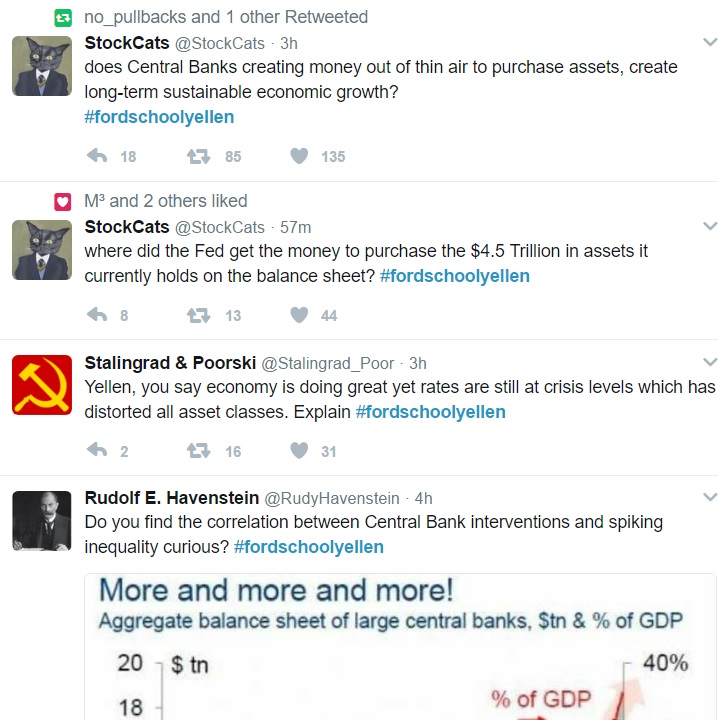 Question 5, addresses low labor-force participation rates, should it adjust how they measure full employment?
Hard to know how much of the decline might reflect voluntary retirement verses searching for long time then dropping out.  Some might reflect weak economy.
Writer's note: SOME!?
Since labor force participation has flattened out, while the population ages, suggests to Yellen that they have drawn people into the market who were otherwise discouraged in recent history.
Last question, total puffer, how has being careful about what you say changed your life?  Yellen, looking up at the gold leaf ceiling, recants that she's been in the game for a long time—watching what she says.  She also reiterated that she knows monetary policy better than any other piker out there.
Finally, Susan Collins asked for any last words of wisdom from the leader of the free world.  Yellen said you all should find something to do that you love and are interested in [as a career].  Her love is economics, it gets her out of bed.  Bless.her.heart.  Second, the career is the whole path, not just the last seat you hold.  Yellen loves and has loved every day of the hustle, even through it's been in a public service role.  She also mentioned working with people you respect. And working with an organization that you feel makes a contribution to society.
There you have it, Fed Chair Yellen came of Ann Arbor, home of the bi-monthly Confidence reading watched around the world.  She taught the nice folks a bit about how the Fed works, took some vetted questions, then imparted some wisdom on life as a career woman.  Her only concern, it seems, is that pesky 'Audit the Fed' bill floating around, and how it is likely to jeopardize the Fed' ability to maintain its independence from politics and short-sighted actions.
And much more of the same from today's Fed.  Meaning tons of transparency, and saying the same few things over, and over, and over again until the slow learners at Wall Street fully comprehend them.  Quite an effective approach.
For recordings of Yellen dropping the mic, walking off the stage, and the crowd going wild, check my snaps.  Username: vCali
Comments »