My new year's resolution was to slow down. After spending a week moving boxes to and fro and up and down and over and around through the rain and mud I spend last week real easy like. I did some cleaning. Went to the gym a bunch. Took several naps. Made and ate goodt foodt. I still don't feel a ton of necessity to work just yet.
Winter is here and it is mild and gross. I don't even like looking outside right now. I'd rather be in virtual reality, watching giant mandelas swirl around and into my periphery. Draw the curtains shut and use fluorescent bulks to keep the plants happy. Sit by the fire and read old books. Mothership is a balmy 64 degrees unless you're by the fire and the only other occupant (besides about 100 or so plants) is a wonderful echo.
These city folks are always in a real.big.hurry. As soon as I turn onto the road for my little two block drive for groceries some speed demon is on me…pressing their bumper near mine in some futile attempt to alter the rate of travel I've chosen. Not gonna happen. Mind you, I always do four over. Not fife. Apparently this isn't enough.
The markets seem to be feeling a similar kind of vibe. The charts have basically marked time since I left them back on the 18th. Nothing is happening, therefore who am I to make to for to make to for to to make to foist my will upon something much greater than me? Powell might jiggle us out of range Tuesday (we don't know) or maybe CPI Thursday. The citadel loves playing games with the CPI lately.
Probably ganna be a hot number. The freaking Targets and Costcos are packed as ever, packed with decent citizens looking for deals on textiles and groceries. They have not hiked rates enough.
That's about it. I feel strong, but it's that six weeks into pumping iron strong where your muscles firm up and you can very clearly see where big old deposits of fat have formed since the last time the body was jacked. So there is a shame associated with it. But I am very strong on plow at the moment.
It's interesting how it takes a minute to reawaken certain muscle memories, but wow once you jump start those neural pathways they're ready to freaking rage. I suspect it will be a similar experience when I finally go back to hustling the NASDAQ. Two weeks of beginners luck. Many weeks of all pain no gains, then a return to the growth trajectory.
Okay for now.
Raul Santos, January 8th 2022
And now the 416th edition of Strategy Session.
---
Stocklabs Strategy Session: 01/09/23 – 01/13/23
I. Executive Summary
Raul's bias score 3.03, neutral. Markets continue to pause until Tuesday morning when comments from Fed Chairman Powell put some movement into the tape. Then look for CPI data due out Thursday morning to provide direction into the weekend.
II. RECAP OF THE ACTION
2023 kicked off with choppy action, with price chopping along the range from the last week of 2022. Buyers made a show of the action Friday morning, using nonfarm data as motivation to hold range low and put a bid into the tape.
The last week performance of each major index is shown below: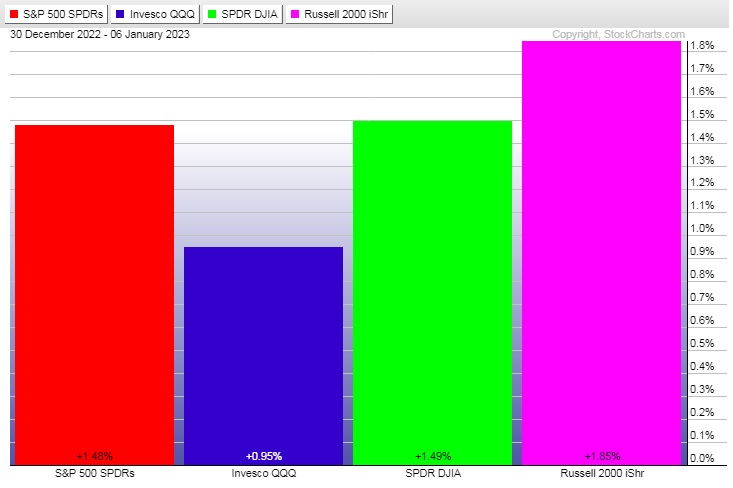 Rotational Report:
Rotations not really boding well for bulls—the top performance from Materials and financials speaks to risk aversion and inflation along.
neutral
For the week, the performance of each sector can be seen below: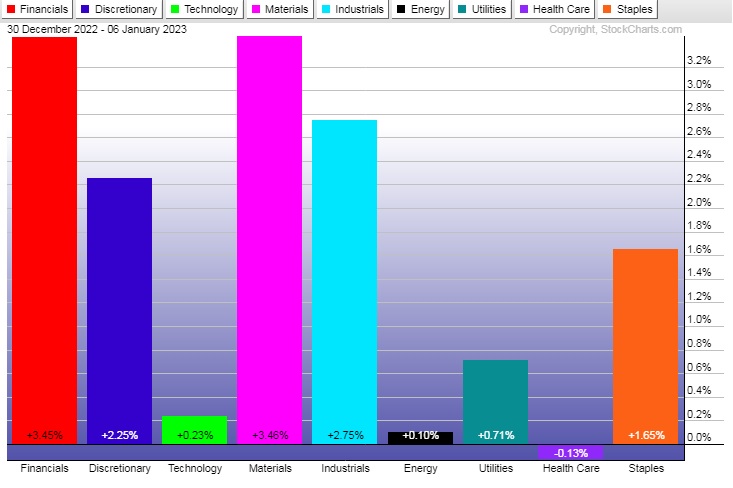 Concentrated Money Flows:
Under the surface, money flows skewed heavily to the buy side.
bullish
Here are this week's results:

III. Stocklabs ACADEMY
Marking time is a healthy way for markets to correct
Of all the ways for markets to correct after going on a major move, sideways, or 'marking time' is certainly the healthiest. It suggests participants are in agreement, for now, regarding the price of an asset. It allows time to pass, which effectively corrects imbalanced prices via time.
This time based correction comes on the heels of a multi-month leg lower. In this context, the time based correction favors the bears. Markets are accepting these lower prices and may be keen to explore lower soon.
Note: The next two sections are auction theory.
What is The Market Trying To Do?
Week ended searching for sellers.
IV. THE WEEK AHEAD
What is The Market Likely To Do from Here?
Weekly forecast:
Markets continue to pause until Tuesday morning when comments from Fed Chairman Powell put some movement into the tape. Then look for CPI data due out Thursday morning to provide direction into the weekend.
Bias Book:
Here are the bias trades and price levels for this week:

Here are last week's bias trade results:

Bias Book Performance [11/17/2014-Present]: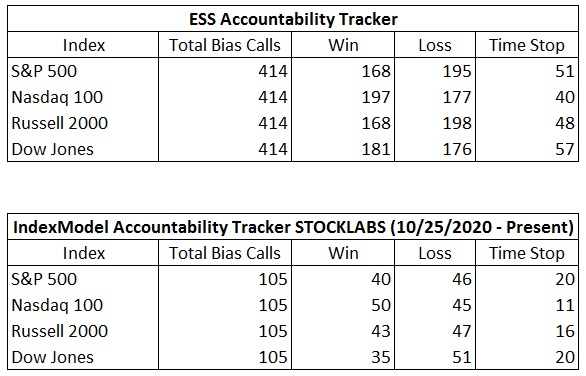 Equity complex holds range – ether still looks weak
Readers are encouraged to apply these techniques to all markets. Markets fluctuate between two states—balance and discovery. Discovery is an explosive directional move and can last for months. In theory, the longer the compression leading up to a break in balance, the more order flow energy to push the discovery phase.
Market are most often in balance.
Every week this newsletter uses auction theory to monitor three instruments, the Nasdaq Transportation Index, PHLX Semiconductor Index and ethereum
Transports caught a strong bid Friday off of range low.
See below: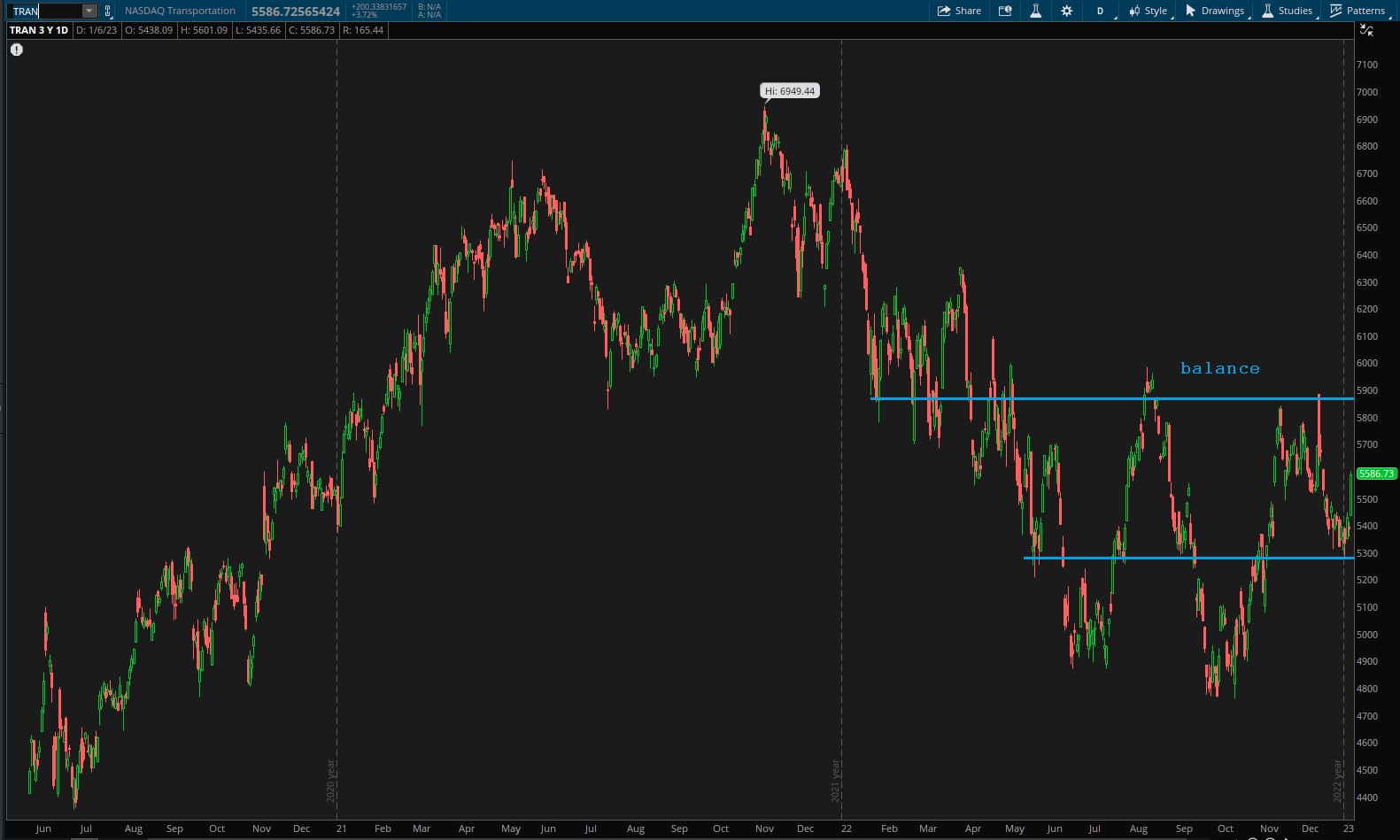 Semiconductors have an interesting story going on — ranges inside of ranges. Attempts to break are quickly reverting to the mean. Perhaps earnings out of $TSM Thursday before the bell (along with CPI) can put some clarity into this chart. But for now balance is the call.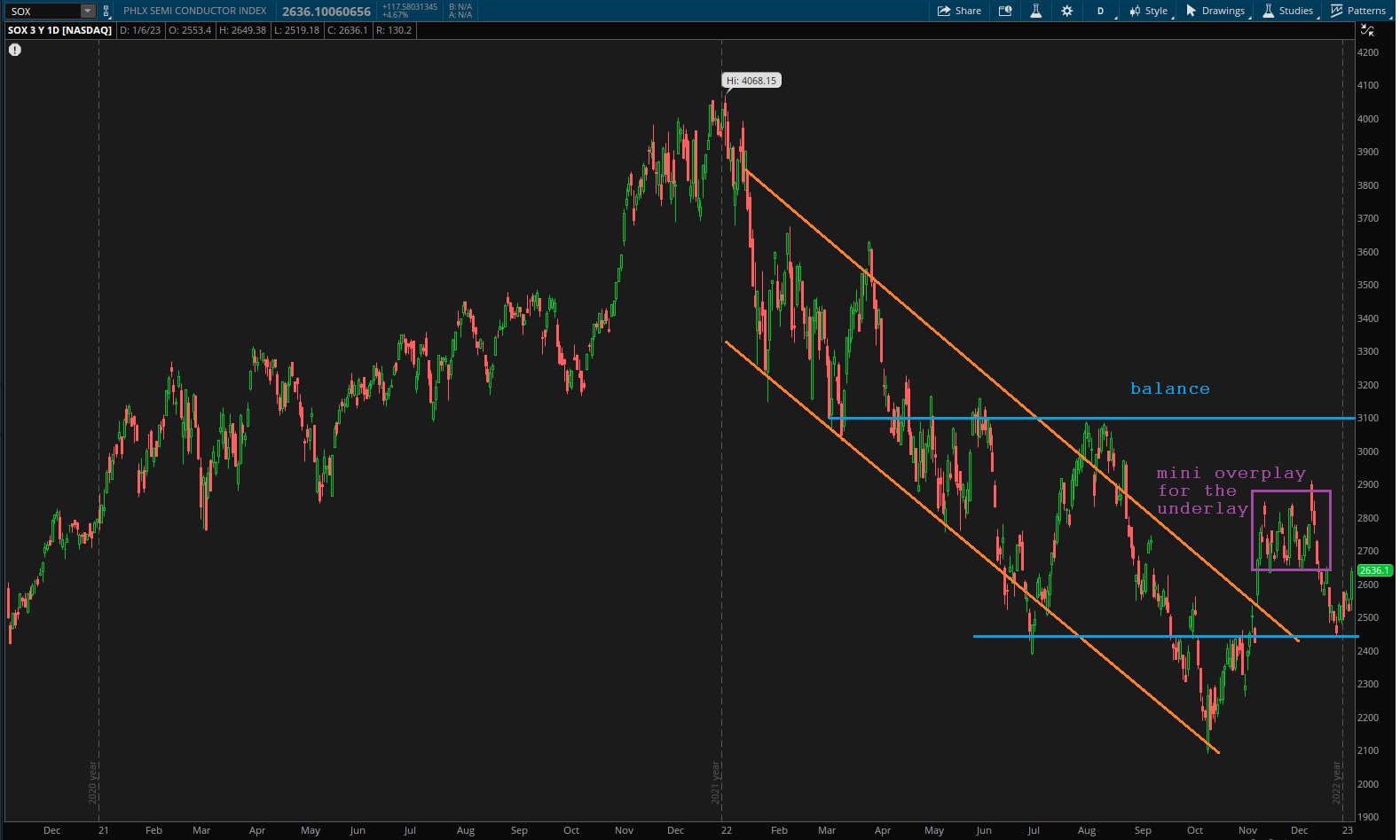 Ether *still* has those weak lows just below. Cannot feel bullish about crypto until there is some resolution to this chart.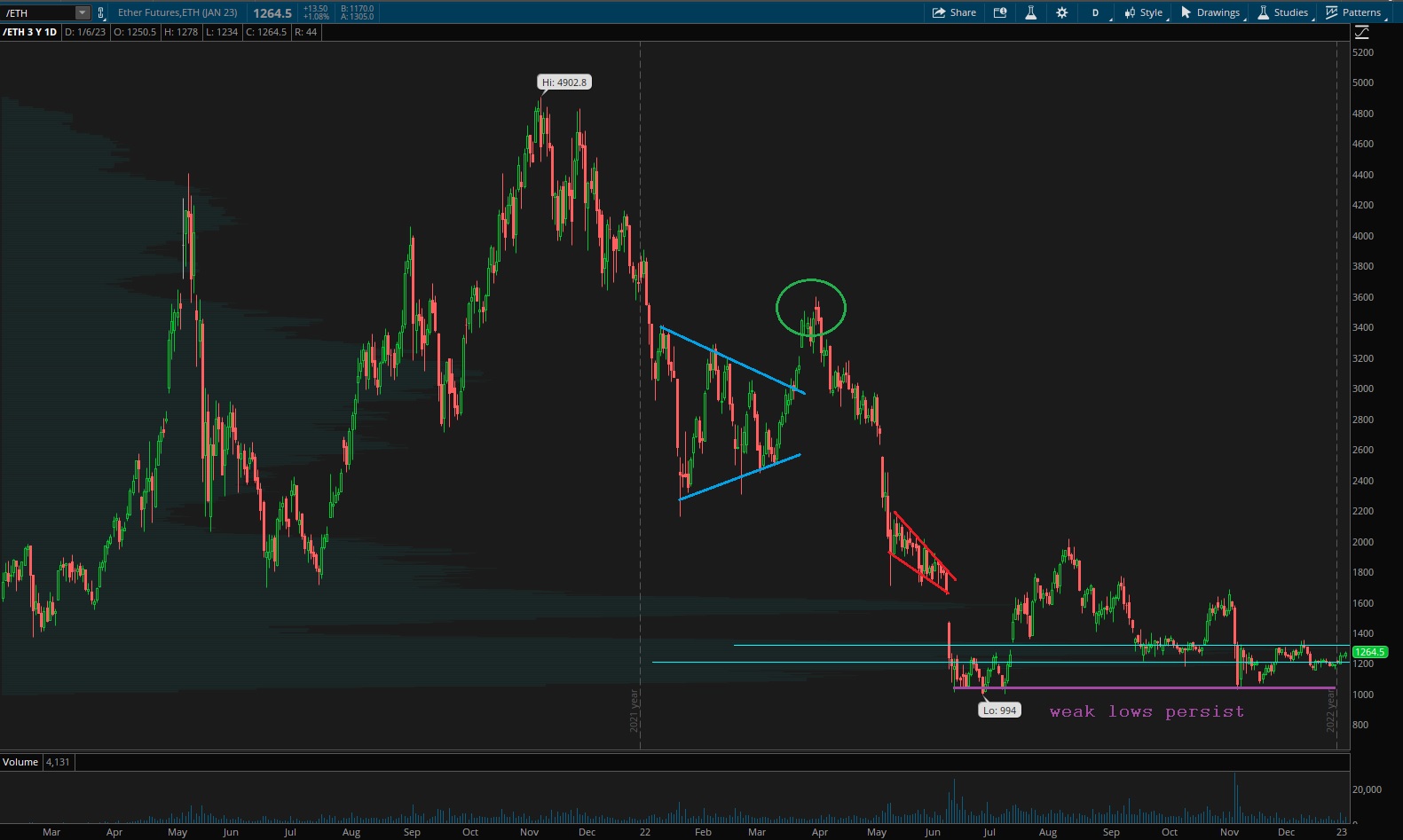 V. INDEX MODEL
Bias model is neutral heading into the second week of 2023.
Here is the current spread: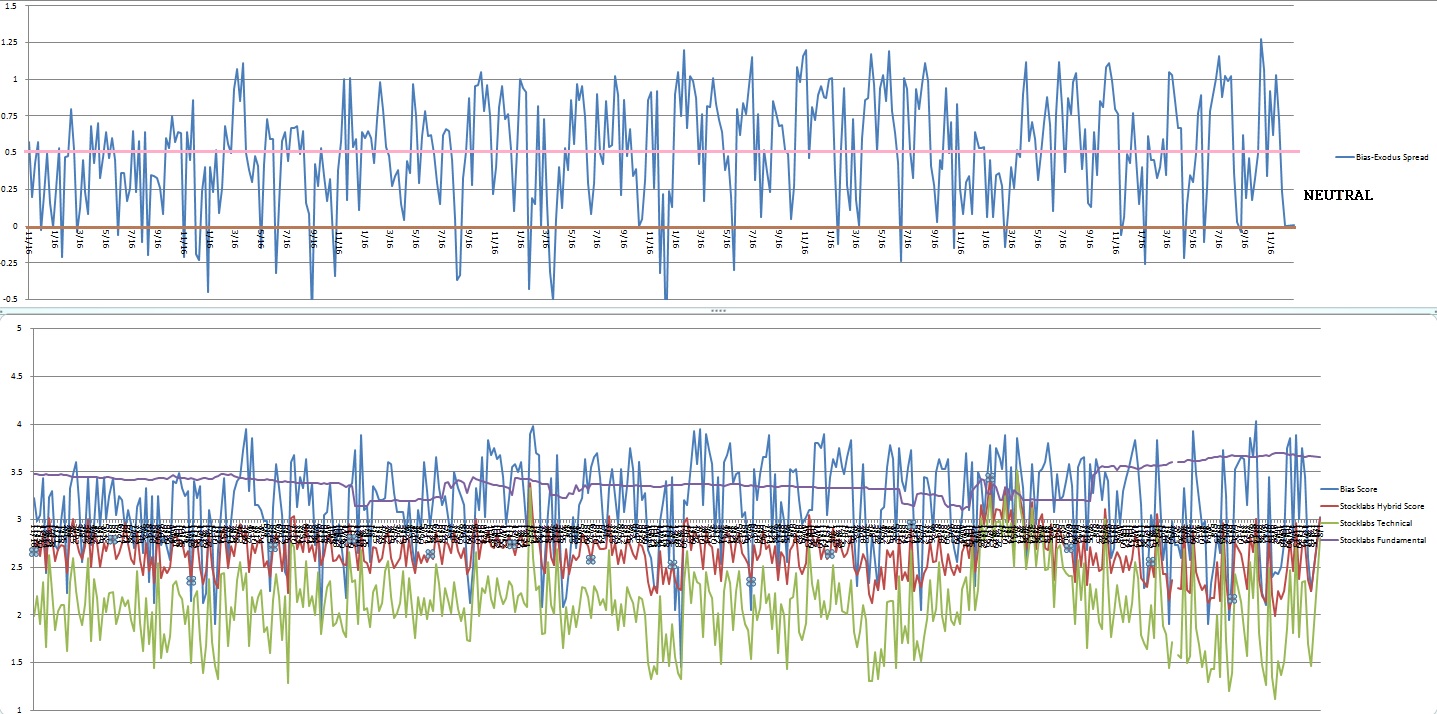 VI. QUOTE OF THE WEEK:
"Take time to deliberate; but when the time arrives, stop thinking and go in." – Andrew Jackson
Trade simple, think slow
If you enjoy the content at iBankCoin, please follow us on Twitter