Morning lads, all models are back up and running. Boy do I yearn to trade this tape—we are really entering solid day-trader conditions, at least the kind I like.
And I know most of yous are losing faith in your old pal raul, assuming I've gone to pasture for goodt. Broken in spirit and mind by a society that favors the rich and poisons our food system and pumps pills and jabs into the people at an ever increasing rate.
But that is simply not true. I am a capitalist at heart, and a fierce independent in my day-to-day. Sure, I've been set on a side quest to build infrastructure that can produce 80% of my annual dietary needs. And yes, I had no idea how long this would take when I undertook the project. But I have been extracting fiat american dollars from the global financial complex since the early millennium and if you think that is something someone simply walks away from then maybe you're not a true addict.
For now I am just aspiring for the NASDAQ to tag 13,500. It looks like we could do it this week. In the strategy session below I give some tips on how best to observe the NASDAQ 100. And if you're really glued to your screens then take a trip into my archives. I've been doing this chit live for a long time.
There is no reason you cannot, for free mind you, learn the ways of a 'local'.
Alright I need to go outside, the temps have warmed to a balmy 35 degrees and I have a greenhouse end wall to complete.
Raul Santos, April 2nd, 2023
And now the 422nd Strategy Session
---
Stocklabs Strategy Session: 04/03/23 – 04/07/23
I. Executive Summary
Raul's bias score 3.88, medium bull*. Steady drift higher to kick off the second quarter. Watch for some volatility Friday morning around the non-farm payroll data.
*extreme Rose Colored Sunglasses bullish bias [e(RCS)] triggered, see Section V.
II. RECAP OF THE ACTION
A bit of weakness early in the week, especially on the NASDAQ. A sharp excess low formed by Tuesday afternoon (failed auction on the /nq) and we spent the rest of the week rallying, even printing a trend up on Friday.
The last week performance of each major index is shown below: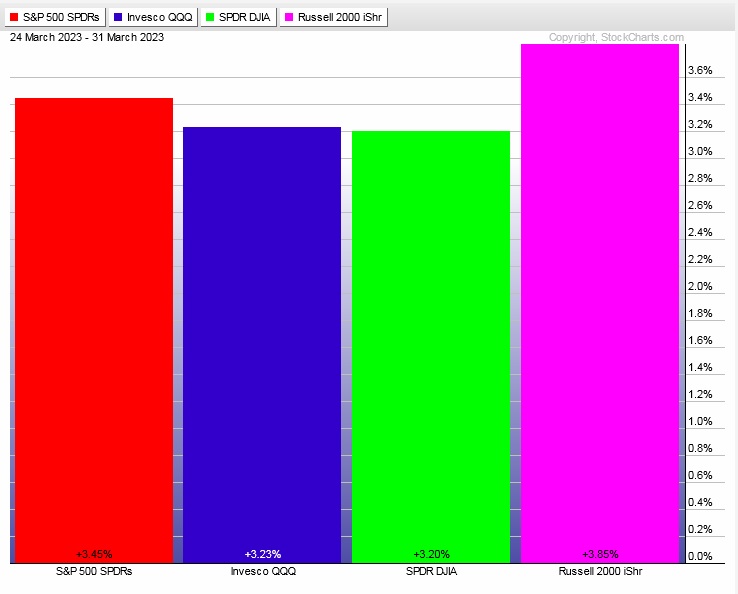 Rotational Report:
Strong rotation into the equity complex. Would like to see a bit more leadership from Tech.
bullish
For the week, the performance of each sector can be seen below: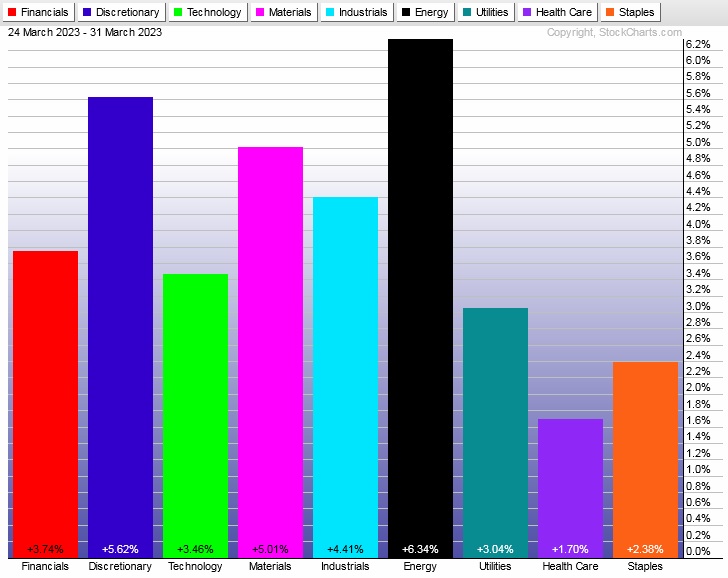 Concentrated Money Flows:
Massive skew to the buy side of the ledger. Expecting follow through to the upside
bullish
Here are this week's results:

III. Stocklabs ACADEMY
THE BIG SEVEN
One of the reason I've always loved exclusively trading NASDAQ futures is that there is so much sentiment to observe. It is easy to be distracted when trading, especially for a busy body like me. That is why I like having lots of information to constantly cycle through that is specific to what I am trading.
The NASDAQ has all sorts of useful indicators that are churned out in real-time like TICK, NASDAQ TICK, advance/decline, and others (I haven't fired up my trading rig in over a year so my memory escapes me).
We can also keep the big seven charts up at all times. The seven tickers that collectively make up more than 50% of the entire NASDAQ 100 market cap: AAPL, MSFT, GOOGL, AMZN, NVDA, TSLA and META.
These companies are more vital to the health of the equity complex then most nations, and keeping a close eye on them at all times is smart if you want to keep an edge in these markets. Listen to their earnings calls. Become intimately aware of what the analyst care about seeing from these names and of course chart the price action.
Note: The next two sections are auction theory.
What is The Market Trying To Do?
Week ended searching for sellers.
IV. THE WEEK AHEAD
What is The Market Likely To Do from Here?
Weekly forecast:
Steady drift higher to kick off the second quarter. Watch for some volatility Friday morning around the non-farm payroll data.
Bias Book:
Here are the bias trades and price levels for this week:

Here are last week's bias trade results:

Bias Book Performance [11/17/2014-Present]: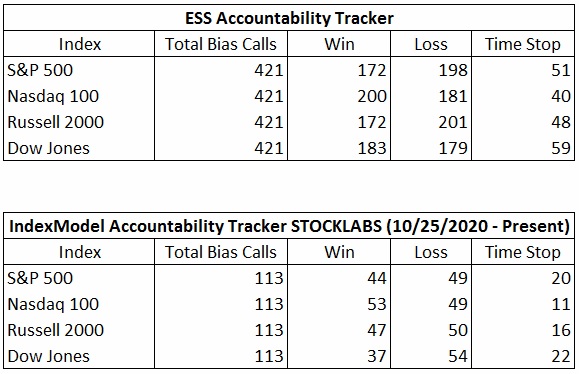 Semiconductors trying to break-out from a key level
Readers are encouraged to apply these techniques to all markets. Markets fluctuate between two states—balance and discovery. Discovery is an explosive directional move and can last for months. In theory, the longer the compression leading up to a break in balance, the more order flow energy to push the discovery phase.
Market are most often in balance.
Every week this newsletter uses auction theory to monitor three instruments, the Nasdaq Transportation Index, PHLX Semiconductor Index and ethereum
Transports have a clear range and pivot zone. Simply chart to monitor this week.
We don't know.
See below: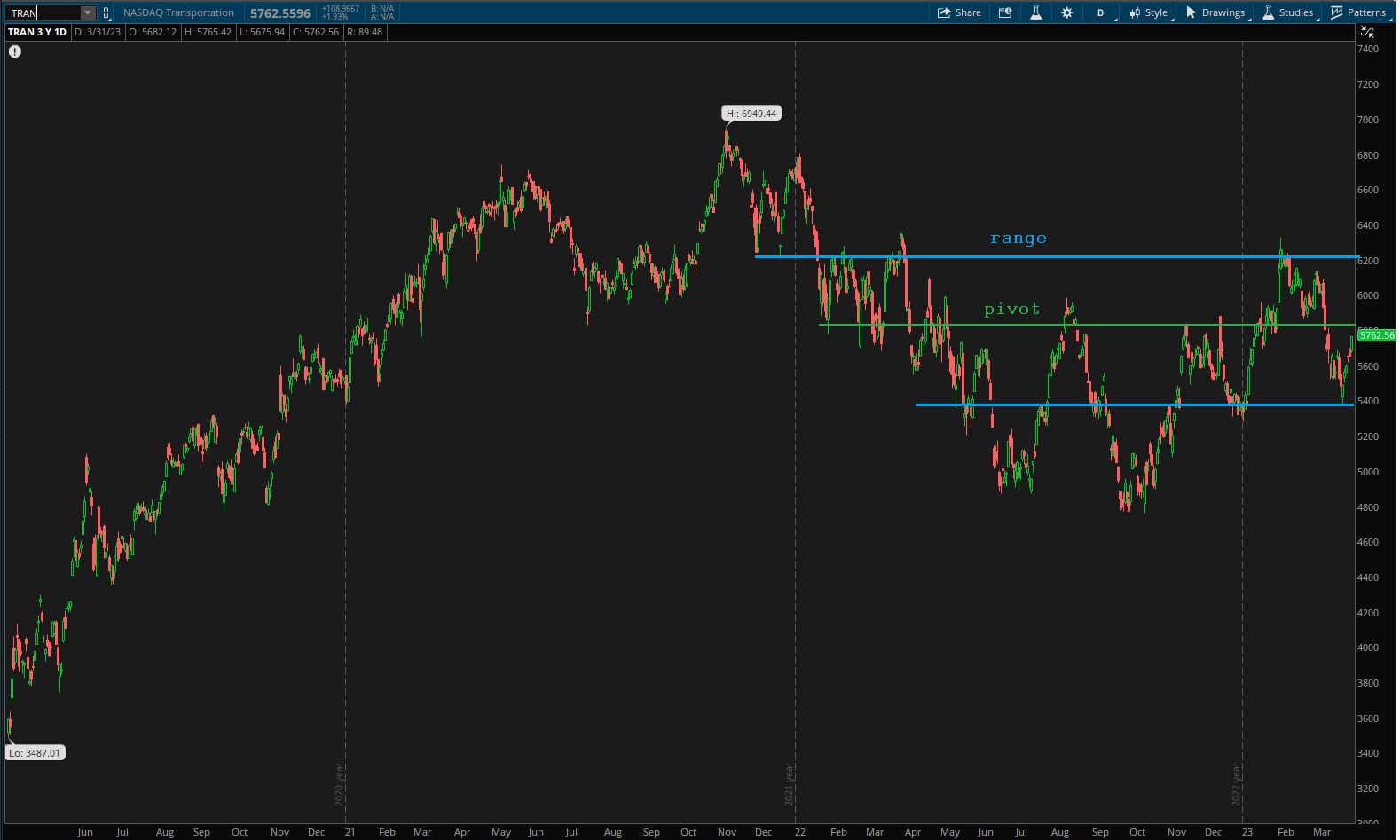 Semiconductors are pressing up-and-away from a super key price level. This could be the start of a discovery up phase. Or it could fizzle out and go back into the crab range. We don't know. But we do know what levels will tell the story so keep this one on your radar all week.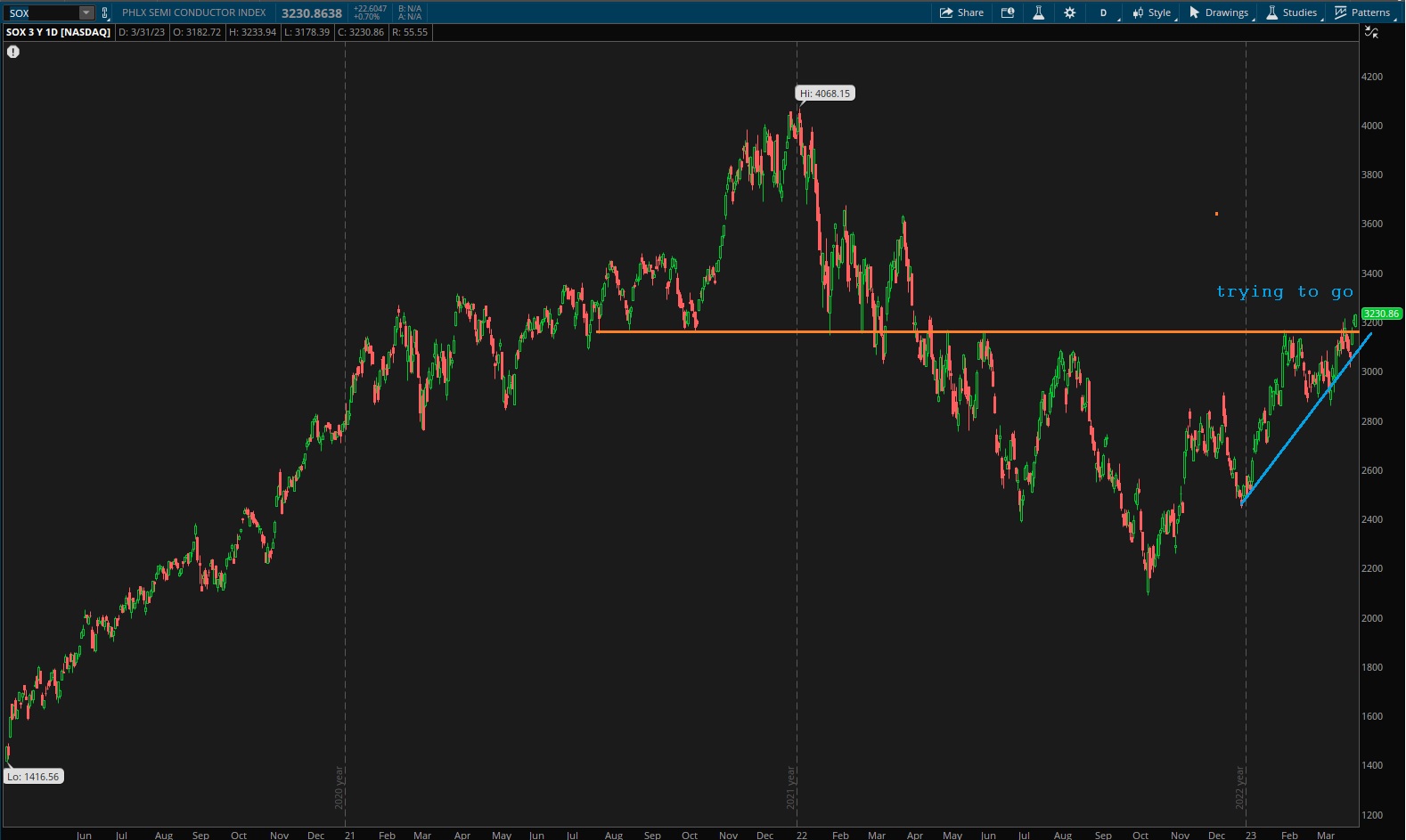 Ether sort of defies technical analysis. This chart is just hideous. It seems bent on discouraging everyone. I have no clear reading on it.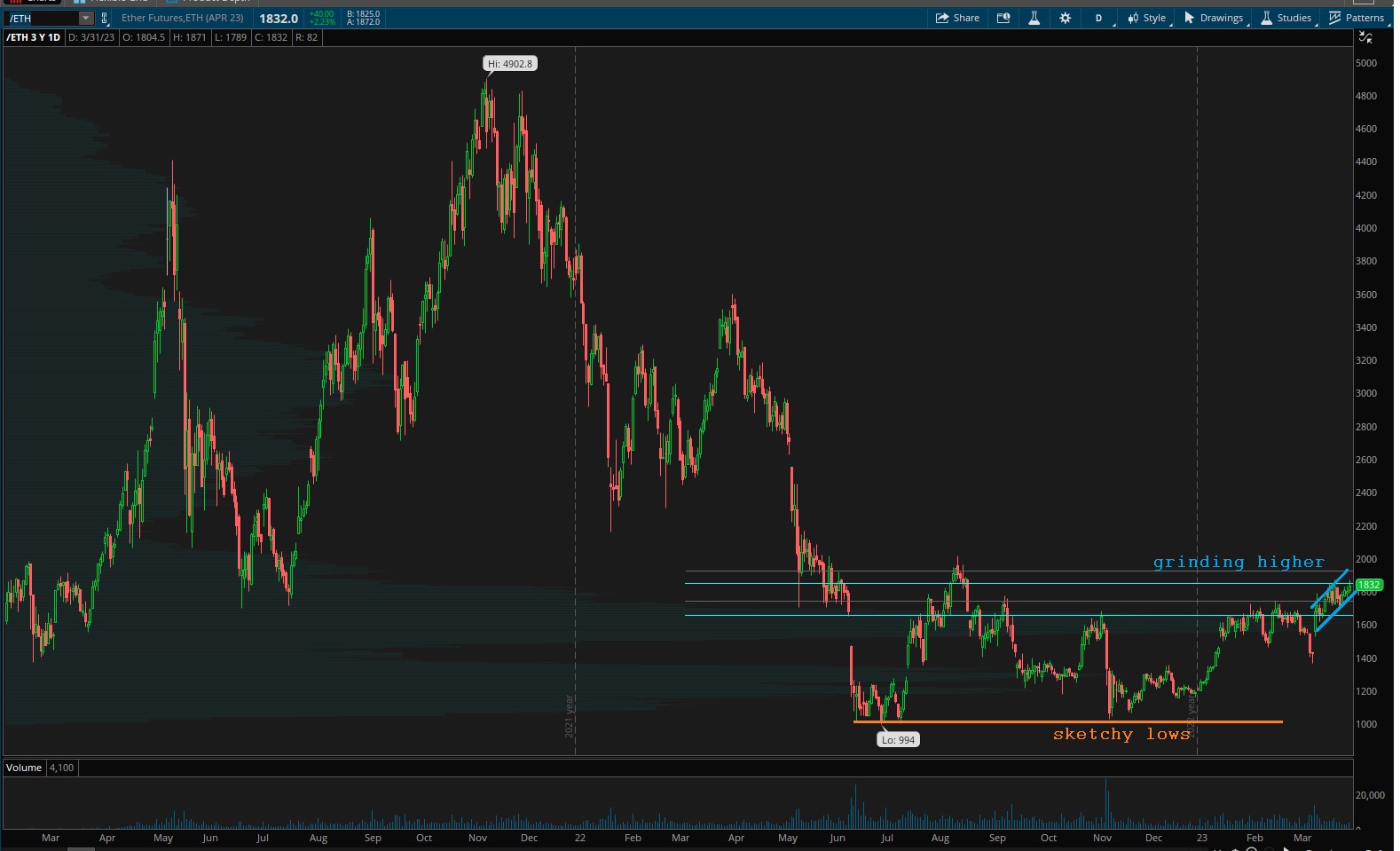 V. INDEX MODEL
Bias model is extreme rose colored sunglasses bullish. This signal calls for a calm drift, perhaps with a slight upward bias.
Here is the current spread:
VI. QUOTE OF THE WEEK:
"Spring is the time of plans and projects." Leo Tolstoy
Trade simple, make a plan and execute it
If you enjoy the content at iBankCoin, please follow us on Twitter