Market activity picked up overnight.  We are certainly seeing signs in this marketplace that the big hands have come back to work, and their actions are jerking price about.  The market has been in a rather benign drift for many weeks, but business is clearly becoming more pressing as the year ramps up.
Yesterday, we saw an aggressive seller enter the NASDAQ in the afternoon.  Their action was dynamic and fast.  The sell flow was quickly reacted upon by eager dip buy orders, and if I have a clear read on sentiment here, I can see the case for dip buying.
We are currently trading outside of yesterday's range meaning we are coming into an elevated risk/reward environment.  Your losers will press harder into your pocket, as will your winners.  Tight stops will be obliterated, and exuding a gentleman's patience will be paramount today. 
Pick your spots and let the market come to you because there will be an added velocity to price today which may carry the market well through your desired entry point. 
Long term the buyers are firmly in control, intermediate term there is balance, yesterday was dominated early on by buyers and again late in the day with their aggressive reaction to lower prices.  Overnight buyers were in control.
It will be important today to understand which timeframe is active.  My expectation is for the intermediate-term timeframe to be prominent because of the aggressive sell flow that began yesterday afternoon and also because they are reacting premarket to higher prices.
I will be looking for an overnight gap fill early on down to 3564.50.  Below this level is a thick layer of volume for the market to work through.  Should we see sellers pressing a second rotation, they will be seeking downside targets to 3551.75 then 3546.25.  Keep in mind however, trading as low as 3536 is possible today, and would fit the framework of "aversion" context.  That is to say, the intermediate term balancing process is a violent one and it is best to pick a side and stick with it, especially near extremes.
I have highlighted these levels on the following volume profile chart: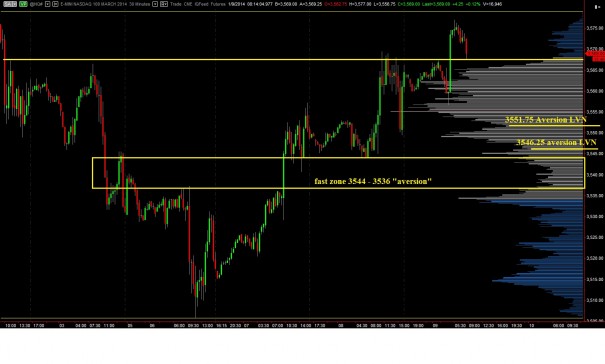 Comments »