Investing doesn't get much more simple than what I am about to show you.
Le Fly, the architect behind Exodus, owner of time machine, iBC founder, and Space Alien Magician literally hand picks 15 stocks every six months.  He seeks growth, gentlemen, at a reasonable price.  Inside Exodus the portfolio is called GARP.
Year-to-date performance of the GARP index is a tad below 13% and if you use Motif (no affiliation just a great tool) you literally had to press 2 buttons this entire year to make said gains.
BEHOLD: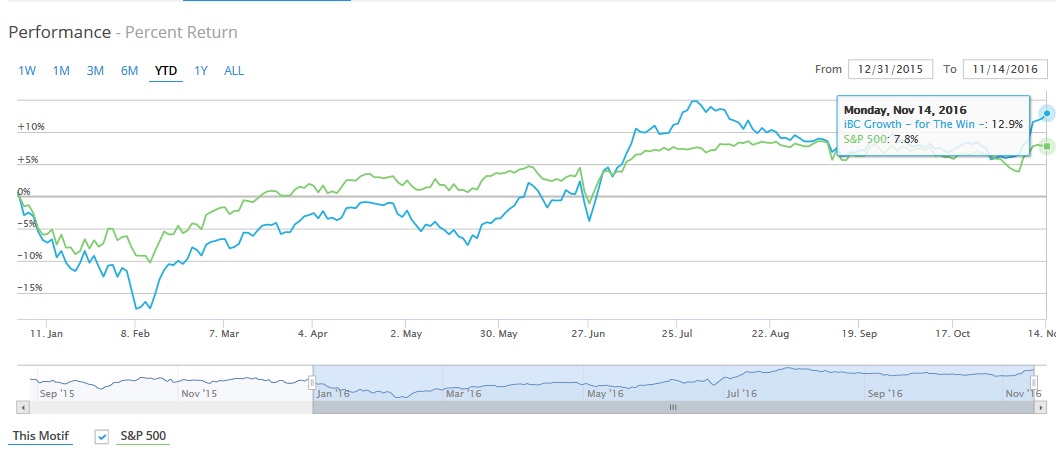 The bulk of my 'stock picking' money was moved into a Motif account and relegated to the GARP portfolio after I swore off individual stocks.  This allowed me to pursue industry and hone my NASDAQ futures game.  I trade NASDAQ futures quite aggressively, in short spurts, which suits my attention span and cat-like speed.
Current conditions are top notch for taking 6, 9, 21 points home every day.  If I had to babysit a handful of stocks, my performance would suffer.
Le Fly, or Senor Tropicana as he's known in the Bermuda triangle, had the foresight in June to adjust GARP for a transition into MAGA.  The result?  The index is sailing into year-end on the breeze of winship.
You may be asking yourself why you ever traded stocks.  The environment is tumultuous and everything seems to do the opposite of what you think.  Maybe this isn't the case for you, but for me individual stock trading, on a short-term time frame, does not work.  However, outsourcing the R&D to someone with a decade more experience then myself and using his algorithms to time my adds does.
In short, long live GARP, long live Exodus, long live Le Fly.
Comments »