---
Trump supporters in 16 states are demanding their precincts abandon their Smartmatic voting machines and switch to the fallback voting process of paper ballots.
The movement began Thursday after 4chan.org member 'Groundwar' called his Governor's office, "to see if my state could invoke their conflict of interest clause in their voting machine contract and fall back to a manual voting process/paper ballots."
He (or she) made the request because it turns out Smartmatic's Chairman, Lord Mark Malloch-Brown, is also Vice-Chairman of George Soros' Open Society Foundation.
Snopes, whose forensic approach to proving/denying the validity of a claim is rapidly losing credibility, says the whole kerfuffle is FALSE.
The Deplorables are pressing onward, because they want a paper trail for what they suspect may be a rigged election.  They are banding together on /r/The_Donald subreddit to individually call the Board of Elections for every single precinct in all 16 states that they found to be using the George Soros voting machines.
These freedom warriors have already compiled the phone numbers for each Board of Elections into a massive pastebin.  If you want to join in, you can simply use Ctrl+F inside the paste bin to find and call your local voting hub.  The pastebin also provides the verbiage they suggest you use when calling.
In case there is any lingering doubt over Soros' ties to the Clinton Campaign, here's an email discussing matters such as "making Soros happy" and Secretary Clinton's private dinner at the billionaire's home: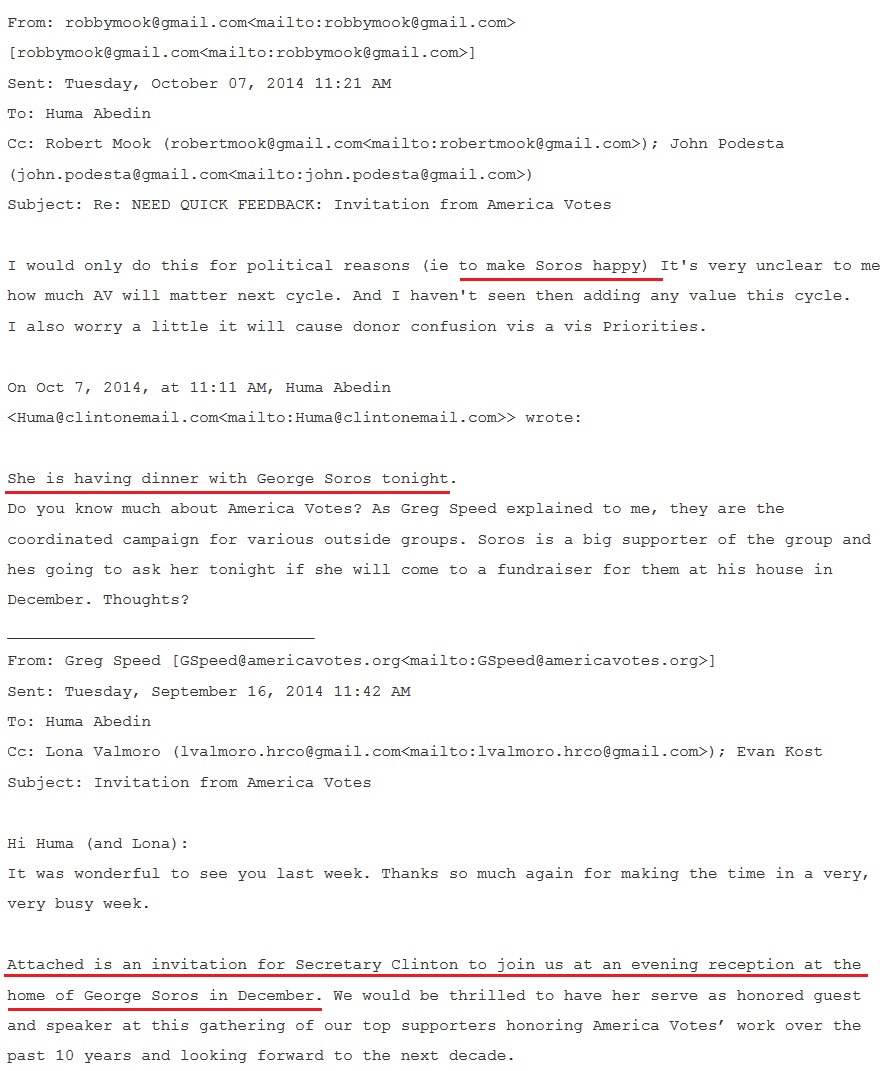 Americans demand greatness, not just in military prowess, but all facets of society and especially voting.  Per The Fly:
The notion that the elections 'are rigged' isn't something unique to America or this moment in time. As a matter of fact, our rigged elections are probably somewhat distinguishable when compared to all of the other autocratically run countries in Europe and let's not even talk about Asia or S. America — where in Brazil politicians are being systematically hunted and executed.

It's just that Americans expect greatness, which is the reason we're rising up and demanding the fuckery must end. If, in fact, our country was rigging elections and also hauling ass for the benefit of the American people, odds are no one would be getting all pitched fork and fire torches right now. But the country has been gutted and the services provided to us have been shitty, and expensive; and God damn it, we've had about all we could stomach.

Almost every decision that is made is for the benefit of a foreign power. We see the horseshit in plain sight, the middle east disasters, the Iranian deal, the Chinese slave factories, the lack of a sane immigration policy, the neocon agenda of wars, etc.
With 17 days left, citizens are banding together to try and make this historical election have a paper trail in the 16 states identified to potentially be corrupted by the George Soros Smartmatic voting devices.  You can too.
Comments »