NASDAQ futures are coming into the second trading day of 2020 down a quick -95 after a hectic trading session featuring extreme range and volume.  Price marked a new all-time high briefly overnight, drifting a few points above 8900 before news hit the wires late in the evening the President Donald Trump successfully bombarded and killed Qassem Soleimani, Iranian Major General in the Islamic Revolutionary Guard Corps and from 1998 until his death, commander of its Quds Force, a division primarily responsible for extraterritorial military and clandestine operations.  The news collapsed price back down into the thick of Thursday's auction where price action balanced out for a few hours before continuing its campaign lower around 2:30am New York.  Price traded nearly down to the closing print of 2019 before a responsive bid stepped in.  As we approach cash open, price is hovering just below yesterday's low.
On the economic calendar today we have ISM employment/manufacturing along with construction spending at 10am, followed by crude oil inventories at 11am.  Energy traders are likely to pay closer attention to the oil reserves ahead of a perceived uptick in middle eastern tensions.  Then at 2pm we have FOMC meeting minutes out, minutes from their December rate decision.
Yesterday we printed a normal variation up that trended higher into the close.  The day (year) began with a gap up and drive higher.  Buyers pressed up beyond record highs during the open and sustained trade above it for about 20 minutes before responsive buyers stepped in.  Higher timeframe participants were active, as seen in the way the auction crossed back-and-forth several times across the daily midpoint.  The sellers briefly pressed below the opening print and daily low but before they could go range extension down responsive buyers (responsive relative to Thursday's open, initiative relative to Tuesday's close) stepped in and worked price range extension up.  From there price drove higher, exploring open air right up into the close.
Heading into today my primary expectation is for sellers to reject a move back into the Thursday low 8802.25 setting up a move down through overnight low 8735.25.  Look for buyers down at 8722.75 and two way trade to ensue.
Hypo 2 stronger sellers trade down to 8715.75 before two way trade
Hypo 3 buyers reclaim Thursday low 8802.25 and set their sights on 8837.25.  We chop around at these levels, stalling between 8842 and 8800 into the weekend.
Hypo 4 full-on liquidation. Higher time frame sellers rip through several support levels, pausing at 8600 and then again at 8546.50.  This is the only scenario where "something has changed".  Otherwise the prevailing conditions (rally) continue.
Levels: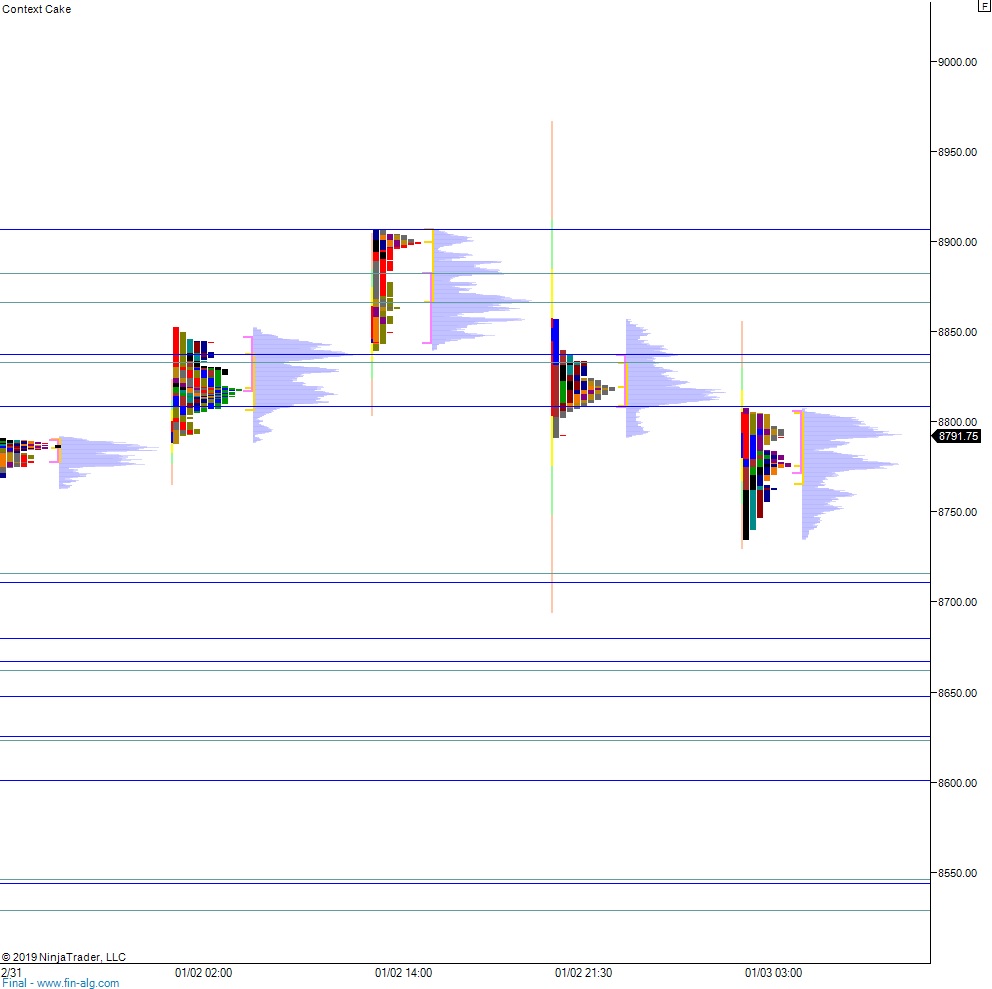 Volume profiles, gaps, and measured moves: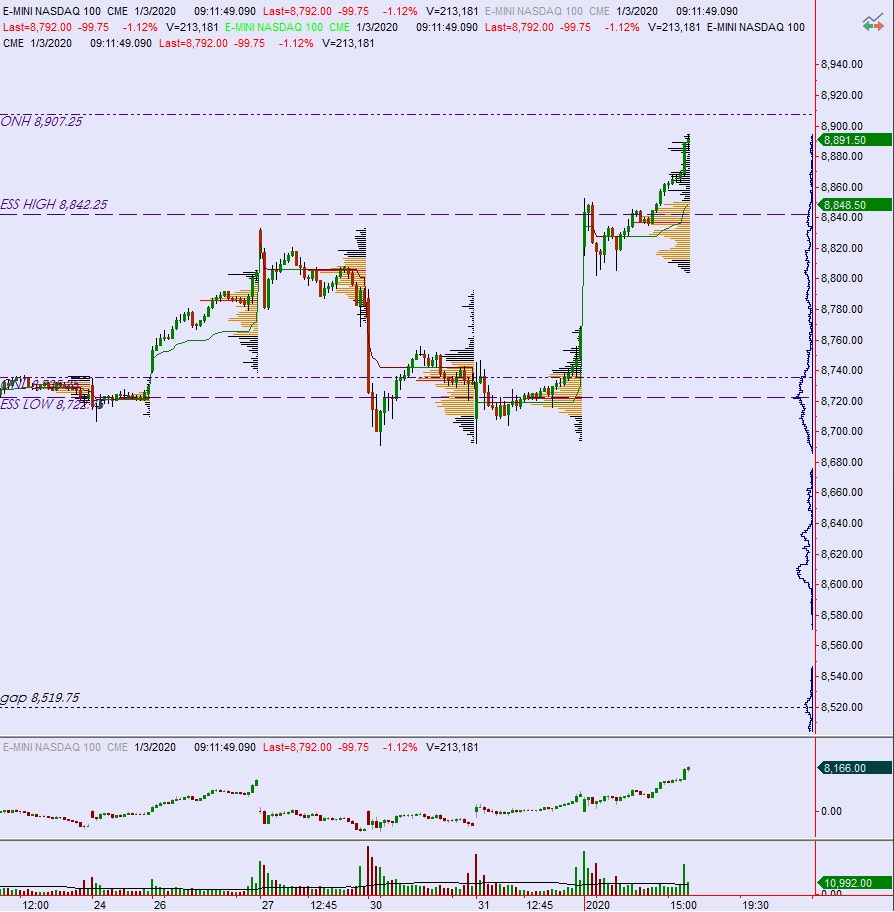 Comments »