Lots of information to unpack ahead of quarter-end, so let's just jump right in.
Floods coming, but enough of that, we have more immediate dangers to address.
Jerome Powell is still giving markets the willies as evident by the way investors reacted to the highly anticipated rate hike last Wednesday.
Trade wars are heating up with China.  And they need to.  If we do not address Chinese economics and adapt some of their central planning tactics, Americans will become number two in less than one generation.
The government budget is a hilarious slap in the face of every MAGA-fag nationwide, with huge sums of money being spent on nation building abroad.
::breaths in deeply, and exhales::
Moving to more actionable and objective information, the models lads, they are speaking to me.  They warn of ultra-violence and chaos.  But first, this tweet, from a nice feller named Teddy Vallee:
Since 1990 when the $SPX has lost more than 1.5% on a Friday, Monday saw a lower low 90/ 93x = 96.7%

— Teddy Vallee (@TeddyVallee) March 23, 2018
That is a beautiful statistic, isn't it?  The probability of a lower-low Monday is extremely high.  Suppose we will see how that plays out before taking any action…
Next, this is quarter-end.  Friday is a market holiday.  So is the following Monday.
Christian Easter is on April Fool's day.  That amuses me, and I am cooking up some good Easter pranks.
The models are calling for a tradable low to form this week.  They are not sure exactly the shape, but historically it has been sharp and fast, like how you would pull your hand away if you touched a red-hot stove.  This is based on statistics, and it could be wrong, but it is an objective means of taking action and buying the dip.
Next week is the most important week of the yea—lots of moving parts—if at any point the information starts to overwhelm you, step back.  Go outside.  Turn the dirt over.  Plant some fall bulbs.  Or just walk.  Then come back to the battlefield and reassess.
A couple programing notes.
I am part of a live panel Tuesday evening downtown.  The topic is premarket information and active trading.  We will talk about morning routines, core trading philosophy, and do Q&A.  I am told a recording will be made available, but there are still a few spots left if you can attend.  Link to RSVP: https://www.meetup.com/Detroit-Investors-Traders-StockTwits-Meetups/events/248652154/
I will also be doing a YouTube live next week, probably on Monday, where I use Exodus and Motif to re-balance my q1 quant portfolio.  This will go down on iBankCoin's YouTube channel.  Be sure to subscribe to our super gnarly Youtube channel.  Or just stick around and if I do not screw up the recording, I will post it here to the RAUL blog. Link to iBankCoin Youtube: https://www.youtube.com/user/ibankcoin
How has the Q1 quant portfolio performed over these last 12 months?  Fantastic, besting the S&P 500 by more than 8%.  In short, Exodus wins again: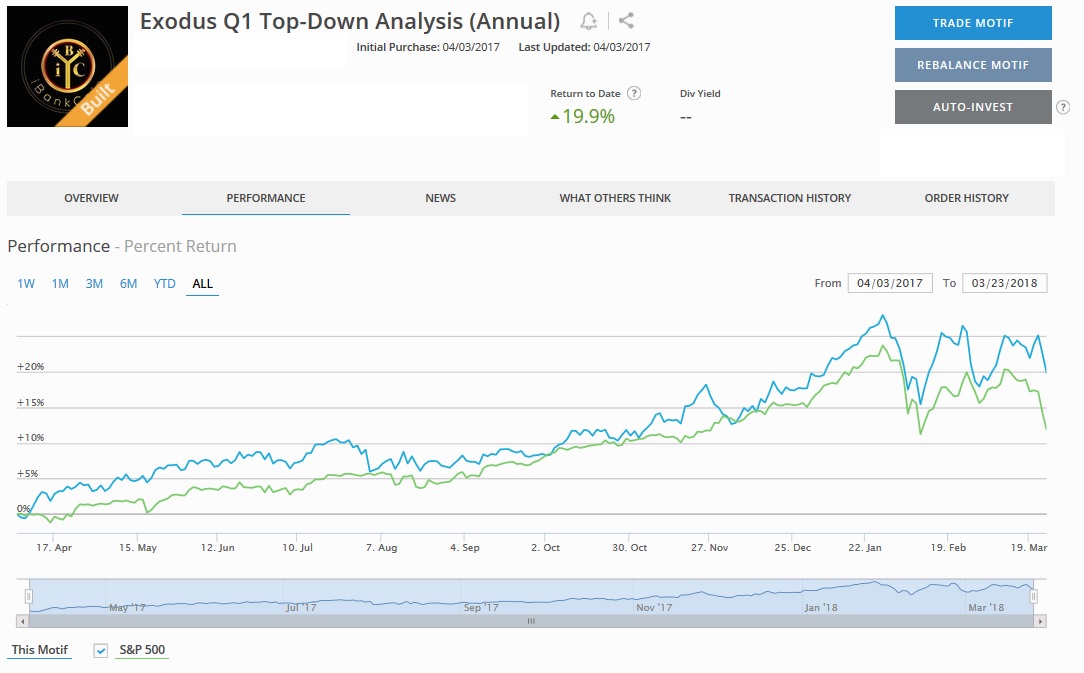 Collectively, the four-part quant system will be my finest work ever.  In three years you'll see…YOU'LL ALL SEE.
Aside from these events, I will be doing my usual morning NASDAQ reports.  These reports are how I make money and sharing them is what keeps me accountable to my research.  You have no idea how much I appreciate you guys for that.
Finally, this is a bit of a meaningless milestone for the Sunday Strategy Session.  The 175th consecutive edition is live, Exodus members, go check it out!
I AM BULLISH, but not until I see buyers step in, hot and heavy and moist.
Comments »