First off Happy Father's Day lads. Father's day is less important than Mother's Day and if you deny this statement then you're heading down a slippery path to being cuckold by Humble Raul. Dad's don't need to be celebrated. Is everyone okay? GREAT. Leave me be. I am content. Mother's need frills. A sense of being special. We create that magic for them so everyone can be okay and we can be left alone.
Moving on. Quick programming note.
I wish I could be more active but there is a generational land grab opportunity happening in the birthplace of the assembly line. I have put aside my fitness and intellectual work to dedicate my powers to accumulating as much of this rare earth as possible. It was locked up for years-and-years after the heckin' chinese and australians swooped in during The Great Recession and picked up Detroit lots by the dozen only to let them rot, and blight.  The city set up a land bank and suddenly nothing was available. But all the sudden it is becoming available again and the patient hoop jumper can squire urban acreage for a real nice rate.
This humble hoop jumper then has to develop the land enough to satisfy the city to hand over the deed and I am doing all of this in a very boot strapped manner because I have an immigrant mentality.
Americans will never understand what it is like to live on an island or worse, Europe, where every inch of earth has been owned for a thousand years. Immigrants come to america and they realize all this land is available and they set out to take it and make it productive.
That said I miss trading these futures dearly. Active trade moved to the September contract on Friday and I am feeling the urge to sit back down and dial back into the tape. It will not happen this week.
When I do dial back in I will do my best to be present in the Pelican Room more. I have a hard time with trading chat rooms because my a.d.d. But I will pop in after I hustle the opening bell when I can.
NOW MOVING ON TO CURRENT MARKETS.
Sunday research leads me to believe we will see some follow-thru on last week's selling. Whether it finds buyers down below or whether I am totally wrong and we rally all week, we don't know. What I do know is all my toiling has loosened up some capital that I need to deploy in the markets and I need to deploy it before we're too deep into Q3.
I will not buy more doge.
I will not buy more doge.
I will not buy more doge.
Maybe I will, fuck.
I will not buy more doge.
While the 200k doge I hold in reserve has plummeted in value, the total amount of doge I own has increased thanks to that nice feller Sam allowing me to lend my doge out on his brokerage platform. I am earning doge even now as I type. Crypto is so fucked. It has this way of consuming the speculative mind.
Why the hell would I buy more doge when I could by more TWTR?
We don't know. But I might.
I will not buy more doge.
I might buy more doge.
Shit man.
I need to dial back into the morning reports. Those keep me centered. And I need to get back in the gym and start my ressitance training back up. I am turning into a wet noodle of sorts. Toiling on the smasher and the shovel all day but my core is turning pudding soft.
That's the last thing I need with you ruthless fuckers vying for my seat.
For now. Ciao. And remember—June is Raul's month.
Raul Santos, June 20th 2021
And now the 343rd edition of Strategy Session. Enjoy.
---
Stocklabs Strategy Session: 06/21/21 – 06/25/21
I. Executive Summary
Raul's bias score 2.45, medium bear.  Expect continued selling during the week.
II. RECAP OF THE ACTION
Late Monday rally then selling pressure all week which accelerated Wednesday afternoon after the FOMC announcement. NASDAQ bullish divergent throughout the week.
The last week performance of each major index is shown below: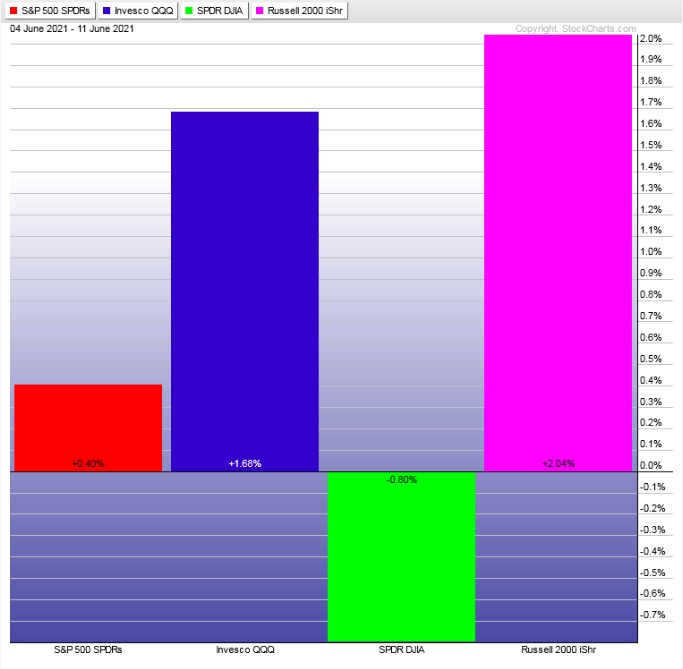 Rotational Report:
Rotations away from the equity complex, across the board.
Bearish
For the week, the performance of each sector can be seen below: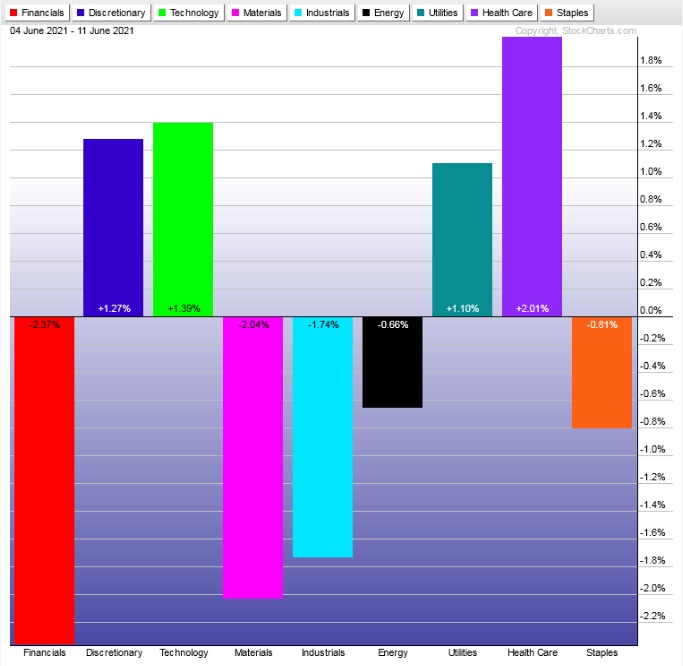 Concentrated Money Flows:
Money flows skewed heavily to the negative side of the ledger.
Volume delta might be broken or just be a strange lagging indicator. It printed a slightly negative reading after being really negative for months.  Median return was about -400 basis points.
bearish
Here are this week's results:

III. Stocklabs ACADEMY
No man's land
Markets are sort of in a strange purgatory for the next few weeks. It is not quite the third quarter but active futures traders have rolled forward to the September contracts.
No major earnings are due out from any important outfits.
The Fed turned a bit hawkish and can only add benign layers of context to it for a while.
It is nearly the summer solstice but not quite. Mercury is in retrograde but who know what that means? It ends Tuesday.
The NASDAQ is still pinned right around where it was back when the White House announced their intention to tweak capital gains tax code.
Contextually there is no clear catalyst for the markets. Focus on semiconductors.
Note: The next two sections are auction theory.
What is The Market Trying To Do?
Week ended searching for buyers
IV. THE WEEK AHEAD
What is The Market Likely To Do from Here?
Weekly forecast:
Expect continued selling during the week.
Bias Book:
Here are the bias trades and price levels for this week:

Here are last week's bias trade results:

Bias Book Performance [11/17/2014-Present]: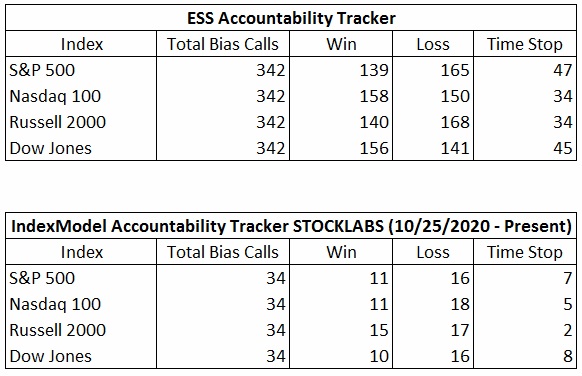 Testing range
Markets fluctuate between two states—balance and discovery.  Discovery is an explosive directional move and can last for months.  In theory, the longer the compression leading up to a break, the more order flow energy to push the discovery phase.
We are monitoring two instruments, the Nasdaq Transportation Index and the PHLX Semiconductor Index.
Transports are nearing what appears to be the bottom of a well-established range. Will it hold or go into a discovery down phase. This could tell a story next week.
See below: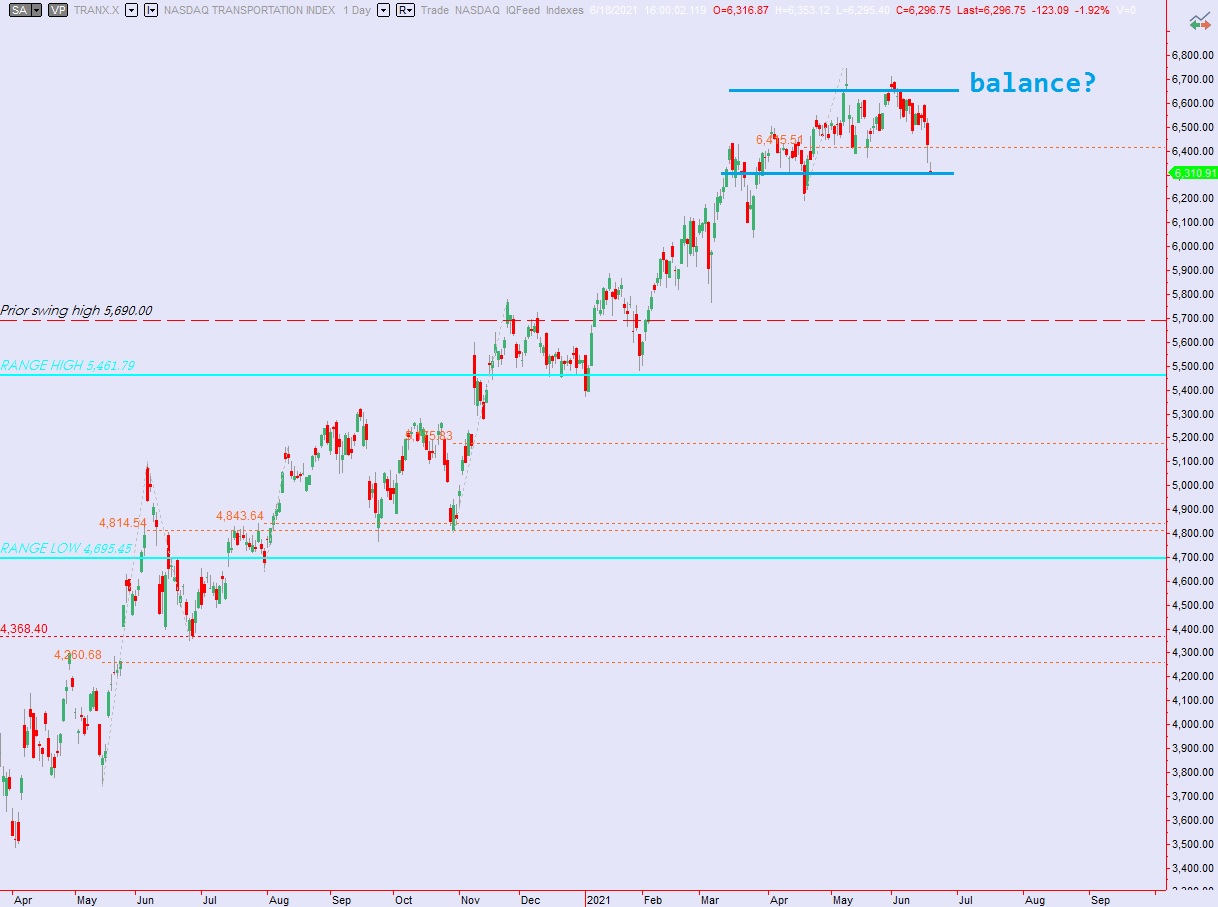 Semiconductors have been eroding the nearby support level by repeatedly bouncing along it. We could be setting up to traverse down to the low-end of range.
See below:
V. INDEX MODEL
Bias model is neutral after being extreme Rose Colored Sunglasses bullish bias for three consecutive weeks after being neutral for the two weeks prior after being e[RCS] bullish six weeks back and RCS bearish seven weeks prior.
We had a Bunker Buster sixteen weeks ago.
Being extreme RCS essentially for five weeks in a row is what preceded this selling. Interesting…
And going into next week there is no bias.
Here is the current spread: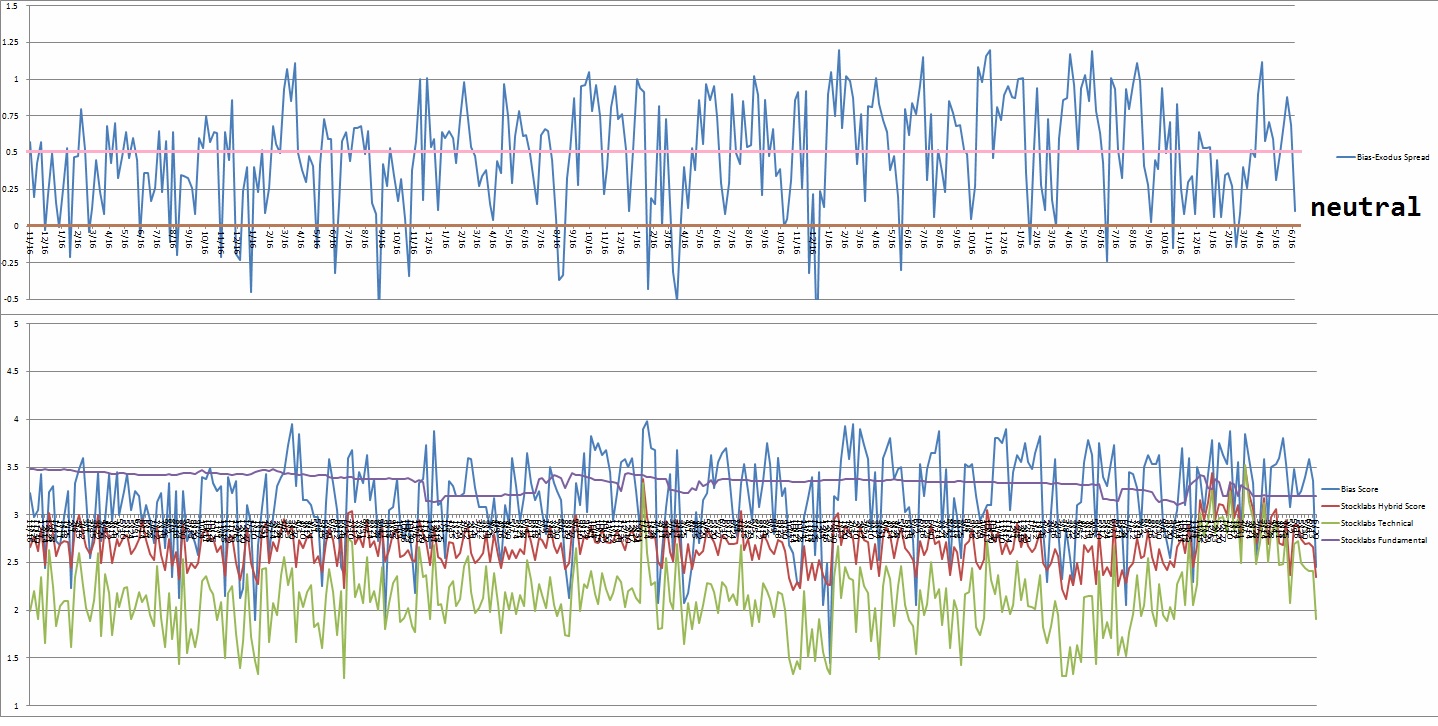 VI. Stocklabs Hybrid Oversold (6-month)
On Thursday, June 17th Stocklabs went hybrid oversold on the six month algo. This bullish cycle runs through July 1st end of day. Here is the performance of each major index so far: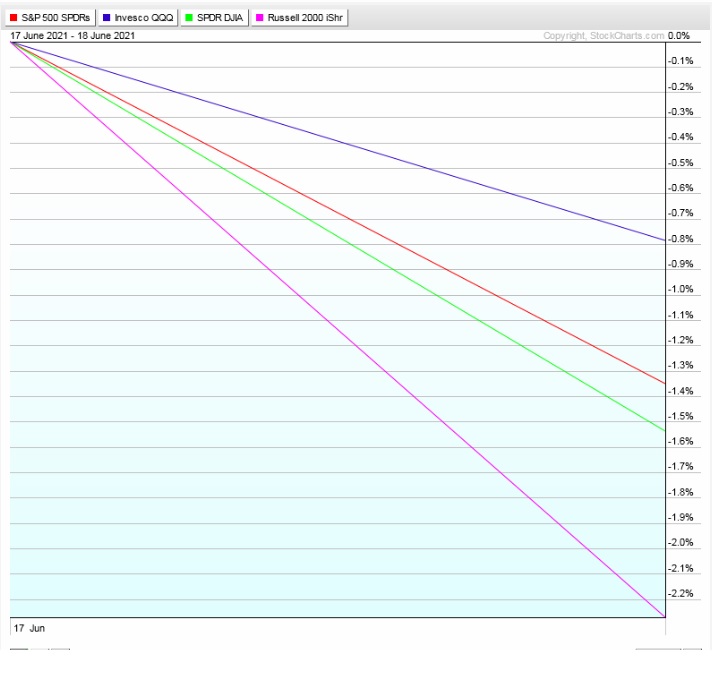 VII. QUOTE OF THE WEEK:
"It's a beautiful day, the sun is shining, I feel good, and no one's gonna stop me now." Freddy Mercury
Trade simple, one trade at a time
Comments »