Alright back to work you lazy sows.
This is america and we're on the move. Have you seen the Joneses? They're kicking your ass. They came out of the pandemic like champions, dicks swinging low, leveraging their lives for that bigger house, cottage and boat.
And what of Raul? Growing corn and tobacco in one of the most derelict cities in the union, preparing for chaos?
It fits me. But this isn't about me. This is about the fate of the financial markets and their outcome is at the mercy of Joey Donuts and John P. Fatburger.
Get back into the trenches and close those deals. It's time to buidl.
Alright all the guff aside. There is a beautiful alignment on all my signals and basically I have to go ahead to press some long bets into Wednesday. Read the report for all the technical bias development and then pepper into it that the dang moon goes full Wednesday and will be at its closest point to earth on the year. All the moon power gonna be lifting.
I am feeling strong lads. Three thousand strands of GMO sweet corn stand tall like emerald green american cocks. The tobacco leaves a huge and oily and I am pulling doinks out of the earth as we speak both turnips and carrots.
It's pepper season and I have 50 big'ole bushes of shishedo and boy are they juicy.
I have the means of production and I have seized upon their capability.
Now it is my job, all of our jobs, to go out and extract fiat american dollars from the global financal complex as best as possible.
Said funds are to be converted into real assets like chunks of earth and steel and machines. Chaos will not find us unprepared damnit.
raul santos, July 10th 2022
And now the 393rd edition of Strategy Session.
---
Stocklabs Strategy Session: 07/11/22 – 07/15/22
I. Executive Summary
Raul's bias score 3.65, medium bull*. Buyers control the tape through early Wednesday. Then look for the CPI data early Tuesday to pivot the auction. This data is likely to give a clear reaction that we can carry into week's end but there are a few wild cards that could either accelerate or reverse the action. Fed's Beige book out Wednesday afternoon and then earnings out of Taiwan Semiconductors Thursday morning.

*Extreme Rose Colored Sunglasses e[RCS] bullish  bias triggered, see Section V.
II. RECAP OF THE ACTION
Markets were closed Monday in observation of Fourth of July.  Heavy selling before cash open Tuesday was sharply reversed and we rallied through Tuesday. Choppy Wednesday. More rallying Thursday. Buyers aggressive again early Friday and held the highs into the weekend.
The last week performance of each major index is shown below: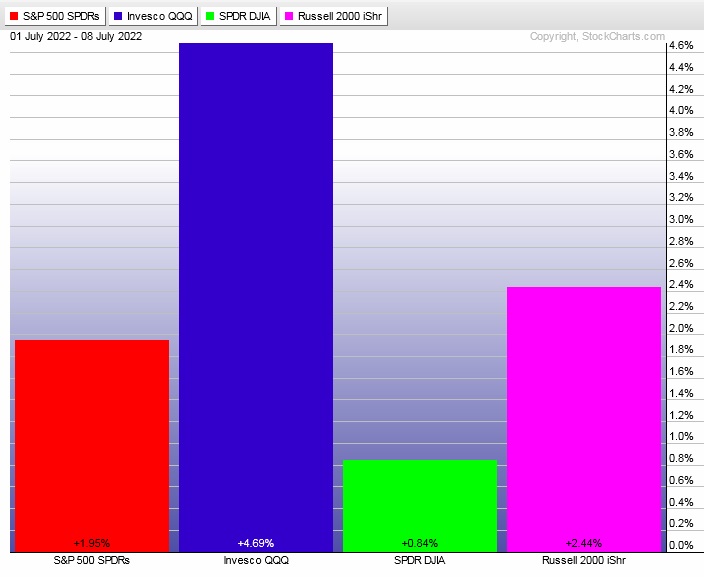 Rotational Report:
Rallied in all the right places. Softness from risk averse Utilities.
bullish
For the week, the performance of each sector can be seen below: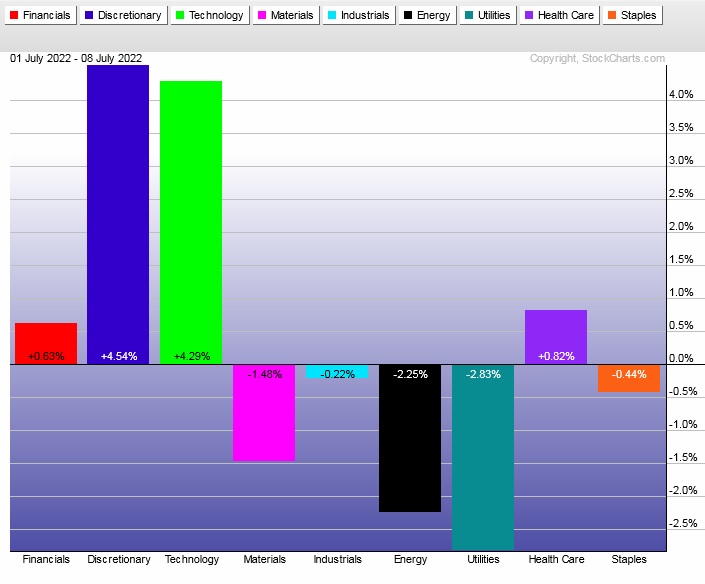 Concentrated Money Flows:
Money flows have been an aggressive battle these last six or so weeks. Last week the ledger skewed to the buy side.
bullish
Here are this week's results:

III. Stocklabs ACADEMY
Methodical markets
Sometimes the correction periods of a market can seem chaotic. But eventually the market returns to its methodical behavior of mechanically uniting as many buyers and sellers together through the process of price discovery.
The way the semiconductor index resolved that old gap from back in November 2019 and then rallied hard is indicative of the overall market returning to normal.
We're clear of any major signals from Stocklabs but we have extreme Rose Colored Sunglasses on Indexmodel. The above data were bullish.
Pair this with the scheduled economic events (cpi, beige book Tuesday, Taiwan semiconductor earnings early Thursday) and we have a really clean set-up to trade.
Bullish at least until Wednesday, then pivot based off the way markets react to these three events.
Note: The next two sections are auction theory.
What is The Market Trying To Do?
Week ended searching for sellers.
IV. THE WEEK AHEAD
What is The Market Likely To Do from Here?
Weekly forecast:
Buyers follow through on last week's strong close with some continuation Monday. Then look for sellers to emerge by Wednesday. Then a battle for control into the weekend.
Bias Book:
Here are the bias trades and price levels for this week:

Here are last week's bias trade results:
**ANALYSIS NOT COMPLETED**
Bias Book Performance [11/17/2014-Present]: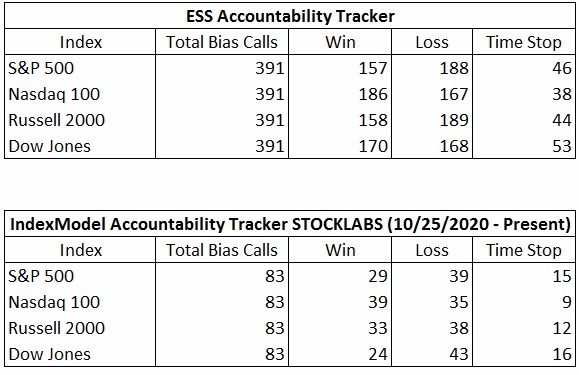 Poking higher
Readers are encouraged to apply these techniques to all markets. Markets fluctuate between two states—balance and discovery. Discovery is an explosive directional move and can last for months. In theory, the longer the compression leading up to a break in balance, the more order flow energy to push the discovery phase.
Market are most often in balance.
Every week this newsletter uses auction theory to monitor three instruments, the Nasdaq Transportation Index, PHLX Semiconductor Index and ethereum
Transports blew out their downward channel and then formed balance on the lower timeframe. Now they appear to have a bit of room to run higher on both time frames despite being in discovery down.
See below: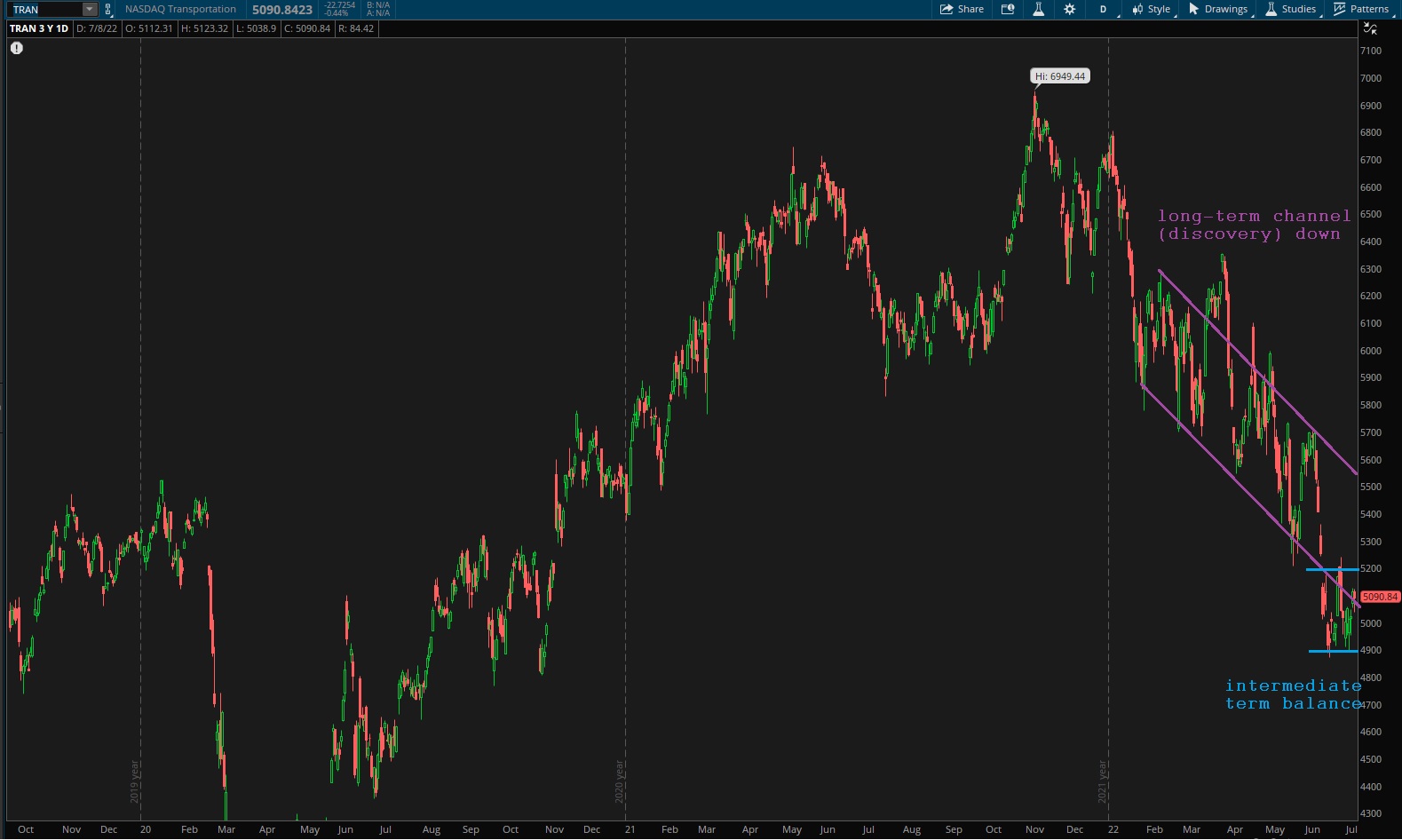 Semiconductors managed to resolve that old November 2019 gap last Tuesday and rallied hard off of it. This key driver of the overall market is still in discovery down but unless sellers do something major this phase is becoming quite mature. Keep an eye on semiconductors Thursday after earnings out of $TSM. Could tell a story.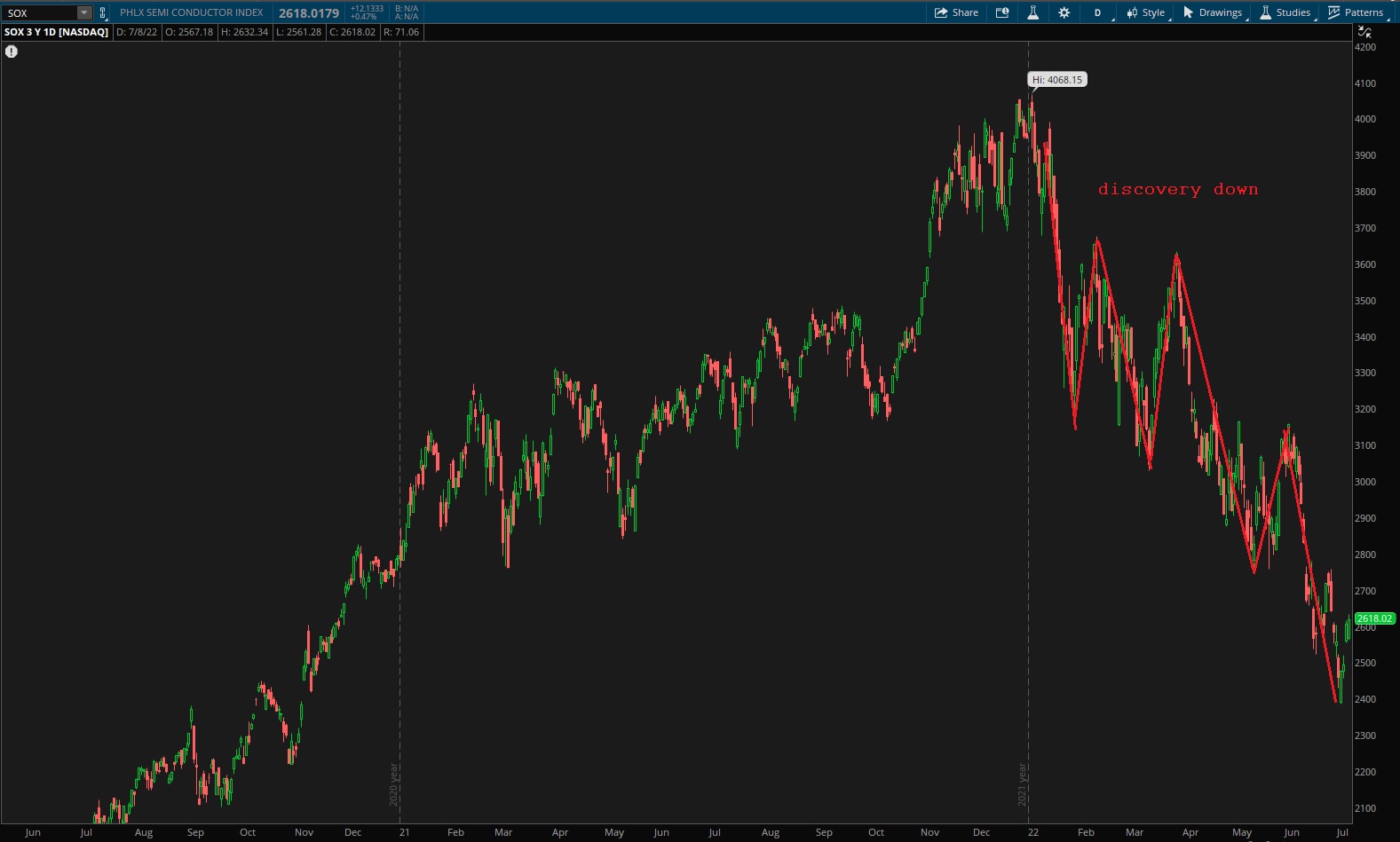 Ether has become quite mellow as of late. We're still working through the overplay for the underlay, but after probing below levels unseen on the cme futures, and then testing the big psychological $1,000 level, we may have formed a failed auction.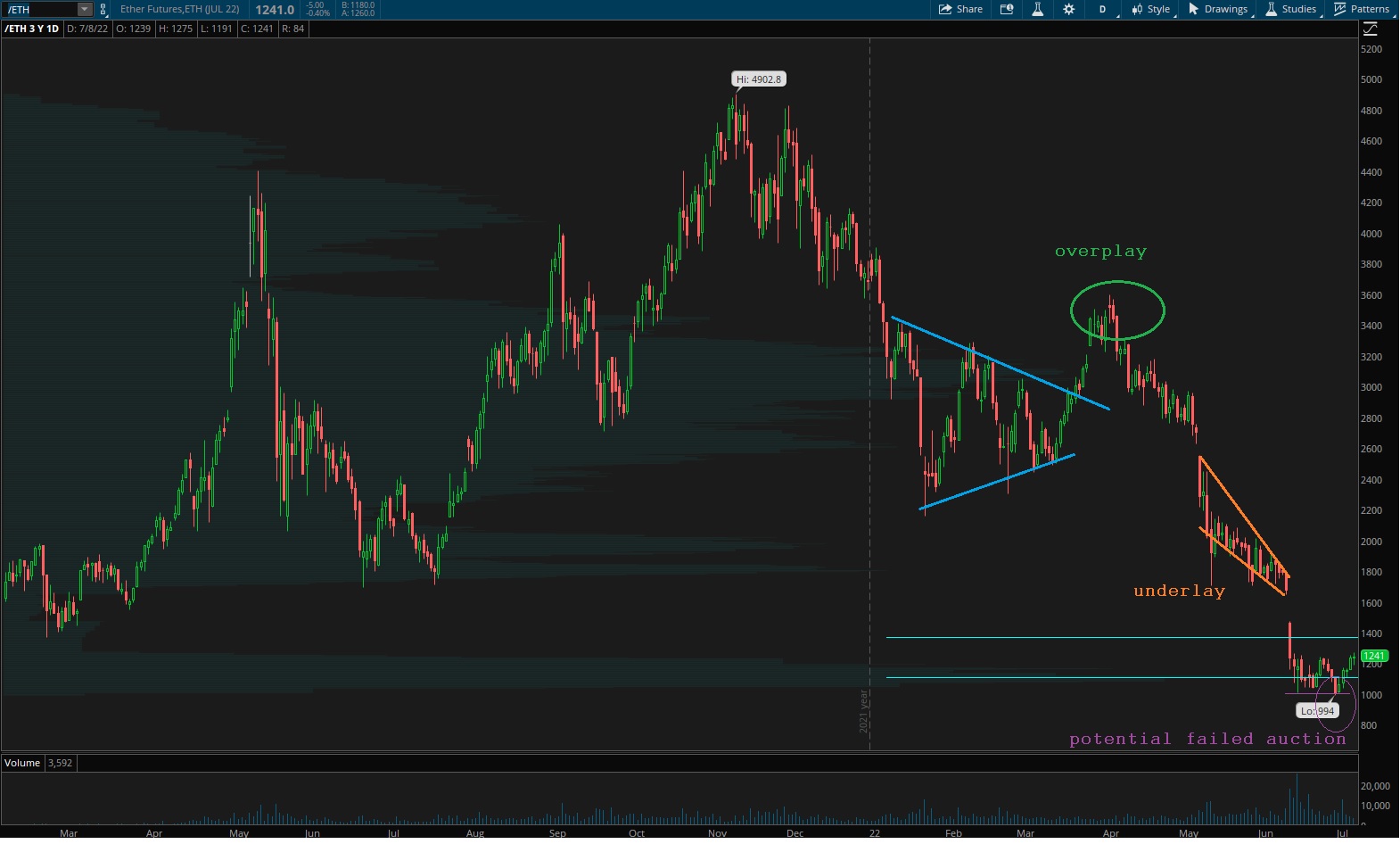 V. INDEX MODEL
Bias model is extreme Rose Colored Sunglasses bullish heading into the first full business week of July.
There were four Bunker Busters in recent history — four weeks  back, eleven weeks ago, twenty-four reports back and a third thirty-two reports back.
Here is the current spread: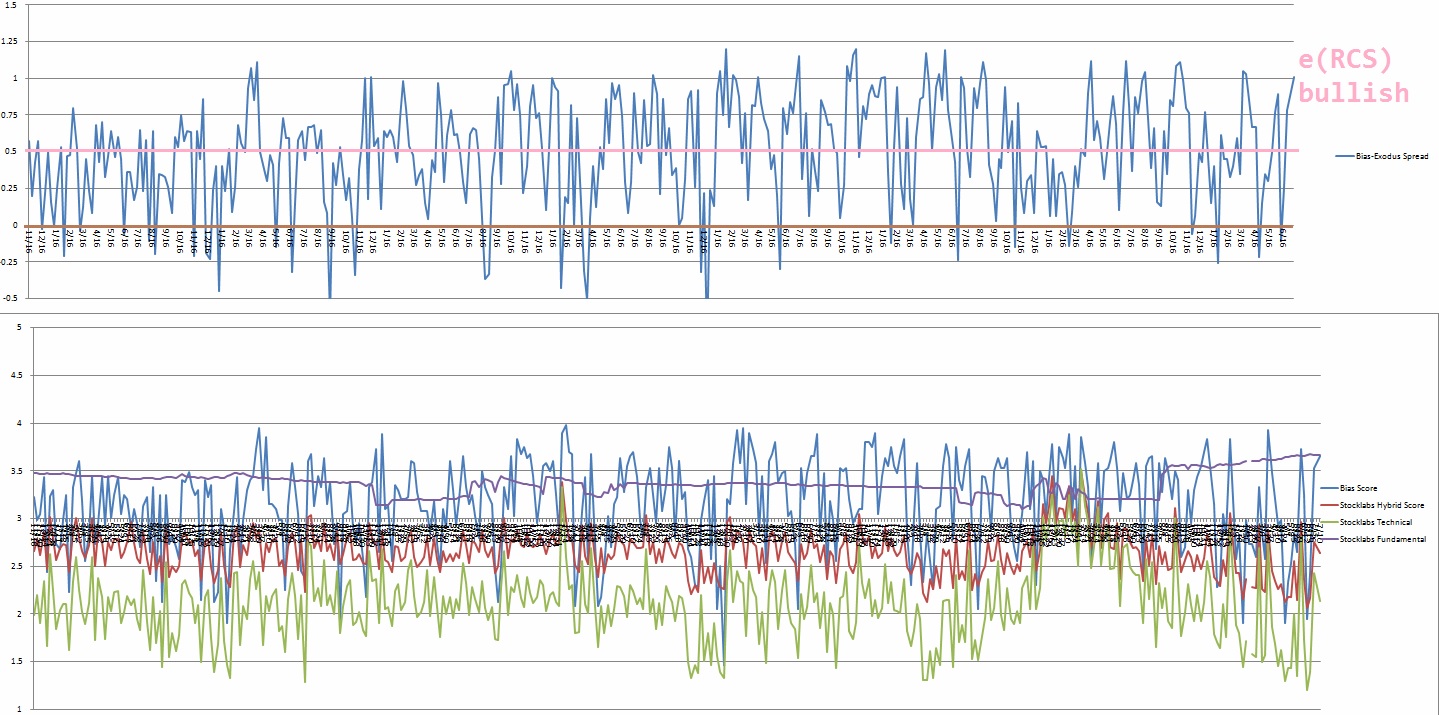 VI. QUOTE OF THE WEEK:
"The two most powerful warriors are patience and time." – Leo Tolstoy
Trade simple, be picky
Comments »