Bearish. Let's be clear about that first. These next five trading days the models that dictate my actions are bearish.
They were bearish last Sunday also and I'm kicking myself for the errors I made last Sunday. You see, I was all hyped up on corn dreams, joyful at the prospect of hustling corn down in the hood whilst planting pumpkins. I was so keyed up on farmer's stamina that made a very human error and improperly observed the data that was directly in front of me.
Then I exacerbated the issue by sharing my research online to you lads, the good folks of the iBankCoin metaverse.
I am not going to apologize. Regretful as it was I am here today with a clearer mind and the humility that I had to earn all last week.
Toiling like a damn junkie.
Building a farm will absolutely defeat you, physically and mentally at least 2-3 times during the development stage. It's inevitable. So much work. So much planning. So many things have to go right and the whole time Mother Nature is indifferently throwing mystery and challenge at your vision.
Which is fine. I understand why folks packed up and moved to the cities 100 years ago. Farming is hard.  Anyhow I was all keyed up with farm vigor and corn aspirations (ended up clearing a little over 40 fiat american in corn money, lol) that I missed the signal coming out of IndexModel.
IndexModel was bearish last Sunday. It is bearish again today.
Historically when the model goes Rose Colored Sunglasses I would fire up the old doom tone and write a real horror-show of a blog entry, prophesizing the end of western civilization. These days I know better that the west is the best.
That said The West did take an L last week. The dang Taliban, man. They won. Or something. We kind of lost. I think.
Real life is not as absolute as your american football game. There is nuance. Kind of winning, kind of keeping up with the times. But the net sum of the events seems to skew to the negative side of the ledger for the good old united states and the west in general.
Or course these events bring out the general crazies. That doesn't matter. What matters is we have some contextual reason to be cautious.
Then there's all the data in this week's strategy session. Cold truth. It is bearish also.
Then there's overall sentiment which to this humble observer seems to be teetering on hubris. Folks regularly offer to pay me 6,000 fiat american dollars from my Twitter avatar.
Let that fact simmer….
…..
…..
….
…
.
Long-time readers of this hear Humble Raul blog [HRb] know that I have been calling for the '20s to be a period of economic prosperity the likes of which no living human has ever seen. Driven on the wings of artificial intelligence and automation. Daddy Elon said something so true and visceral during the AI conference last week. That robotics are simply distilled labor. So fucking true.
So you know that my longer term core belife is that we are in a period of major economic expansion. Expansion more resembling the curvature of Moore's Law than linear. The West will continue to thrive and we'll have to do EMPATHATIC things like provide humanitarian relief to any poor soul stuck in a static society like the fucking Taliban nation. Domestically we'll have to offer universal basic income to everyone as more-and-more menial work is given to the robots.
This will all come to pass and I'll still be sitting here. Farming some sophisticated set up and extracting fiat american from the global financial complex. Rippling muscles and a real smooth technique for the trade.
Bullish on technology. Bearish for the next five days.
As always, we'll take it one day at a time. Be sure to drop by and read the morning reports.\
Okay for now.
Raul Santos, August 22nd 2021
---
And now for the 352nd edition of Strategy Session, enjoy.
Stocklabs Strategy Session: 08/23/21 – 08/27/21
I. Executive Summary
Raul's bias score 3.20, neutral*.  Sellers engage the tape early in the week, pressuring the markets lower. Then look for GDP data out Thursday to accelerate price to the downside and into the weekend.
*Rose Colored Sunglasses [RCS] bearish bias triggered, see Section IV
II. RECAP OF THE ACTION
Weakness early Monday discovered a strong responsive bid with markets rallying hard into Monday's close. Gap down Tuesday reversed much of the Monday gains followed by selling pressure through Thursday morning. Strong bidders reversed the auction Thursday morning and rallied price nearly back to unchanged by week's end. The Russell 2000 was significantly weaker that the other major indices.
The last week performance of each major index is shown below: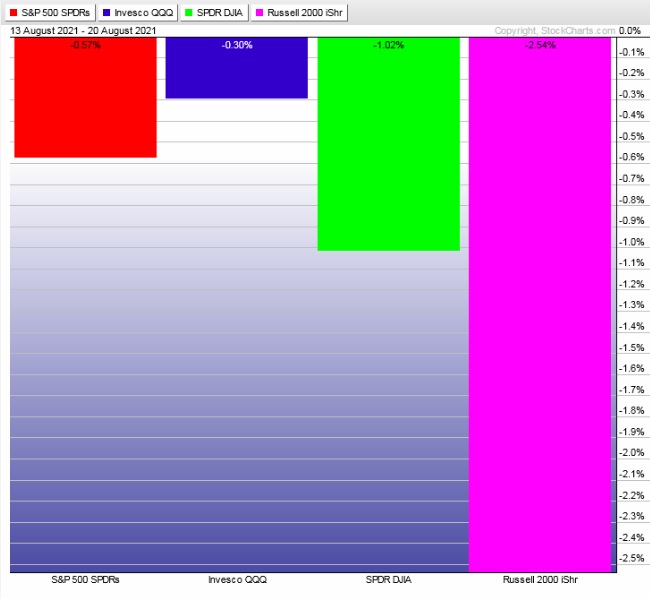 Rotational Report:
Third consecutive week with poor sector leadership. Energy hit hard.
bearish
For the week, the performance of each sector can be seen below: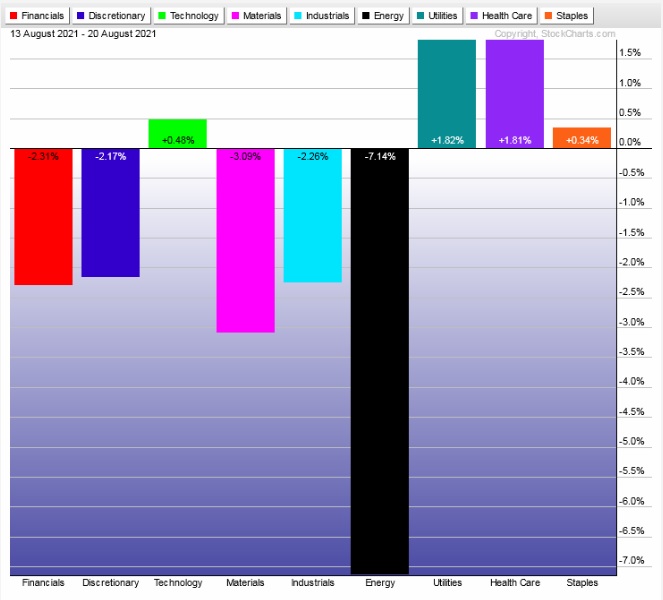 Concentrated Money Flows:
Ledger skewed heavily to the negative side, affirming the major sell flows we observed six weeks back.
bearish
Here are this week's results:

III. Stocklabs ACADEMY
More on context
Twitter is the ultimate gauge of sentiment for me, more than any other venue real life or online. I've curated my steam for the last 10 years to be mostly speculators and business owners. Risk takers.
These types of inputs can be noisy and I go through great lengths to ensure they don't become harmful to my performance. There are really only a few things I am looking for:
Foremost is signs of over-confidence/excess. My greatest weakness in trading is overconfidence. It leads to the worst kinds of errors—missing a signal from the trading models and deviation from my plan. If you see it you be it and I've been seeing some overconfidence on the Twitterspehere. Talk of buying new  cars. Traders reaching new milestones in their equity curve. Wonderful accomplishments, no doubt, it brings me joy to see others do well in this game, but the talk makes me a bit uneasy.
A big part of this is coming from the crypto community which has just enjoyed a rather spirited rally away from the hard selloff that began back in March.
Anyhow, this sentiment, combined with all the other context we codify using Switchboard has me feeling quite bearish into month-end.
Note: The next two sections are auction theory.
What is The Market Trying To Do?
Week ended searching for sellers
IV. THE WEEK AHEAD
What is The Market Likely To Do from Here?
Weekly forecast:
Sellers engage the tape early in the week, pressuring the markets lower. Then look for GDP data out Thursday to accelerate price to the downside and into the weekend.
Bias Book:
Here are the bias trades and price levels for this week:

Here are last week's bias trade results:

Bias Book Performance [11/17/2014-Present]: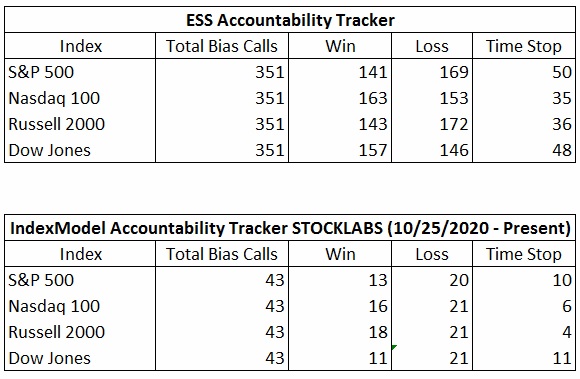 Semiconductors look to be back in range
Markets fluctuate between two states—balance and discovery.  Discovery is an explosive directional move and can last for months.  In theory, the longer the compression leading up to a break, the more order flow energy to push the discovery phase.
We are monitoring two instruments, the Nasdaq Transportation Index and the PHLX Semiconductor Index.
Transports had a bit of a false start — breaking out from the downtrend only to be knocked back into it. This chart has lost some of its structure. It appears to be in a mini-balance of sorts with the intermediate-term trend being down.
See below: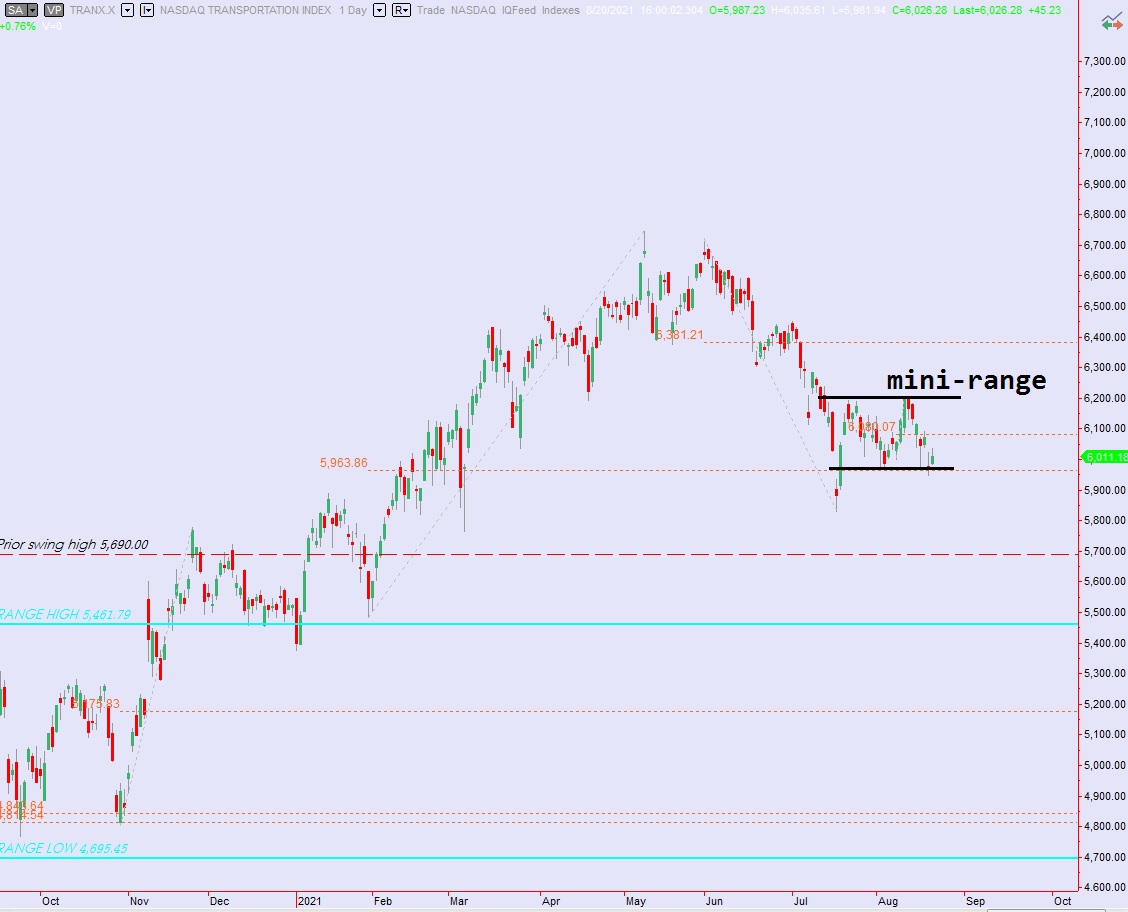 Semiconductors lost their nearest support zone, a level that I expected to hold. Now the index appears to be back inside of its prior range and could be set up to traverse lower and test the bottom boundary.
See below: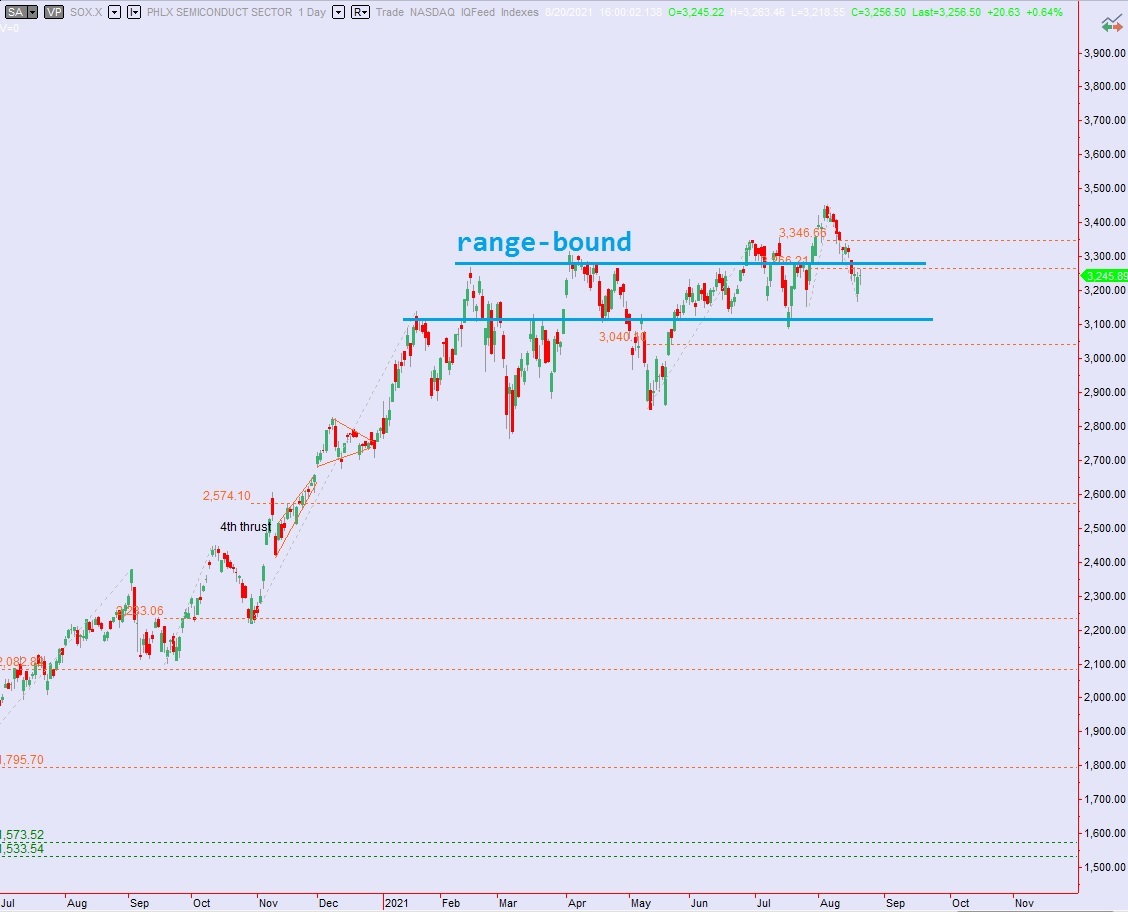 V. INDEX MODEL
Bias model is Rose Colored Sunglasses bearish for a second consecutive week.
We had a Bunker Buster twenty-five weeks ago.
Rose Colored Sunglasses is a bearish bias that calls selling pressure throughout the week.
Here is the current spread: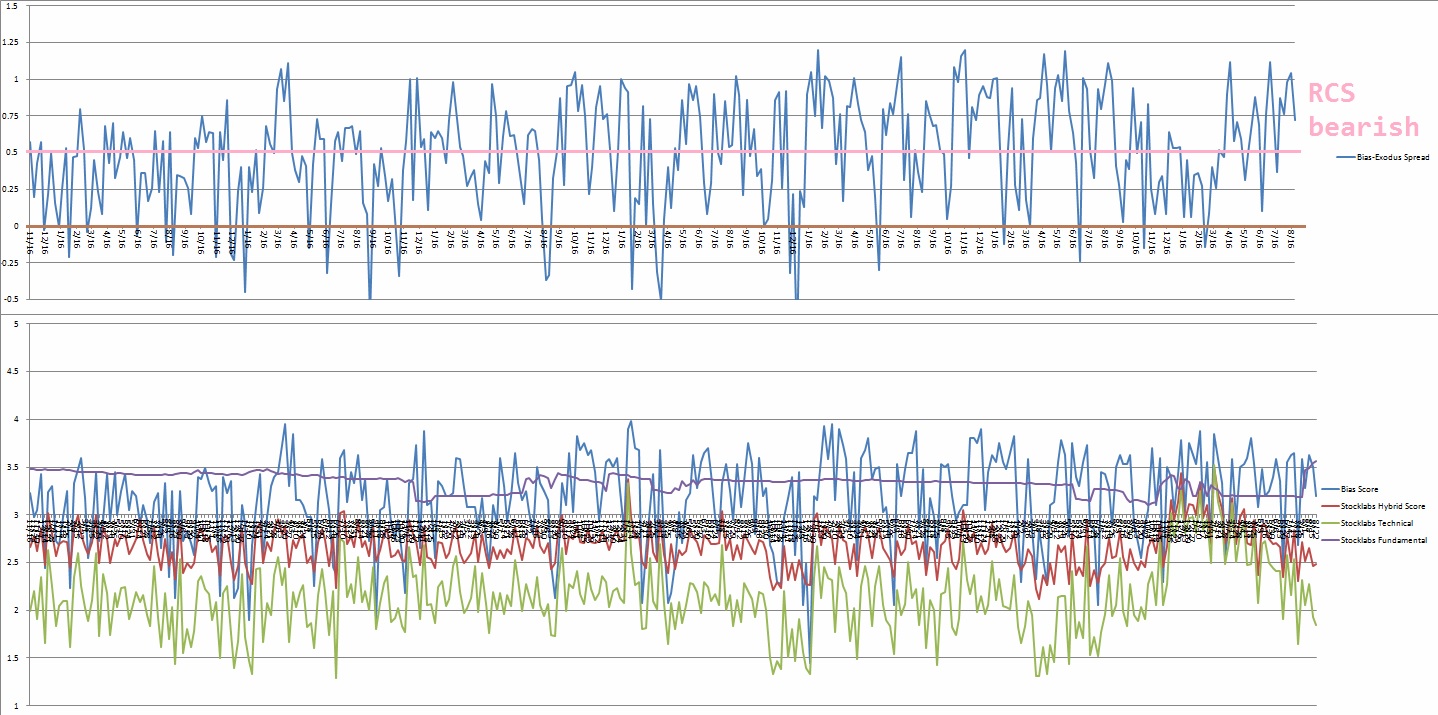 VI. QUOTE OF THE WEEK:
"Keep focused on the step in front of you. Nothing else matters." – Bear Grylls
Trade simple, execute one trade then the next
Comments »