NASDAQ futures are coming into Monday gap up after an overnight session featuring normal range and volume.  Price worked higher overnight during a balanced session that took out last Friday's high.
The economic calendar is light all week.  Today we have only a 3- and 6-month T-bill auction at 11:30am, then Consumer Credit at 3pm.  Our planet is experiencing a somewhat uncommon phenomenon however.  Several parts of Europe and Asia will be able to view a partial lunar eclipse.  The alignment can fuss with the waves generated on land, and perhaps the waves generated by humans on the stock exchange.  There is no objective proof to back up this claim.
Last week the Dow Jones cruised higher, the Russell lower, the S&P marked time, and the NASDAQ had consistent morning selling pressure but no real follow through in the afternoons.  Here is the performance of each major index next week:


On Friday the NASDAQ printed a normal day.  Normal days are statistically uncommon, occurring about 5% of the time.  We printed a normal day on Thursday AND Friday.  Oddly calm.  Both days began with a gap up that was quickly resolved by sellers.  The selling was dynamic Friday morning, creating an initial balance so wide it was not taken out for the remainder of the session.
Heading into today my primary expectation is for sellers to work into the overnight inventory and close the gap down to 5898.  From here we continue lower, down through overnight low 5894.75.  Look for buyers down around 5880 and two way trade to ensue.
Hypo 2 buyers work up through overnight high 5921.50 and continue higher to 5932 before two way trade ensues.
Hypo 3 stronger sellers press down to 5841 before two way trade ensues.
Note: Today's partial lunar eclipse is merely an opening act to the total solar eclipse that will occur over North America on August 21st.
Levels:
Volume profiles, gaps, and measured moves: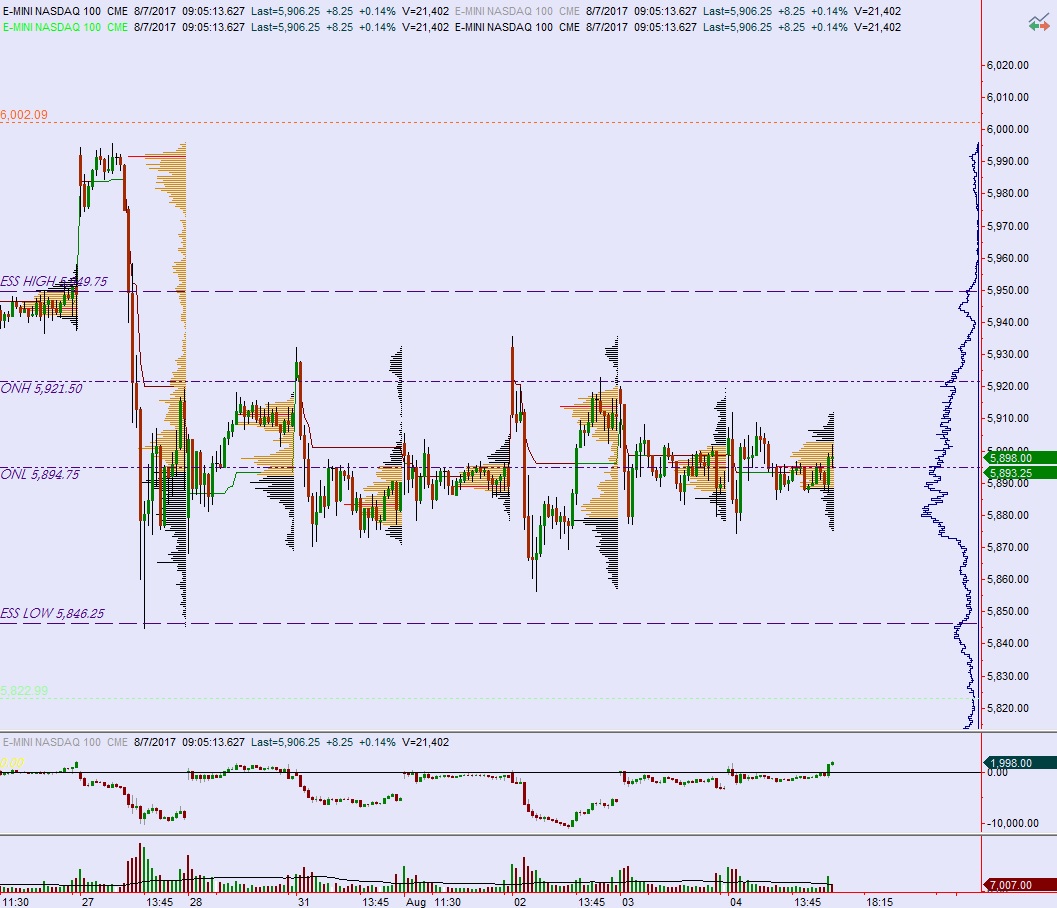 Comments »