Crypto swoons on rumors about this tweet from Coinbase CEO Brain Armstrong:
Last week we heard rumors that the U.S. Treasury and Secretary Mnuchin were planning to rush out some new regulation regarding self-hosted crypto wallets before the end of his term. I'm concerned that this would have unintended side effects, and wanted to share those concerns.

— Brian Armstrong (@brian_armstrong) November 25, 2020
The Financial Action Task Force may be imposing Travel Rule regulations sooner than later. This could mean a lot of things but the short version is in addition to KYC you may need to show proof of funds on HOW you acquired any crypto you already own. That will be a mess, but it's not so different than traditional finance regulations. The catch is, imho, it's easier to hoodwink fiat institutions than to fool anyone about how you acquired your coins on a publicly auditable global ledger. But that's only an issue for those with something to hide.
For the technical folks, I imagine you may be required to register a KYC linked pubkey with your exchange. Then you will only be able to withdraw to addresses generated from the pubkey. You'll be legally compliant but the tradeoff is you are fully visible to the exchange and likely the IRS.
Again, this isn't so different from banks.
Worst case is laid out by Ian Grigg here:
Which is endgame.

Bc of how compliance & regs work, this will drive a barrier between on-exhcange crypto and off-exchange crypto.

It will be one or the other. Fork.

— iang (@iang_fc) November 26, 2020
The above scenario is much more draconian. The Travel Rule potentially forks Crypto and taints any coins that are not cleared by exchanges. Owning your own keys becomes criminal. This probably won't happen but no one knows.
Many BSV wallets already include the ability to sign transactions and/or prove identities. Example: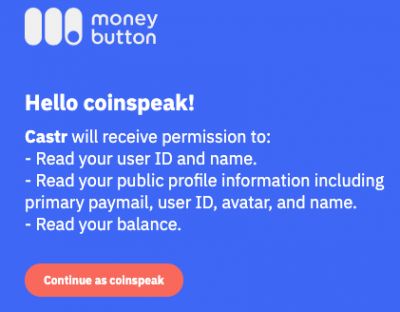 This embedded KYC feature is simple but surprisingly novel in today's crypto world because most Coin value propositions include avoiding banks, taxes and government oversight. Reality is often disappointing and I think a lot of crypto is about to be very disappointed.
Comments »