Brief weekend update on BTC. Network Hash has collapsed by 30+% resulting in high fees and very slow transactions. The reason for the hash collapse? Chinese miners who rely on hydro power are no longer receiving plentiful cheap energy as China enters the dry season. The increase in energy cost results in less profitable miners shutting down and a collapse of hash rate. This seasonal adjustment recurs every year although you can see the cycle is more dramatic each time.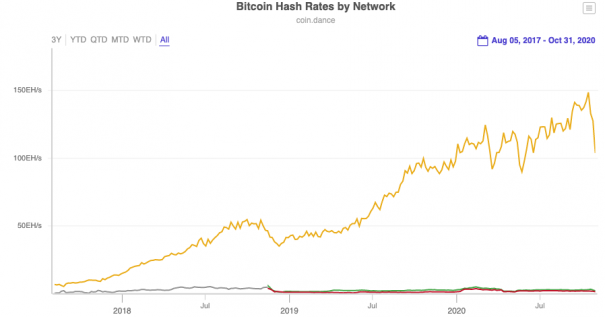 If miners turn their machines off because electricity is more expensive this results in less processing power, delayed transactions and higher fees. Examples below:
Play small block games, get small block prizes. https://t.co/YK6MZlPugm

— Coinspeak (@coinspeak_io) October 31, 2020
Fees on BTC (if you want your transaction processed in 20 minutes you'd pay a $8.30 fee with some people are paying over $100):
$13707.12 (1 usd = 7295 sats)

340 sat/B ($8.30) – 20m
324 sat/B ($7.91) – 40m
281 sat/B ($6.86) – 60m
268 sat/B ($6.54) – 4h
111 sat/B ($2.71) – 8h
62 sat/B ($1.51) – 24h
3 sat/B ($0.07) – 3d
1 sat/B ($0.02) – 7d

blocks 654899

— Bitcoin fees (@coinyfees) October 31, 2020
BTC vs BSV fees. While BTC fees are over $8 for a 20 minute transaction BSV is running zero confirmation instant transactions for less than a penny.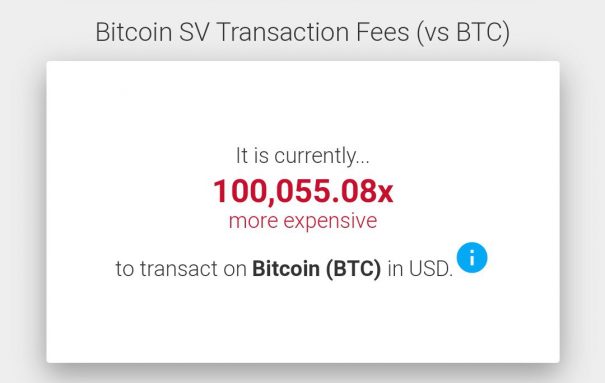 While this issue on BTC is temporary and relief should come in ~3 days when the network adjusts for the new lower hash rate the problems shows the precarious nature of the BTC network and small blocks. Any increase in transactions or reduction in hash results in a slow and expensive network that is unusable for all but the super rich or super patient.
Shockingly, the BTC team thinks this is what Satoshi intended when he designed Bitcoin.
Never interrupt your enemy when he is making a mistake.
-Napoleon
Finally, here is a rich bit of comedy gold showing how disconnected the BTC crowd is from Bitcoin.
12 years ago, Satoshi Nakamoto dropped a 9-page bomb on the global financial system.

Happy Birthday to the #Bitcoin Whitepaper! pic.twitter.com/KO1ey6vPQI

— Edge (@EdgeWallet) October 31, 2020
They're just reading from the introductory paragraph of the white paper

— Bryan Jacoutot (@BryanJacoutot) October 31, 2020
Comments »