Bitcoin is a simple concept, peer to peer electronic cash, but deceptively difficult to describe.
In 2010 Satoshi himself (AKA Craig Wright) said:
"Sorry to be a wet blanket. Writing a description for this thing for general audiences is bloody hard. There's nothing to relate it to."
I have found the easiest way to explain Bitcoin is for someone to experience it. Going into a long explanation is less effective than having a person use Bitcoin. Explaining Bitcoin is a bit like describing how to balance on a bicycle. It pales in comparison to having a person actually ride a bike.
Bitcoin has come a long way since it's release in 2009 but it's still a mystery to most people. One of the recent and more significant developments to reduce this mystery has been the creation of user friendly wallets. The BSV wallet leaders are Handcash, RelayX, SimplyCash and Paymail (Paymail is part of moneybutton.com).
These wallets allow one person to send BSV to another person anywhere, instantly, with near zero fees by just knowing the other person's wallet handle. You get to choose your handle when you create a new wallet.
For purposes of illustration consider the two versions of what I can share to get paid in BSV.
Handcash handle: coinspeak
or
BSV address: 1KPxVWD9tKuTBnk7qzCFZTRJbyJqUhjUTV
Which one do you think is easier to remember, put on a business card, or share with someone over the phone?
This is a big step forward in usability.
Once you use Bitcoin with a user friendly wallet the potential of Bitcoin becomes undeniable.
Since it's easier for you to experience the power of Bitcoin than it is for me to explain it via more blogs, I am going to give away $5 in BSV to the first 20 people who post their Handcash handle (Android only) or SimplyCash handle (Android and IOS) in the comments below.  Download either app and post your handle (and whether it's Handcash or SimplyCash) and I will send you BSV. Have a friend download a wallet and send them a $1. Spread the virus.
Then you will experience the power of: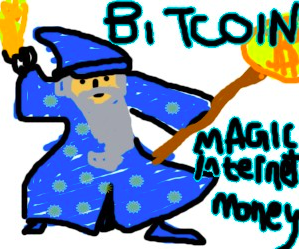 DO NOT FORGET TO BACKUP YOUR WALLET or you can lose your money.
I request that only new BSV users post their handles below. If you already have BSV feel free to ping any handles below with additional BSV.
You are on your way to experiencing Bitcoin. Warning: there's no going back.
EDIT: This is not a feasible exercise on BTC. The current transaction fees on BTC are ~$3.50. To send $5 in BTC would cost $8.50. On BSV fees are less than a penny.
Comments »