John McAfee of "I will eat my own dick", selling AntiVirus empire to INTC for $7B and marrying prostitutes 30 years his junior fame is handing out presents this week.
Beginning tomorrow, I will each day talk about a unique altcoin. Most of the 2,000 coins are trash or scams. I've read every white paper. The few I'm connected to I will tell you. The rest I have no position in. These coins will change the world. You can support
that change

— John McAfee (@officialmcafee) December 20, 2017
John highlighted BURST coin on Dec 22.
Coin of the day: BURST — First truly Green coin and most overlooked coin. Uses 400 times less power than Bitcoin. Super secure and private. Includes smart contracts, encrypted messaging, decentralized wallet, libertine blockchain. Most undervalued coin. https://t.co/vOJOtNYLXp

— John McAfee (@officialmcafee) December 22, 2017
Here's the 175% return on BURST in the 23 hours following his tweet.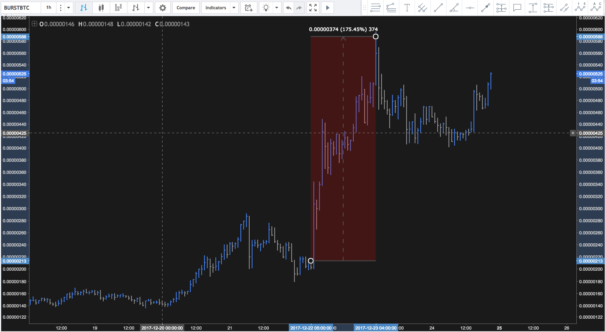 John also tweeted about Digibyte (DGB). It rose 70% in one hour.
Coin of the day: Digibyte (DGB). Using a Blockchain which is 40 times faster than Bitcoin and having one of the most decentralized mining systems in the world – based on 5 different synergistic algorithms. DGB adherents call the coin "The Sleeping Giant".https://t.co/7MiWJ2tFfe

— John McAfee (@officialmcafee) December 23, 2017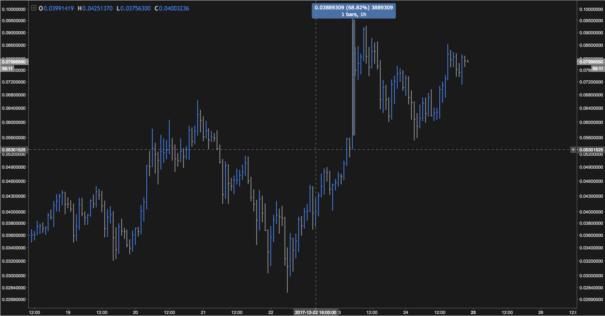 But then…..John mentioned Reddcoin (RDD) which I have never heard of….
Coin of the day: Reddcoin (RDD) – a sleeper – most widely used social network coin in the world – flying under the radar since 2014. Working with every Social Media platform, it is the only currency that many children under the age of 10 have ever known.  https://t.co/ZN3jehwXp7

— John McAfee (@officialmcafee) December 24, 2017
and this is what happened to the chart.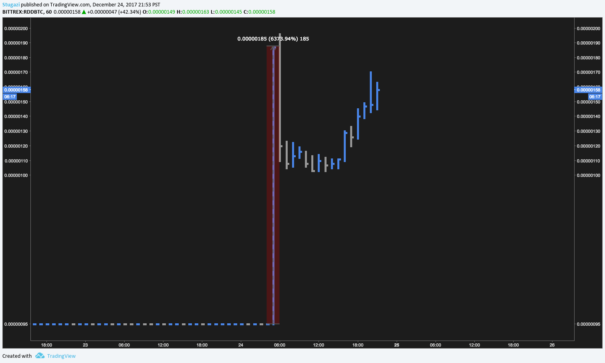 How does a 1H 63,000% return sound? Would you like to 63x your money in one hour? Someone did. BTW, I have no idea if John's RDD social media claims are true and, frankly, don't care enough to verify it. If someone does please report back.
This all seems illegal right? Totally not. Crypto is not regulated (to my knowledge) in this area and John is just mentioning coins.
What does it mean for you? Well, you could buy a bag of shitcoins and hope John calls your number. It's risky but buying a big bag of shitcoins and holding months at a time has proven to be very profitable in the past. Your risk is your coins don't get called and the recent alt coin run up is retraced quickly.
John also mentioned XVG recently and Verge went parabolic. Verge was mentioned in comments here a couple weeks ago. Shame on me for not looking more closely.
I have an idea of what coins John may mention next but I haven't made any moves yet. What coins do you see as good candidates?
Here's some Holiday Cheer from It's a Wonderful Life. Scene seems appropriate to this post.
Comments »