Bitcoin has been in a relatively stable range with a midpoint of $570.
Within past few hours we've printed $597. A move of ~5% is not a big deal on the Bitcoin volatility scale but is this the start of an upside move, a bull trap or just a blip? Bitcoiners are watching closely.
Overall Bitcoin has been in an uptrend in 2016. Bitcoin just printed a 3 box reversal on the 6H PNF chart. Levels to watch are $615 and $650. On the downside $560 and $530.
Sundays are sometimes big trading days for Bitcoin (driven by Chinese?).
I am grabbing some popcorn and hoping for a good show.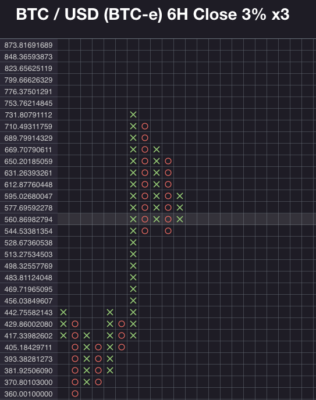 Comments »