On June 29th I wrote about The Crypto Stock that's better than GBTC. MGTI is up 189% since that post.
Why? Well, it may be related to these tweets. On July 18th John tweeted that Bitcoin would be $500,000 in three years.
Bitcoub's low of $1,800+ yesterday simply could not be maintained. In the long term Bitcoin moves above $500,000 within three years. Bets?

— John McAfee (@officialmcafee) July 17, 2017
When someone replied they would bet him here was John's response:
if not, I will eat my dick on national television.

— John McAfee (@officialmcafee) July 17, 2017
And here is MGTI's chart since that tweet. This shows the market likes a committed CEO! You don't hear about Elon putting his dick on the line do you? Forget getting an MBA, swing your dick around the boardroom and see your company reap the rewards.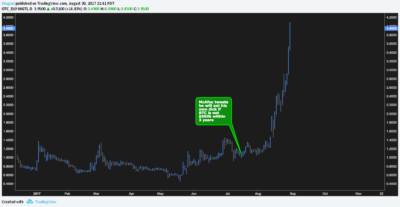 Elon Musk has nothing on John McAfee.
End of year target for MGTI >$10. Short term pullback likely. John is aggressively positioning MGTI to be the largest Bitcoin miner in North America.
If you want to make money in a gold rush sell shovels.
Comments »