This morning took a bit of extra chart work to get the right context built.  I want to sum my thoughts very briefly before turning your attention to the following chart diagnostics for the S&P 500 and what they suggest about the sentiment of the overall market.
First I present a bar chart with some sentiment commentary.  You may recall this chart's similarity to the frequently referenced Option Addict sentiment chart.  To my eyes we are working through discouragement, which is a buying opportunity as long as we do not blast through the lows: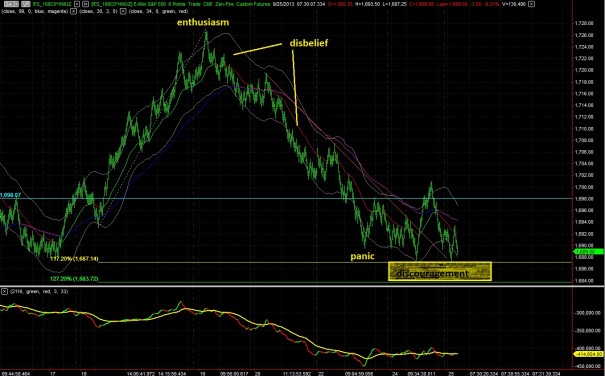 Next I present my usual daily profile analysis, both on the 24 hour profile and the RTH profile.  I like the RTH profile more for defining areas to do business, inflection points, etc.  I use the 24 hour chart to map out a few potential scenarios on the day.  I have only listed two scenarios of setting value in a balanced manner.  If we achieve the high or low of either scenario in short order, it opens the door for a third or fourth scenario of trending.  Keep that in mind when you observe the following market profile charts: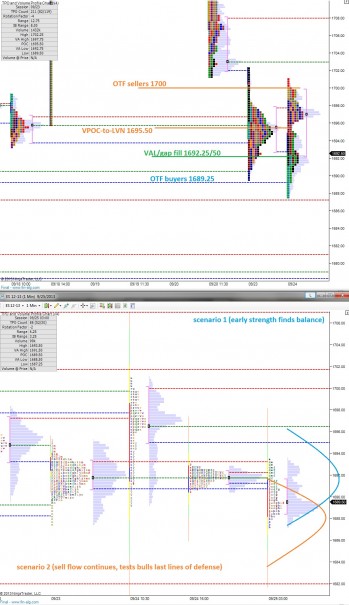 Finally, when I was working the above RTH charts, I found it very interesting that the volume point of control from Monday formed a rather extreme low volume node yesterday.  It is quite the contrasting treatment of 1695.50, yes?  So I merged the two profiles together and it gave me the right picture.  We have, in fact, balanced out: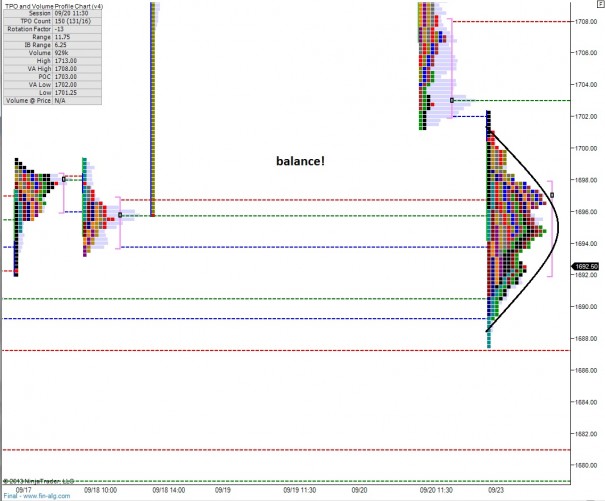 Therefore we must closely observe how the market treats the VAH and VAL of this combined profile.  It will give us a clear picture of the buyer/sellers conviction and capacity to dictate the direction of the tape.  I am considering reducing long exposure if price is accepted (traded greater than ~1hr) below 1684, otherwise I see 1684 as a buying opportunity and any trading above these levels as peddle to the metal long.
Comments »