The hard selling into the bell yesterday continued on into the early overnight hours.  The action was effective at breaking consolidating prices to the downside and testing recent lows.  We are seeing a bit of buy strength working into the market as the US comes online and it will be interesting to see how we handle it upon opening.
There is currently a gap in place below which could lend itself to a fill do to its close proximity to our current prices.  Should we then lose 1667 intraday, I believe that sets the stage for a leg lower.
Downside target continues to be the range from 1659.25 to 1657.00.  Should we see strength coming into the market, I will be looking for reactive selling first at 1676 then at 1690.  The sellers lose control over 1692.
The overnight profile suggests balance via printing a near-perfect bell curve.  The move away from here may start with a head fake and then price slashing through the entire range quickly.
I have highlighted a few scenarios and the migration of value on the following market profile charts: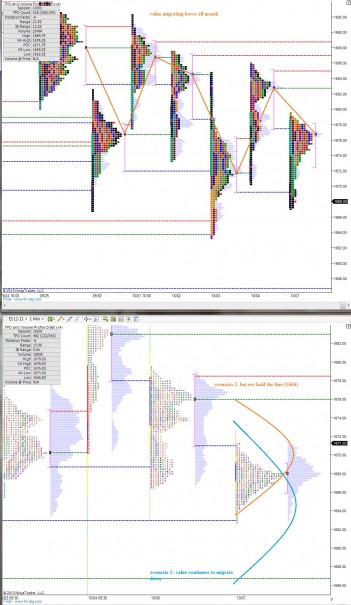 Comments »