Overnight the markets were very tranquil, perhaps even complacent on an international scale after yesterday's consolidation tape.  If you look back to 09/18 and the volume profile it produced, you can see how we settled the unfinished business of filling in the volume cavern.
What is important now is which way we break from yesterday's value.  We may even see a head fake.  But I will be looking for an hour or more of trade above or below yesterday's value as acceptance away from the value and a cue going into the weekend.
I have highlighted the value area high and low on the second volume profile chart.  The prices below 1712 are very slippery due to the thin profile.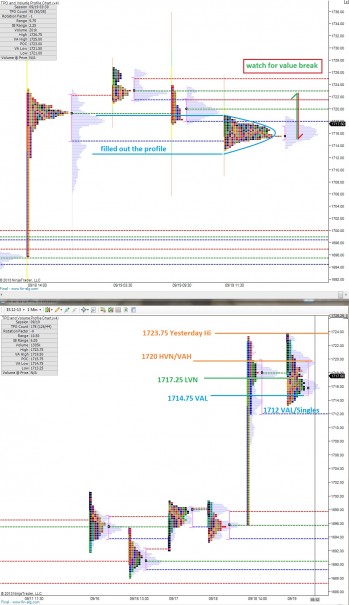 If you enjoy the content at iBankCoin, please follow us on Twitter