The overnight session featured follow through strength in the S&P, creating a contextual piece of unfinished business.  Making swing highs/lows outside of regular trading hours is a very uncommon occurrence, thus we can build an expectation into our trading mindset today that the overnight high is vulnerable.
The velocity of the order flow at 2pm yesterday left some unfinished business below too in the form of a cavernous, toothy profile.  These types of volume voids tend to behave as magnets because nature abhors a vacuum. However, much like pressing two magnets with the same polarity together, you can find these caves initially behaving as hot plate-esque support.
The overnight profile suggests a lack of balance with two well defined distributions and a low volume node separating them.  It suggests other time frame (OTF) traders were active overnight, and the buy orders continued to flow at a greater force then could be abated by selling until 6am.
Therefore we have an out of balance market, two pieces of context above and below to measure buyer/seller context against, and we are looking at how the USA handles this information as we come online.  I have highlighted a few scenarios and opportunistic price levels on the following market profile charts: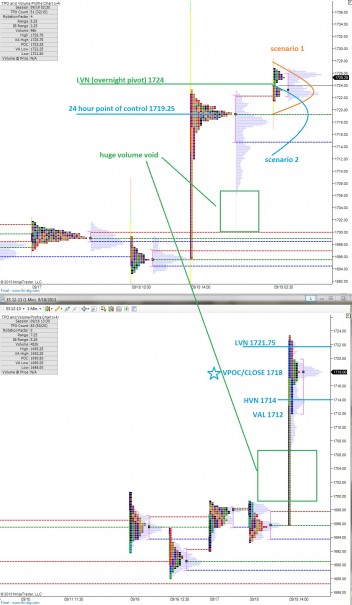 If you enjoy the content at iBankCoin, please follow us on Twitter