I'm sick.
So many red flags were raised before markets collapsed. Most significantly, the failed auction printed February 14th on the PHLX Semiconductor index. Legacy readers of the Humble Raul blog (HRb) will recall the promise I made to readers and myself on October 2nd, 2014, to never miss another failed auction. I didn't so much miss our most recent failed auction, but I did not assign enough weight to this ominous print on the index that literally tracks the main industry driving out secular bull market: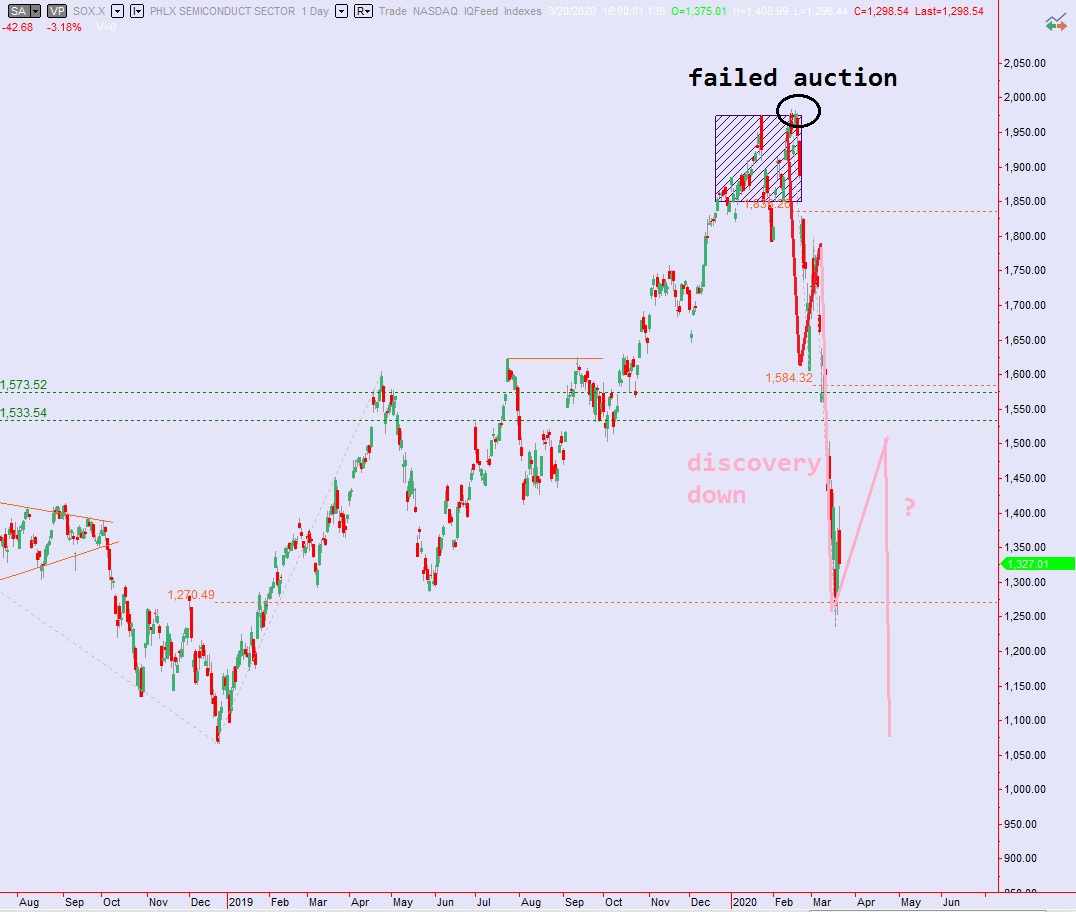 I think I am sick. My mind is so constantly optimistic that I just sheltered in place and held all my positions into the downturn. And now, when a recession all but seems guaranteed, I am not even giving a single thought to selling. On the contrary, I am feeding fresh cash into my account and buying more equities.
I became an oil man last week. When has Raul ever been an oil man? I abhor the oil industry, an archaic space dominated by patriarchal fools more out of touch with reality than a hobo on PCP. This is what I am talking about, sick.
IndexModel, which is my foundation stone for decision making, signaled Bunker Buster finally. This signal calls for an acceleration to the downside eventually marked by a sharp, excess low that holds for weeks (sometimes months). It has been a challenge for me to day trade, historically, when this signal fires. Therefore I will back away from the futures despite riding some nice rips last week.
Instead I will be focusing on acquiring a few long-term stocks and/or adding to existing positions. I do not want to go too exotic with these holdings. I was talking with my China correspondent yesterday, ROBERTO BREGANTE, and he couldn't speak highly enough about the effectiveness of Microsoft Teams for keeping their projects moving in our remote business environment. And we started reflecting on how well Google and Microsoft were prepared for us to go remote as a species. We mutually agree and realize that professionals are realizing how effective they can we without flying around and sitting in meetings. Flying in for a meeting is old school and the cognitive shift underway may render physical meetings nearly extinct. So a part of me is like, why not just add to my Microsoft and Google positions? They are not going away anytime soon and their profit margins are huche [sic].
This shift to remote work was supes overdue. Hotels and airlines suffer. Anyone empowering effective conduct of remote business wins. Robots also win. More necessary things, like doctors and cashiers need to be like car washes. the less physical human contact the better. Have you ever seen Demolition Man?
That's it. I am all tapped out of Pacific Northwest mystic energy. I am hunkered down in Mothership and working—trading, taking lots of phone calls and emails, cooking tasty food and readying my plots for sewing. I have a variety of heirloom seeds and my only real regret is not having built the hot house yet that has been on my mind for years.
Sick I tell you. Infected with perma optimism and bullishness.
Raul Santos, March 22nd 2020
Exodus members, in Section III I discuss all the systematic signals I am leaning on in more detail. The  278th edition of Strategy Session is showing some interesting data, be sure to check it out.
If you enjoy the content at iBankCoin, please follow us on Twitter