There aren't many (if any) signposts you can point to and say, "oh hey look, that precluded this vicious viscous venturesome move."  However my dearies, there was one simple occurrence which kicked this whole "process" into ACTION.  If you can bear this excessive use of emphasis then you stand to learn something.  It actually has an axiom:
From failed moves come fast moves – Plato (not really)
For some reason, I am rather keen on observing and presenting key contextual pieces yet doing little to prepare for the move.  It is like for some reason when my Shenanigan play didn't pan out I abandoned the idea we would ever correct, like some kind of dicknose.  Listen here, internet, I am no dicknose.  The failed auction may have sizzled my anus this time but once is enough to learn me proper.
Anyhow, here's a picture of the failed auction: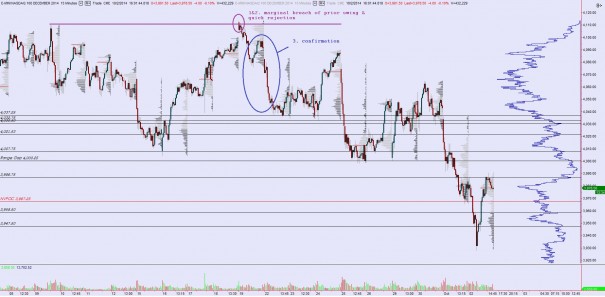 Don't let these go wasted in the future.  They happen on all timeframes in all instruments.  Think of the powers behind it.  Some stop hunter goes after swings, take it out, finds no order flow, just crickets, says, "oops", cuts and runs, and the market has shoveled a few bulls onto the head of the gravity hammer.  LEARN WITH ME.
And be well.  Until tomorrow, adieu
If you enjoy the content at iBankCoin, please follow us on Twitter