What the hell kind of tomato soup are those Just Stop Oil activists throwing onto all those arts? Like what is going on in Europe that makes their tomato soups bright orange? God and the dark lord am I grateful to live in America. But those no dang good Wall Street investors and analysts are a pox. A pox I tell you. On this great nation. How dare they punish Big Tech the way they did last week.
I dunno. Maybe they deserved it. Watching Musk fire all these overpaid punks at Twitter has really been a joy. There is an entitlement perhaps, in Big Tech, that warrants a repricing of these wonder stocks. But -70% in one year for Meta? Because they had the courage to use all their moneys to build something new…that's just the purposely esoteric complications of the global banking complex wielding too much power. Don't even get me started on what they did to that poor Liz Truss.
Amazon did not need to trade below 100. Not even for a minute.
Alphabet will be fine. They spend two dollars to make two hundred, and I'm certain they can predict the future they just don't want anyone to know. And can you blame them? The freaking White House would probably send in a team of geriatric Feds to bust up the place and install a few thousand fax machines so they can have meetings about meetings and hinder any and all progress for a hundred years.
I'm at a crossroads here. It is easy to point the finger at forces beyond my power like the citadel but the truth is my hands have turned to ice. I knew this would happen.
If you recall, I made a metric fuckton of money in 2020 and 2021, riding massive moves in Tesla, Doge, and just working the dang NASDAQ futures market like a savant.
But it wasn't my first time sipping from that sweet chalice of success, of extracting numbers from the computer at an unholy clip. I knew what came next in my psyche.
GREED.
Every Halloween I put a bowl of candy out with a cautionary sign reading, "If you are greedy, a monster will come for you." I try to pass on this hard-earned wisdom and who knows? Maybe this monster does not plague everyone like it does me and maybe I shouldn't put such an absurd sign on the porch for children to read.
Maybe there is a better way for me to sear that message onto my soul.
But anyhow I knew after all those wins it was time to step back my activity and reduce risk.
I did better than last time but hot dog I had no freaking idea META would be capable of going -70% in eleven months.
This market is an endless source of painful lessons and ego killers.
So here I am. Stunned.
I need to do what I should have done months ago and turn my dang market profiles back on. That'd be a start.
Alright, enough lamenting.
Thank you Elon for checking the privilege out there in San Fransisco. Shame on Wall Street for being so freaking averse to change. And let us do better at expecting anything from these markets.
Raul Santos, October 30th 2022
And now the 407th edition of Strategy Session.
---
Stocklabs Strategy Session: 10/31/22 – 11/04/22
I. Executive Summary
Raul's bias score 3.85, medium bull*. Markets continue to sort of chop higher early in the week. Then watch for third reaction to the FOMC announcement Wednesday afternoon to provide direction into the second half of the week. Non-farm payroll data due out Friday morning could serve to accelerate or pivot the prevailing price action ahead of the weekend.
*extreme Rose Colored Sunglasses bullish bias triggered, see Section V.
II. RECAP OF THE ACTION
Choppy-to-higher early in the week. Selling pressure Thursday. Strong rally Friday and into the weekend.
The last week performance of each major index is shown below: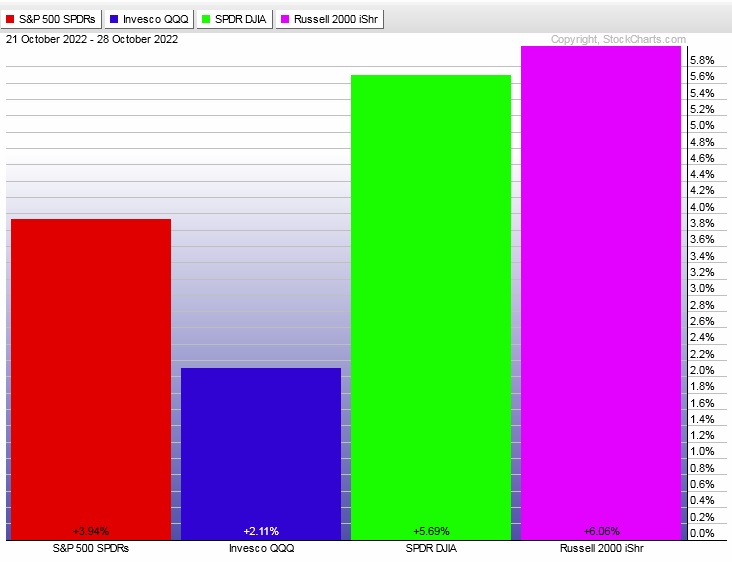 Rotational Report:
Not ideal sector leadership. Utilities strong suggesting risk aversion. Financials strong suggesting higher interest rates are benefiting these institutions at the cost of progress.
neutral
For the week, the performance of each sector can be seen below: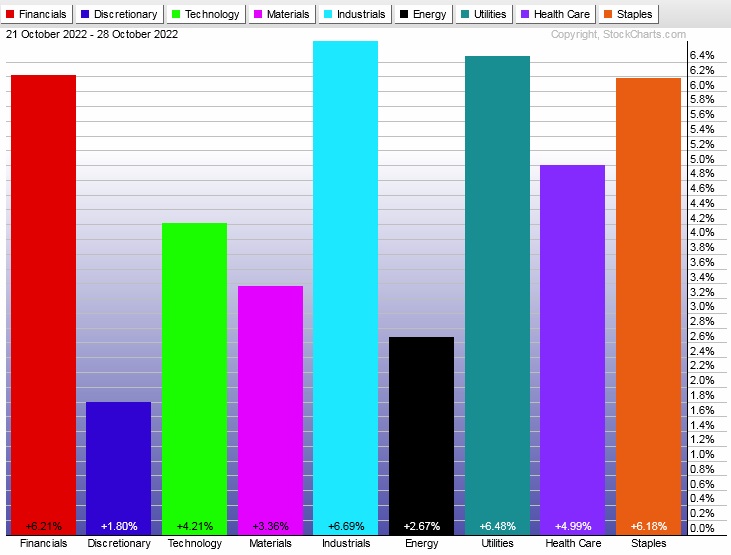 Concentrated Money Flows:
Money flows skewed majorly to the buy side.
bullish
Here are this week's results:

III. Stocklabs ACADEMY
Big Tech dismantled
Big Tech did not shine like we expected. This key industry group was the subject of harsh criticism all week long, both sentiment wise and through price action on their shares. Only Apple managed to come out of earnings in tact, and even their earnings showed a slightly weaker-than-expected consumer as they missed their estimates for sales on the latest iPhone (14?).
What I am witnessing for the first time is just how much Wall Street investors are averse to change. Everything Meta has done in particular has put them on the receiving end of price action I can only chalk up as irrational.
They threw their hat in with the metaverse and their shares are off by about -70% year-to-date.
We do not know the true value of META. But if I had to guess, it is somewhere between where it trades today and where it traded this time last year.
Markets can stay irrational loner than you can stay solvent, is a warning passed down through trading lore. But the truth is, if there is no leverage in place, and we are industrious lads who earn money outside of this arena, then we can in fact ride out irrational moments in price action.
Is that what I intend to do? I'm not sure. I've spent about 18 hours inside Meta's latest headset (Quest Pro) and I am really trying to justify owning it verse the Quest two. It is more comfortable. But functionality is not blowing me away.
Meanwhile there seems to be lots of competition in this so called metaverse.
It really sucks to ride a stock from peak to down -70%. Does that mean I should never change my mind and keep my capital in place? Only if I truly believe in the leadership and the product.
Boy am I trying. But for all of Mark's qualities, he doesn't have the panache of Elon.
It's a tough call. For now I will do nothing.
Note: The next two sections are auction theory.
What is The Market Trying To Do?
Week ended searching for sellers.
IV. THE WEEK AHEAD
What is The Market Likely To Do from Here?
Weekly forecast:
Markets continue to sort of chop higher early in the week. Then watch for third reaction to the FOMC announcement Wednesday afternoon to provide direction into the second half of the week. Non-farm payroll data due out Friday morning could serve to accelerate or pivot the prevailing price action ahead of the weekend.
Bias Book:
Here are the bias trades and price levels for this week:

Here are last week's bias trade results:

Bias Book Performance [11/17/2014-Present]: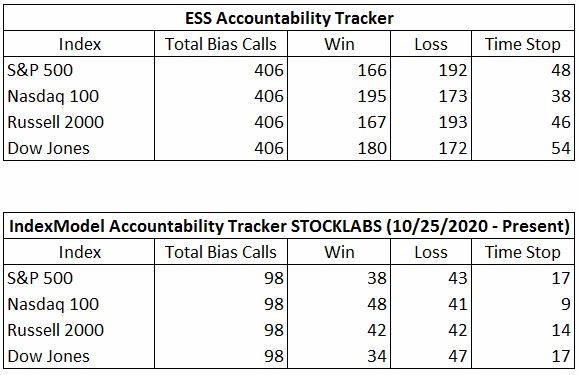 Strong bounce from Semiconductors, what's next?
Readers are encouraged to apply these techniques to all markets. Markets fluctuate between two states—balance and discovery. Discovery is an explosive directional move and can last for months. In theory, the longer the compression leading up to a break in balance, the more order flow energy to push the discovery phase.
Market are most often in balance.
Every week this newsletter uses auction theory to monitor three instruments, the Nasdaq Transportation Index, PHLX Semiconductor Index and ethereum
Transports appear to be in range and doing well to work through to top-side of it. Balance is bullish until proven otherwise.
See below: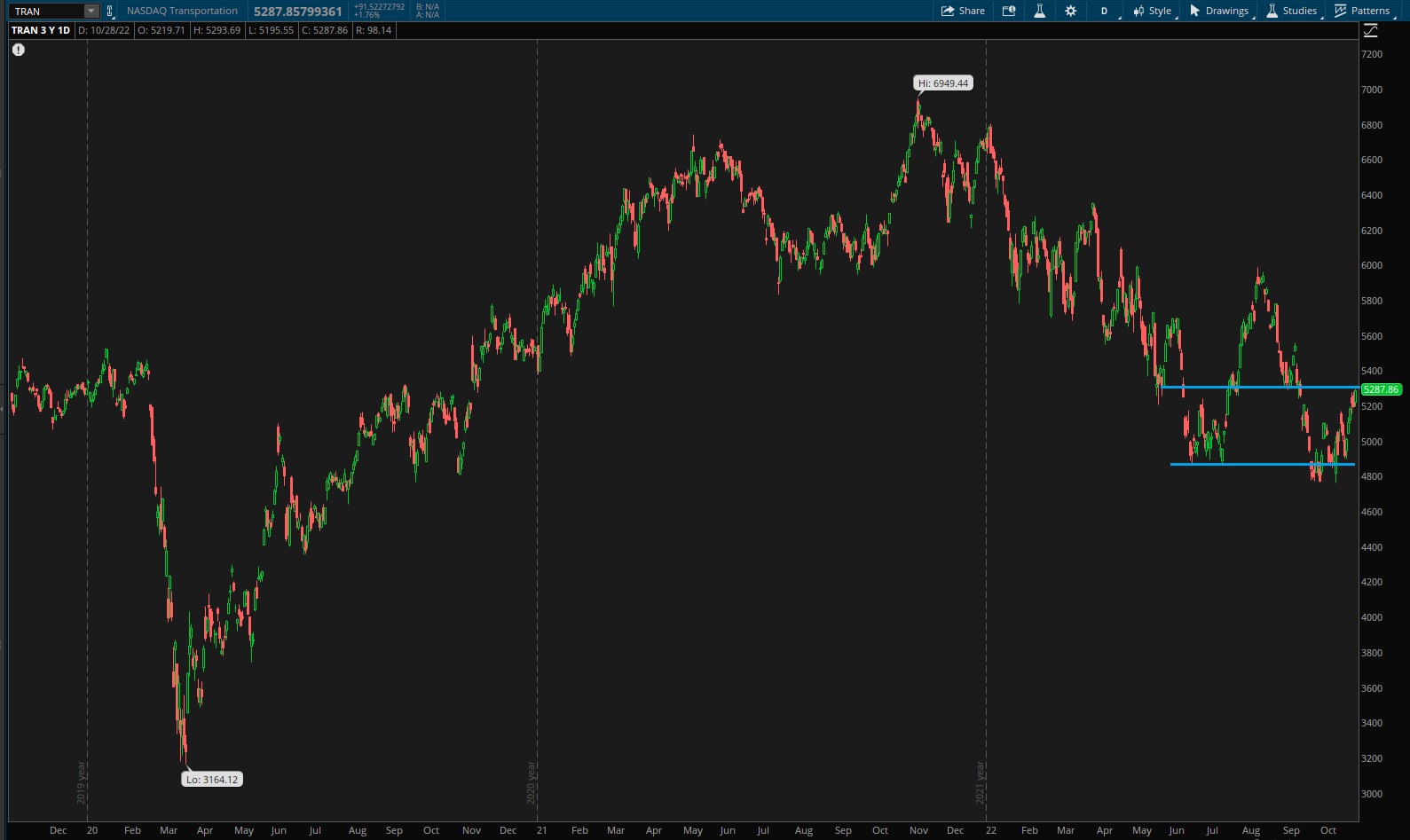 Semiconductors are in this descending channel, but it would be remiss to not acknowledge how old this discovery down phase is. I am looking for a new balance to form down here.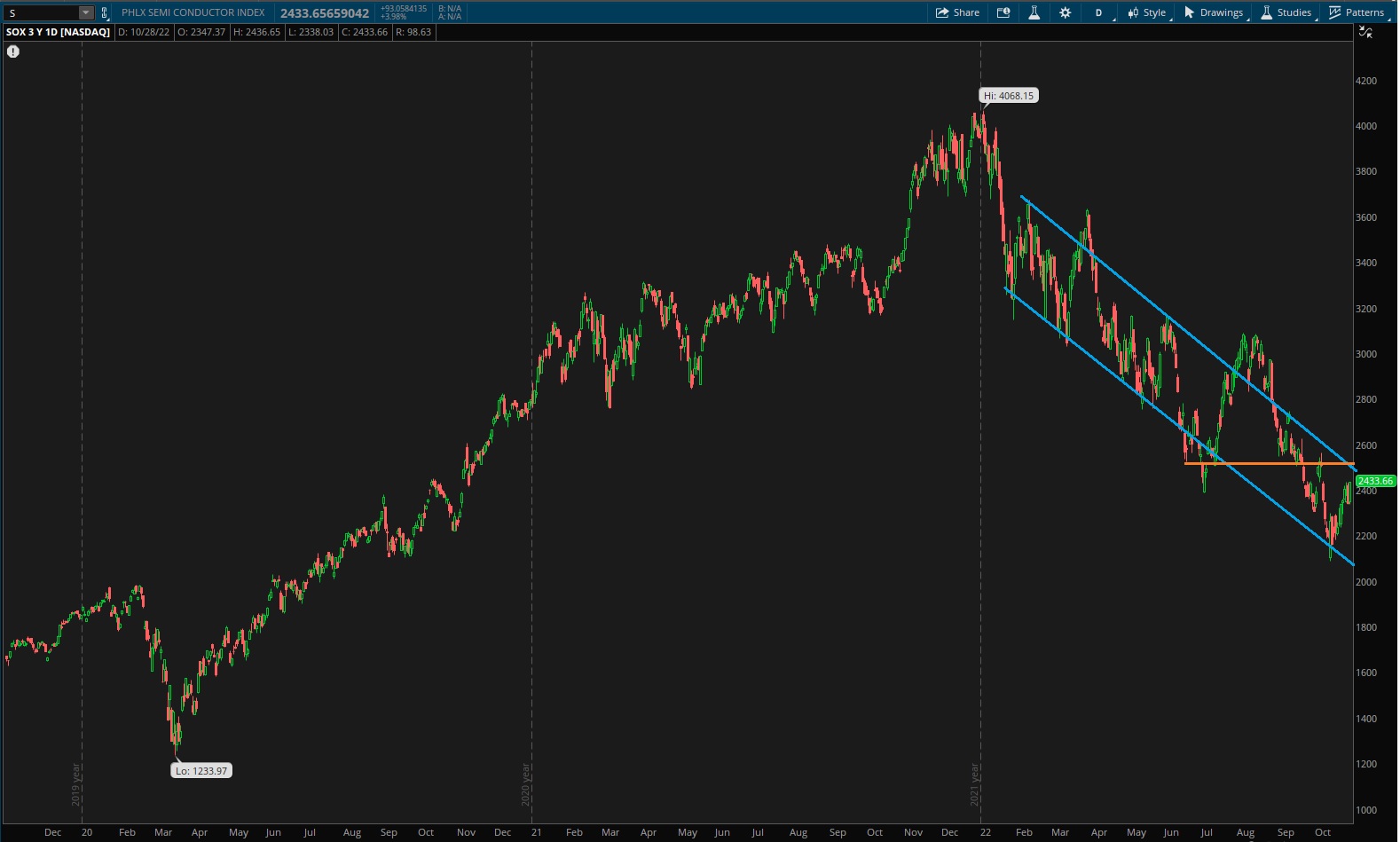 Ether shot up out of balance and could be starting a new leg of discovery higher.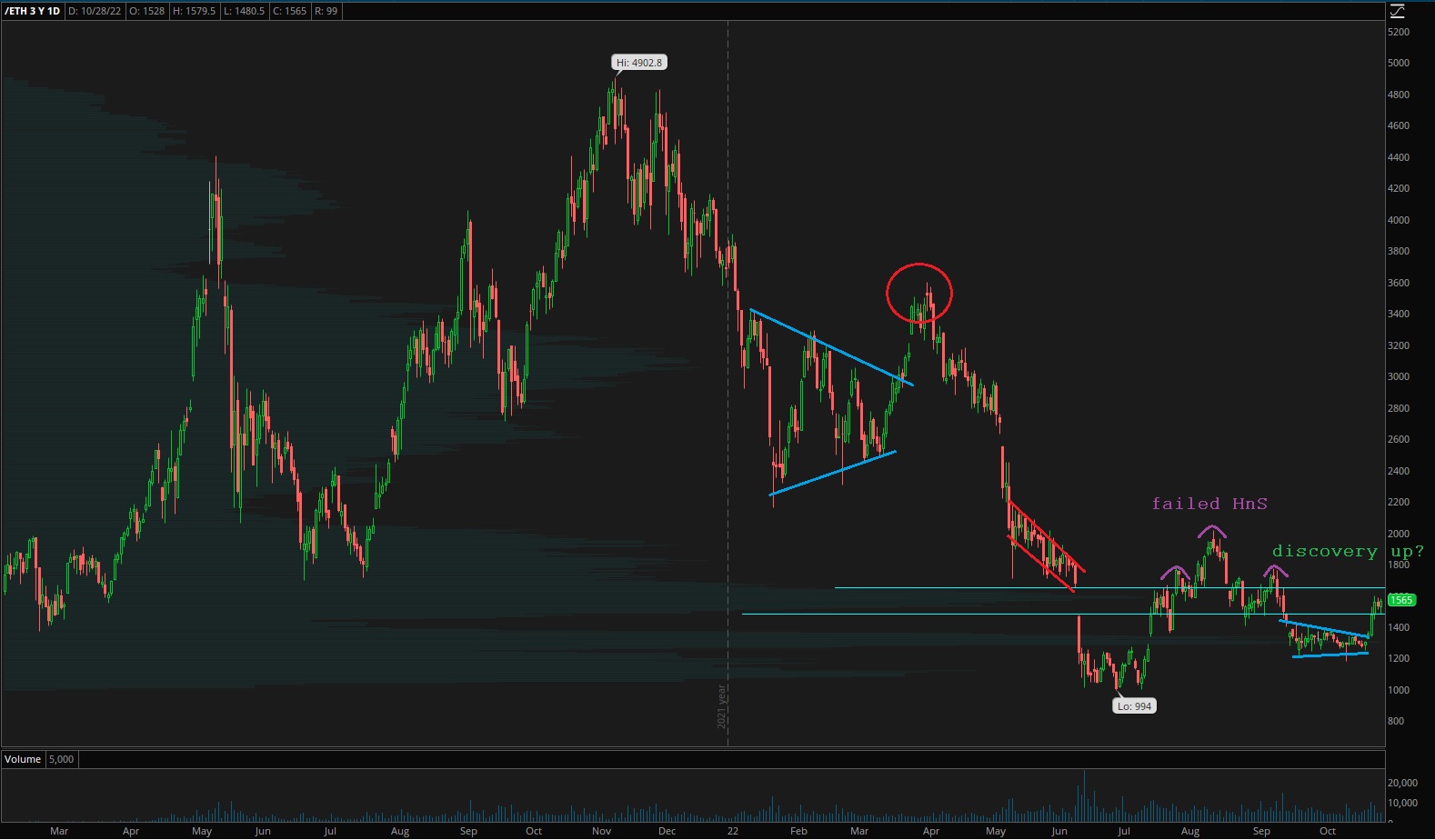 V. INDEX MODEL
Bias model is extreme Rose Colored Sunglasses (e[RCS]) bullish for a second consecutive week after having five weeks of neutral readings. e[RCS] calls for a calm drift, perhaps with a slight upward bias.
There were five Bunker Busters in recent history — eight weeks ago, seventeen weeks back, twenty-four weeks ago, thirty-seven reports back and thirty nine reports back.
Here is the current spread: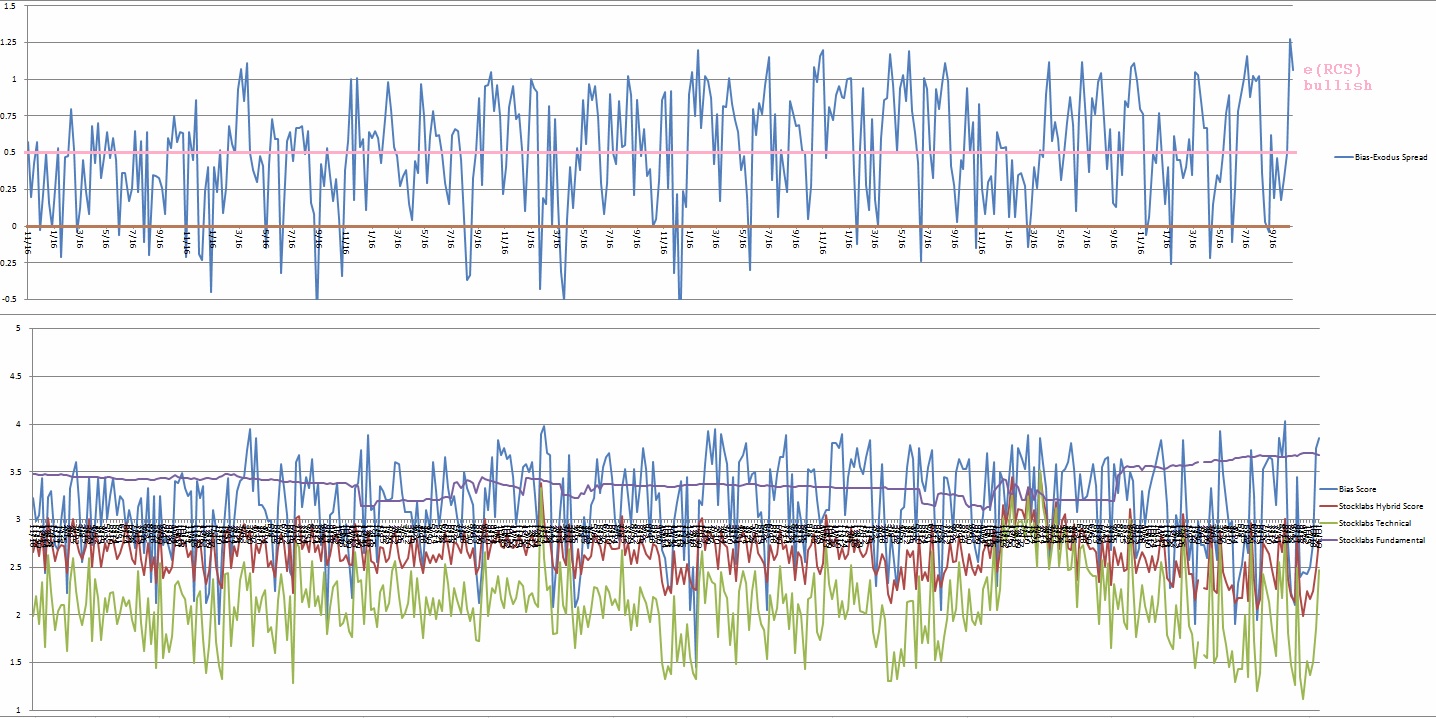 VI. QUOTE OF THE WEEK:
"Many a false step was made by standing still." – Fortune Cookie
Trade simple, focus
If you enjoy the content at iBankCoin, please follow us on Twitter