I took The Fly's Smart Money Top Picks and filtered out the stock symbols that was picked by more than one fund.  Below is the list.
By assuming these Smart Money are "smart", you also have to assume that any stock that is picked by more than one fund has to be a "darling" stock for a bigger percentage of the "smart money" holding, right?  No?  Oh well, let's play along for the sake of discussion.
| | |
| --- | --- |
| Stock | # of Fund |
|  AIG | 2 |
|  CVI | 2 |
|  DLPH | 2 |
|  FSL | 2 |
|  HCA | 2 |
|  LIFE | 2 |
|  NSM | 2 |
|  RLGY | 2 |
|  S | 2 |
|  SEMG | 2 |
|  SIG | 2 |
|  YNDX | 2 |
At first, I was going to post a chart for each of the symbol in the above list but then it would expand this post to be too long; so I would stick to the ones that I saw as good "potential".  Yes, that's right, I'm showing the ones where I will put my "smart money" to hitch the ride.
You do realize that the term "smart money' is always in a state of flux, right?  You can be smart money one moment and then you are not. 
Anyway, below are my favorites:
I like $HCA and $LIFE because we are heading into an explosive aging population.  Our health science has improved longevity among all classes of seniors (70's to the 90's) that will require more healthcare services. (Hint: another reason I'm betting big on $AMRN.)
Look at the $HCA weekly chart below, it is making new high here.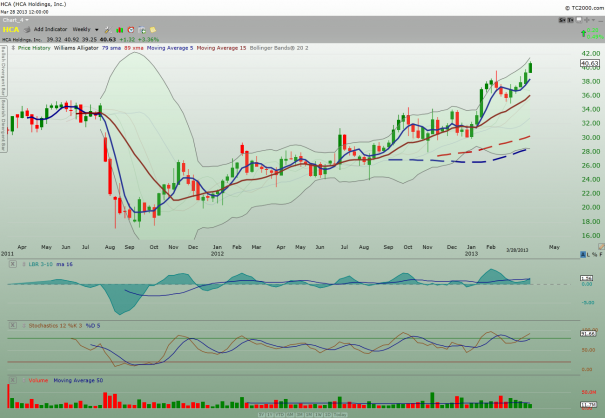 Look at the $LIFE weekly chart below, it is going to break out to make new high soon.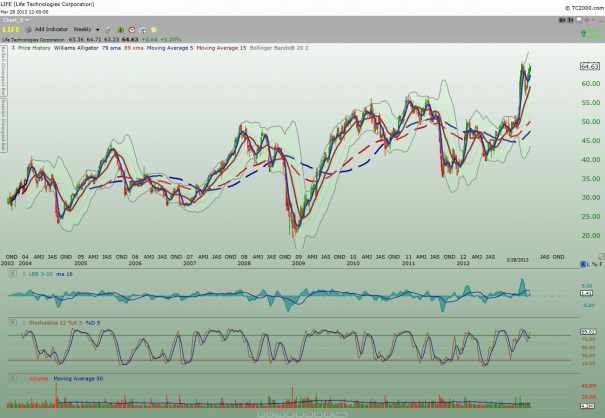 I also like $S here. Take a look at the weekly chart below.  Did you see the long long consolidation period going back to  2009?  It looks like it is going to breakout of the current cup & handle pattern.  This chart looks like a long-term breakout is imminent.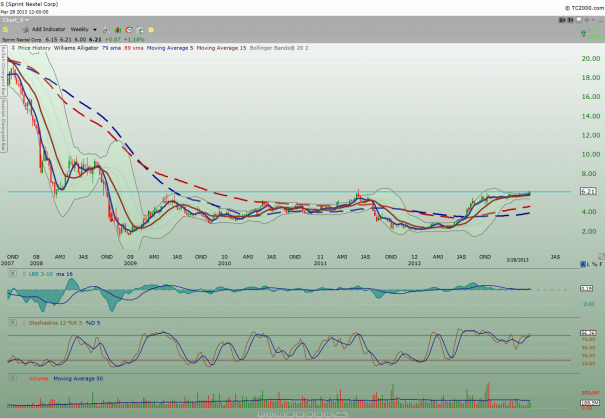 My last pick is $YNDX. This is a Russian $BIDU in the making.  I missed the $BIDU runner, maybe this one will make it up?  Does it look like an ascending triangle to you?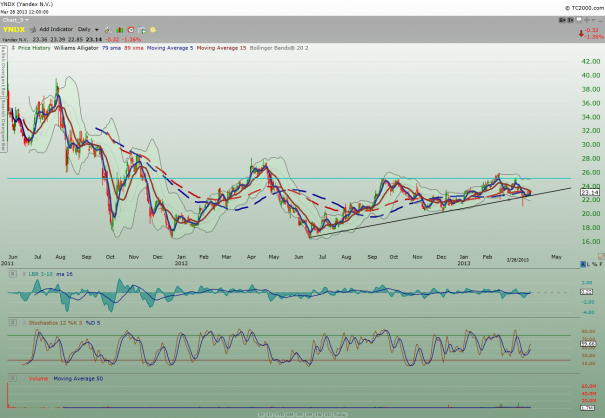 My 2 cents.
Oh, I almost forget, a special thanks to The Fly for sharing the Smart Money Top Picks for our perusal.
Comments »