Market opened up today and it slowly climbed its way higher till closing time.
Meanwhile, my "current" favorite trading vehicle $AAPL was not participating in the bull trend but instead played defensive all day.  I bought $AAPL twice and twice I stopped out for breakeven.
$DDD was tracking lower all day until a late stage rally brought the candlestick to look a bit better; thus, I jumped back in with a starter position.  I'm preferring to play $DDD over $XONE because with $DDD there are more cluster of bids in the vicinity while with $XONE I had to look further down to see the bids which often times give me vertigo just to look for bids to get out.  You may see a nice paper profit on unrealized gain on $XONE but the moment you try to get out, you can forget that nice paper gain you see if you just want to get out at market.
$FB was trading around the support area so I bought a starter position with a GTC stop below the low of the day.  My stop did not hit so I'm still in.
$PACB was exhibiting some stability so I decided to buy back some position.
Upon browsing through my favorite stocks to trade, I came upon $CHK which looked like it was bouncing off the previous minor correction; so I bought a starter position and later added some more by end-of-day because I felt the price action was strong.
Take a look at $CHK daily chart below and you know what I mean.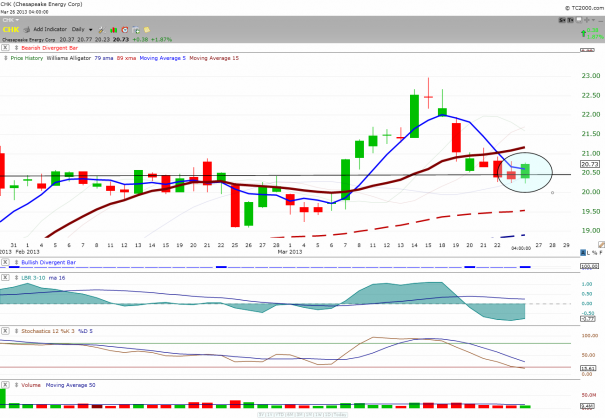 Once I was in $CHK, I naturally checked in $WPRT since it was all related to natural gas.  $WPRT also exhibited a possible bottom so I bought a small starter position to test the water.  See below $WPRT daily chart: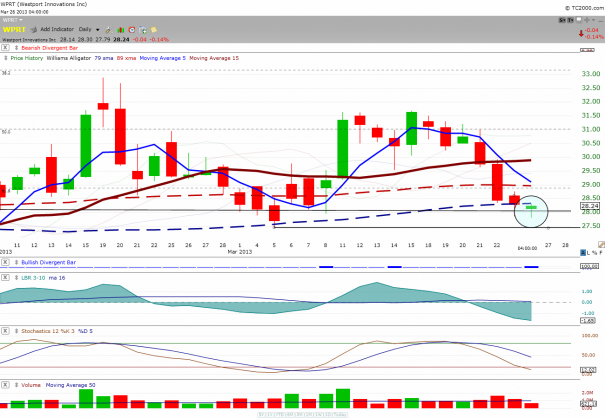 I was tempted to dump $DCTH today but since it was still sitting on the support line, I would give it a bit more time.  See where the closing price just sat on the support created back on early Feb?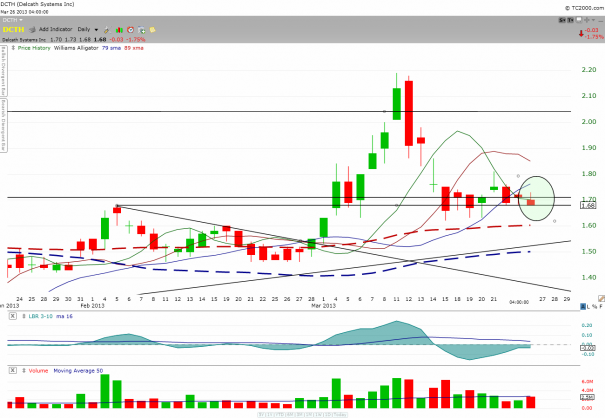 This was pretty much a slow day actually even though DOW screamed 110 points higher.  The elephant in the room was that $AMRN continued to trek lower.  Since I already covered this subject on my previous post, I'll just chalk up today as an uneventual day for me.
Current holdings:
LRAD, AMRN, SZYM, TINY, CHK, FB, DCTH, DDD, IMUC, PACB, WPRT and 29% cash.
My 2 cents.
If you enjoy the content at iBankCoin, please follow us on Twitter