Futures opened weak Sunday evening amidst headlines of a government shutdown.  Whether or not this established news flow is the reason for the gap lower, or if instead some other macro characteristic fundamentally changed over the weekend I cannot say.  What we do know is today is the final day of the month and we are coming into it with a 15 handle gap in the S&P.
These so called pro gaps are named as such due to their quirky behavior and proclivity to defy smaller gap-like tendencies.  Simply buying the open with the expectation of the gap filling higher is a fools endeavor unless said fool possesses very deep pockets and radical risk tolerance.  Instead one would be keen to closely observe the first half hour of trade and do their best to classify the opening type and the implications it has on both buyer and seller conviction.
Early on, my initial hypothesis is for sellers to push and attempt to drive lower on the gap.  However to my eye the task seems daunting.  There have been three rotations lower since the intial gap down and in their sum they have only achieved four handles of rotation.  The market keeps bumping its head on 1676.  Should the buyers breach this price and sustain trade, we would be well on our way toward navigating this overhead gap.  Watch for head fakes!
Down below, I am keying off of two support levels dating back to the early days of September: nearby 1669.50 and the ghoulish 1666.  Should the market furiously slash though these levels early this week, it may be prudent to raise cash levels and consider hedging.
I have highlighted a scenario and price levels on the following market profile charts: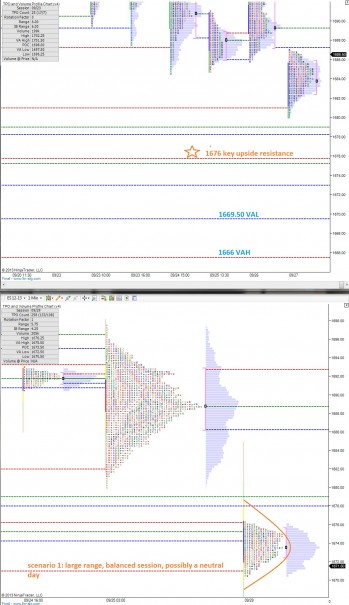 If you enjoy the content at iBankCoin, please follow us on Twitter