The S&P was able to follow through on the strength that entered the market late yesterday afternoon.  Huge volume poured into the market near the bell, pressing us into the upper quadrant and above the VPOC.  Since then the market has fizzled a bit and is mostly trading sideways about 1.5 points above yesterday's close.
Since gapping lower Sunday evening the market has been slowly climbing back toward Da Vinci's brush which was the naming we used for the very large value distribution that formed during the second half of last week.  The question now is how we treat this value.  Can we get back inside it and sustain trade for more than an hour?  If yes, there is an 80% probability we will rotate the entire area.  If instead we test 1686.25 and the market sharply rejects price, we may be in store for a more broad based correction.  We may even reject the area initially but find sellers cannot follow through on the rejection but instead run out of gas.  These are three scenarios you must consider when observing a large balance of trade.
Overnight we printed two TPO distributions, but a relatively Gaussian volume distribution suggesting we are finding balance in the marketplace.  We saw a sharp buying tail on Monday morning that bulls do not want to see given up which starts at 1671.  Trading back below that level shows definite weakness from a once otherwise strong buyer.
I have highlighted these levels and a few scenarios on the following market profile charts: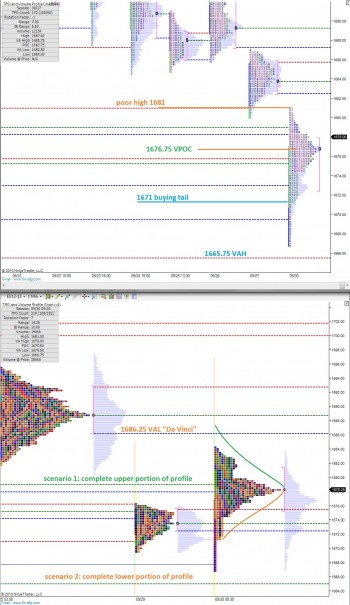 If you enjoy the content at iBankCoin, please follow us on Twitter