I suppose this is what we play for. Next week carries the promise of big opportunity for the speculative class. Stick to the plan. Press the winners. Cut the losses and manage risk and all that is sacred to the active trader. If the net sum of the action starts to feel too all-or-nothing step back. Remember the markets have been here longer than any of us and they'll still be here long after we're gone. There is nothing personal about the numeric representation of millions of humans and algorithms interacting. It is simply information. An instant feedback on whatever position you take. There is nothing wrong with standing aside and watching the big waves from a high perch. Here's where we stand and what we're up against.
Yesterday was a full moon and the final day of October. November is here and winter is pressing in fast. Early this morning we hit the daylight savings shift.
U.S. election Tuesday and by night we'll likely see extreme volatility in the futures.
FOMC announcement Thursday and non-farm payroll Friday.
I made a professional effort to off-gas the steam built up in my system last night. I menaced the town until about 5am, dressed like some psychotic masked bear ghoul. This was after taking the niece and nephew around for trick-or-treating and screening out two, mind you, two pieces of fanatic christian propaganda from their sacks. The sleazy pamphlets were formatted to seem innocent, then half way in they cast shame. I resisted the urge to go back and knock the zealots' teethes out, instead haranguing some internet stranger in the comments section of a Fly blog. Drank enough hooch to put an ache in my spleen and now I feel purged of my anger, physically depleted and pure of mind.
(We all have our rituals)
That is all I wanted to say. Oh one last note…IndexModel is flagging Bunker Buster. This signal tends to preclude an acceleration to the downside. I've had a notoriously hard time day trading it. Instead I've shifted my approach to using Bunker Buster signals as a time to accumulate shares of my top long-term positions. This week I will be making a few buys of Twitter. I will do my best to time these instead of overly focusing on catching the lows in the market.
When the risk is high we do things the same as always—start off with a morning trading report. Work open gaps in range. Other key stats. Then go back to the sidelines. Eat the elephant, or something like that.
Raul Santos, November 1st 2020
And now for the week's Strategy Session. Enjoy:
---
I. Executive Summary
Raul's bias score 2.3, medium bear*. Volatility increases as price accelerates to the downside. Look for markets to eventually form a sharp, excess low and eventually rally into the week's end. Geopolitical risk is high with U.S. elections Tuesday. Also be aware of an FOMC announcement Thursday and Non-farm payroll Friday.
*IndexModel triggered a Bunker Buster signal. See Section V.
II. RECAP OF THE ACTION
Choppy through Tuesday then a big move lower Wednesday. Thursday saw buyers attempting to reject the big sell but then Friday prices continued to slide lower.
The last week performance of each major index is shown below:
Rotational Report:
Rotations bearish for a third week—full on risk off move away from equities.
For the week, the performance of each sector can be seen below: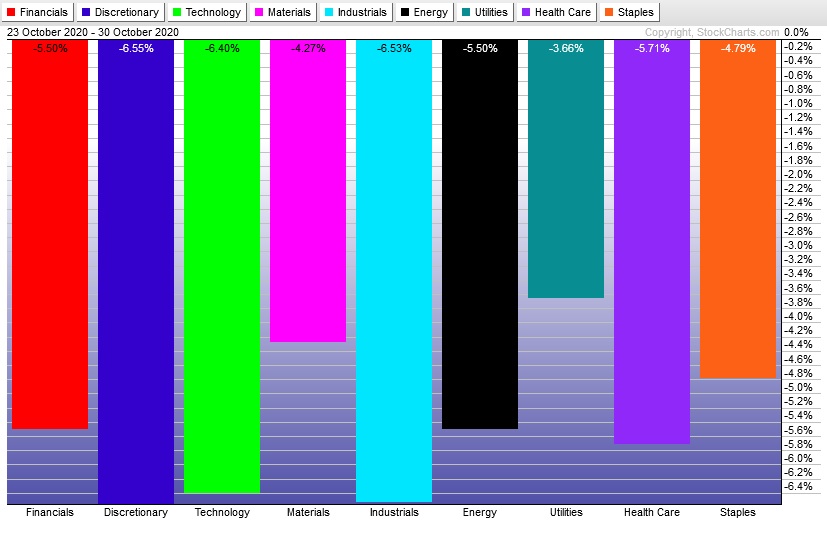 Concentrated Money Flows:
Industry flows skewed extremely bearish. When this happens, we tend to see money flows continue lower for another week.
Here are this week's results:

III. Exodus ACADEMY
Stay innately aware of emotions into this big week
Tuesday's election is likely to introduce extreme volatility into the marketplace. There are other big events (FOMC meeting Thursday, NFP Friday) but the election is the main factor in next week's action. There is no need to "catch" any part of the price action leading into and immediately following the action. However, the opportunity is high. If we can keep a cool head and focus on strategy execution there is potential to extract gains rapidly. Of course the opposite is true. Keep risk management at the forefront. Remember, the market will still be here long after the election. Don't force the action. Take it one day, one trade at a time.
Note: The next two sections are auction theory.
What is The Market Trying To Do?
Week ended searching for sellers.
IV. THE WEEK AHEAD
What is The Market Likely To Do from Here?
Bias Book:
Here are the bias trades and price levels for this week:

Here are last week's bias trade results:

Bias Book Performance [11/17/2014-Present]:

Semiconductors press into potential support, same for Transports
Markets fluctuate between two states—balance and discovery.  Discovery is an explosive directional move and can last for months.  In theory, the longer the compression leading up to a break, the more order flow energy to push the discovery phase.
We are monitoring two instruments, the Nasdaq Transportation Index and the PHLX Semiconductor Index.
Transports are nearing the bottom of their established range. This market is likely to catch a bid down in these levels. Otherwise we may begin a new discovery leg lower. The more likely outcome is to remain range bound.
See below: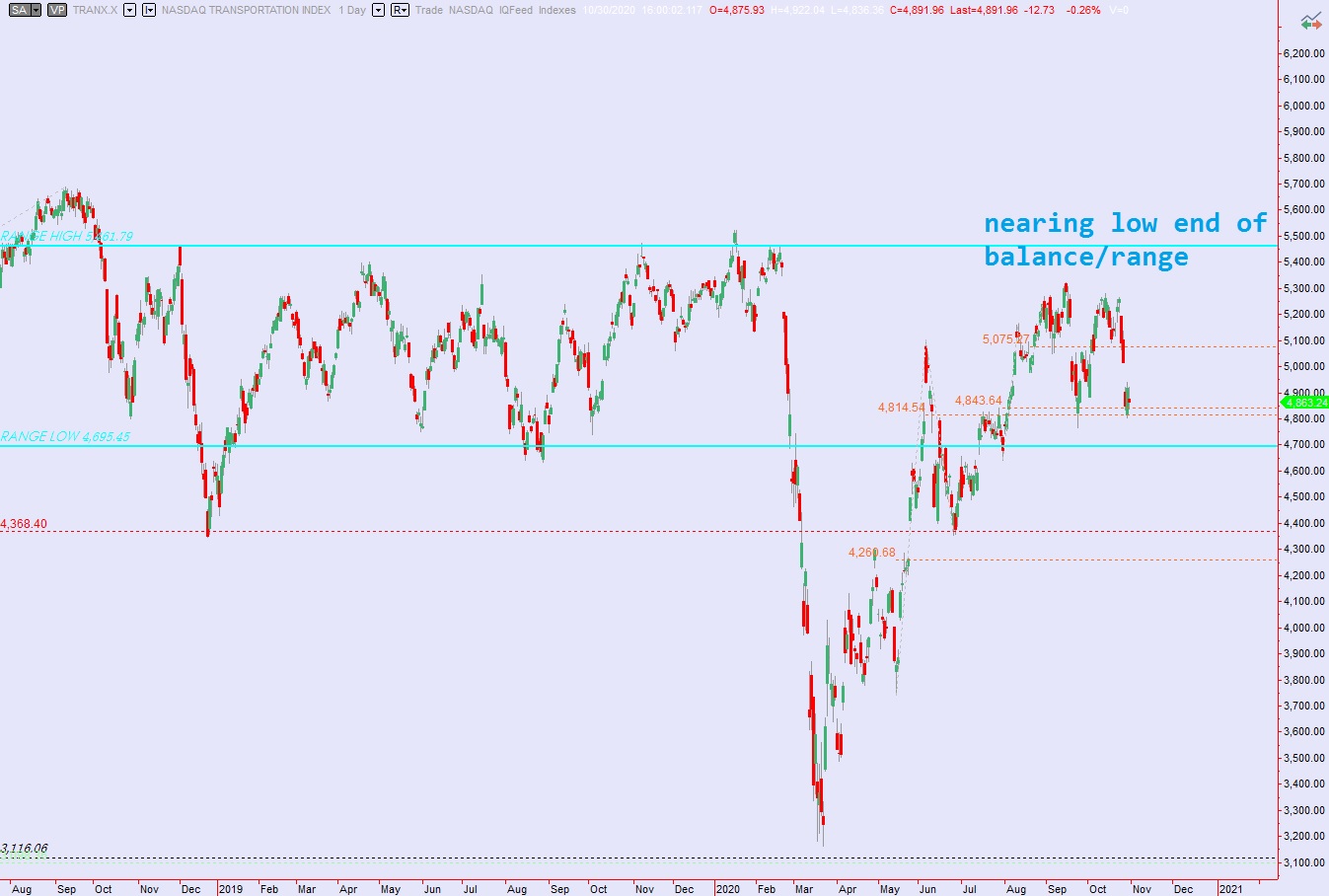 Semiconductors kept sliding last week and are pressing into a support cluster. Primary expectation is for it to hold. If not, like Transports, we may see a shift into discovery down.
See below: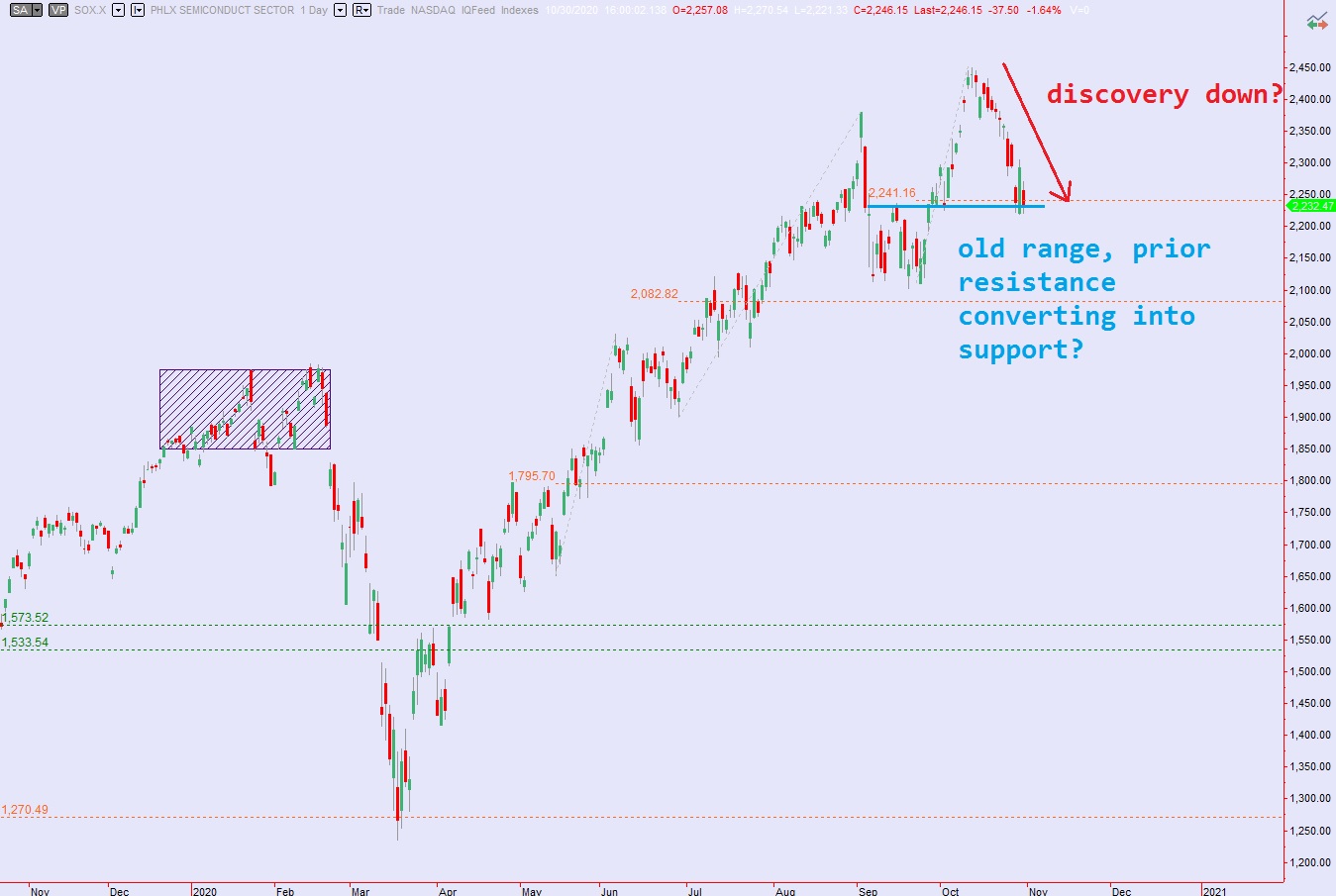 V. INDEX MODEL
Bias model is signaling Bunker Buster. This signal calls for volatility to increase, with price accelerating to the downside before eventually forming a sharp low and reversing higher.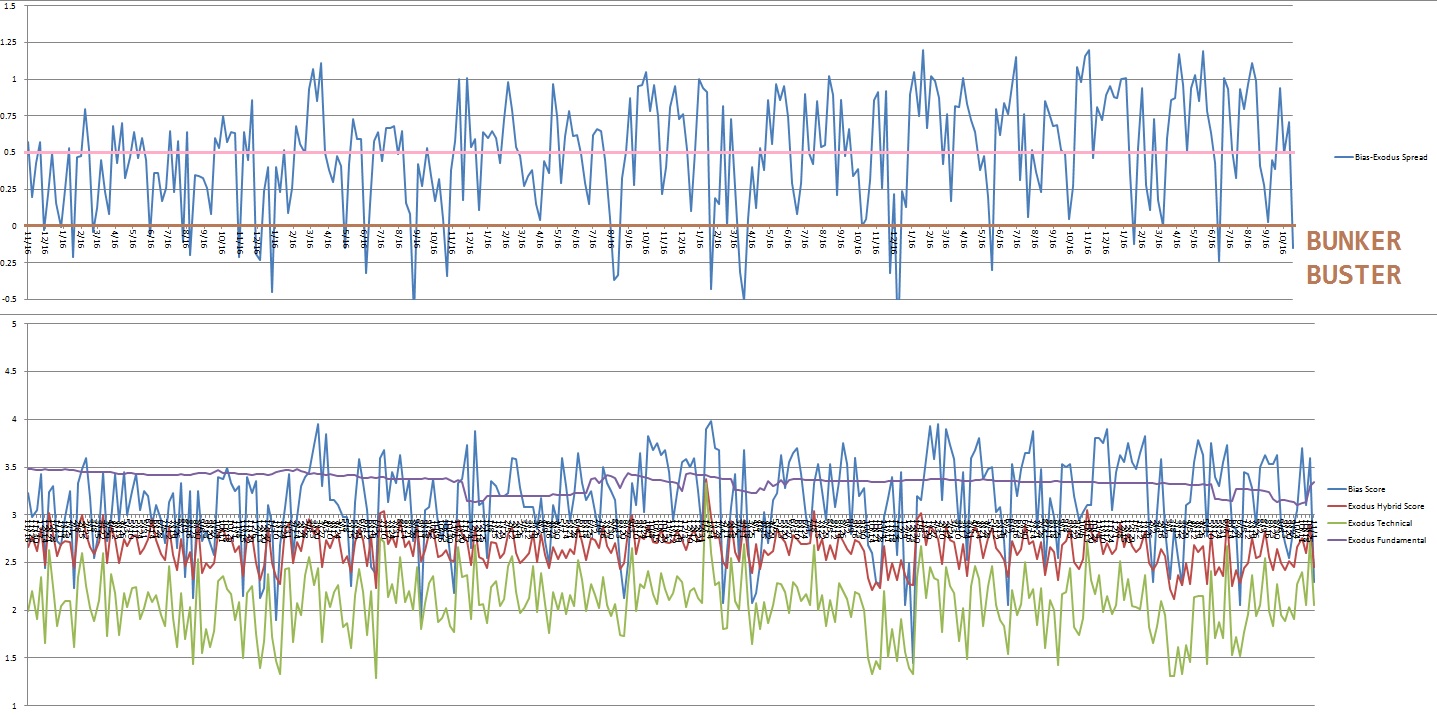 VI. QUOTE OF THE WEEK:
"You will earn the respect of others if you begin by earning the respect of yourself." – Musonius Rufus
Trade simple, love your discipline
Comments »