They say you pay your tuition to the market either through time or money.  That saying makes sense to me and typically it takes a big loss to open my eyes to a chink in the armor.  When your trading live it is easy to get caught flat footed without a plan.  I gave back four days of (hypothetical, still in a test environment) earnings this morning attempting to fade the early drive lower.
If you have tuned in to the ongoing Opening Swing series, then you have seen how an early move away from the opening swing is often faded.  Via old school chart markups and spreadsheets I am building the probability out, but this takes time and in the meantime I want to experience the trade live to develop expectations and rules.
It is crystal clear this trade needs lots of structure and B+ execution at a minimum to be consistently profitable.  The potential reward for building such a plan is great enough to merit such focus.  Some of the rules can be coded directly into my charting package, but others including trade management, must be done on a discretionary basis.  For now, the following rules were added to this trading plan:
I will not attempt this trade inside a series of single prints.  Example from today:
The second rule is I will only make one attempt to fade this first move per value area.  If I stop out inside the first value area, then I will wait for the next value area and look for a setup to occur.
Here's a look at what today's market profile looked like verses the regular trading hours profile: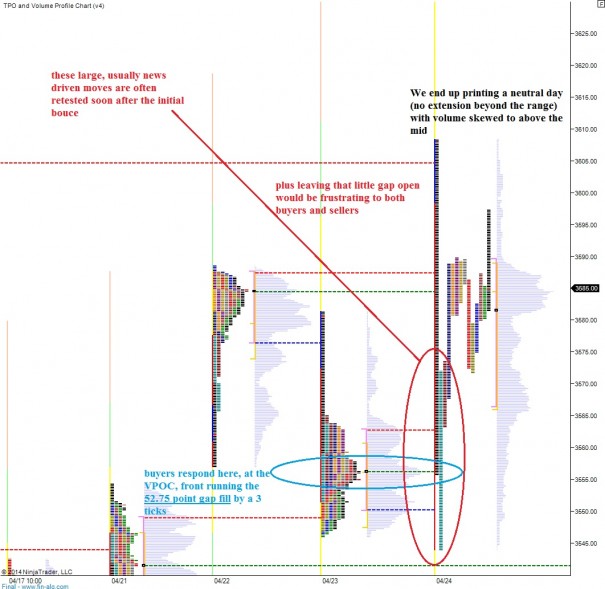 This above exercise was good because it kept me distracted from my live trading, which I rarely care to partake in during the opening minutes of trade.  When I saw the strong responsive buying happening, I quickly queued up my plan from yesterday and went to work acquiring exactly what I planned on.  My plan for this swing is one part intermediate term Nasdaq chart work and one part stock picking.  When the Nasdaq was telling me to buy there were 100 different tickers to choose from.  How does one decide which to buy and then execute in a timely manner?  Exactly, a plan.  Here's the picture as I see it: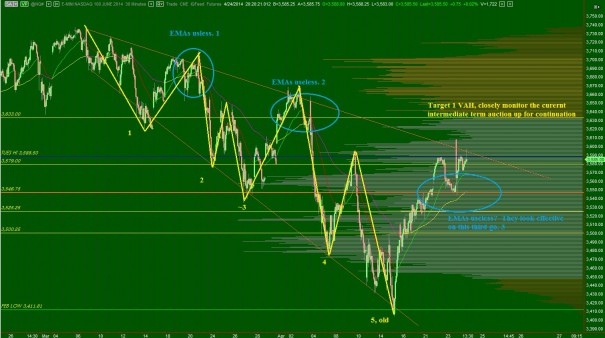 I ended up getting lovely fills in both DDD and SINA which dropped my cost basis even lower while I DO THE DIRTY, exiting my NFLX puts which served as a lovely momentum hedge during the move lower, and getting back on the Facebook trade.  I essentially only acted upon my book from 9:50 am to 10:25am aka the low of the day.  The only off plan trade was buying some RGLD calls.  However, I have traded RGLD for years and when gold was making a violent move I bought the position.  In hindsight, it may end up being a loser with the look of the daily candle.  I won't know for a few days though.
Regardless, plan your trades and trade your plan.  This is priority #1.  If you think you can improvise in the heat of trade without some backbone of planning, good luck with that.
80% long into tomorrow's tap. The market needs to bring the hurt to shake me from my low risk power stance.
DDD trade plan (note: earnings on the 29th):
http://ibankcoin.com/raul3/2014/04/09/swing-trade-plan-for-ddd/
SINA trade plan:
http://ibankcoin.com/raul3/2014/04/08/doubling-down-doing-the-dirty/