Since we are running free trials this weekend of Exodus, the entire 115th Edition of Strategy Session is publicly presented below.  This report is designed to build context and bias for 5 trading days—nothing more.  It gets through the week.
It has become an indispensable part of my own trading, and I'm grateful to share it with you guys.  It can come off as esoteric, but I have eliminated as much chaff as possible to focus only on what has shown value in predicting 5 trading days.  Regardless, if you have any questions, ask away.
Also, if you want to dig into the retail space (like I did below in Sections II and III) you can take a free trial of the software until midnight by clicking here.
Heading into Chinese New Year, this is my forecast:
I. Executive Summary
Raul's bias score 3.20, Neutral*. Expect the low-volatility environment to continue this upcoming week, with index prices drifting along, perhaps with a slight upward bias.
Focus on retail and whether we rotate into the industry-group as investors transition away from Healthcare and Financials.
*Extreme Rose Colored Sunglasses e(RCS) bullish bias triggered, see Section IV.
II. RECAP OF THE ACTION
Week three of 2017, NASDAQ drifts higher, the Russell lower, Dow and S&P mark time.
For the week, the performance of each major index can be seen below:

Rotational Report:
Rotations start to trend toward more cautious sectors.  The Financials take a hit after many weeks of outperformance following the November election results.  Healthcare hit hard.
Slightly Bearish
For the week, the performance of each sector can be seen below: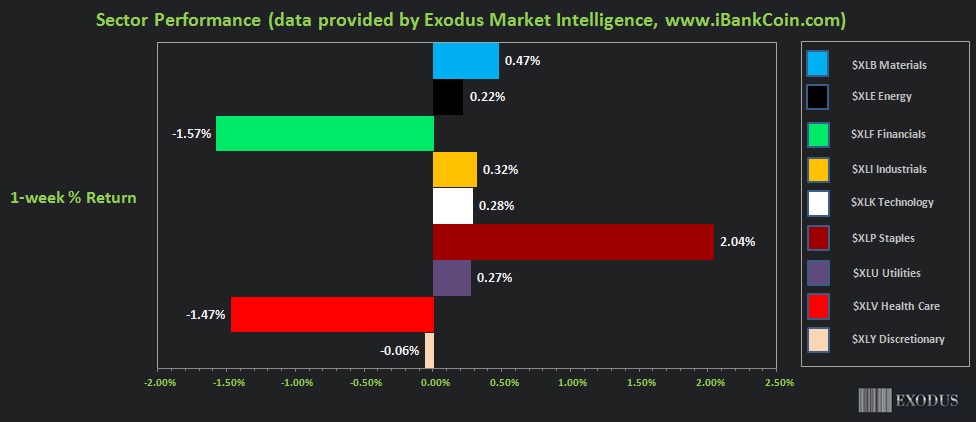 Concentrated Money Flows:
Exodus [PPT 2.0] streamlines how we can research the individual behavior of each industry and how it pertains to overall market sentiment.
Using the Industries screen, we can filter for the Median Return [1 week] of each industry.  I have established an arbitrary -/+ 3% cutoff for qualifying industries of interest.
Buying one or two retail stocks was on the agenda last week.  I chose Dick's Sporting goods [TICKER: $DKS].  This was based off a study shared by Jeff Macke on Twitter.
Other names of interest in retail are: TJX, CVS, ROST, GNC, SHW, and COST
Concentrated money flows were slightly bearish.  More industries populated the negative side of the ledger than the positive.
Slightly bearish
Here are this week's results:

III. Exodus ACADEMY
Fundamentals to back up a long term position.  When looking for long-term holdings, I want to see a track record of excellence.  This means consistent growth of both the top (revenues) and bottom line (earnings).
When I scoured the retail landscape, only a few (of the 100s) of companies were doing a good job of growing their business.  Dicks was one of the best, see below: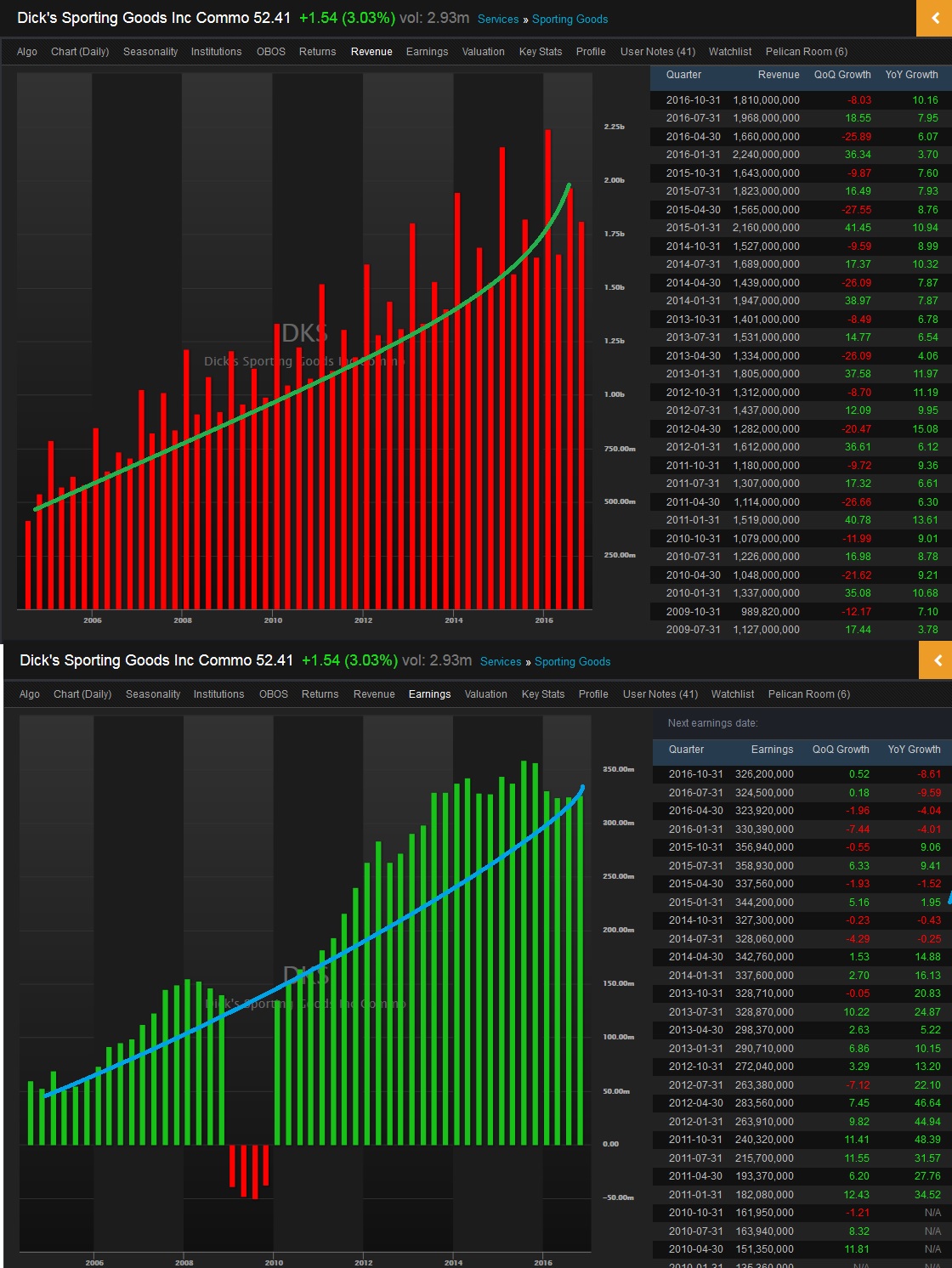 Compare those two charts to some of the other names out there, like Target (flat, stagnated growth) or Bed Bath and Beyond (top line growth, earnings trending lower), or Abercrombie and Fitch (fucked all around).
Note: The next two sections are auction theory.
What is The Market Trying To Do?
Week ended searching for sellers.
IV. THE WEEK AHEAD
What is The Market Likely To Do from Here?
Bias Book:
The following biases were formed using basic price action and volume profile analysis. By objectively observing these actual attributes of the market we gain a sense of the overall market context. To quantify the effectiveness of this approach, each of the 4 equity indexes (/ES, /NQ, /YM, and /TF) has been assigned a fixed long/short target using a standard 14-period ATR. Each week there will be an outcome of win, loss, or timed stop on all four indexes. The first bracket level hit is deemed the winner in the event that both sides are tagged. This will be tracked and included in the Exodus Strategy Session.
Here are the bias trades and price levels for this week:
[Note: All levels are as quoted on the front month future contract (currently March 2017) by the IQFeed Data Servers. Prices may differ slightly from your data provider. If you do not have a platform which provides real-time futures quotes, please click here for a free (but limited) alternative.]

Here are last week's bias trade results:

Bias Book Performance [11/17/2014-Present]:

Compression Watch: Transports continue discovery up, Semiconductors too
Markets fluctuate between two states—balance and discovery.  Discovery is an explosive directional move and can last for months.  In theory, the longer the compression leading up to a break, the more order flow energy to push the discovery phase.
We are monitoring two instruments, the Nasdaq Transportation Index and the PHLX Semiconductor Index.
Transports made a big gap up off of the former resistance level we have been monitoring, leading me to wonder if the discovery mode up will continue.
See below: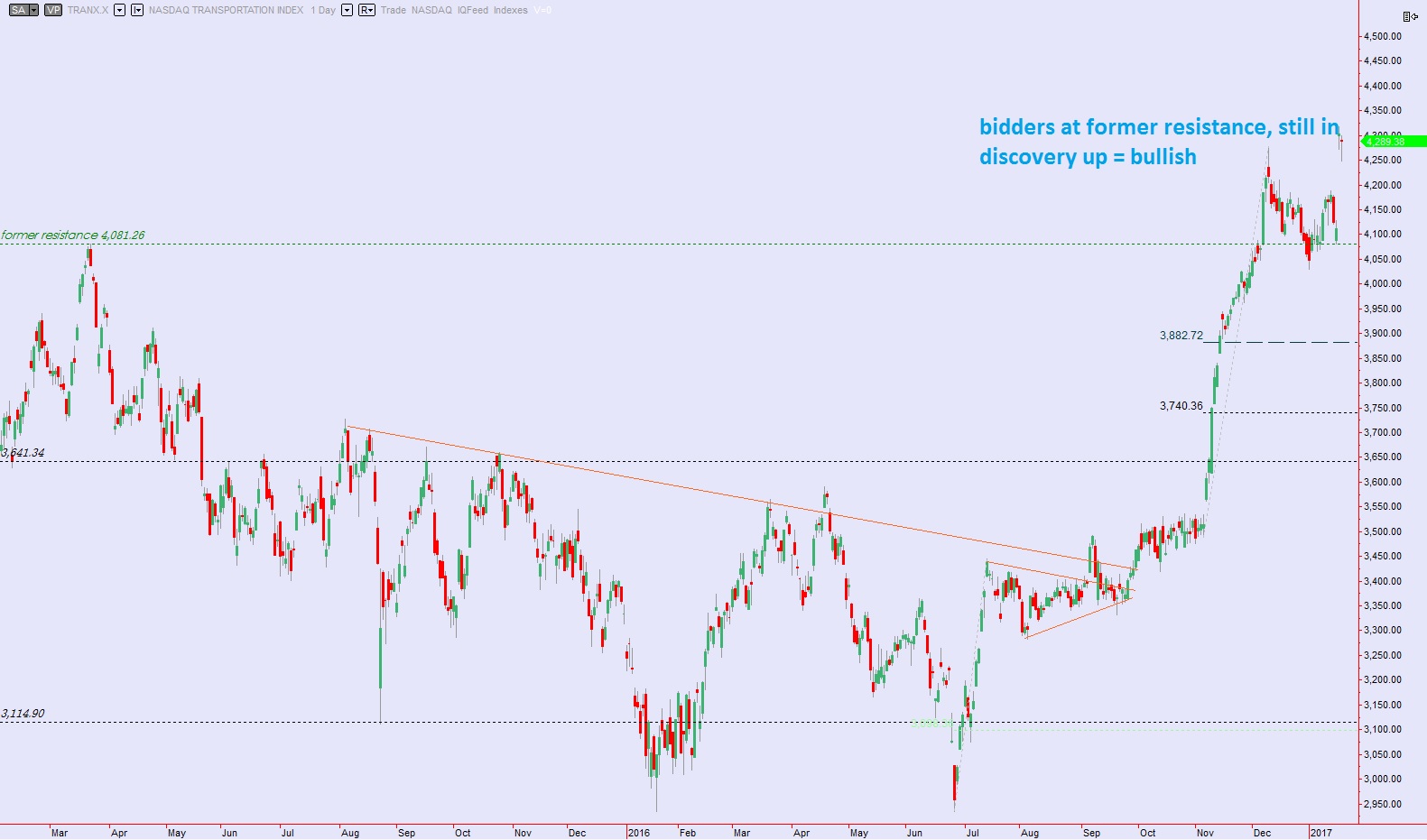 Semiconductors just keep chugging higher.  The chart is ugly, and stretched, but still in an upward ascent.
See below: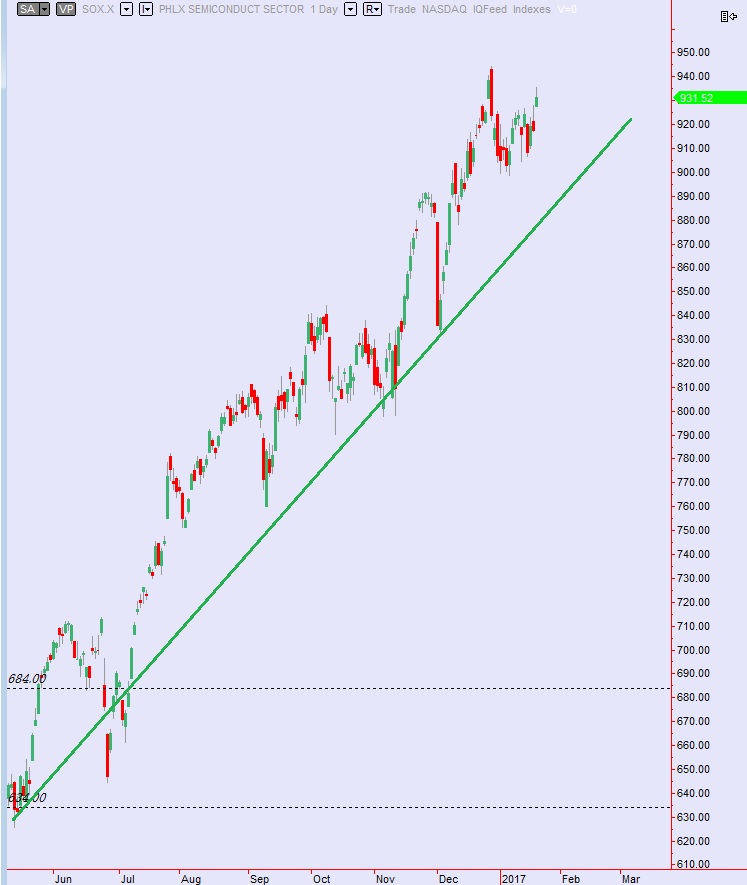 Bias Model: Extreme Rose Colored Sunglasses
Third consecutive week of extreme RCS, meaning, expectation for a calm drift with slight upward bias.  But, it is barely e(RCS), a few basis points lower and we would have a bearish signal.
The signal keeps me cautiously expecting upward drift, but it would not surprise me if volatility creeps in next week.
Here is the current spread: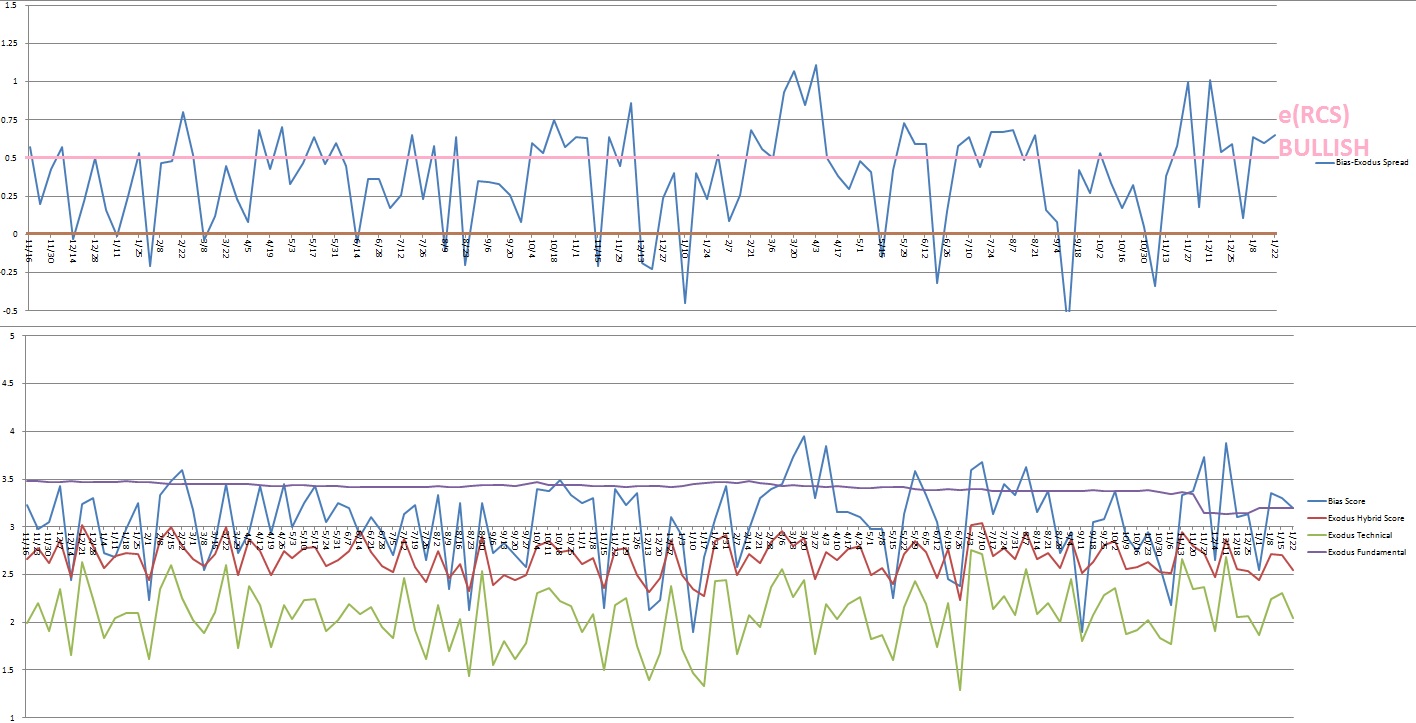 V. QUOTE OF THE WEEK:
"At a certain point, if you chase two rabbits, you lose them both." – Taylor Swift
Trade simple, one trade at a time, the one in front of you now
Comments »