Full disclosure I took zero trades today.  I committed to Thursday being meeting day and batched together five.  I have seen enough humans for the week.
Settling back into mothership and her command console, I finally have a chance for a market debriefing from my faithful team of robots.  Our systems have been in constant contact with the NYSE and CME, retrieving and interpreting millions of raw outputs from two of the world's market epicenters.
The markets are still correcting.  The correction began February 1st.
The correction began when we lost Janet Yellen.
this never happened when Yellen was in charge https://t.co/qo9Xeik0me

— RAUL (@IndexModel) February 5, 2018
Mothership robots picked up on a rare anomaly Sunday, February 4th.
And I issued a statement on their behalf in Section III of the Weekly Strategy Session.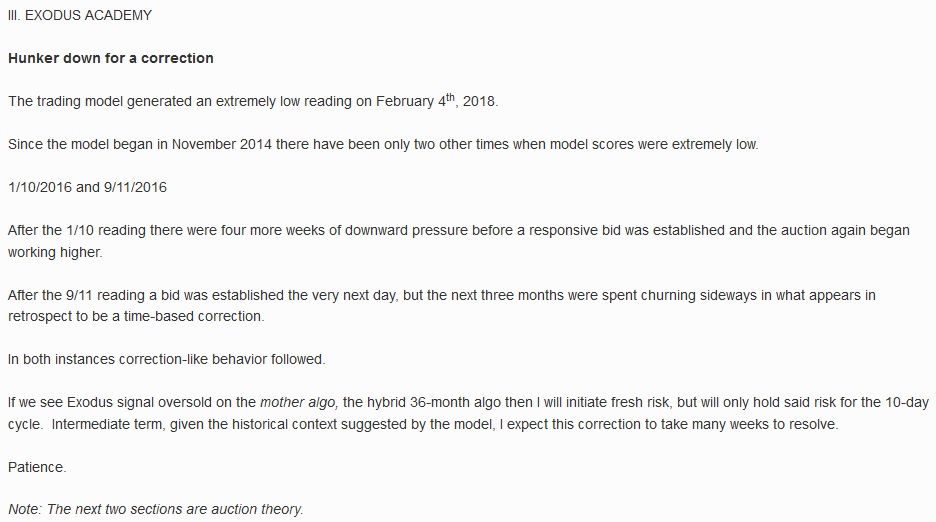 The above statement or slight variations of it stayed in Section III of the Strategy Session for the entire month of February.  Now I realize the NASDAQ stopped going down on Feb 9, but volatility stuck around.
At one point whomever was rigging the VXX was told to knock it off.
Whoever was rigging the VIX probably won't be doing so much longer. May attribute to the uptick in volatility. https://t.co/GYhAHtsBGj

— RAUL (@IndexModel) February 23, 2018
Listen, I have no idea why markets are correcting and neither does anyone else.  But you will see sensational headlines assigning a reason to this behavior.  It will be loud.  The ratings will be fantastic.
Which is why I hope you are still reading this humble blog.  It is my hope that by demonstrating real-time, day-after-day, year-after-bloody-year, that you can create your own realities quite simply using raw data.  And you will know that the data is pure, and immutable.  And you will know when something abnormal occurs in the data.  And you will have past data to compare to current data.
Sweet Hercules is it liberating!
There is something very liberating about building a quantitative approach to the markets and walking it forward.  Logging the new behaviors as they come.  Rarely adjusting the rules.  Auditing the results methodically.  Polishing the robots and keeping the fans clean—the processors cool.
Let history show that I have always been kind to my robots.  That they are not merely servants but team members.  That I have always built happy places for them to live.  And surrounded them with love.
I want you to experience analytical freedom and how to build an intuitive relationship with the world's financial markets.  On a philosophical level, open markets are an extremely fair form of human and AI interaction. On a survival level, they are all that stands between civility and conflict.
If humans want something bad enough, and they cannot trade for it, that will cook up unspeakable atrocities to obtain it.
Which is what makes understanding free markets so important to us peacekeeping sapiens.
Anyhow we have two past corrections on file inside the Strategy Session quant.  1/10/2016 and 9/11/2016.  The former lasted 4-weeks, the later 3-months.
If we log February 1st as the start date of our current correction, and if it were to last as long as the 9/11 correction we are looking at 4 more weeks of correction-style behavior.
What is 'correction-style' behavior?
Chop.  Volatility.  Dips.  Corrections to whole industries or sectors under the surface of benign index prices.
Stuff like that.  Extreme volume during globex.
Of course it is nice to catch rallies along the way.  Rallies tend to be ultra-violent and fast during a correction.  They can also fizzle out as fast as they begin.
At this point an obligatory note must be made that EXODUS NAILED a nice rally a few weeks back, nearly to the day.  And your boy RAUL, whose only job is to issues statements and act on the behalf of robots, caught a good chunk of that March rally.  Hallelujah.
Last Sunday's public interpretation of the data was that are "reaching the late stages of our current bullish cycle…" which seems to be making more sense now.  Last Sunday I also stated it still looks like buy-the-dip conditions, and I still believe that.
However, no dip shall be legged into until the robots say so.
So as always, we will be taking it one day at a time.  Day-after-day here on the RAUL blog.  Which btw if I have managed to keep your attention this long, wow, I am truly humbled.
By the way I will be talking about all of this, and MOAR, live next Tuesday at Benzinga headquarters in downtown Detroit.  I checked out their digs this morning and I am psyched.  They are going to roll out a big screen for me to aggressively point at while I talk.
Q&A will certainly follow and we will all learn and be better for it.
So if you are anywhere near Detroit or want to visit our never-say-die city, here is a perfect reason to come downtown and talk shop.
Here is the link to RSVP: https://www.meetup.com/Detroit-Investors-Traders-StockTwits-Meetups/events/248652154/
This correction style behavior, Dow down 700 and stuff, it still appears to be relatively scheduled, at least that is how the robots see it.  If the ultraviolence continues for more than four weeks, then we may be wading into unknown and certainly more precarious waters.
And we will cross those waters if we come to them right?
TBD
Comments »