Writer's note: I am long TSLA and think Elon Musk (all Praise and Glory to The Leader) is a deity roaming the earth who will attain immortality and roam outer space.

Popular belief is often wrong.  With investing, the 'obvious' outcome is often flipped on its head.  Like selling off because Hillary Clinton, Wall Street's candidate, lost.  It was an after hours blip, a modest gap down the following day, and subsequent rally.
One of the popular themes now is that alternative energy companies will be destroyed as Trump ushers in an era of coal and oil, casting a pea soup haze into the air of the United States.  And while he's at it, Tesla will falter and its shares will collapse.
What people aren't realizing is Elon (all Praise and Glory to The Leader) is the type of CEO who wakes up every day and does his job.  He doesn't throw emo fits and blast out company-wide emails that alienate his workforce and customer base.  He puts on his big boy pants and builds electric cars.  And rockets.  And solar roofs.
It doesn't matter what's happening in Washington.  He's a Hank Rearden reincarnate, without the selfish Ayn Rand hue.  And his constant innovation will result in products coming to market that people want AND which make sense economically.
Right now, the stock is trading at the low-end of its well-established range.  As good a place to invest in the most innovative company in the world as ever: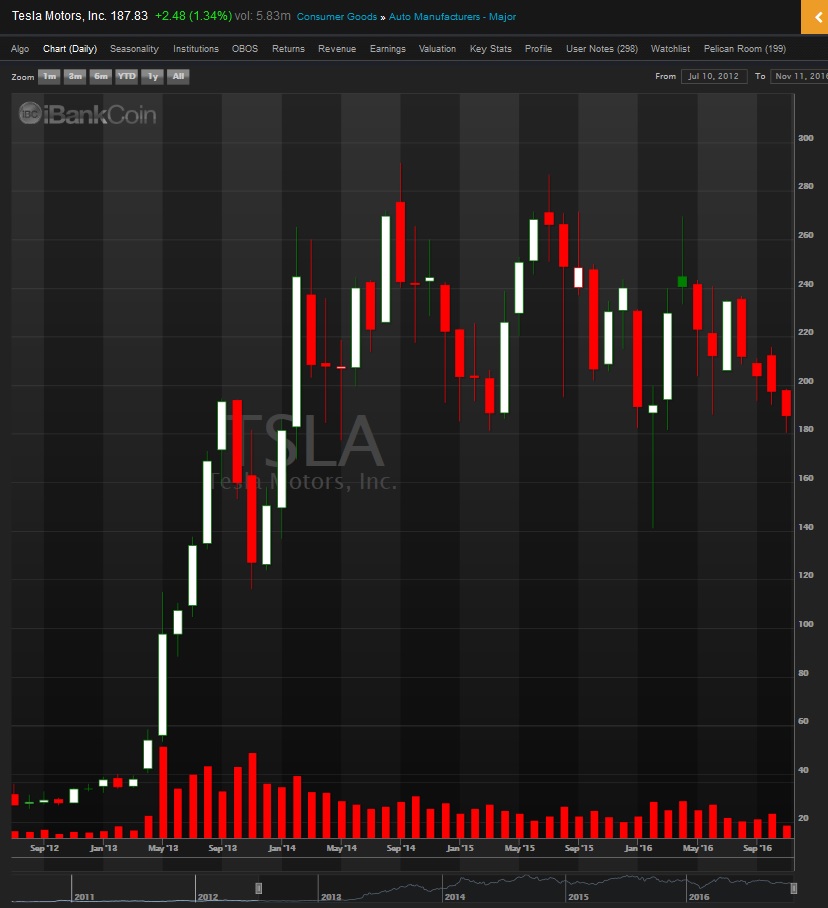 If you enjoy the content at iBankCoin, please follow us on Twitter