Back in 2015 I swore off stock trading.  I keep a screenshot of my brokerage account from that day, a jpeg titled, "the-comeuppance".  My low-probability options trading scheme had crapped out for a third OPEX in a row, and I was staring at another huge round of losses.
It was affecting my NASDAQ futures trading.  I couldn't focus on my job—the rapid extraction of NASDAQs from the CME.
I unplugged two monitors that housed 20 different stock charts and returned to a simple 3-screen window to the world, with all three screens focused on different components of the NASDAQ.  In The 48 Laws of Power, this would be akin to concentrating your resources, which is my favorite tactic when working through tough times.
It worked, my futures trading recovered and has improved substantially since then.  Which created a new problem.  I needed a place to stash excess capital that would not burden me emotionally.
It was right around this time that Motif Investing hit my radar.  It was the missing piece for allowing me to use the freakishly powerful tools inside Exodus.  This is when I started building my quant strategy.
And the success of the quant is funny to me.  I put this chart up on the big screen last Tuesday during our Detroit Stocktwits meetup: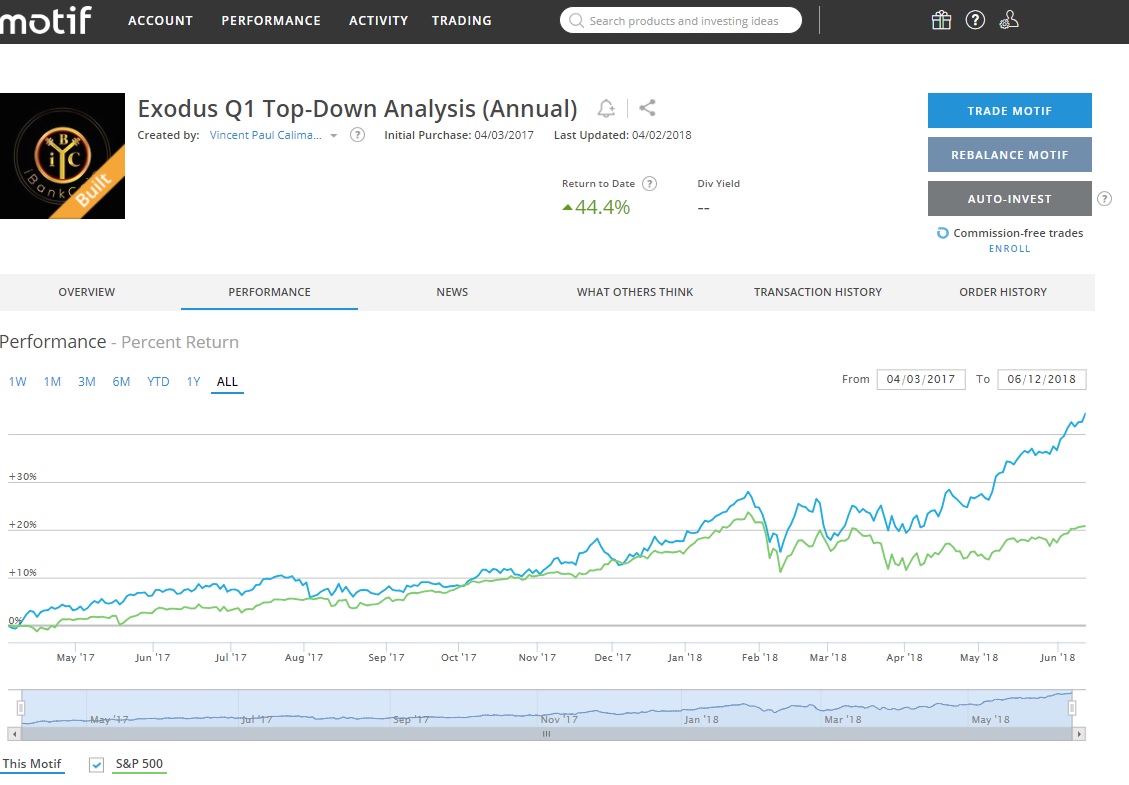 And there was no interest about how I achieved these gains. Literally none.
If someone put a chart like that in front of me, I would practically beg them for their intelligence.  But alas, I can only build beautiful watering fountains and lead people to them.  To drink is their choice.
But then I presented my other investment approach, 'faith-based' investing, which is wholly absurd, and suddenly everyone was interacting.  Whatever, this is fine.  This is what makes stocks go on epic runs and completely detach from reality.  And faith-based investing is the only means I have come up with for taking advantage of epic stock moves.
Obviously Tesla is my loudest faith-based investment.  I have been on the correct side of speculative history so far with this one.  I sound like a jackass, praising a living human like Levi the tax collector having the hots for Jesus, as told in Mark and Luke's renditions of the Jesus fairy tale.  Which is fine.  Looking like a jackass is fine.  Making money and appearing intelligent are two entirely different vocations.
But when I did a deep dive into faith-based investing everyone was all ears.  The main reason faith-based investing is working well right now is because we are in a secular bull market.  Still, the tactic helps develop thick skin and immutable conviction.  Remember when everyone was feverishly discussing how Tesla's bonds where behaving?  That never even raised a single hair on my neck.  Psychological resilience pays big when everyone else is in a state of panic, shaken by a negative news cycle or the cynical peanut galleries of Stocktwits and a certain warm-blooded egg-laying vertebrate that shall not be named.
Regarding this warm blooded egg laying vertebrate—I find faith-based investing is truly put to the test when it is working, and it is working big time for the blue bird.  This ticker, which shall not be written, is experiencing a massive revaluation to the upside.  You have to expect me to be superstitious about such behavior, afraid to jinx it by talking about it too much.  It comes with being a faith-based investor.  Faith and superstition are closely related.
And so are corporations and nations.  All of these things are merely social constructs.  The lines you draw on a map and call borders—those only exist in your brain.  Sure, you can build a structure along it, but eventually nature will consume it.  Either naturally or through the evolution of social constructs in the sapiens brain.
For the next 365 days I will be the age of Jesus.  Therefore you may want to consider interacting with me as you would Jesus.  In fact, you may want to interact with everyone as if they were your Jesus.  Maybe then you would be a better Christian, or Disciple of Elon (Praise!).
And while I have sworn off stock trading, I have not parted with stock investing.  And when you invest, and it starts to work, your biggest enemy is your ego telling you to book the gains and go to cash.  You have to sit.  Gosh darn it, if you have to sequester yourself to an island of darkness to sit put, then DO IT.
You have a plan, you stick to plan.  You have a faith, you stick to faith.  It really is that simple.
ALL HAIL ELON.  ALL HAIL @JACK.  ALL HAIL DECENTRALIZED MONETARY SYSTEMS. LONG LIVE DETROIT HYPER GROWTH.
If you enjoy the content at iBankCoin, please follow us on Twitter