Fellas I had to step away from the markets last week and it looks like I won't be on my desk much this upcoming week either. A deal I have been putting together since November finally went through. I wasn't even sure if it would but baby it did.
I bought a quarter of a block down in the city. Nearly an acre. Enough space to build eight multi-family homes.
Housing, as we know, is in short supply.
Anyhow I couldn't care less if there are enough houses for the consumer, man. I have Mothership, my faithful steed. This land will be developed, at first rapidly to cut down on some of the maintenance, and then slowly.
Perhaps one day I will build a few homes, but not homes as the typical hamburger eating american envisions.  The city is no place for an offensively middle class 3,500 square foot joke house with cheap cladding. They'll be gritty and utilitarian shelters. Made of steel and cement. Fully equipped to survive the roving bandits.
But for now I am working the land. Establishing the perimeter. I am not being aggressive. Just dominant.
Folks aren't used to seeing the immigrant hustle up close. Usually we're relegated to distant fields where we can rage work in peace. I am rage working on a busy corner in the city and it already has people shook.
So I need to make it pretty ASAP because I know they're gonna send bandits for me eventually and I need to make sure the power of my words is backed by a beautiful show of infrastructural force.
Trade'em well lads. What I love about the stock market is it was here long before us and will be here long after we're gone. Investing and trading are a few of the last true bastions of lassie fare capitalism. We ought to be more grateful to the French. And the Dutch.
As for the Italians those fuckers are ruthless. Keep a wide space between you and them. If you see some leaned out farmer looking dude with a pony tail all olive skineed and bearded, working the land…say hello or run because that's humble Raul and he's thinking of a dozen ways to make to kill you.
Raul Santos, June 13th 2021
Here is 342nd edition of Strategy Session. Enjoy now yes.
---
Stocklabs Strategy Session: 06/14/21 – 06/18/21
Executive Summary
Raul's bias score 3.35, medium bull*.  More sideways chop until Wednesday afternoon. Then look for the third reaction to the FOMC announcement/presser to dictate direction into the second half of the week.
*Index Model signaled extreme Rose Colored Sunglasses bullish bias, see Section V.
II. RECAP OF THE ACTION
Steady rally in the NASDAQ all week while the other indices marked time. The Dow was bearish divergent.
The last week performance of each major index is shown below: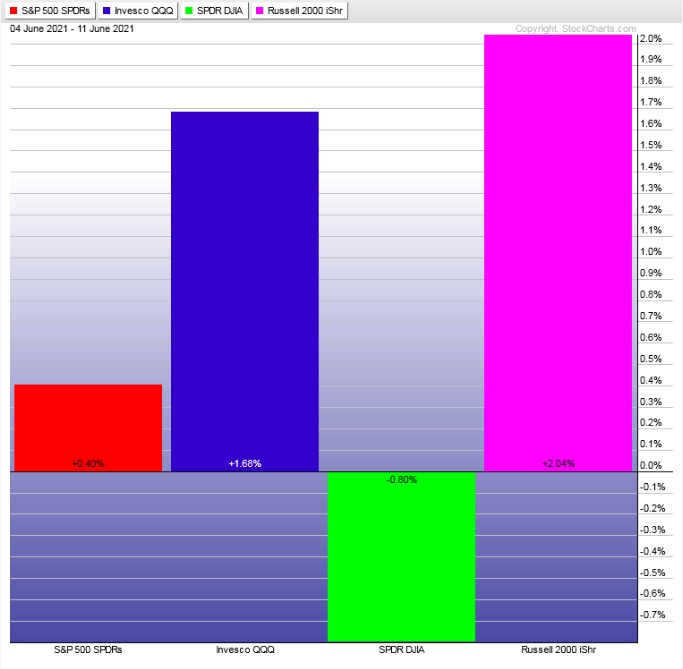 Rotational Report:
Tech strong and discretionary strong. Rallying in the right places.
slightly bullish
For the week, the performance of each sector can be seen below: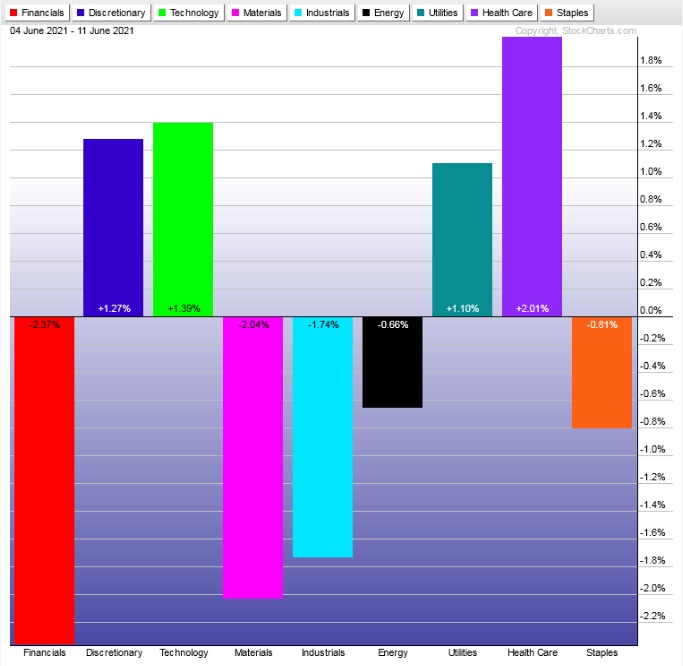 Concentrated Money Flows:
Money flows skewed bullish for a second week and for a second week not really great industry groups leading the way.
Volume delta remains pinned negative (broken I think) and median return was about +50 basis points.
neutral
Here are this week's results: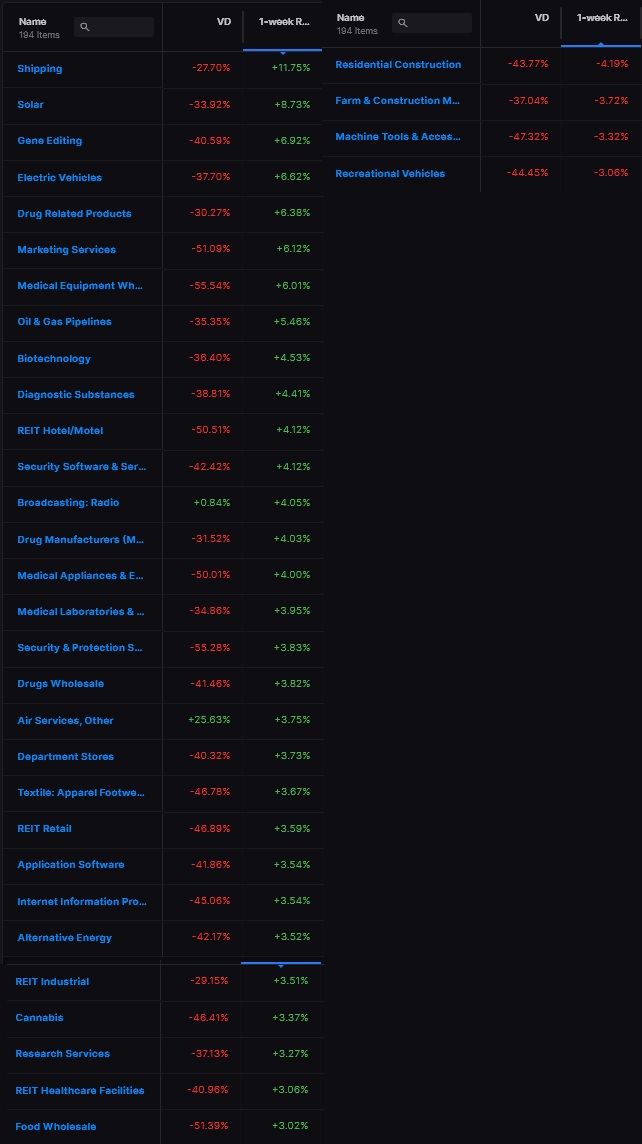 III. Stocklabs ACADEMY
Slow tape
Despite being a slow tape the opening bells are still setting up nicely. I had to step back from the market last week because I've just been too dang good heckin' busy. It looks like I will not be on my desk much next week either. Which is fine. The market will be here when I get back.
Note: The next two sections are auction theory.
What is The Market Trying To Do?
Week ended searching for sellers
IV. THE WEEK AHEAD
What is The Market Likely To Do from Here?
Weekly forecast:
More sideways chop until Wednesday afternoon. Then look for the third reaction to the FOMC announcement/presser to dictate direction into the second half of the week.
Bias Book:
Here are the bias trades and price levels for this week:

Here are last week's bias trade results:

Bias Book Performance [11/17/2014-Present]: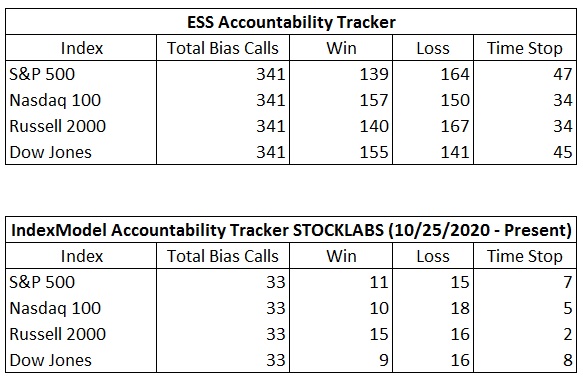 Marking time
Markets fluctuate between two states—balance and discovery.  Discovery is an explosive directional move and can last for months.  In theory, the longer the compression leading up to a break, the more order flow energy to push the discovery phase.
We are monitoring two instruments, the Nasdaq Transportation Index and the PHLX Semiconductor Index.
Transports same as last week. Holding range near highs.
The longer we sit in this time-based correction the more bullish it becomes.
See below: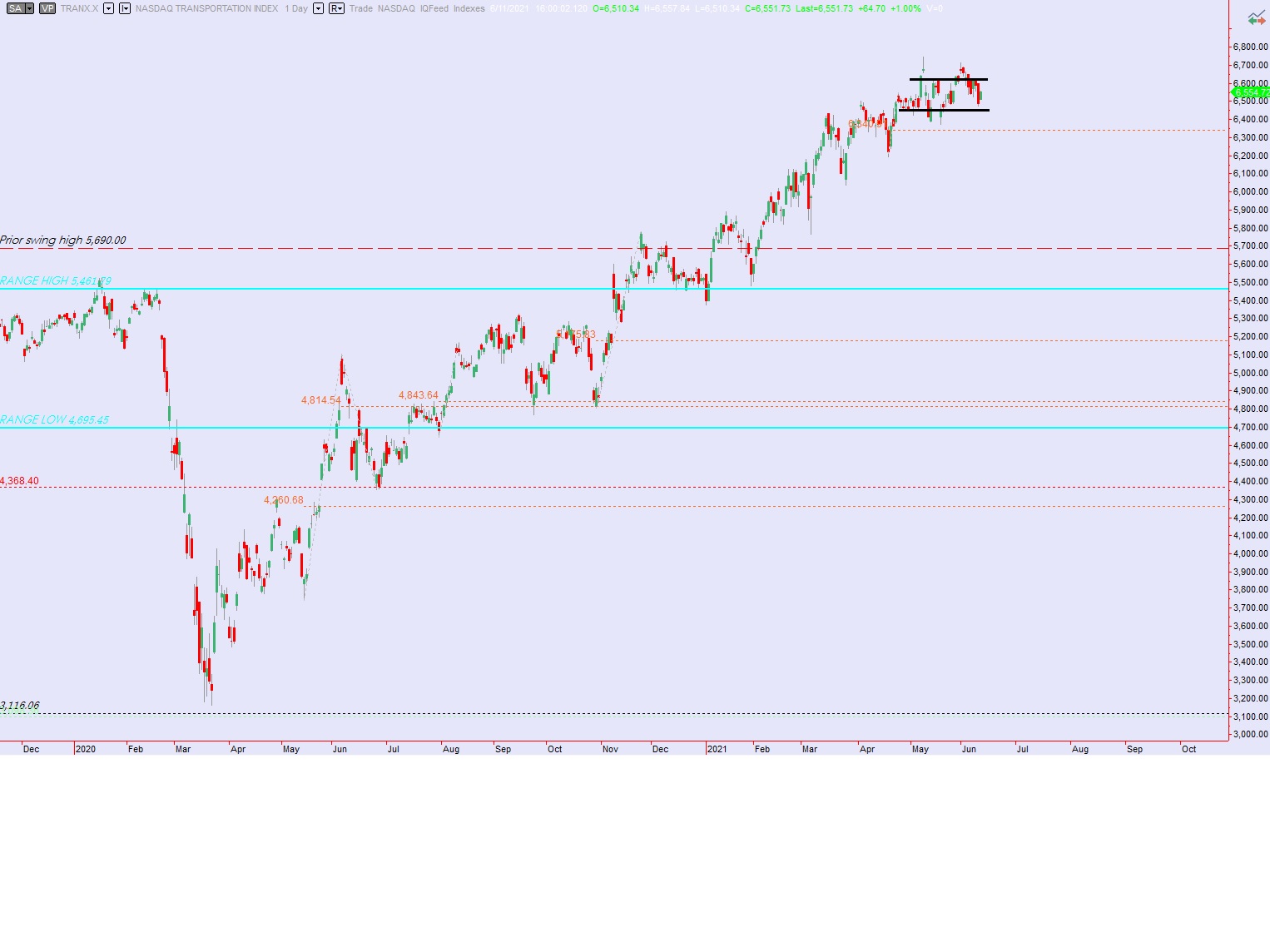 Semiconductors balanced along the highs also. There is nothing bearish about this for now. Time-based corrections are very healthy.
See below: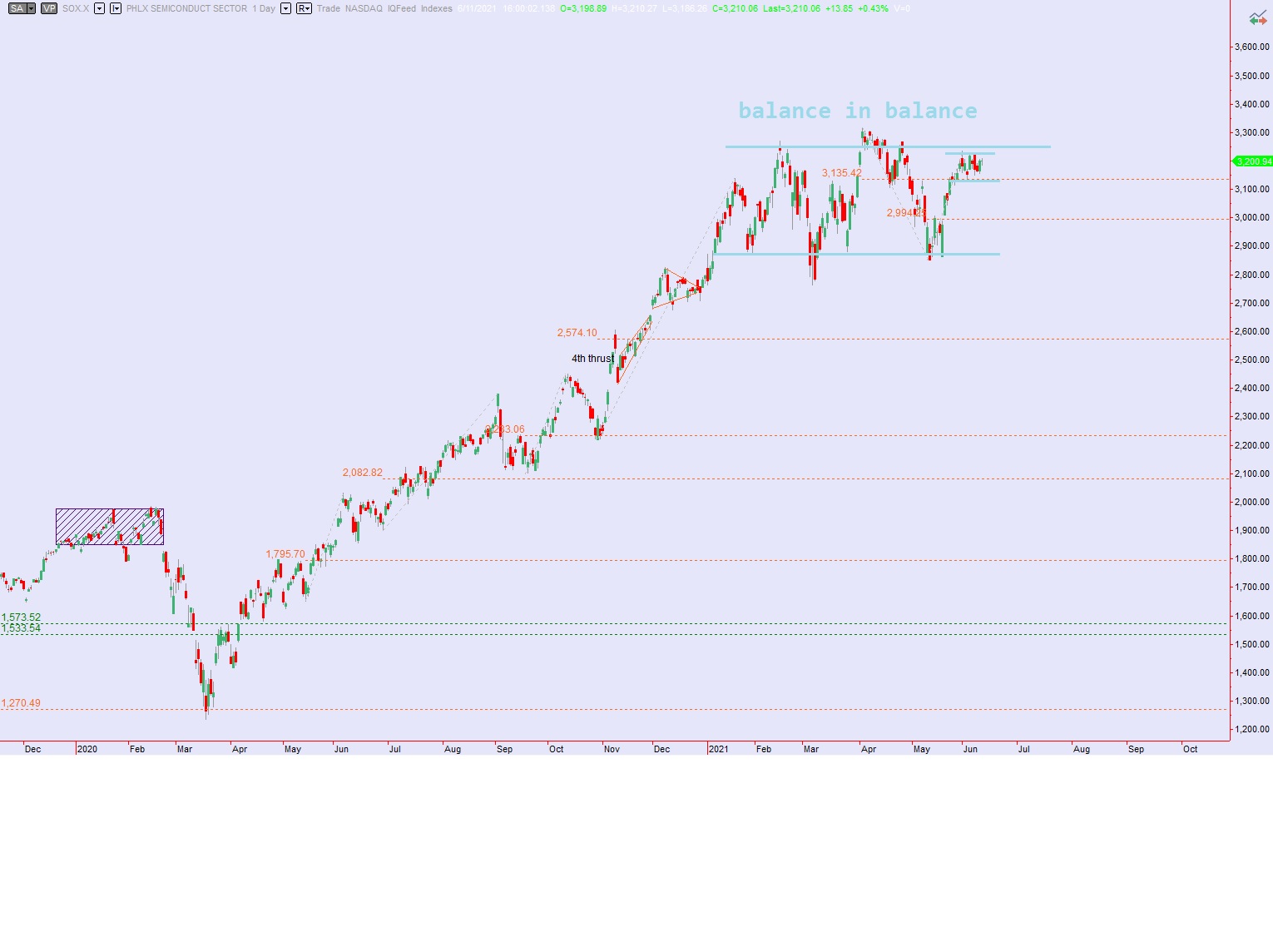 V. INDEX MODEL
Bias model is extreme Rose Colored Sunglasses bullish bias for a third consecutive week after being neutral for the two weeks prior after being e[RCS] bullish five weeks back and RCS bearish six weeks prior.
We had a Bunker Buster fifteen weeks ago.
e[RCS] calls for a sideways drift, perhaps with a slight upward bias.
Here is the current spread: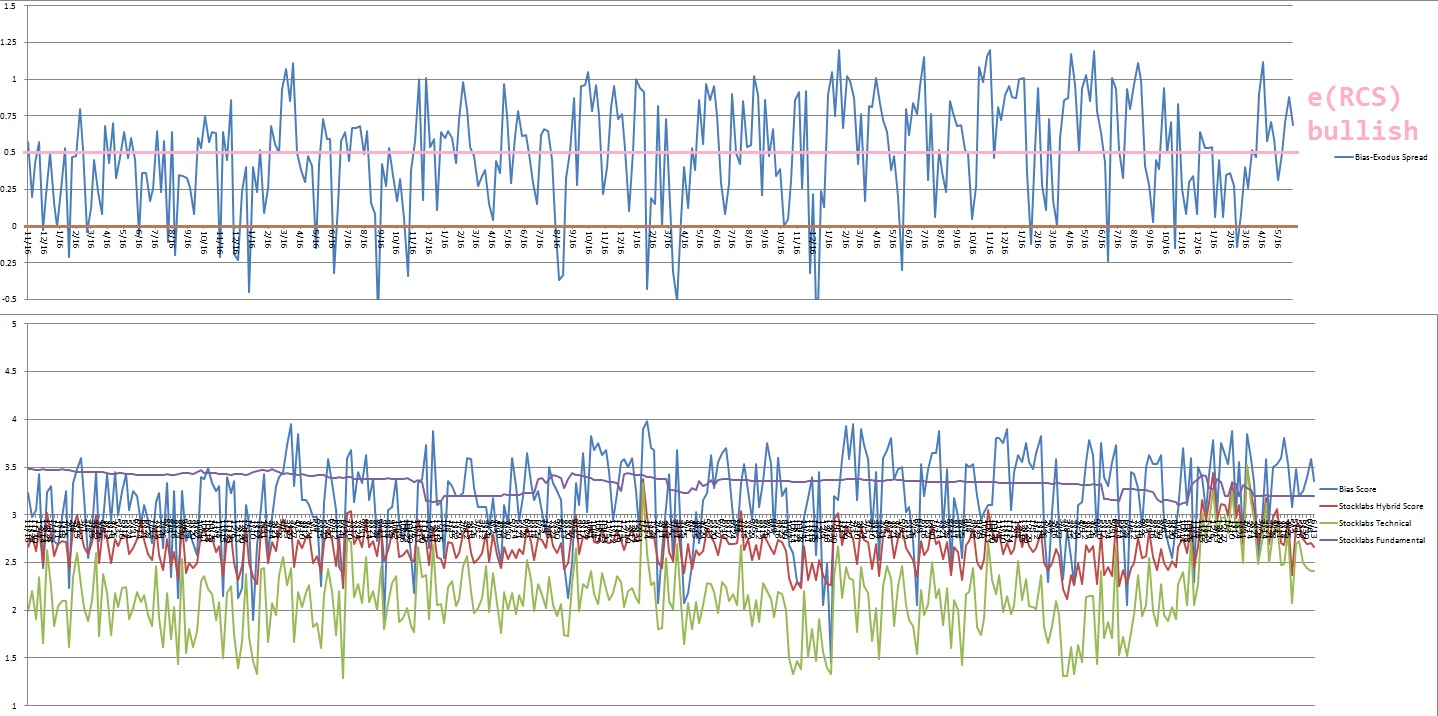 VI. QUOTE OF THE WEEK:
"If I do a good job, people won't care if I am green or have three heads." Harvey Milk
Trade simple, trade well
Comments »