Brief update as I must begin Mother's Day preparations.
Research is updated. Models are bullish heading into the second week of May.
I could pen some hard blog entry, about betting heavily against the NASDAQ early Monday, whilst having a few 100k doge, then covering the NASDAQ shorts mid Thursday and riding into the weekend a king.
What good would that do? None.
Man this doge coin really brings out people's true character. We could all just be out here, vibing, cheering each-other's success but there exists a strong desire to tear down the homies.
Even the doge community is sort of viscous.
It all reminds me while I extract fiat from the global equity complex: so I can build all sorts of greenhouses and grow lots of food and just be left alone. Too many rude humans.
Kindness is so easy.
With all that said, I am going to log off for now.
Happy Mother's Day to all the sweet mums out their. If your daddy isn't treating you right give your boy RAUL a call and I'll take care you.
Raul Santos, May 9th 2021
And now Strategy Session. Enjoy:
Stocklabs Strategy Session: 05/10/21 – 05/14/21
I. Executive Summary
Raul's bias score 3.48, medium bull*.  Sideways drift, perhaps with a slight upward bias.
*IndexModel flagged extreme Rose Colored Sunglasses bullish bias, see Section IV.
II. RECAP OF THE ACTION
Hard down move through Tuesday, then chop along the lows, rally Thursday and into the weekend. Dow had relative strength all week.
The last week performance of each major index is shown below: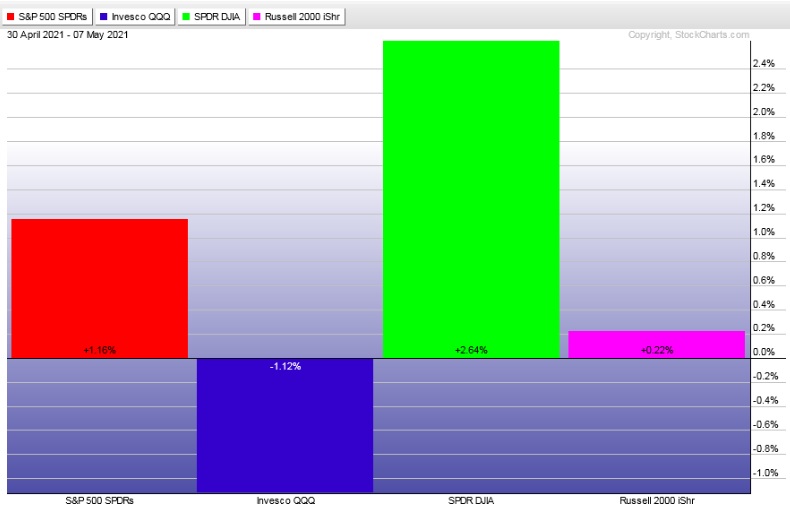 Rotational Report:
Energy still independent. Tech and Discretionary soft.
neutral
For the week, the performance of each sector can be seen below: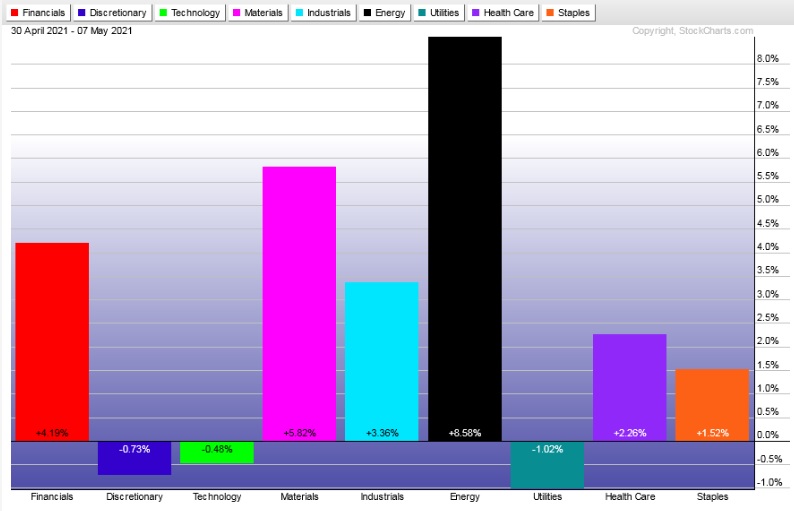 Concentrated Money Flows:
Money flows skewed positive last week.
Volume delta -28% and median return about 150 basis points.
Money flows are bullish.
Here are this week's results:

III. Stocklabs ACADEMY
Cruise Control week ahead
The second week of May is setting up to be a stock picker's market. Look for broad indices to consolidate/mark time while small green shoots keep momentum traders interested.
Note: The next two sections are auction theory.
What is The Market Trying To Do?
Week ended searching for sellers.
IV. THE WEEK AHEAD
What is The Market Likely To Do from Here?
Weekly forecast:
Sideways drift, perhaps with a slight upward bias.
Bias Book:
Here are the bias trades and price levels for this week:

Here are last week's bias trade results:

Bias Book Performance [11/17/2014-Present]: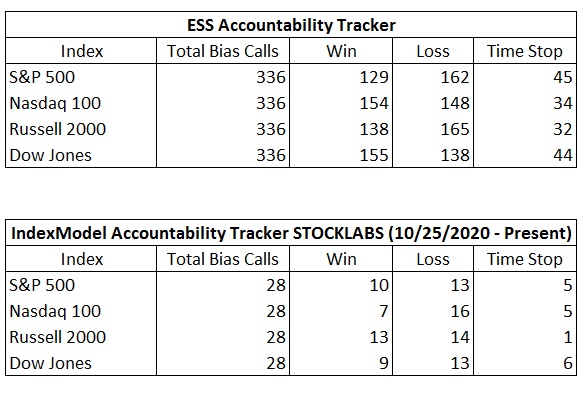 Same story different week: Semiconductors choppy, Transports rally
Markets fluctuate between two states—balance and discovery.  Discovery is an explosive directional move and can last for months.  In theory, the longer the compression leading up to a break, the more order flow energy to push the discovery phase.
We are monitoring two instruments, the Nasdaq Transportation Index and the PHLX Semiconductor Index.
Transports made another big leg up in the discovery phase underway.
See below: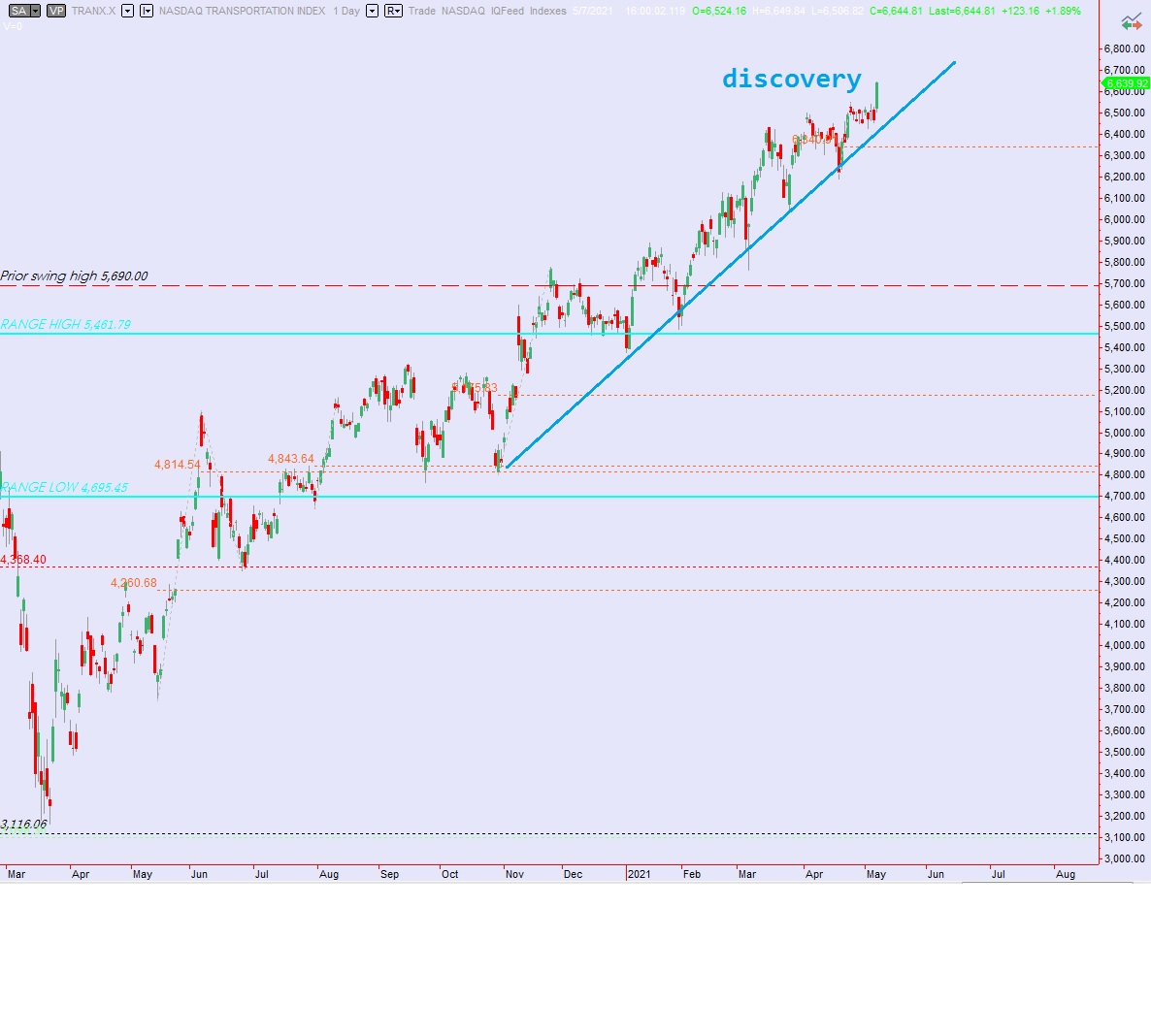 Semiconductors held range low and appear to be in balance.
See below: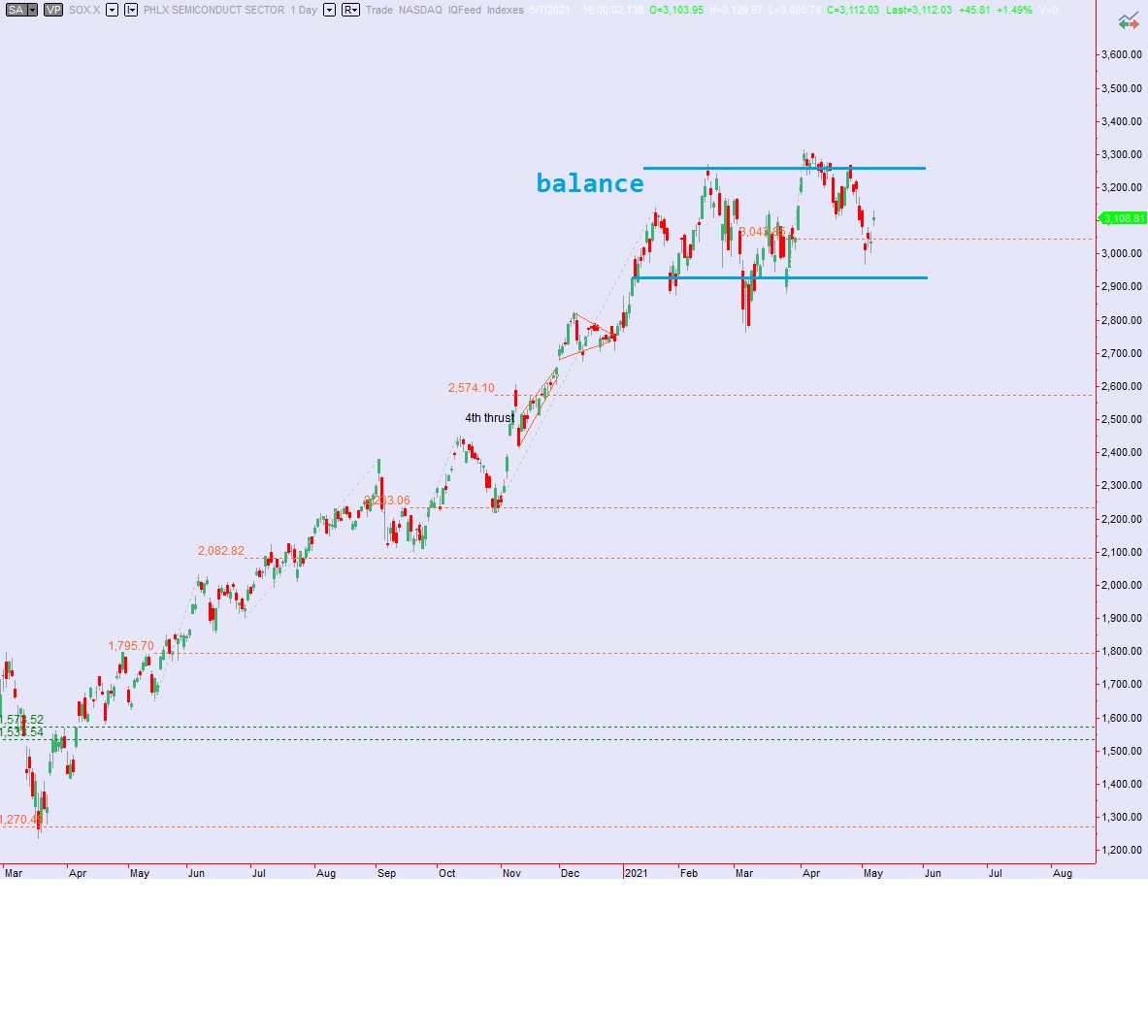 V. Stocklabs Hybrid Oversold
On Tuesday, April 20th Stocklabs flagged oversold on the 6 month algorithm. This bullish cycle ran through end-of-day May 4th. Here is the final performance of each major index: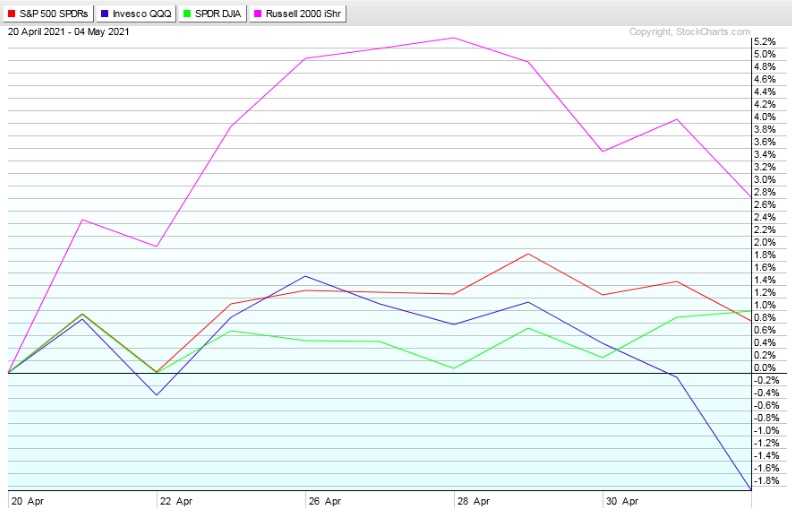 VI. INDEX MODEL
Bias model is flagging extreme Rose Colored Sunglasses bullish bias after being RCS bearish last week and extreme Rose Colored Sunglasses for three consecutive weeks prior to that.
We had a Bunker Buster ten weeks ago.
Extreme Rose Colored Sunglasses calls for a calm drift, perhaps with a slight upward bias.
Here is the current spread: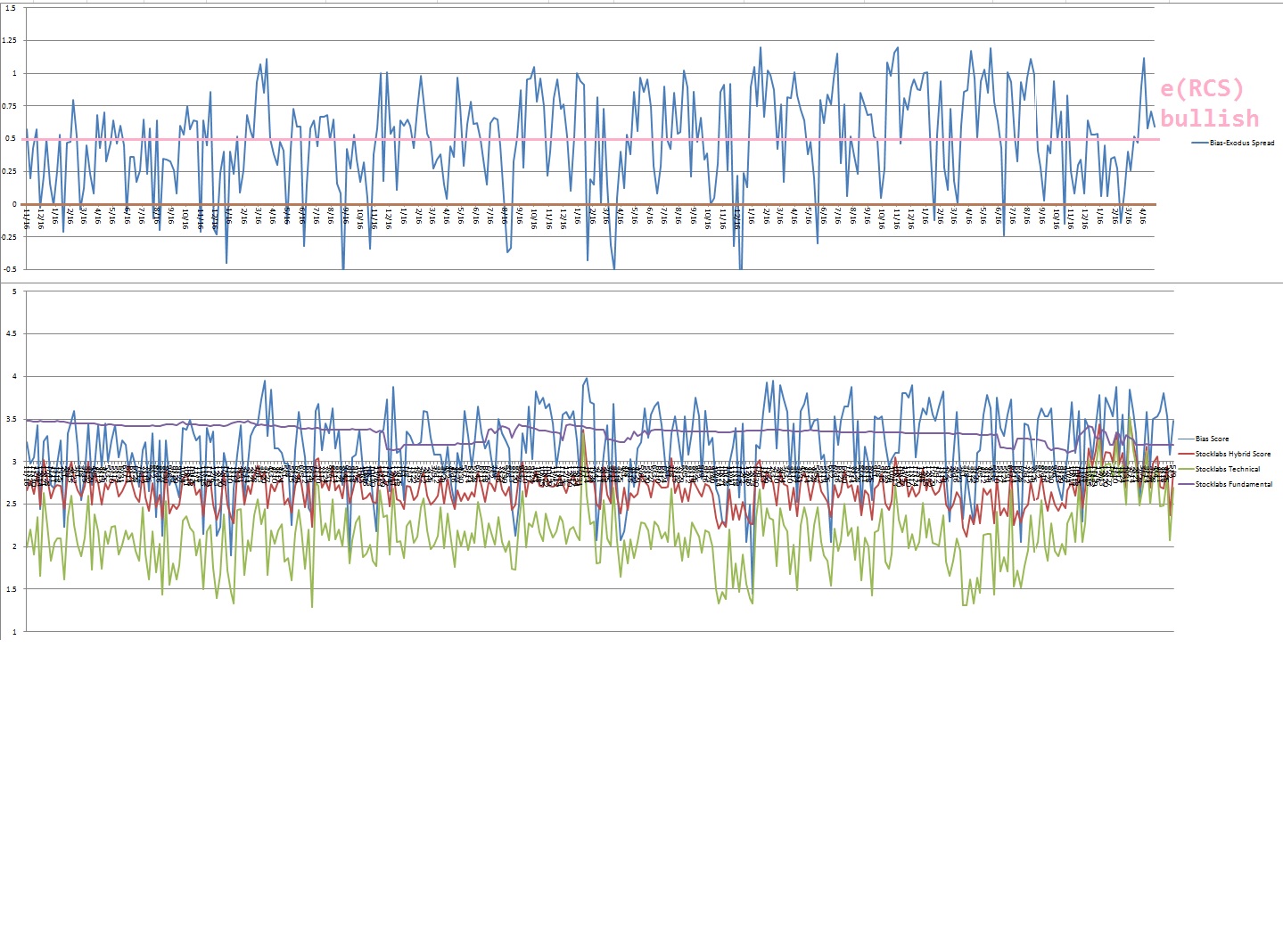 VII. QUOTE OF THE WEEK:
"Cleverness is a gift, kindness is a choice." Jeff Bezos
Trade simple, be kind
If you enjoy the content at iBankCoin, please follow us on Twitter