Greetings lads. I am in a strange place out here in the budding metaverse.
The old guard and/nor the cool kids of finance twitter never accepted me. I am not one of them. You can't interact with a guy who tweets the types of things I tweet at 3am. They have like rules and clients and stuff.
Crypto folks are a bit nicer, but I am certainly not one of them either.
I'm not really one of us.
Sometimes I feel like a stranger in my own life.
This is in some ways by design.
My old man is a foreigner. Italian. Yet I've never been Italian enough for the local Italian clans. Fuckin'guys.
Mum is as American as a barnyard who ha, and I suppose I am most like her. Momma Raul is strong. She can pry a cow's mouth open and pull its tongue out. She can punch the window out of a Buick and pull the driver out by their collar. Mom Raul is mellowing out as we enter the '20s but her hot hotheadedness back in the '90s was really something.
I come from a long line of angry men.
The only place I feel at easy is amongst the freaks. Fellow outcasts. Mangled up scar faces with tangled up minds. I find a splendid tranquility when I am surrounded by druggies and transvestites and the whole carnival of taboo types who inhabit the local underground.
Yet drugs aren't really my thing. Lately my drug of choice is diesel fume. It makes me feel like I'm on a military campaign and by golly if you're not with it look out. Haven't touched a mushroom or the reefer since like early June. I like coffee and beer.
Not even liquor so much. Liquor takes the wind out of my sails but cheap ale gives me vigor on the farm. It fortifies my muscles and mind for the seemingly insurmountable task of hand clearing nearly an acre of urban land inhabited by transients and pheasant.
There are good lads who I graduated with that have built families of their own and it makes me happy to see it. I keep the idea of building a family on the back burner…just a little more success. Then a little more.
Anyhow I feel myself being pulled in two directions as I test settling into domestic life. One is acquiescent to sitting around doing nothing. Watching movies and petting dogs. The other is angling to strap into some virtual reality and be a bunny.
Welp. That's all I've been thinking about this morning.
I am super duper big leauge bullish on TWTR. This is financial advice. You are receiving financial advice from a man high on diesel fume who wakes up at 4am Sunday and toils until his mind gives out, then toils until his body gives out, then eats a giant plate of vegetables. Sometimes some FISH MEAT. Then sleeps on the ground.
I've been sleeping on the ground lately. Beds too soft. I unrolled my hiking pad in the living room and sleep on the ground. My financial advice is to buy TWTR.
I am trying to figure out when their next earnings announcement is because I want to buy call options. I haven't bought any puts or calls yet in 2021 and this feels like the right time to lever up. Twitter is exploding with interaction and advertisement and if Jacked Dorsey doesn't blow the doors of expectations this quarter idk maybe Twitter never will.
The next real bloody daily candle to print on TWTR (hopefully this week) know dear humble Raul [dhR] is shopping for either November or December out-of-the-money TWTR call options.
Okay for now.
Raul Santos, September 12th 2021
And now the 355th edition of Strategy Session. Enjoy:
---
Stocklabs Strategy Session: 09/13/21 – 09/17/21
I. Executive Summary
Raul's bias score 2.44, medium bear.  Strength Monday. Sellers to pressure the tape into mid week. Reflex rally back to unchanged by the weekend.
II. RECAP OF THE ACTION
Bit of strength Tuesday morning was faded. Then steady selling all week. Eventually closing out the week on the lows after Friday of heavy selling.
The last week performance of each major index is shown below: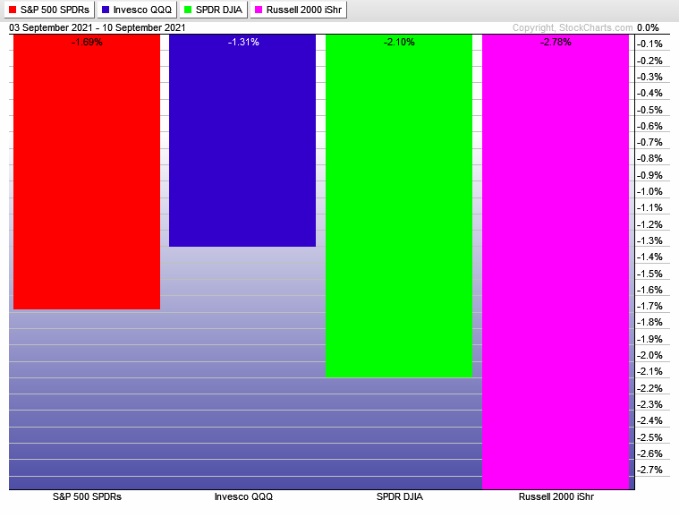 Rotational Report:
Steady selling all week long (holiday-shortened week). NASDAQ slightly bullish divergent.
bearish
For the week, the performance of each sector can be seen below: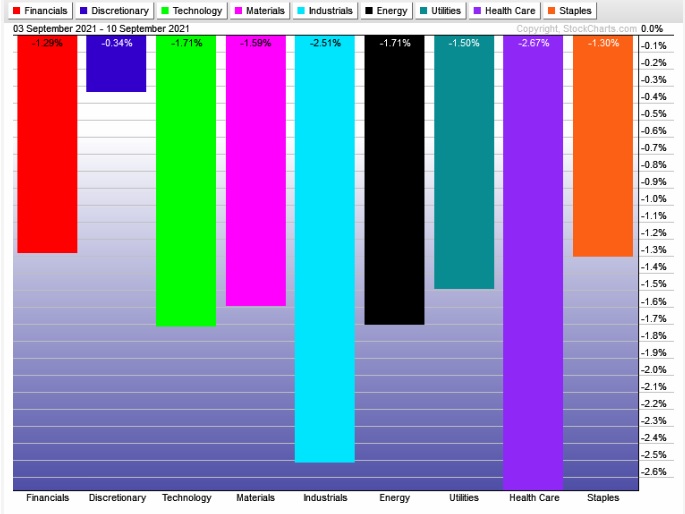 Concentrated Money Flows:
Negative skew after a major positive skew two weeks back.
slightly bearish
Here are this week's results:

III. Stocklabs ACADEMY
Holiday pivot?
Sellers pressured the tape all last week. The idea behind the holiday pivot is simple. That collective investor sentiment shifts around a major U.S. holiday and leads to a change in the overall direction of the markets.
With quad witching on deck and risk sectors all running hot, we are contextually set up for an uptick in volatility.
Note: The next two sections are auction theory.
What is The Market Trying To Do?
Week ended searching for buyers
IV. THE WEEK AHEAD
What is The Market Likely To Do from Here?
Weekly forecast:
Strength Monday. Sellers to pressure the tape into mid week. Reflex rally back to unchanged by the weekend.
Bias Book:
Here are the bias trades and price levels for this week:

Here are last week's bias trade results:

Bias Book Performance [11/17/2014-Present]: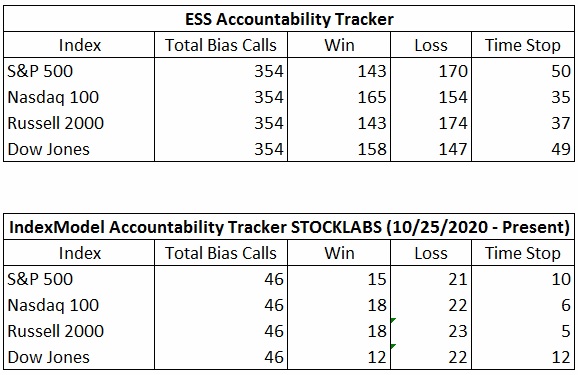 Semiconductors on watch
Markets fluctuate between two states—balance and discovery.  Discovery is an explosive directional move and can last for months.  In theory, the longer the compression leading up to a break, the more order flow energy to push the discovery phase.
We are monitoring two instruments, the Nasdaq Transportation Index and the PHLX Semiconductor Index.
Transports appear to be back into balance.
See below: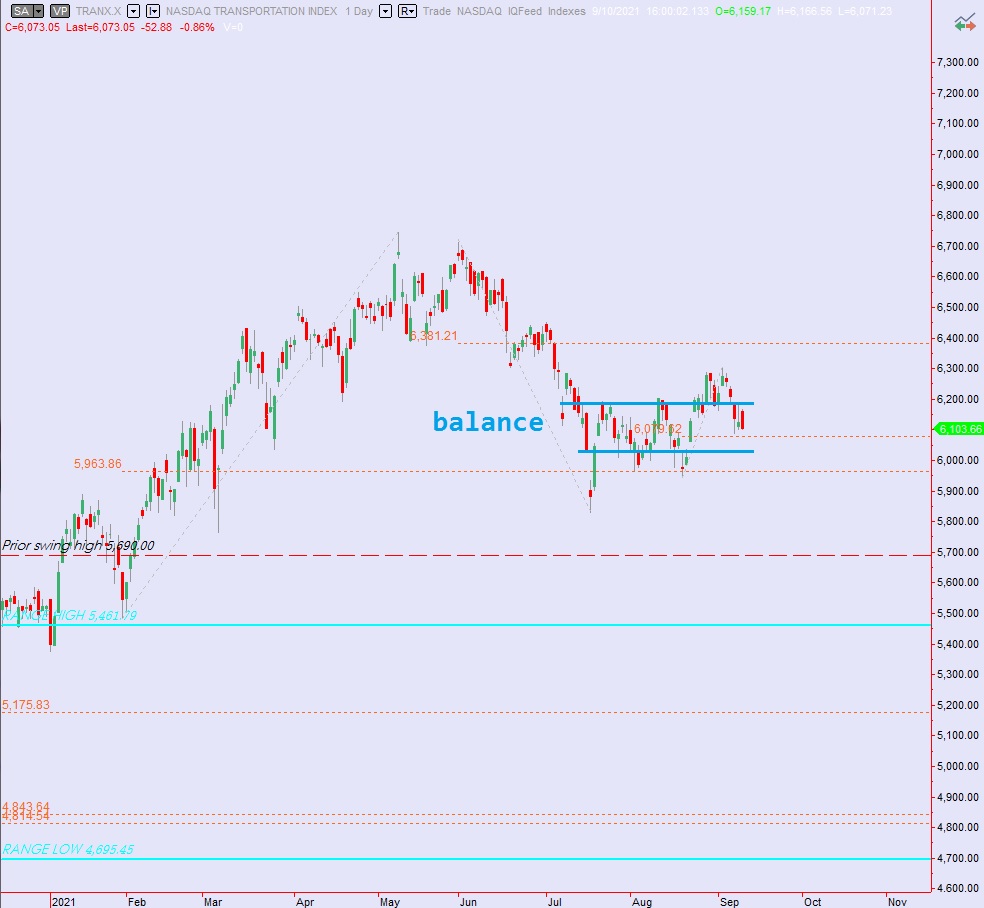 Semiconductors printed a somewhat bearish candle on Friday but the recent activity still has the look of discovery up. Seeing this index hold up makes it difficult to become overly cautious. As long as this index is printing higher lows, bulls have the overall edge.
See below: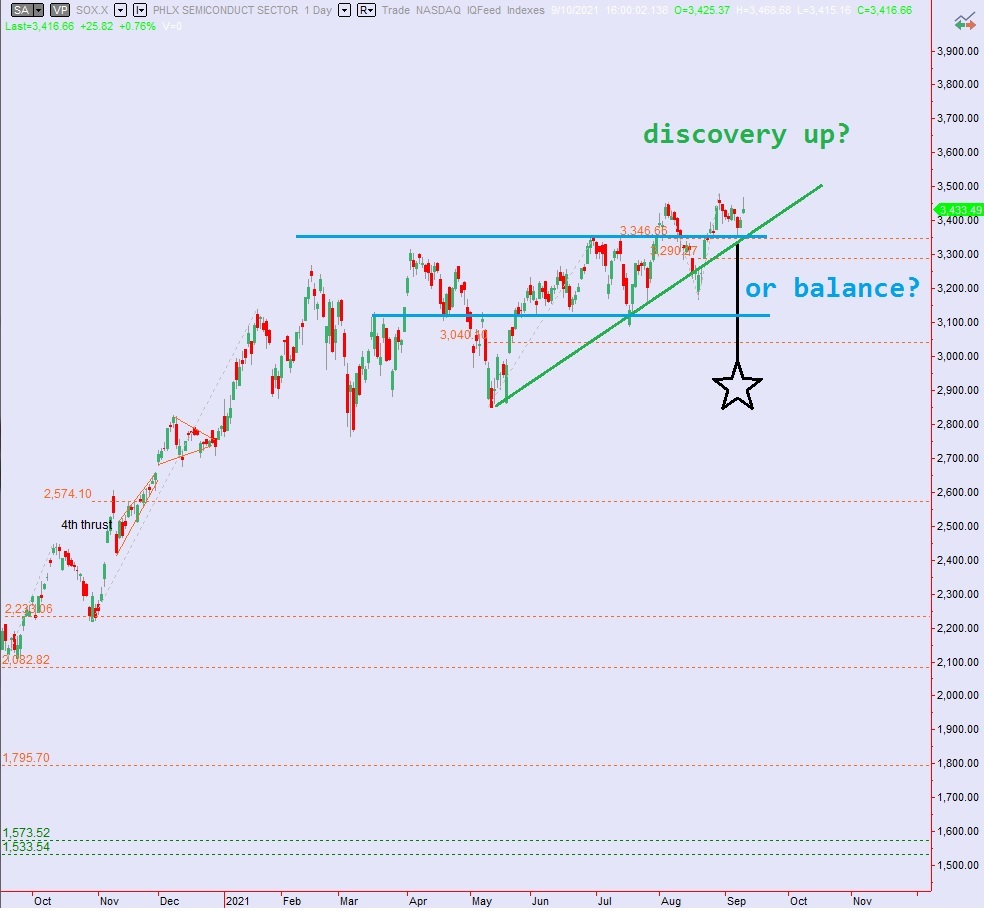 V. INDEX MODEL
Bias model is neutral after being Rose Colored Sunglasses [RCS] bearish last week after being neutral two reports back and Rose Colored Sunglasses bearish for two consecutive weeks prior to that
We had a Bunker Buster twenty eight weeks ago.
Neutral heading into next week.
Here is the current spread: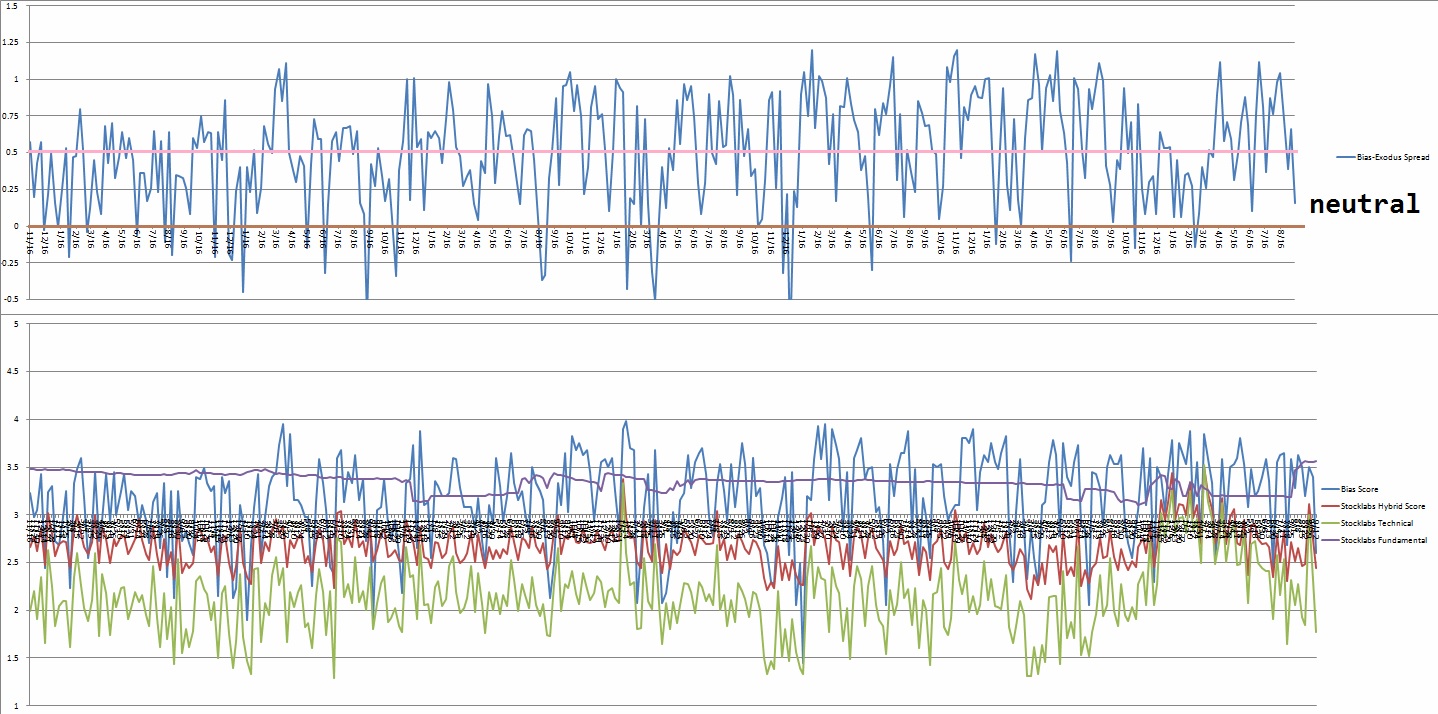 VI. Six Month Hybrid Overbought
On Friday, August 27th  Stocklabs went overbought on the 6-month algorithm. This is a bullish cycle that runs until Monday, September 13th. Here is the performance of each major index so far: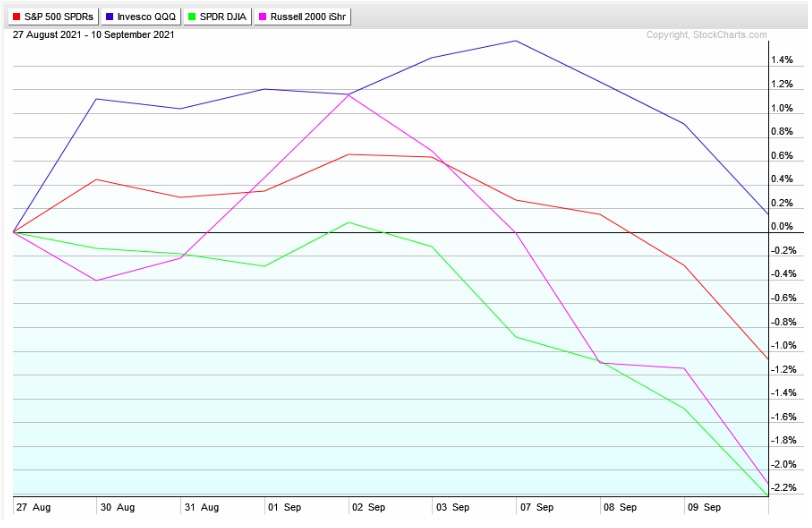 VII. Twelve Month Technical Oversold
On Friday, September 10th Stocklabs went technical oversold on the 12-month algorithm. This signal has bearish statistics. The cycle runs through Friday, September 24th end of day.
VIII. QUOTE OF THE WEEK:
"Improvise. Adapt. Overcome." – Bear Grylls
If you enjoy the content at iBankCoin, please follow us on Twitter