Greetings lads. I have been summoned to a plumbing dilemma over at Elder Raul's mothership. I went there, shut down the water, then sent Elder Raul to home depot to pick up the part we need for the fix. That gave me enough time to finish the Sunday research.
Most every indicator is neutral except for the Stocklabs hybrid oversold signal. That runs through Thursday. We have earnings from Intel Thursday after the bell.
Monday we're closed in observation of Dr. Martin Luther King Jr. day.
Basically I have little conviction heading into the holiday shortened week.
Last week I could just sit down and if I liked the way the chart looked instantly put three units on in the NASDAQ futures and start working the long while I wrote my report and be done by about 9:45am.
This week is not like last week. I have no clear conviction. That said. If we have open gaps in range, I'll likely be here working them.
Be sure to tune into the morning reports.
Raul Santos, January 17th 2021
And now the 321st edition of strategy session. Enjoy.
---
Stocklabs Strategy Session: 01/18/21 – 01/22/21
I. Executive Summary
Raul's bias score 3.03, neutral. Markets continue to hold up near the highs. Watch Intel earnings due out Thursday after market close. Earnings from this major chip maker could sway the entire NASDAQ 100.
**U.S. Markets will be closed Monday, January 18th in observation of Dr. Martin Luther King Junior day.
II. RECAP OF THE ACTION
Small gap down into the week that buyers were unable to reclaim on the NASDAQ and S&P. Active sellers Thursday afternoon and into Friday. The Dow and Russell were bullish divergent all week.
The last week performance of each major index is shown below: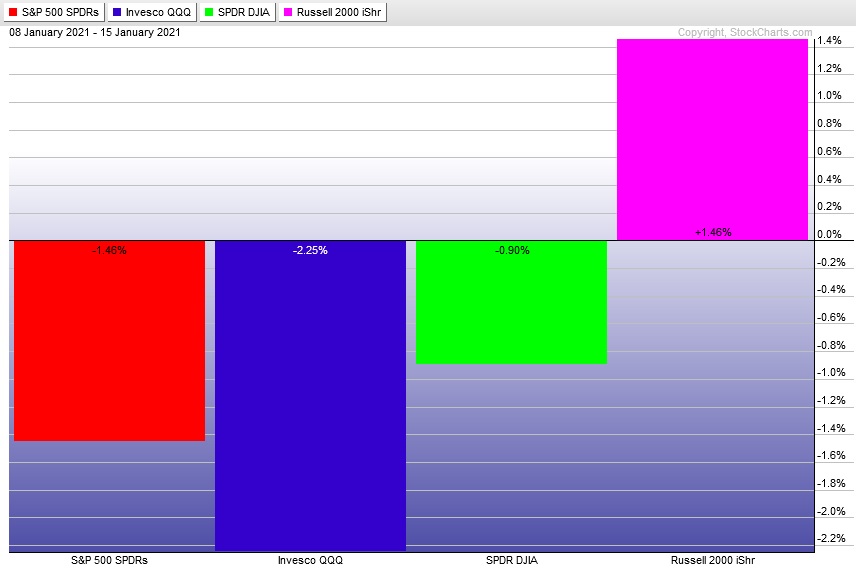 Rotational Report:
Tech lagged for a second week, flanked by the key discretionary sector. Energy continues to trade independent of the market. Utilities up butt Staples down.
neutral
For the week, the performance of each sector can be seen below: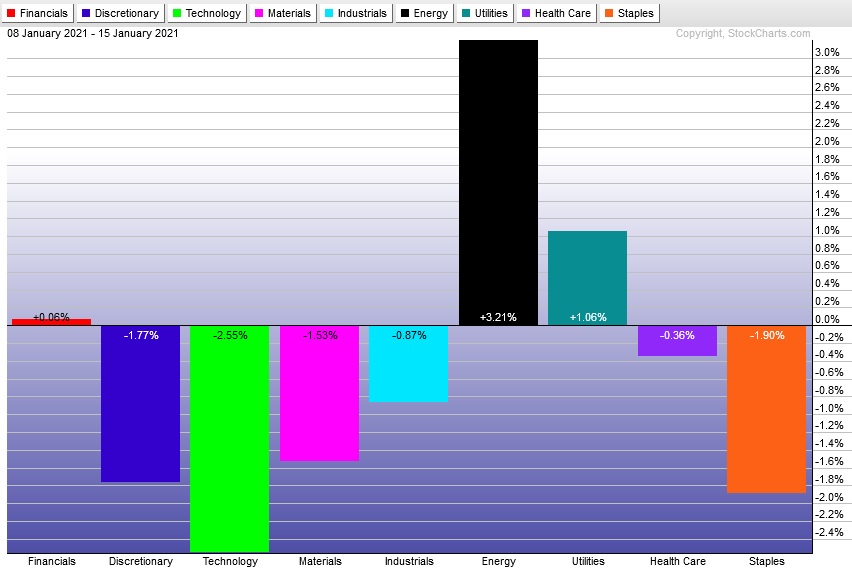 Concentrated Money Flows:
Industry flows balanced out last week after skewing bullish two weeks prior. Most industry groups on the list are lower quality. Not much insight to gain from money flows.
neutral
Here are this week's results: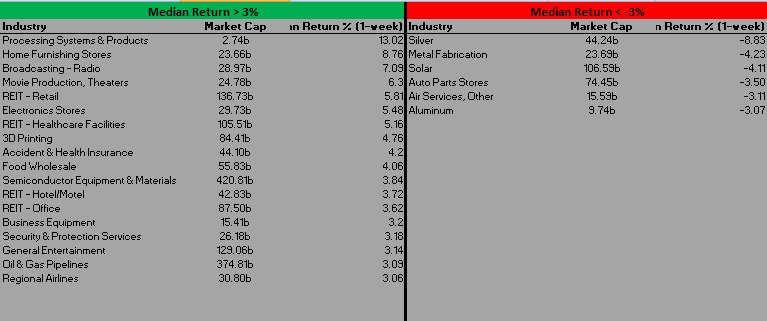 III. Stocklabs ACADEMY
What is Delta Airlines doing?
Delta earnings painted a bleak picture for the airline as folks continue to stay home. One of the interesting developments to their fundamentals is the massive increase to their cash holdings. This can be seen on the Financials page. They went from having $2.65b in cash this time last year to nearly $25b today. Likely government relief cash.  What are they going to do with all that cash?
Meanwhile the NASDAQ transportation index is hovering around all-time highs. All of this situation deserves a bit of our continued focus.
Note: The next two sections are auction theory.
What is The Market Trying To Do?
Week ended searching for buyers.
IV. THE WEEK AHEAD
What is The Market Likely To Do from Here?
Weekly forecast:
Markets continue to hold up near the highs. Watch Intel earnings due out Thursday after market close. Earnings from this major chip maker could sway the entire NASDAQ 100.
Bias Book:
Here are the bias trades and price levels for this week:

Here are last week's bias trade results:

Bias Book Performance [11/17/2014-Present]: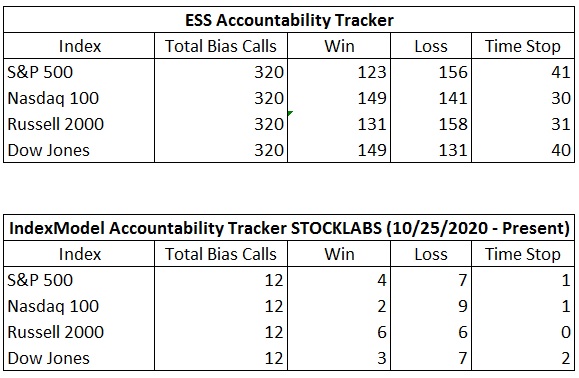 Semiconductors, Transports both discovery up
Markets fluctuate between two states—balance and discovery.  Discovery is an explosive directional move and can last for months.  In theory, the longer the compression leading up to a break, the more order flow energy to push the discovery phase.
We are monitoring two instruments, the Nasdaq Transportation Index and the PHLX Semiconductor Index.
Transports are holding their highs after the Delta earnings and the current picture shows no indication that the uptrend is due to stop.
bullish
See below: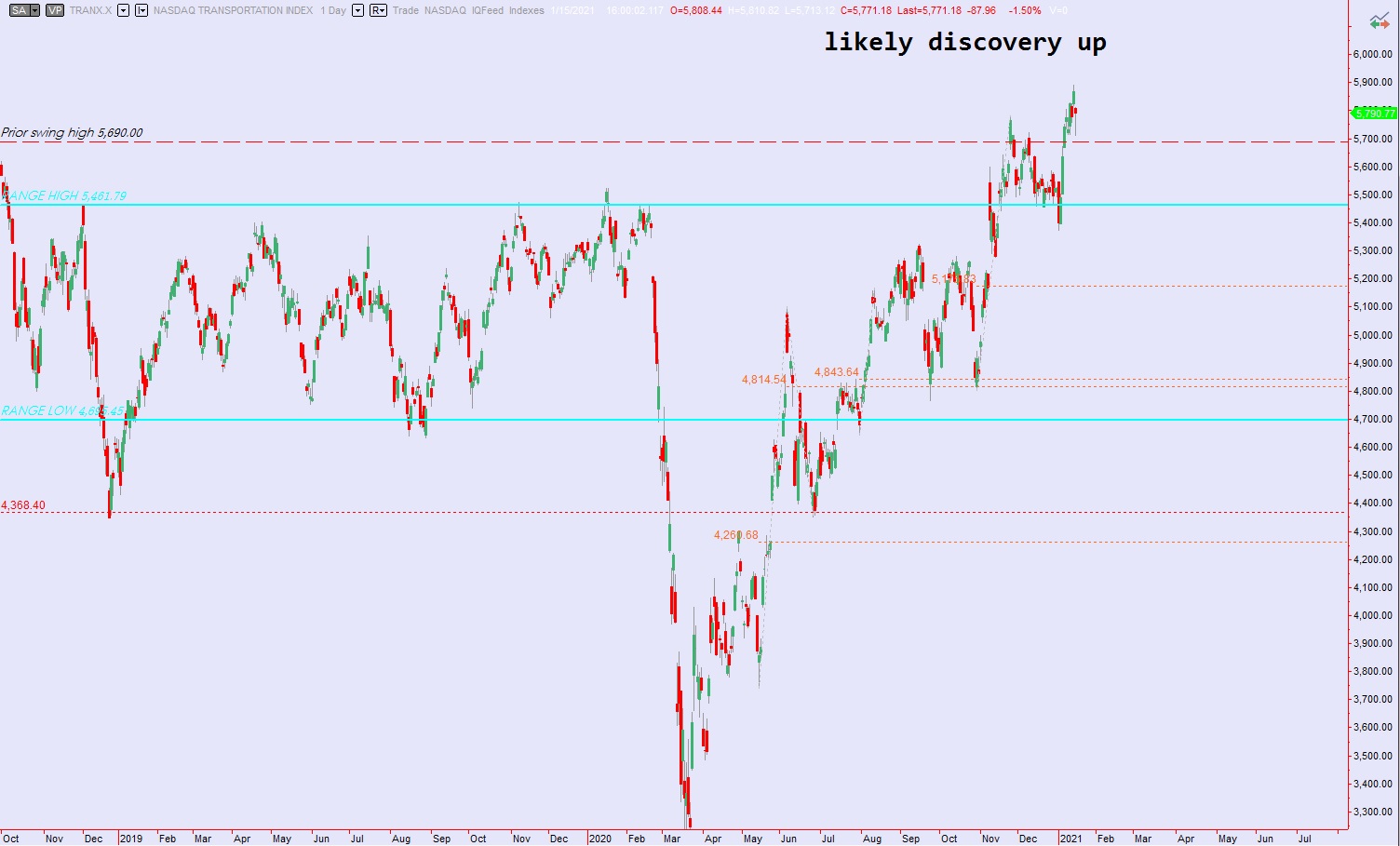 Semiconductors have a clear discovery up in place also.
bullish
See below: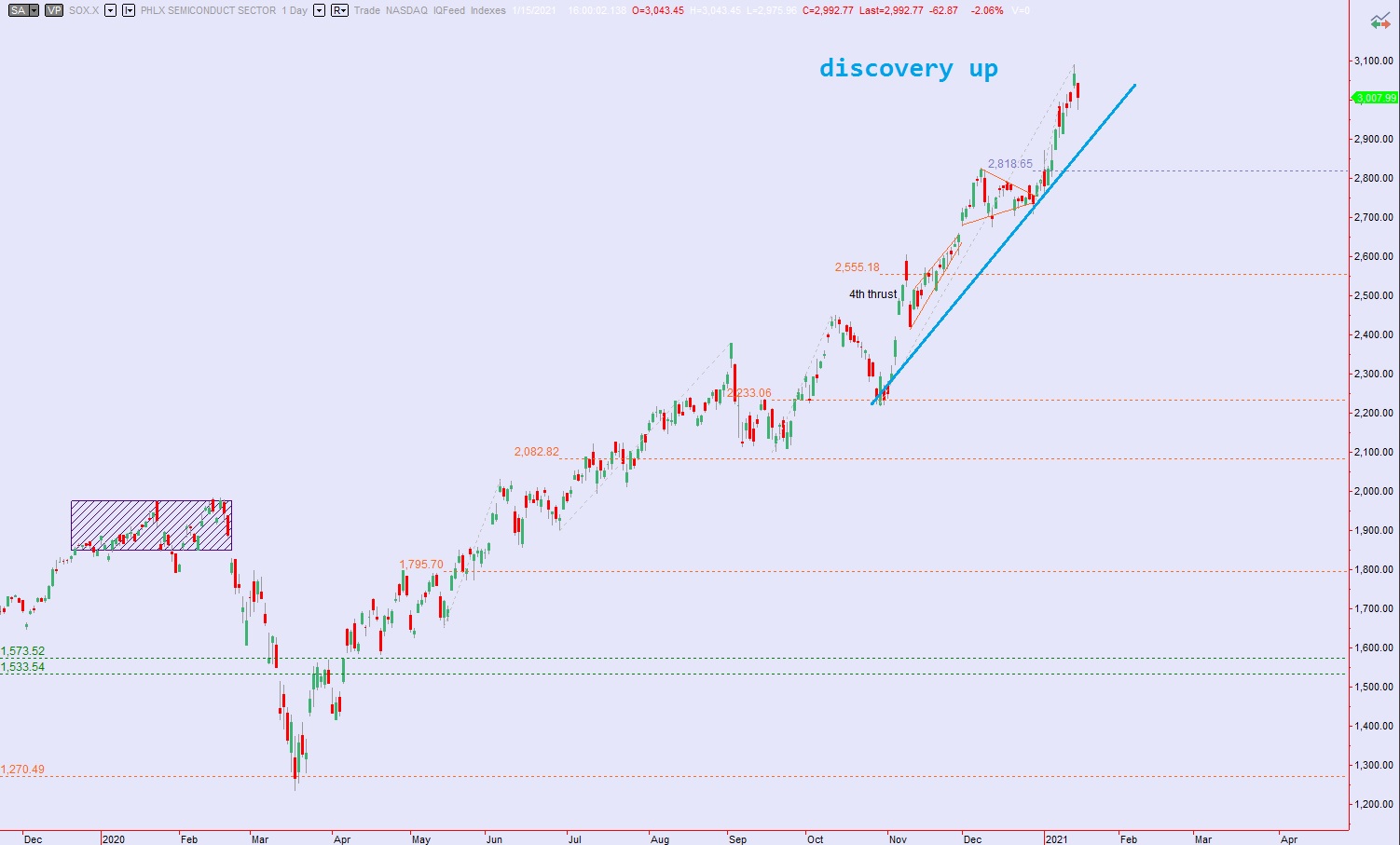 V. INDEX MODEL
Bias model is neutral for a eighth consecutive week. No bias.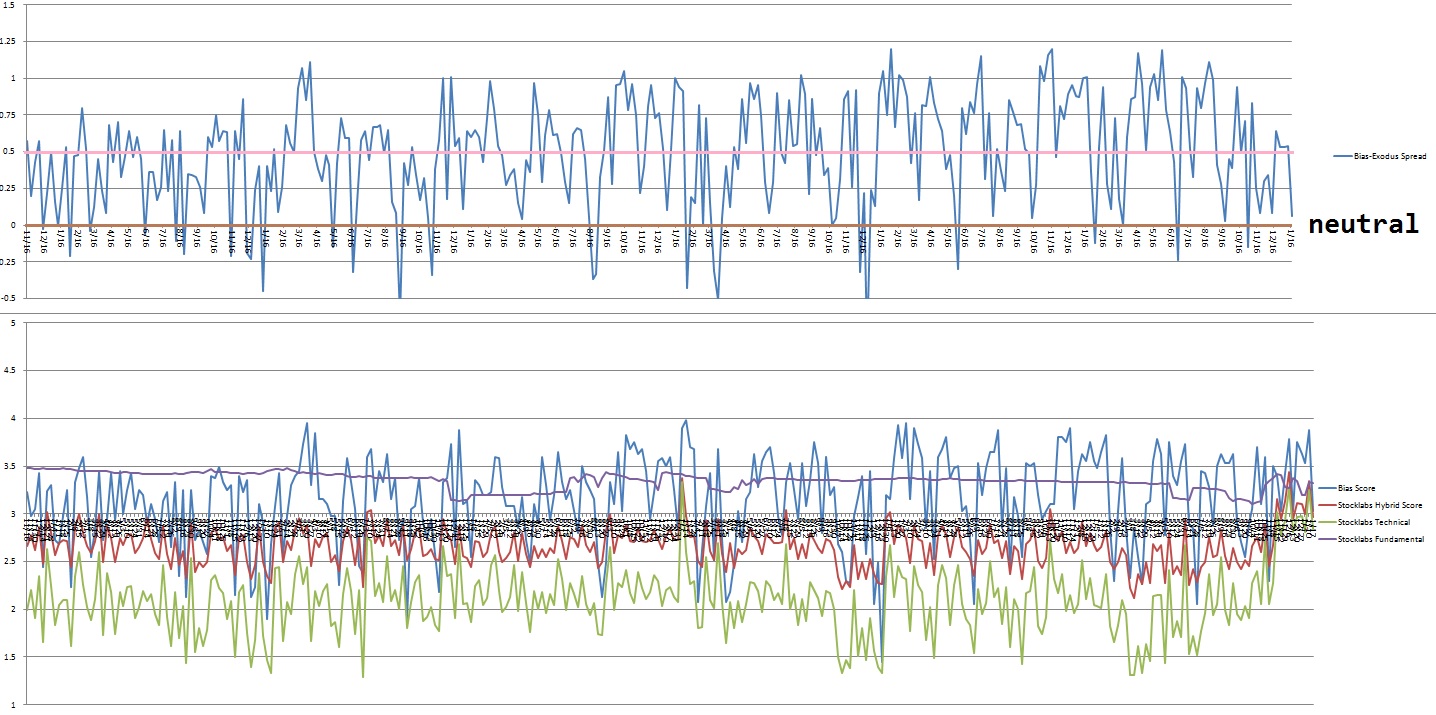 VI. Stocklabs Hybrid Overbought.
On Thursday, January 7th Stocklabs flagged hybrid overbought on the 12-month algo. This is a bullish cycle that runs through Thursday, January 21st end-of-day. Here is the performance of each major index so far: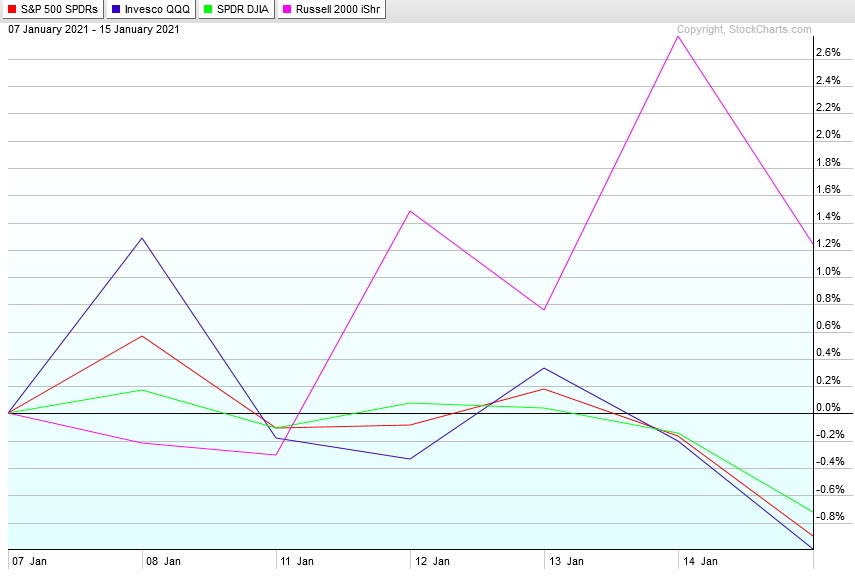 VII. QUOTE OF THE WEEK:
"To the mind that is still, the whole universe surrenders." – Lao Tzu
Trade simple, seek clarity over gains
If you enjoy the content at iBankCoin, please follow us on Twitter